How To Make and Use Rice Water for Hair Growth
If you're on a mission to grow your hair, scouring the internet for tips could be a part of your daily scrolling routine. And if there's one natural treatment that's got all the influencers talking, it's rice water. That's right, a simple concoction of fermented rice water is a beauty trend that's becoming harder to ignore.
But why would you go to trouble of making rice water for your hair when ready-made hair wellness products are abundant? Well, the enthusiasts claim that a rice water hair treatment stimulates new hair growth, detangles, strengthens, increases elasticity and leaves locks looking super shiny and healthy. While all that sounds good, is it true?
Before you stock up on rice, we dug deeper into the science behind rice water and spoke to cosmetologist and hair expert Ghanima Abdullah to get her thoughts on rice water benefits. Keep reading if you're curious where this trend started and whether rice water will help your hair grow, plus what you can actually to do encourage thicker looking hair.
What Exactly Is Rice Water?
Put simply, rice water is the starchy liquid that you're left with after soaking cooked or uncooked rice. It's filled with nutrients such as vitamins B and E, minerals, amino acids, antioxidants and inositol, which can offer topical benefits to the hair and scalp. Though the impact of rice water on the hair's health mainly stems from anecdotal evidence, there has been some research into the effectiveness of inositol.
"Inositol helps the hair follicles produce new hair," Abdullah said. It's also said that inositol in rice helps lower DHT levels. A person who has androgenetic alopecia could benefit from the inositol slowing down hair loss due to it moderating the excessive DHT levels found in this type of alopecia. It can aid hair growth, increase elasticity and help heal damaged tresses."
Shop: Best Selling Products for Thinning Hair
Who Started the Rice Water Trend?
It's easy to believe this DIY trend was started by the hundreds of YouTube videos on the topic, but using rice water as a hair treatment actually hails from the remote village of Huang Luo in China. According to tradition, the regional Yao tribe women famously show off their jaw-droppingly long raven locks, which are cut once in a lifetime when a girl turns 18. The treasured hair is shorn off in a public ceremony, kept forever and rewoven back in as an extension to the remaining lengths.
After this dramatic public shedding, the Yao women continue to grow their locks to exuberant lengths, washing them only once a week with rice water. They don't use chemically enhanced shampoo and conditioners and rely solely on the rice hair rinse to cleanse, nourish and replenish their hair.
And the results are impressive. Even the elders of the Yao community sport pitch-black tresses that shine with luster. Visitors to the region are entertained by performances that center around the story of the hair, and tourists queue to buy a bottle of the precious rice water.
Also: Shampoo Ingredients to Avoid (And What to Look for Instead)
Does Rice Water Grow Your Hair?
A quick glance at the enviably long hair of the Yao tribe may instantly have you racing toward a bag of rice — but of course, what works for one person, might not work for another. If you're struggling with severe hair loss or thinning, it's worth checking in with a certified trichologist or dermatologist for advice.
What Does the Science Say?
Many scientific studies into the efficacy of rice water have been funded by those who have a commercial interest in its success. Though devotees speak loudly about the visual results they've experienced from a rice treatment, the results often rely on subjective measurements, such as the perceived speed of hair growth and enhanced shine. 
A Natural Option That Encourages Thicker, Fuller Looking Hair
Rice water is a great low-cost option if you're looking for fun ways to lengthen your tresses, but in actuality, you can reap many of the benefits without using rice water. For example, GRO Hair Serum, which is made with vegan plant actives, can help visibly increase the hair's density and promote fuller, thicker looking hair. And it's right there waiting for you in a beautifully packaged bottle. After all, as effective as rice water for hair might be, making up the solution can be a bit of a hassle.
See: Are Gummy Vitamins Really Effective?
How To Make Rice Water for Hair Growth
A quick Google search on making rice water could leave you in a bit of a tailspin. It seems everyone has a different way to make rice water for hair care.
Most suggest fermenting the water, and some insist you cook the rice. To some extent, it's a trial and error process, but here's the recipe that many women from the Yao tribe use:
Step 1: Put some uncooked rice in a bowl with water. Abdullah recommends organic rice.
Step 2: Strain the rice and put it back in a bowl with room temperature water. With your fingers in the bowl, scrunch up the rice to give it a good clean.
Step 3: Then strain the rice again and put it in another bowl. "Add one cup rice to three cups of water," advised Abdullah. Use lukewarm water rather than boiling water, and let the water go milky in appearance.
Step 4: Next, you can leave the formula as is, but be warned, it could start to get a bit stinky as the fermentation process continues. The Yao women often use pomelo peel to lift the scent, but you could add grapefruit peel and perhaps an essential oil.
Step 5: Strain your rice water and pour it into a Mason jar (or an airtight container). Add your peel and oil of choice (eucalyptus has a nice clean scent), tighten the lid and leave it to ferment for one week. Abdullah said, "To keep the bacteria growth down, keep the mix in the fridge. It will stay usable for at least a few days."
According to the Yao women, the fermentation process is what increases the benefits for hair. Abdullah explained, "Fermentation of the rice water brings the pH level closer to that of hair. This means reduced friction between hair strands and an easier detangling process — some additional benefits."
Also: How Often Should You Wash Your Hair?
How Should a Rice Water Treatment Be Applied?
If you do as the Yao women do, you won't be washing your hair with shampoo before or after you apply the mixture. If you don't like that idea, use a gentle shampoo on the roots only to cleanse away oil and impurities. Try not to scrub your lengths too hard. You don't want to get your hair super clean before you add your rice water. The idea is to replace your regular shampoo with rice water, so you don't want to dry your hair out by washing it too much.
You can dip your ends in your rice water and pour it all over your scalp, or you can pour the water into a spray bottle and mist it all over that way. Whatever method you choose, leave it to saturate your strands for 20 minutes and then rinse thoroughly. The Yao women repeat this once a week, but you can tailor the process to you and your 'do.
See: Do Collagen Supplements Actually Work?
Side Effects of Rice Water on Hair
Rice water isn't going to damage or harm your precious hair, but without conclusive scientific research, it's hard to say whether it will actually help your hair grow. With so many effective treatments for natural hair growth available in North America, you don't necessarily need to rely on rice water to experience visibly increased hair density.
As for side-effects, some people who have used the formula experienced a flaky buildup and scalp irritation. The added protein could also damage the hair cuticle and cause breakage.
While no scientific research suggests any specific hair type should avoid the mixture, those with very fine hair or low-porosity hair should use it with care. As the rice water builds up and the protein increases, you could experience extreme dryness. If you struggle with dermatitis on the scalp, the starched water could accelerate a flaky, itchy scalp.
Read: How to Figure Out Your Hair Porosity — And Why It Matters
Are There Other Beauty Benefits of Rice Water?
Again, while the research is sparse, some suggest rice water can benefit the skin. A 2013 study showed that rice water could help improve sun damage, which, let's face it, is something we all worry about.
Another study suggests that the concoction can help reduce the signs of aging because of the antioxidant properties. So, keeping a little spray bottle full of fermented rice water handy in the fridge could help soothe the skin when you need to freshen-up, but it's probably worth using in moderation.
Also: What Foods to Eat to Grow Your Healthiest Hair Ever
Is Using Rice Water Worth It?
If you have some extra time on your hands, you might want to mix up some rice water and give your locks a rinse to see how it goes. If you find that it works for you, then it could be a great addition to your routine, but be prepared to put the work in.
If you really just can't go without shampoo (we get it!), look for a gentle shampoo that's designed to support healthy hair, like GRO Revitalizing Shampoo fortified with vegan keratin. Paired with GRO Revitalizing Conditioner, this duo utilizes state-of-the-art, microencapsulation technology to deliver powerful phytoactives deep beneath surface of the scalp (in only thirty seconds), promoting visibly thicker, fuller and stronger looking hair while leaving dry and damaged hair feeling luxuriously soft and silky. Plus you can use a VEGAMOUR discount code to save.
It's fun to experiment with different products and DIY treatments, but remember there's a bevy of hair wellness solutions available — no fermenting required.
More From VEGAMOUR
Photo credit: Liudmila Chernetska/iStock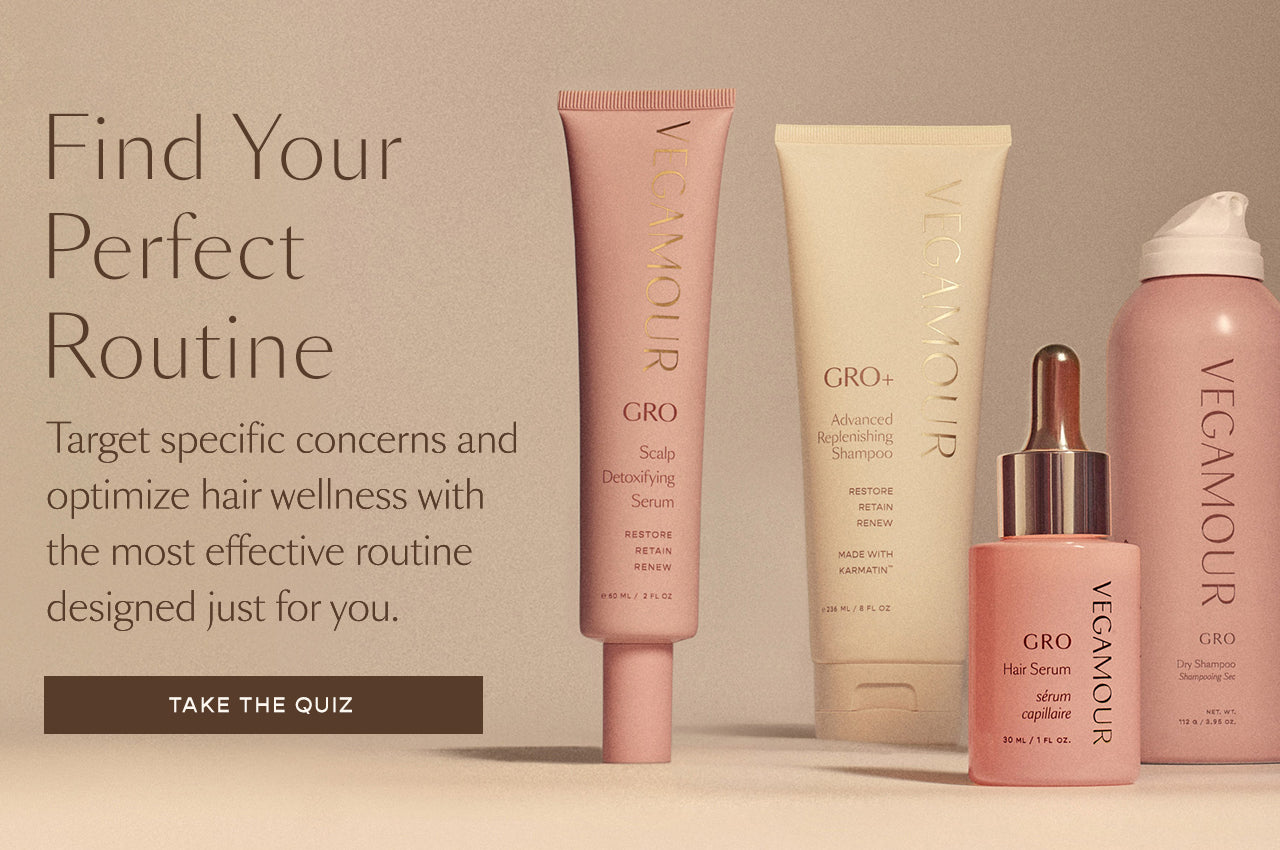 Disclaimer: Information in this article is intended for general informational and entertainment purposes only. It is not intended to constitute medical advice, diagnosis, or treatment. Always seek professional medical advice from your physician.