Does Rosemary Oil Really Help With Hair Growth?
If you struggle with hair loss, you might've spent a large chunk of time scrolling for creative and holistic ways to promote hair growth. One that often pops up is rosemary oil. But will a dash of rosemary oil really help cure your hair growth woes?
If you're looking for a natural hair-thickening elixir to help promote hair growth, VEGAMOUR spoke to the experts to determine whether rosemary oil is the key ingredient you're missing — plus, information on what you should actually be doing to encourage thicker looking hair.
Does Rosemary Oil Help With Hair Growth?
Using essential oils for hair growth isn't a new concept. And while including essential oils in skincare can spark controversy, essential oils in hair products are often considered stimulating and nourishing. Wellness advocate Sandra Bologna explained, "Rosemary oil is used in formulas to prevent hair loss, but so are lavender, frankincense, cedarwood and many other oils."
Rosemary essential oil is a highly concentrated and distilled variation of Rosmarinus officinalis leaf extract. Much like peppermint oil, rosemary essential oil boosts scalp health. It increases circulation and could possibly prevent thirsty hair follicles from being starved of their blood supply.
The oil is also believed to help prevent premature gray hair from poking through. Plus, rosemary's anti-inflammatory properties are thought to help with an itchy scalp and even dandruff. Mediterranean cultures have been using rosemary in their hair care rinses for decades, but is there any science to back up these bold claims?
Read: These Are the Benefits of Almond Oil for Hair
A Natural Serum That Actually Combats Thinning Hair
"About 4 months after having my baby I started noticing how much hair I was losing. It made me feel worse by the day. I was looking for any hair product that might work. I came across the Vegamour GRO+ hair serum and decided to give it a try after seeing so many good reviews.⁠ I'm so glad I did! These pictures are a 3-month difference. Postpartum is HARD. But I've started to love myself and my appearance again, and a lot of that has to do with being able to grow my hair back so quickly!"
If you're looking for a simple remedy to help tackle your hair loss woes, then rosemary oil might be a good option but studies are still rather limited. Complement the oil with a dedicated hair wellness routine featuring proven products like GRO+ Advanced Hair Serum and further enhance your healthy hair journey with a good night's sleep and a nourishing, nutrient-rich diet.
GRO+ Advanced Hair Serum featured three vegan phyto-active ingredients:
Mung bean: Contains hair enriching minerals including zinc, selenium, iron, and Vitamins A, B, C, B7 (biotin) and K. 
Curcumin: Natural polyphenol compounds derived from turmeric that are rich in antioxidants known to directly scavenge hair damaging free-radicals.
Red clover: Contains hair boosting isoflavones, a class of flavonoids that exhibit antioxidant, antimicrobial, and anti-inflammatory properties.
Hemp: Soothes stressed out scalps to create a healthy environment where hair can thrive. 
Paired with other amazing VEGAMOUR products that also feature the same vegan phyto-actives such as shampoo, conditioner and even dry shampoo, you'll be on your way to thicker, fuller looking hair.
What Is Rosemary Oil?
Though it's the perfect complement to roasted potatoes, it's clear that the evergreen-like plant, Rosmarinus officinalis, is more than just a fragrant sprig of green goodness. It's an essential oil with a rich and beloved history across the Mediterranean. In ancient Greece, rosemary wreaths were worn by scholars to aid thinking and improve their memory. The Egyptians honored loved ones by placing rosemary on the coffin lid as an act of remembrance. And in the 16th century, folks used rosemary balm and incense to help eliminate harmful bacteria.
The needle-like leaves have a distinctive scent that's not dissimilar to mint, though it has a woodier, more balsamic undertone. Just like mint and peppermint, rosemary leaf extract and, more specifically, rosemary oil is believed to have health benefits, improve circulation and help with hair growth.
Shop: Best-Selling Thinning Hair Products
What Rosemary Oil Studies Show
Unlike some essential oils, rosemary oil for hair growth has been front and center of some reasonably substantial scientific research. Carnosic acid is an active ingredient found in rosemary. One study looked at this specific component and found it could help heal damaged nerve endings, which, in turn, could boost natural hair growth.
Another more illuminating study that took place in 2015 directly linked rosemary oil and hair loss prevention. The trial compared the essential oil with minoxidil, a hair product often used in the treatment of androgenetic alopecia (male or female pattern baldness). The study tested the product on humans, and results showed that rosemary was just as effective as minoxidil. Before you head to the store, be sure to read about the side effects of minoxidil and other over-the-counter options.
Two earlier clinical trials took place in 2010 and 2011, and both acknowledged a link between rosemary essential oil and hair growth. The 2010 study cites hair growth in people struggling with alopecia who used essential oil, and one of these oils was rosemary.
Find Out: This Is the Ingredient Your Hair Needs
So, Is Rosemary Oil a Miracle Hair-Loss Cure?
Well, it might be. But it also might not be. Though the studies prove that rosemary essential oil for hair growth is a thing, it's worth remembering that it might not suit everyone.
"Hair loss and hair thinning can be a very complicated issue," said Dr. Dylan Greeney, a dermatologist based in Indianapolis, Indiana. "It's always a great idea to see a dermatologist to get an accurate diagnosis because while there is sometimes overlap in treatment options, understanding what is going on to cause the problem is very important. We can then target treatment." He continued, "Some common causes of hair loss include hormonal changes in both women and men, traction from tight hairstyles, inflammation or autoimmune issues. Some of which can result in scarring, which can lead to permanent hair loss! This is why getting an early accurate diagnosis is important."
Could rosemary oil for hair growth work? It seems so, but first, you need to understand the root of your hair loss so that you can tend to the issue with the appropriate treatment.
Licensed Naturopathic Doctor Dr. Stephanie Nichols said, "I have extensive experience dealing with hair loss patients and found that rosemary oil, applied topically twice a day, supports hair regrowth in otherwise healthy patients with mixed results. It seems especially effective for patients with androgenetic alopecia and telogen effluvium, especially in combination with a healthy diet rich in biotin."
How To Use Rosemary Oil on Your Hair
So, you've dug around the research and decided you still want to give rosemary oil a try, you might be wondering how to use it . Well, it's time to get your DIY on and craft yourself a helpful hair concoction.
There are a few different ways to use rosemary oil on your hair, so it's just a case of finding out what works best for you.
Option One: Mix It in With Your Existing Shampoo
If you're already using a revitalizing shampoo, you might want to give it a little boost and 3-4 drops of rosemary oil. Add the oil directly into the bottle and give it a shake. Shampoo as usual, but pay a little more attention to your roots and scalp.
Option Two: Make Your Own Shampoo
If you want to take your DIY skills a step further, you could make yourself a completely natural formula. Many different homemade shampoo variations are making the rounds, but this recipe is nourishing and smells divine.
Ingredients
You can use these ingredients to make a DIY rosemary oil shampoo:
8.5 fluid ounces Castille soap
16 drops of rosemary oil
4 fluid ounces distilled water
3 tablespoons of olive oil
To create your shampoo:
Mix all your ingredients in a bowl, and then pour the concoction into a Mason jar.
Keep the container in a cool area and use it as needed.
Add more honey or olive oil if the mixture calls for it.
Related: 5 DIY Vegan Hair Masks You Need to Try
Option Three: Massage It Into Your Scalp
One of the easiest applications of rosemary oil is applying it directly onto your scalp. It's worth noting, though, that rosemary oil can cause a side effect like irritation. Dr. Nicols explained, "Rosemary oil should be used with a carrier oil to avoid irritation." Coconut oil and jojoba oil work perfectly as carrier oils and can ward off unwanted side effects.
To make your rosemary oil mixture, choose your carrier oil (jojoba or marula oil) and add about 3-4 droplets of rosemary oil to every tablespoon of the carrier oil. Gently massage the mixture into the scalp and leave for about 30 minutes before rinsing. To further stimulate the scalp and help revive your weary hair follicles, you could combine your formula with the GRO Revitalizing Scalp Massager. The series of bristles can help boost and stimulate the scalp's health and help you unwind and relax.
What Else Should You Know About Using Rosemary Oil?
As gentle and full of goodness as rosemary oil is, it can also irritate the skin if you don't treat it with care. As with any essential oil, if you get it in your eyes, rinse immediately with cool water.
While there are no real negative health dangers, you could suffer some discomfort if you pour too much rosemary oil directly on your skin. It's also worth noting that not a lot of research has been done around rosemary oil, pregnancy and breastfeeding, so it's probably best to stick to ingredients that are proven safe to use if you are pregnant or breastfeeding.
The Verdict
Rosemary oil is of course another natural and inexpensive approach to haircare, but clinically-proven, effective products with natural ingredients is always an ideal approach to take your haircare routine to the next level.
More From VEGAMOUR
Photo credit: Paul Hanaoka/Unsplash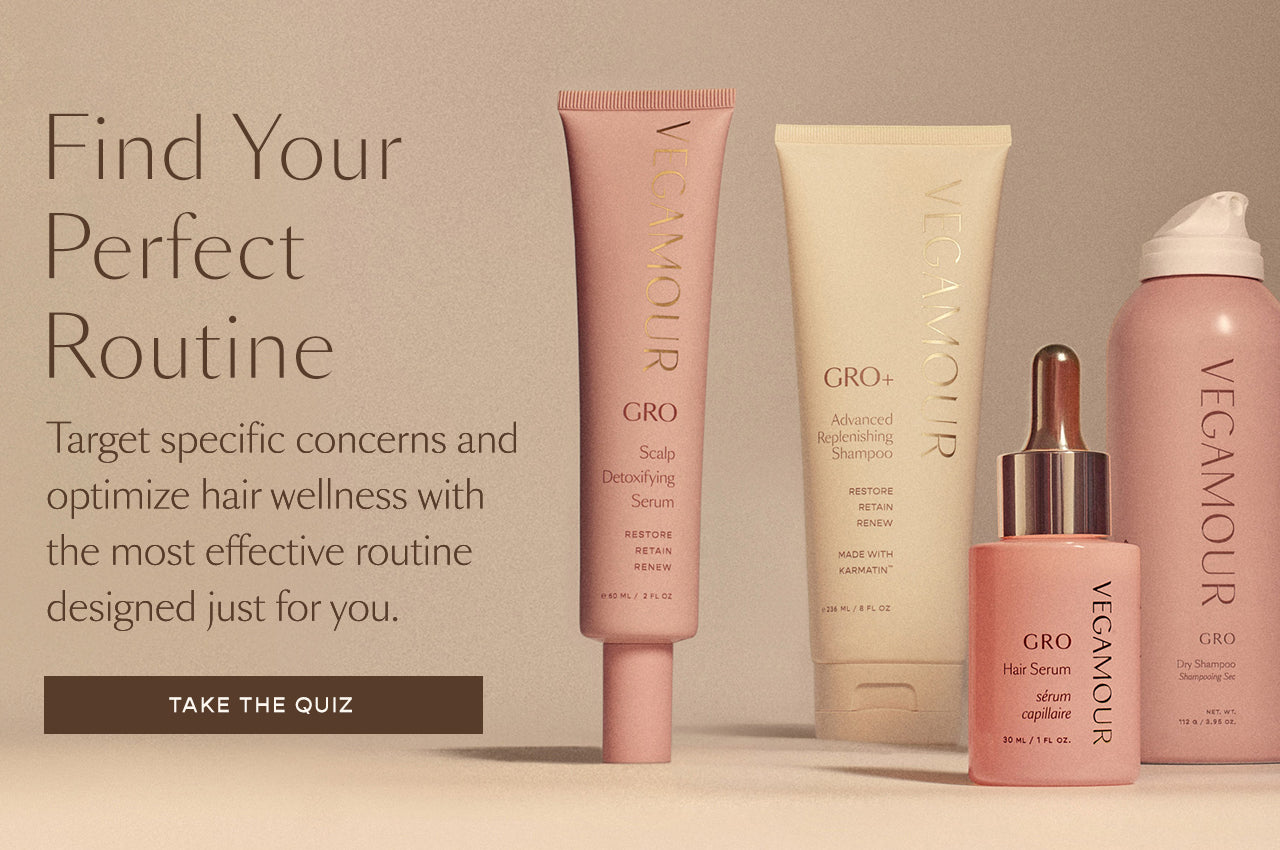 Disclaimer: Information in this article is intended for general informational and entertainment purposes only. It is not intended to constitute medical advice, diagnosis, or treatment. Always seek professional medical advice from your physician.