These Are the Benefits of Almond Oil for Hair
If you've ever suffered from a dry scalp, split ends, scalp psoriasis or the hundred other results of environmental stress that can leave your strands stressed out, you might be familiar with the idea of adding oil to your hair. Natural oil can support the health of your hair follicles and deliver essential nutrients, and sweet almond oil is one of the best oils for hair health.
Here's why pure almond oil is an excellent addition to your hair care routine. Plus, the products you really need to grow your shiniest, happiest, healthiest strands yet.
How Almond Oil Supports Your Strands
Produced from ripe almonds picked from the almond tree, almond oil is an excellent hair oil to soothe dry hair and improve scalp health, reducing the appearance of flaky skin. It's easy to find in any health food store and is both friendly on your wallet and healthy for your hair.
"Almond oil has been used for centuries as a natural remedy for hair health and styling," explained organic skincare expert Blanca Aguirrezabal. "It is packed with antioxidants, vitamins and minerals that can help to protect the hair from damage and help to nurture it."
Packed with riboflavin, magnesium, phosphorus and vitamin E, almonds have long been a nutritional mainstay for the health-focused. And it turns out the oil is as good for your strands as the nuts are for your body!
Related Reading: Rosehip Oil & Hair Loss — Here's What the Research Says
Almond Oil: The Supreme Carrier Oil
There are many kinds of plants commonly used as a carrier oil in hair treatments to stimulate hair growth, including olive oil, coconut oil and even lemon oil. While all these oils contain omega fatty acids that can support healthy hair growth, Aguirrezabal said that almond oil is particularly effective.
"Almond oil is a great natural hair care option due to its many benefits for hair health," she said. "Personally, I love almond oil for my hair because it is rich in nutrients and helps to keep my hair healthy and moisturized. It is also lightweight and does not weigh my hair down, which is important for me because I have fine hair."
Who Can Benefit From Using Almond Oil for Hair?
One of the great things about almond oil is that it works well with most hair types. Even if you have naturally thin hair, almond oil won't be too heavy for your strands. And those with oily hair shouldn't be dissuaded. Unlike heavier natural oils like argan or coconut, almond oil is lightweight enough that it won't make your strands look greasy.
Whether you use refined almond oil or unrefined almond oil, Aguirrezabal said the benefits are undeniable. "It can help to fortify and strengthen hair, while also adding shine and softness," she said. "When used regularly, almond oil can help to prevent damage from heat styling and environmental aggressors, making it a great option for those with dry or damaged hair."
Read: Compare GRO vs GRO+ Advanced 
The Benefits of Using Almond Oil for Hair
According to Aguirrezabal, there are a host of benefits associated with using almond oil to promote hair health.
Delivers Vitamins and Nutrients
"Almond oil is a great source of fatty acids, which are essential for hair growth and help prevent dandruff and scalp inflammation," she said. When applied regularly alongside a dedicated hair-boosting serum, almond oil can help support blood circulation to revive dormant hair follicles and encourage healthy hair.
Anti-Inflammatory
If you suffer from hair loss, Aguirrezabal said that almond oil is excellent at reducing hair fall while strengthening hair strands. "Almond oil can also help to reduce hair loss due to its anti-inflammatory properties," she explained, effectively soothing an itchy or inflamed scalp.
Adds Moisture
Once your hair growth goals are on track, keeping up your almond oil habit can help improve your hair texture and the overall appearance of your strands. "Almond oil helps to improve the texture and appearance of hair by providing deep conditioning and hydrating properties," explained Aguirrezabal.  "It is also high in vitamin E, which is a powerful antioxidant that helps prevent damage to the hair shaft and locks in moisture." The lubricating properties of almond oil can transform your lackluster strands into shiny hair that looks better than ever before.
Prevent Frizz
Last but not least, Aguirrezabal said that almond oil is an excellent all-natural styling tool that can help keep your strands healthy and the flyaways at bay.
"Almond oil is a powerful moisturizer that can keep the hair healthy and free from frizz," she said. "By creating a barrier on the surface of the hair, almond oil can also help to protect against environmental factors that can cause frizz, such as humidity."
Overall, almond oil is an excellent, all-natural and affordable solution to keeping your strands happy and healthy. From adding much-needed moisture to making styling a snap, there's almost nothing almond oil can't do! No wonder Aguirrezabal and other health-conscious stylists are such fans.
Read More: Why Is My Hair So Frizzy? 7 Tips to Tame Frizz
How to Incorporate Almond Oil Into Your Hair Care Routine
How do you add the benefits of all-natural almond oil to your hair care routine? According to Aguirrezabal, there are several ways to use it effectively.
"I like to use almond oil as a pre-treatment before washing my hair when it is feeling particularly dry as the oil seeps into the hair shaft, helping to lubricate, repair and protect my hair from further damage," she said. "It also helps to moisturize my scalp, keeping it hydrated and healthy."
Before washing your hair with a hair health-supporting mild shampoo and conditioner, take a moment to detangle your strands with your fingers or a wide-tooth comb, working almond oil deeply into your lengths and ends. Let it sink in for about fifteen minutes like you would with a hair mask, then proceed to wash your hair as usual.
If you prefer to leave almond oil on your strands, Aguirrezabal suggests using it to supplement your moisturizing routine. Applying almond oil to damp hair helps your hair soak up the extra moisture, keeping your strands happy and hydrated long after wash day is over.
"I will also add a few drops of almond oil to my usual hair conditioner as it is so light it helps to keep my fine hair looking soft and shiny," she said.
To use almond oil as a styling product for dry hair, you can apply the oil directly to your strands. Rub a small amount of oil between your palms before you apply, paying special attention to the ends of your strands to increase softness and shine. Massage into your hair shaft until the oil is absorbed, and style as usual.
Read More: 6 Tips & Tricks for Styling Thin Hair
The Takeaway
Whether you're looking to address a particular health issue, or are simply looking for an affordable plant-based product to add to your hair care regimen, almond oil can be an excellent addition to any beauty routine. Plus, all hair types can reap the benefits of this all-natural oil!
If you're looking specifically to encourage healthy hair, VEGAMOUR's collection of hair care products and scientifically proven supplements have been carefully crafted to boost hair health from the inside out. Taking a holistic approach to hair wellness helps to create the optimal ecosystem for healthy, beautiful hair naturally, without the use of harmful chemicals.
More From VEGAMOUR
Photo credit: Masha Raymers/Pexels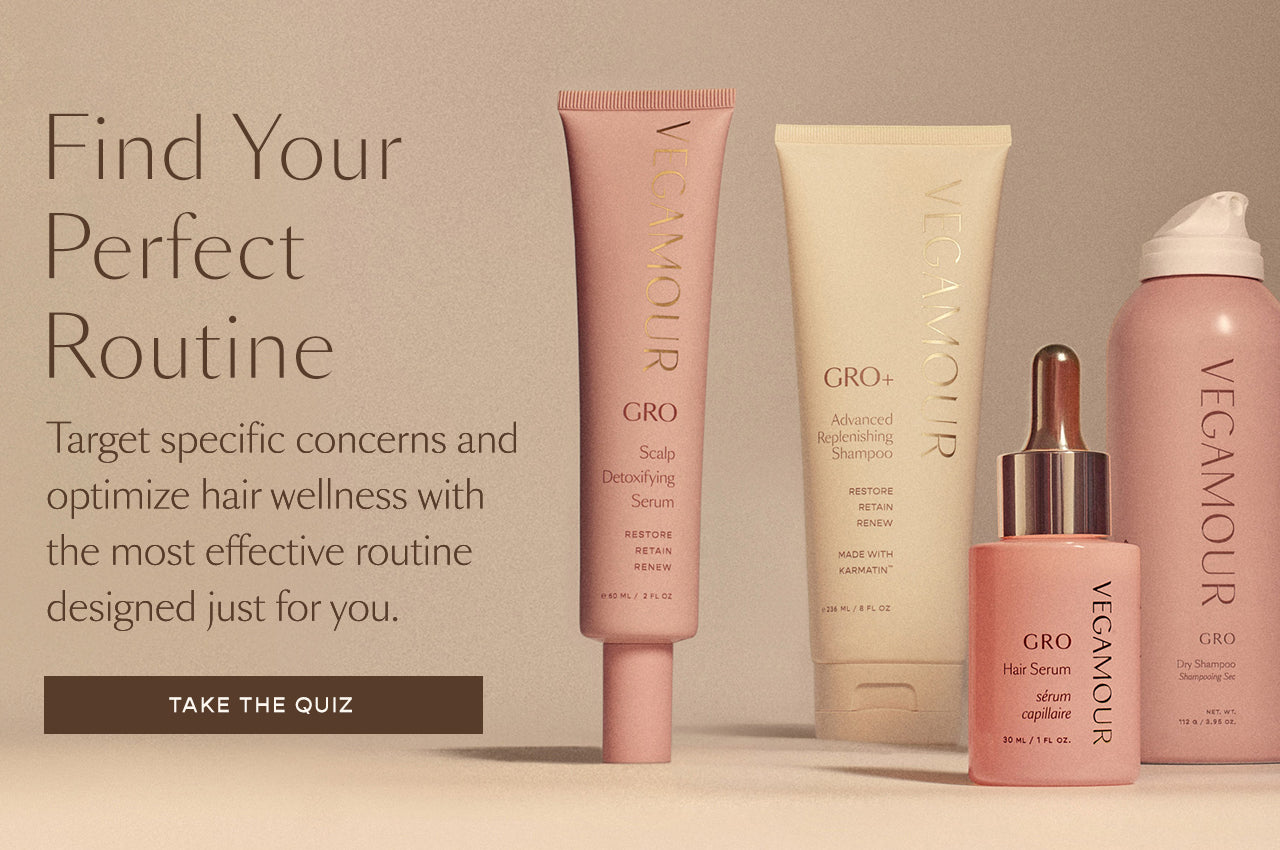 Disclaimer: Information in this article is intended for general informational and entertainment purposes only. It is not intended to constitute medical advice, diagnosis, or treatment. Always seek professional medical advice from your physician.