Can Dimethicone Cause Hair Loss? Here's What You Need to Know
You may have heard of dimethicone often on lists of ingredients to avoid. So what does it have to do with hair loss? Keep reading to learn what dimethicone is, why so many cosmetic companies use it and why you may want to try silicone-free hair products designed to combat thinning hair.
What Is Dimethicone? Dimethicone Is Essentially a Silicone
Dimethicone is a non-water-soluble, silicone-based polymer used in hair styling products and other cosmetic or personal care products. Here are some other facts about dimethicone.
It's an emulsifier. It helps styling products "stick together."
It gives skin and hair products a silky texture, so it's commonly used.
It creates a coating that seals in moisture and helps to tame frizzy hair
It may help the skin to feel or appear more smooth.
While all of that may sound positive, synthetic polymers, like dimethicone, have some drawbacks that turn off clean beauty and wellness-conscious buyers. (For the record, VEGAMOUR hair products are always free of silicones.)
Silicone-based hair products have recently come under fire, which has contributed to the trend for clean beauty productslike VEGAMOUR offers. Conscientious shoppers are label readers who are always checking out the ingredients list on their quest for healthy hair and skin. They want hair styling products that have the following benefits:
Scalp-friendly
Make hair healthy, shiny and soft
Avoid causing buildup or clogging pores
Contain natural ingredients
And while dimethicone seems to provide some of those benefits, such as making hair soft, it's not a natural ingredient.
What Types of Products Include Dimethicone?
Products with silicones are quite common, especially in beauty products. You can find dimethicone in products such as:
Cosmetics 
Moisturizers and creams
Makeup primers
Shampoos and conditioners
2-in-1 shampoo + conditioner products
Hairstyling products
Shaving creams
Is Dimethicone Good for Your Hair?
Simply put: Not really. Dimethicone creates a silicone coating on the hair cuticle, making a smoother hair shaft, creating a barrier that seals in moisture and creates a more smooth and silky feel. But that luxurious feeling comes at a cost.
"The fact is that dimethicone repels water, so it will form a seal around the cuticle, and it quickly builds up on the hair," said Dr. Paula Morgan, board-certified dermatologist and medical advisor for BetterGoods.org, an independent organization that audits the ingredients in beauty and personal care products for safety."This means that water can no longer penetrate the cuticle, ultimately leaving the hair damaged and dry."
Shop: The Hair Wellness Collection
Silicone-Free Hair Products Can Help
The good news? If you're experiencing thinning hair or hair loss (no matter what the reason), consider using silicone-free hair products that are formulated with powerful phyto-actives to deeply nourish your hair. Start by detoxifying your scalp with our serum, then wash everything clean with our silicone-free shampoo and conditioner for thinning hair.
In between washes, treat your roots to our bestselling GRO Hair Serum,which can increase the appearance of and reduce signs of shedding. Powered by vegan phyto-actives, this silicone-free serum encourages thicker, fuller looking hair with 90 days of consistent use!
Shop: GRO Revitalizing Scalp Massager
Why Some People Avoid Silicones Like Dimethicone
Unfortunately, even though they provide some surface benefits, silicones from hair care products tend to create buildup on the hair and scalp. This is because they are not water-soluble, which is great when you want to prevent frizz but can be a nuisance for creating voluminous locks with a healthy shine.
Get Rid of Silicone Buildup With a Scalp Serum
To rid your hair of silicone buildup, you have to use something stronger that will wash it away. And while you can reach for a drugstore shampoo that contains sulfates to wash away the silicones, sulfates can be irritating to your scalp, causing dryness and inflammation in some people.
The good news is that you do have another option that will allow you to skip the sulfates and other ingredients typically found in non-natural shampoos. For example, GRO Scalp Detoxifying Serum is a pre-treatment for your scalp that contains powerful phytoactives. It gently removes scalp buildup while protecting, moisturizing and balancing your scalp's microbiome. To use, simply apply the serum to your scalp, leave it on for five to 10 minutes and then shampoo and condition your hair.
For a full hair wellness routine with zero silicones, try the GRO Foundation Kit, which includes GRO Scalp Detoxifying Serum and best-selling GRO Revitalizing Shampoo and Conditioner with Karmatin™. 
Shop: Dimethicone-Free Hair Products
Studies on Dimethicone and Hair Loss
When trying to determine how helpful or harmful something may be, it can help to look at the research. One study analyzed hair shedding in 404 healthy Thai females for a period of six weeks and found that the higher hair fall occurrences observed lined up more with grooming days rather than shampoo days. Findings of the study showed that hair loss, while often associated with a new shampoo and hyperawareness that comes with using a new product, is more often caused by other factors.
Other studies find that dimethicone is safe to use in cosmetics and hair care products. So what's the big deal? The answer is in how they function. Here are just a few reasons for concern.
Non-water-soluble products with silicones do not break down and wash away as easily as water-soluble molecules do. This can lead to buildup on the hair and skin or may make finer textures of hair feel greasy.
Buildup on the scalp creates an unhealthy scalp environment.
Buildup on the hair may make it brittle and dull.
Dimethicone Hair Loss: Is There a Connection?
"The question of whether dimethicone is good or bad for the hair is hotly debated," said Dr. Morgan. "However, dimethicone in hair products won't directly cause hair loss; the issue is more related to the long-term damage that it may cause to the hair."
Jae Pak, M.D., of Jae Pak Medical, agreed: "Dimethicone blocks moisture, preventing water from entering, which can result in dry and damaged hair that is more prone to breakage and fallout," he said. "Because it's heavy, it can also weigh hair down, creating less volume, which can also give the appearance of thinner hair. While dimethicone may not directly cause hair loss immediately, the damage can build up."
Shop: Silicone-Free Hair Products
More Likely Causes of Hair Loss
Although dimethicone may create conditions that can lead to hair loss, direct (and more likely) causes of hair loss include the following:
Genetics and the natural aging process
Illness
Hormonal activity: increased levels of DHT (dihydrotestosterone)
Physical stressors can cause traction hair loss: hair pulling, excessive use of tight braiding or clips
Increased stress
Radiation therapy
Poor nutrition
Take a 360-Degree Approach to Hair Wellness
The bottom line is that if your hair is healthy, it's OK to use your silicone hair potion that you just love. But you need to know which of your products contain silicone, so you know how to properly and gently remove any residual buildup on your hair an scalp. You can also opt to skip the silicones altogether and make cleaner choices for your hair and skin. Also, if you have fine or thinning hair, you may want to seriously consider going silicone-free when it comes to all of your hair care products.
While it's important to choose hair care products, such as Vegamour, which are free of sulfates, silicones, parabens, artificial fragrances, and gluten for hair health, that's just one piece of the wellness puzzle. Daily actions like eating a balanced diet, reducing stress and exercising can all help make you happier and healthier overall. Your hair and body will thank you!
More From VEGAMOUR
Photo credit: Sarah Chai/Pexels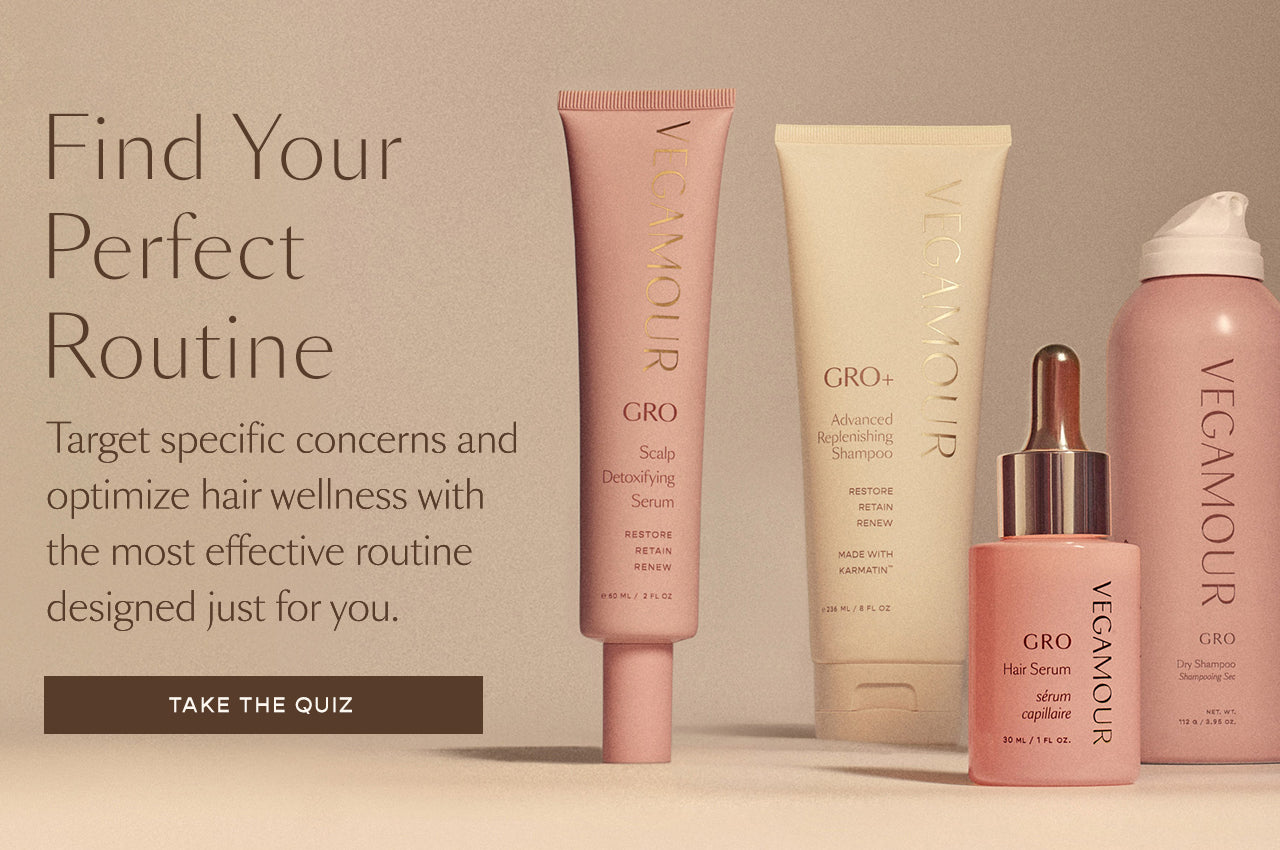 Disclaimer: Information in this article is intended for general informational and entertainment purposes only. It is not intended to constitute medical advice, diagnosis, or treatment. Always seek professional medical advice from your physician.