A Therapist Explains How To Manage Hair Care When Depressed
Depression can seep into every area of your life, making sticking to routines almost impossible. Even relatively simple things like hair care can feel impossible to keep up with.
To better understand how to manage your hair when depressed, we spoke to some mental health professionals. Plus, discover what hair care products you should use if you're interested in a low-maintenance routine to keep your strands nourished.
What Is Depression?
Mental illness can take many different shapes and forms. Depression is classified as a mood disorder where feelings of loss, sadness and anger pepper someone's day to the extent they can't function healthily. It's also fairly common. According to the World Health Organization, approximately 280 million people in the world have depression.
Depression usually evokes low self-esteem and self-loathing. Happy thoughts are limited, and those struggling with a major depressive disorder could feel sad constantly. Clinical and educational psychologist Aura De Los Santos explained, "Depression is a disorder characterized by a state of chronic sadness and hopelessness. Many people with depression take little care of their image as this mental illness causes them to lose motivation for everyday things they used to do."
Not everyone struggling with a mental health disorder will experience the same symptoms,s and they can vary in severity. However, if you've experienced some of the following signs or symptoms nearly every day for two weeks, you may want to consult with a mental health professional:
Lingering feelings of sadness
Feeling hopeless, worthless or overwhelmingly pessimistic
Crying often
Getting annoyed or feeling irritated
Loss of interest in the things you once enjoyed
Severe fatigue and decreased energy
Difficulty concentrating
Insomnia or trouble sleeping
Struggles with body image
Weight changes and loss of appetite
Headaches, pain, cramps and digestive problems
Hair loss
Loss of social life and disconnection from community
Suicidal thoughts
Self-harm
Low libido and disinterest in sexual performance
Millions of people struggle with depression and its symptoms every day. But don't let it control your life. Reach out to a loved one for help and also make an appointment with a therapist. If you're experiencing suicidal thoughts, call the National Suicide Prevention Lifeline at 800-273-8255, 24/7, for immediate help. You can also text 741741 to the Crisis Text Line for free, confidential help by text 24/7. No matter what, remember you are not alone, and there are plenty of resources to help you deal with your depression so you can feel better!
What Causes Depression?
There are many possible reasons why someone experiences depression symptoms, ranging from circumstantial to biological. Common causes can include:
Brain chemistry. Someone might have a chemical imbalance in parts of the pain linked to mood and behavior.
Hormone levels. In females, estrogen and progesterone at different times (during their period, after giving birth, perimenopause and menopause) may raise the risk of depression.
Family history. If you have family members who struggle with depression, you may be at a higher risk of the mental health condition as there could be a genetic predisposition.
Chronic pain. Those who experience pain for too long may suffer from light or severe depression at points.
Early childhood trauma. Complex events at an early age could impact how your nervous system reacts to fear and difficult situations.
Read: 13 Self-Care Tips For Your One Wild and Precious Life
How Does Depression Impact Your Hair?
"In the case of routine hair care, a person with depression can go days and even weeks without washing their hair. They show no interest in having their hair neat and clean," said De Los Santos. "In my experience as a psychologist, I have worked with clients with depression who have gone several weeks without washing their hair."
Not washing your hair for long periods of time can create a buildup of oil, and if someone feels bed-bound, they might experience matting that's almost impossible to untangle. With evidence from her clinical practice, clinical psychologist Dr. Carolina Estevez, Psy.D, said, "Depression can affect appetite and sleep patterns, both of which play major roles in healthy hair and skin. If these habits are disrupted due to depression, it can negatively affect the condition of someone's scalp and hair."
Depression and Hair Loss
In worst-case scenarios, someone might experience hair thinning, hair loss and alopecia areata. Alopecia areata is a chronic disease that could leave the sufferer with physical symptoms such as patchiness and baldness. In addition, because hair is an important part of body image, research suggests that hair loss can negatively impact our psyche. One bidirectional study involving over 6 million people explored the relationship between depression and hair loss. It was found that those experiencing severe depression or a major depressive disorder were 90% more likely to become hair loss patients.
Antidepressants (commonly a selective serotonin reuptake inhibitor or SSRI) are offered as an effective treatment and can help relieve depression. However, medication tends to impact everyone differently; sometimes, SSRIs can cause hair loss. If you're concerned that it's your medication causing problems, talk to your therapist or doctor about different antidepressants.
Related: These 12 Medications Might Cause Hair Loss
A Low-Maintenance Hair Care Routine
Whether you're living with severe symptoms or persistent feelings of low worth, both De Los Santos and Estevez believe being compassionate with yourself is an excellent first step.
To make your hair care routine more manageable, keep things simple. "One of the main things you want to avoid is the matting of the hair from lying down on it for an extended period with brushing or washing," suggested Estevez.
Estevez also suggested sleeping with a bonnet or a silk pillowcase. Another suggestion she made was to put hair in a loose, comfortable hairstyle before sleeping to reduce matting. "Additionally, shampooing no more than two to three times per week can help prevent over-drying and breakage of the hair," Estevez said. "Make sure you are using gentler products like sulfate-free shampoos that won't cause additional dryness or damage."
Our GRO Revitalizing Shampoo and Conditioner are formulated without toxins and drying ingredients, like sulfates. The beautifully scented products will help boost your mood, and the vegan, color-safe duo will nourish strands beautifully, encouraging thicker, fuller hair while reducing shedding. In between wash days, keep your hair looking fresh with our volumizing GRO Dry Shampoo. It's formulated without talc or benzene, so it's safe to use whenever you just don't feel like going through the motions of shampooing and conditioning your hair.
"Combing through conditioner or using a wide-toothed comb to detangle the hair can also add moisture and reduce breakage," said Estevez. "Lastly, try opting for hairstyles that are easy to maintain, like buns, low ponytails or twists."
The Help You Deserve
Depression is a debilitating mood disorder that many Americans suffer from at some point in their life. Talk therapy, behavioral therapy, support groups and antidepressants can all help you untangle complex thoughts and feelings, so you can return to feeling like yourself again.
Unfortunately, daily tasks can become overwhelming when you're feeling depressed, so make life easy for yourself by using clean products that will nourish each strand with minimal effort. 
More From VEGAMOUR
Photo credit: cottonbro studio/Pexels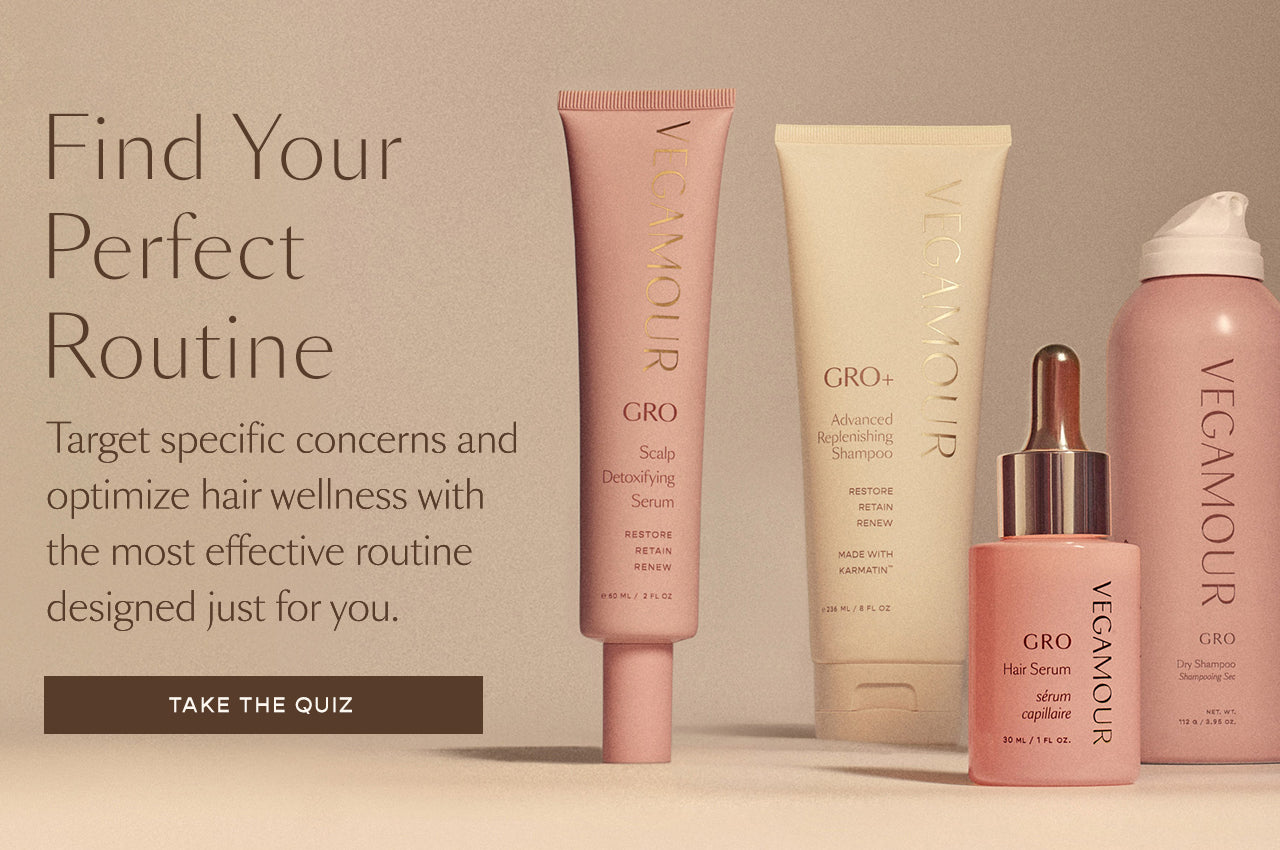 Disclaimer: Information in this article is intended for general informational and entertainment purposes only. It is not intended to constitute medical advice, diagnosis, or treatment. Always seek professional medical advice from your physician.