The Best CBD Serum for Lashes and Brows
Picture this: Having thicker, statement-worthy brows and voluminous lashes all the time — without having to use brow makeup, mascara or lash extensions. Sounds like a dream scenario? Stop fantasizing about fuller brows and flutter-worthy fringe. Instead, make it a reality with the help of a CBD-enhanced brow or lash serum — or better yet, go for both.
Forget those formulas that rely on chemicals and ingredients you can't pronounce. Instead, focus on plant-based alternatives with natural ingredients to help you achieve your best brows and healthy lashes.
At VEGAMOUR, our vegan and cruelty-free clinically proven ingredients can help you achieve thicker-looking brows and lashes with the power of CBD.
The Benefits of CBD
The secret to our GRO+ Advanced Lash & Brow Serums starts with the help of the wellness wonder ingredient: cannabidiol, more commonly known as CBD.
Soothing and calming full-spectrum hemp is believed to have an array of positive effects on our overall holistic health. The touted benefits of CBD include everything from calming anxiety to boosting physical health. And CBD oil, along with other plant-powered natural ingredients found in VEGAMOUR GRO+ Advanced Brow and Lash Serums, may be a helpful tool for those experiencing skin and/or hair issues.
Using microencapsulated cannabidiol has the potential to help alleviate and soothe skin, which, in turn, may be of benefit to the hair follicles. Some research suggests that using a microencapsulation delivery method allows CBD oil to penetrate the skin better, which can make it easier for the oil to reach the hair follicle.
Read: GRO Brow Serum Is My Secret To Beautiful Looking Brows
Lash Out: GRO+Advanced Lash Serum vs. vegaLASH
Both the original vegaLASH Volumizing Serum and the GRO+ Advanced Lash Serum were designed to elevate your natural lashes, and both formulas also contain vegan ingredients, including plant actives, such as mung bean and red clover, to promote fuller, thicker-looking lashes. However, the GRO+ Advanced Lash Serum is also fortified with microencapsulated CBD, which works to soothe skin, creating the ideal environment to support denser, healthier lashes. Think of it as a bonus to the powerful phytoactives already found in the original vegaLASH Volumizing Serum.
For best results, apply the volumizing serum twice a day to both the upper and lower lash line. You can finally bolster sparse upper and lower lashes thanks to ingredients such as:
Magnolia Officinalis bark extract
Cannabis sativa flower/leaf/stem extract
Cannabidiol, Trifolium pratense sprout extract
Vigna radiata sprout extract
Trifolium pratense flower extract
Don't worry: the formulas are safe for sensitive eyes and perfect for elevating thin lashes. We're happy to share that after four months of consistent use, some subjects saw a 94% greater increase in lash density and volume and 34% longer-looking eyelashes.

Brows That Wow: GRO+ Advanced Brow Serum vs. vegaBROW
When it comes to bolstering your brows, you can opt for either vegaBROW Volumizing Serum or GRO+ Advanced Brow Serum. Both products contain a unique polyphytobase complex with zinc and biotin to create healthy hair follicles and encourage fuller brows. The advanced formula is fortified with skin-soothing CBD, just like its lash counterpart.
The GRO+ Advanced Brow Serum is elevated by its addition of microencapsulated, full-spectrum CBD. Created to quickly penetrate and soothe skin, this concentrated cannabidiol works in tandem with our phyto-actives to support visibly thicker, fuller-looking brows in as few as 30 days.
Its key ingredients include:
Magnolia Officinalis bark extract
Cannabis sativa flower/leaf/stem extract
Trifolium pratense Sprout Extract
Vigna radiata sprout extract
Trifolium pratense flower extract
After four months of consistent use of the GRO+ Advanced Brow Serum, some subjects saw a 94% greater increase in brow density and volume.
Related: What Is CBG and Is It the Next Big Thing in Cannabis Beauty?
The Benefits of GRO+ Advanced Lash and Brow Serums
One study analyzing the lipid profile of hemp oil found that it contains a generous amount of beneficial fatty acids and oils. As a natural active ingredient in our lash and brow serums, CBD can help reduce inflammation and improve blood circulation upon topical application because of its ability to penetrate well beyond the top layer of skin.
Other beauty benefits of full-spectrum hemp and its compounds include moisturization and prevention of itchiness and dryness. Plus, it doesn't clog pores. However, CBD isn't the only hero ingredient you'll find in the mix.
Mung bean is found across a variety of VEGAMOUR products — and for good reason. The superfood contains many hair-restoring nutrients such as B vitamins, zinc, magnesium and iron. When mung bean is paired with red clover, the combination of the two has been shown to inhibit the production of DHT, which can be linked to one of the most common causes of hair loss.
In our own before-after studies of the GRO+ CBD lash and brow serums, our subjects experienced results in as little as four weeks, with peak results after four months. For best results, it's recommended to apply both the GRO+ Advanced brow and eyelash serums twice a day.
Don't just take our word for it. Instead, check out these rave reviews from actual users of the GRO+ Advanced brow and lash serums who are happy to have found a solution for their sparse lashes and brows:
"This product really works! I was a victim of the 90's brows and I thought I would only achieve a full brow by coloring them in. After a couple of months of using this product consistently, I have much fuller brows. My sisters always tell me how full my brows are now. It's made a huge difference in my look, and I highly recommend this product!" - Annette S.
"I am SO thankful to Vegamour for making such a life-changing natural product! I've always had super long natural thick lashes, but as I'm inching closer to the big 4-0, they started to thin and fall out! I was absolutely horrified. As a woman, this really made me take a hit to my confidence, and I was actually depressed. Thank God I gave this product a try! It has been a little over a week, and my lashes have already started to come back in length and thicken the way they used to be! This product has totally boosted my confidence and made me feel like myself again! Now I don't feel so bad about the big b-day approaching. Seriously life-changing product! Highly recommend. Thank you, Vegamour!! " - Bernadette R.
More From VEGAMOUR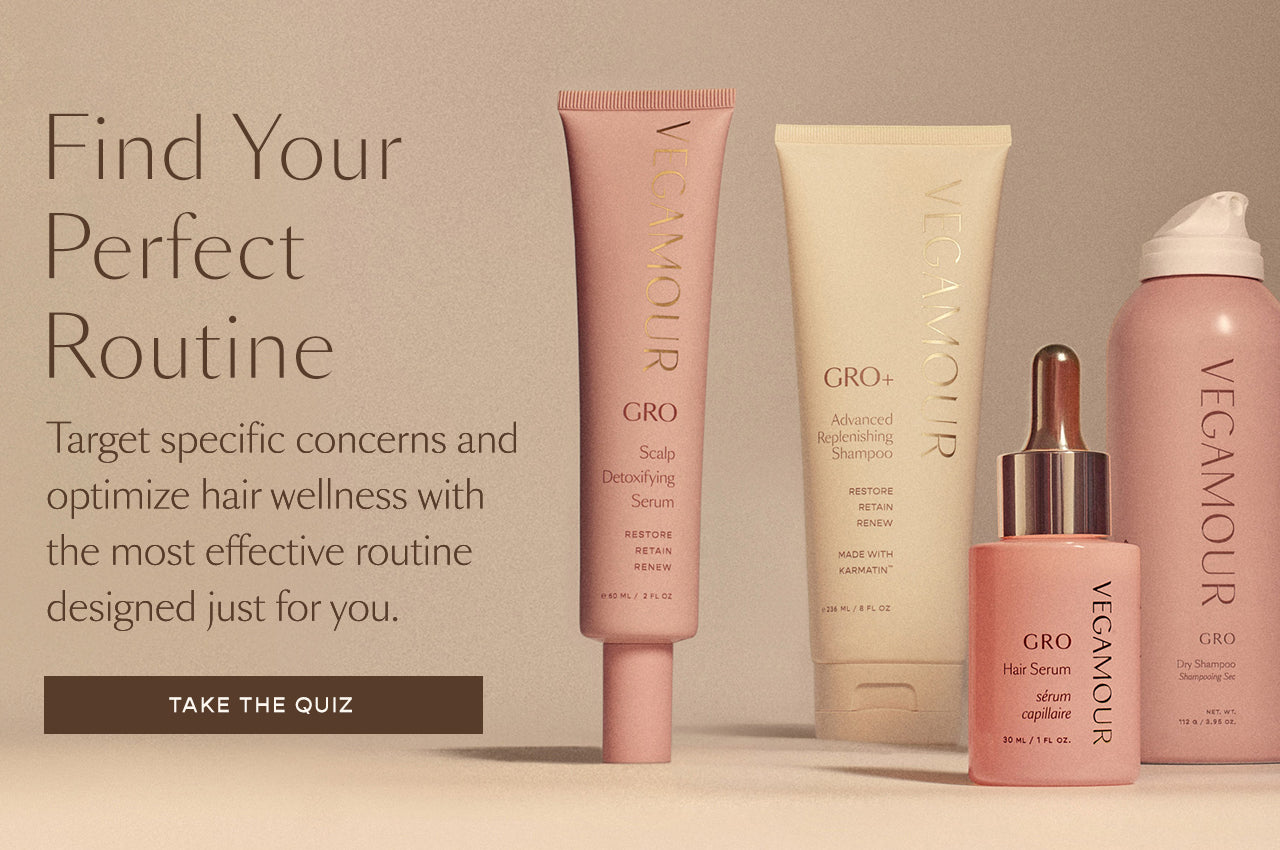 Disclaimer: Information in this article is intended for general informational and entertainment purposes only. It is not intended to constitute medical advice, diagnosis, or treatment. Always seek professional medical advice from your physician.