How to Make Thin Hair Look Thicker
Thin hair can be tricky to handle. And having thinner hair can be all the more frustrating when you're looking to dial up the volume for a big event.
If your locks are in need of a lift, you're not alone! Here, experts share how to breathe new life into your look. Read on for pro tips on how to make thin hair look thicker and build more volume. Plus, find out what products you should be using to encourage visibly thicker, fuller hair.
Thin Hair Help Starts Here
First, stop stressing. Thinning hair, hair loss and scalp issues are far more common than you might think. According to the American Academy of Dermatology, 80 million people within the U.S. experience hereditary hair loss. And, stress can only make things worse.
Next, make the most of the hair type that you do have. A haircut, along with the right products and styling ideas, that can help create the appearance of more voluminous hair. Take a cue from experts on how to go from barely-there to the thick hair look of your dreams!
Best Seller: GRO Hair Serum
Creating Volume Like a Pro
Fuller-looking, healthier hair begins with a solid foundation. Consult with your hair pro to find the right haircut and pick products to establish a hair wellness routine. 
According to celebrity hair stylist Mirna Jose, there are so many ways to make thin hair look thicker. Begin by building from the ground up, starting with choosing the correct cut.
Curate your cut: "Make sure to get a haircut that suits you and your face shape," explained Jose. "And, opt for one that is easy to style."
Cutting cues: "A common misconception is that layering your hair will create volume," said Jay Scott Jackson, Master Colorist and Manager of NV Salon & Spa by Yajaira. "If you're looking for fullness, you must ask your stylist about graduation throughout your haircut or internally to build volume, such as blunt, one-length cut with internal texture or a short bob."
Read:  7 Best Haircuts for Thinning Hair
8 Expert Tips to Make Hair Look Thicker  
Now, that you've got the right haircut, stop stressing over thin tresses. Instead, get to styling them like a pro. There's nothing quite like that salon-fresh feeling of a bouncy blowout. Recreate the look of voluminous hair, at home. Maximize your styling routine, starting in the shower, and get ready to turn heads!
Pro Tip 1: Cleanse, condition, recalibrate.
"For starters, use a volumizing shampoo or thickening shampoos," said Jose. "And, ONLY apply conditioner on the ends, as applying it all over can weigh hair down."
Prep Steps:
Start with your favorite shampoo and conditioner kit.
After washing your hair, opt for a deep conditioning hair mask to give your hair a reset while you sleep. This color-safe intuitive technology is powered by Karmatin™, which instantly adjusts to hair on contact, helping to provide ideal amounts of moisture, volume, repair and protection.
Pro Tip 2: Serum isn't just for skincare.
Use a thickening shampoo and conditioner to add volume, advised Jackson. The next step is to integrate serum into your regular hair care routine. After all, you likely already use serum in your skincare — treat your hair with the same TLC!                 
"GRO+ Advanced Hair Serum is a solid product choice to promote healthy hair and scalp," said Jackson. "And, reduces your breakage and shred."
Prep Steps:
Get right to the root of thin hair by massaging GRO+ Advanced Hair Serum into the scalp using fingertips.
Powerful phyto-actives such as mung bean, red clover, curcumin and micro-encapsulated CBD effectively stimulate improved circulation in the hair follicles, a key step to promote hair growth.
The clean formula soothes the scalp, helping encourage the appearance of thicker-looking hair. Best of all, with consistent use, the serum has been clinically shown to increase the appearance of hair density by up to 52% and reduce signs of shedding by up to 76%! 
Pro Tip 3: Enhance your blow drying routine.
"Rough blow dry your hair to about 60 percent," said Jose. "Then, apply styling product(s)."
Prep Steps:
The reason? You don't want to lose product volume-enhancing efficacy with sopping wet strands.
"If the hair is too damp, the water will dilute most of the styling product," explained the stylist. "You won't get the benefit of using those volumizing styling serums, mousses, gels or glaze."
Read: How Often Should You Wash Thinning Hair?
Pro Tip 4: Amplify and add dimension.
Add extra oomph to elevate the thicker hair look with volume-boosting styling products. Opt for a volumizing mousse or hair foam with growth actives. 
Another idea: Ask your colorist if a few highlights strategically placed around the town can help enhance and mirror the look of thicker hair.
Prep Steps:
Lightweight, quick-drying and designed with the texture of a hair mousse, use the foam to provide instant body and texture.
The mousse-like foam also deeply penetrates the scalp to support visibly thicker, fuller-looking hair.
Pro Tip 5: Blow dry using a round brush.
"While there are many approaches to the thinner hair issue," said Jackson. "The most typical quick fix is product selection." Build a better blowout by pairing volumizing products with a round brush to bolster volume.
Prep Steps:
For added volume, style by using a round brush as you blow dry hair upside down.
Follow by misting dry shampoo all along the roots.
Wrap hair upward and back using the round brush and your blow dryer.
Once your blowout is complete, set on hot rollers to emphasize even more fullness in the roots and crown.
Pro Tip 6: Ride the wave with texture.
"Other than layering the hair very well, " said celebrity stylist Joel James. "Some tips and tricks I will use to make thin hair look thicker will be adding a wave to the hair with a curling iron."
Prep Steps:
"Brush out the hair after it's curled, " explained James. "Brushing makes the hair texture look bigger and have higher density."
"Sometimes, I will tuck the hair under," said James. "Then brush the hair on top and you'll never know the person has thin hair."
Read:
6 Tips & Tricks for Styling Thin Hair
Pro Tip 7: Score instant volume with faux fullness.
"To give the illusion of fuller hair, you can use hair fibers or a root cover up on your scalp," said Jose. "Depending on where your hair is thinning, you can also use hair extensions such as clip in extensions or a topper."
Prep Steps:
"You can also try the approach of hair extensions, " said Jackson. "Clip in or semi-permanent extensions will work to add instant volume and/or length in your style."
Pro Tip 8. Use back-combing to add a boost.
"Back-comb sections of hair to create volume. Use a medium hold hair spray or dry shampoo on each section before and after back-combing," said Jose. "This will make sure the hair stays the way you want for a longer period of time."
Prep steps:
Dry shampoo works in a similar manner to a texturizing spray, adding the necessary grip and volume boost.
Tease the roots and back-comb the crown into a pompadour.
This helps mirror the look of thicker hair in fine or thin hair of any length. As it adds body to the crown and front of the hair, back-combing prevents hair from looking limp.
Treat Thin Hair With TLC
Hair wellness starts from within — give your hair the care and attention it deserves! Relax, reset and revamp thin hair with expert-approved thick hair tricks to take it to the next level.
More From VEGAMOUR
Photo credit: Oleg Ivanov/Unsplash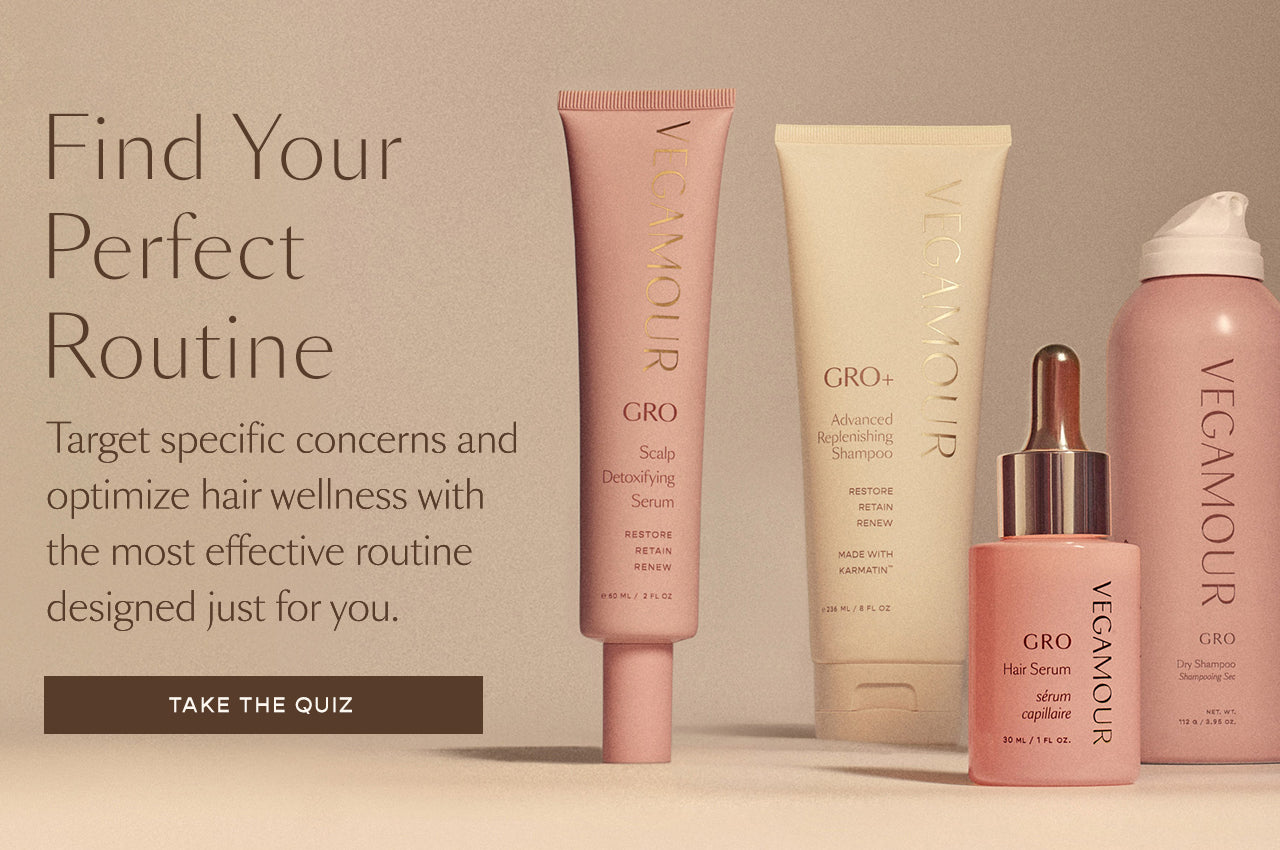 Disclaimer: Information in this article is intended for general informational and entertainment purposes only. It is not intended to constitute medical advice, diagnosis, or treatment. Always seek professional medical advice from your physician.