What Do Dermatologists Prescribe for Hair Loss?
Oily or frizzy hair is something you notice right away when you look in the mirror. But hair thinning is something that can creep in. The truth is that losing your hair doesn't always result in strands falling out by the handfuls. Sometimes, it's a subtle daily process that suddenly takes you by surprise.
Experiencing hair loss can be alarming, and many people make an appointment with a dermatologist to find out what's going on. Keep reading to find out what to expect if you visit the dermatologist for hair loss, including what might be prescribed. Plus, get the lowdown on what natural products you really should be using to encourage thicker, fuller looking hair.
What's a Dermatologist's Process to Help Hair Loss?
Whether you're experiencing hereditary hair loss or temporary hair loss, a dermatologist will perform a physical exam and ask questions about your family history to get you on track with a treatment plan.
Maryann Mikhail, M.D., a board-certified dermatologist from New York, described the details of a hair loss diagnosis. "I start with getting a good history. I will ask about medical problems, medications, weight changes, pregnancies, surgeries and recent stressors," she said.
"I also ask about hair styling and processing habits as well as family history. Next, I examine the hair and scalp. I check for the pattern of hair loss, look for signs of redness, scaling, scarring, breakage and do a gentle test called a hair pull where I put gentle traction on the hair to see if it comes out loosely."
Tests a dermatologist might offer include:
Scalp biopsy: Often, doctors opt for a 4mm punch biopsy. During a punch biopsy, the doctor clips hairs from a small area of your scalp, applies a local anesthetic to numb the area and then uses a small tool to remove a core of tissue that contains the deeper layers of the skin.
Pull test: The doctor gently pulls the hair shaft to test for breakage and see how loosely the hairs are attached.
Blood test:This can help determine whether you're suffering from an undiagnosed medical condition causing further hair loss.
Light microscopy: Hairs are plucked and examined at their roots to uncover the type of hair loss someone suffers from.
"If necessary," said Mikhail, "I order bloodwork to check for anemia, hormone levels and vitamin levels. In some cases, I will need to do a scalp biopsy to be sure of the diagnosis. Based on my findings, I develop a treatment plan that targets the root cause of hair loss."
Shop: The Best Thickening Hair Products
Some Causes of Hair Loss
Losing hair can happen at any time for a variety of reasons. However, a dermatologist's examination can help identify the cause if you notice thinning hair and feel concerned.
Hair loss could be an unwanted side effect if you're taking medications to treat high blood pressure, heart disease or depression. Hair loss can also be a symptom of various medical conditions such as anemia, thyroid disease and other autoimmune disorders. In addition, recent surgeries, vitamin deficiencies and gland disease can cause hair shedding.
Alopecia areata is an autoimmune condition where the immune system attacks the hair follicles, often causing circular patches of hair loss. Alopecia areata is often easy for a dermatologist to prescribe and usually slows on its own over time.
Many men experience a receding hair line and permanent hair loss. Male pattern hair loss usually begins around the temples, spreading backward over the scalp to create the familiar "M" shape.
Pregnancy, menopause and other changes in the female body can increase stress levels and impact hair growth. Female pattern hair loss affects approximately 40% of women aged 50. Unlike men, female hair loss rarely causes complete baldness or an extreme receding hairline.
There are various treatments patients can indulge in to prevent future hair loss or help the hair regrow over time.
See: 7 Autoimmune Diseases That Might Cause Hair Loss
What Might a Dermatologist Prescribe for Hair Loss?
"Treatment for hair loss depends on the root cause. If there is inflammation, topical or injectable cortisone can help. If it's related to aging, there are topical medicines like Minoxidil and oral medicines," explained Mikhail. "Spironolactone, finasteride, dutasteride, and oral Minoxidil are pills that can be prescribed for androgenic (age and hormone-related) hair loss. None are safe in pregnancy."
Spironolactone
Spironolactone is a water pill that prevents the body from absorbing excess salt. Because it's a potassium-sparing diuretic, it prevents potassium levels from dipping too low. The pill of often prescribed to treat:
High blood pressure
Kidney disease
Fluid retention
Low potassium levels
Liver disease
Acne
Hyperaldosteronism
It's also used to treat hair loss because it's considered an anti-androgen that blocks the hair falling effects of the male sex hormone dihydrotestosterone or DHT.
Pregnancy, post-pregnancy and menopause can cause androgenetic alopecia, which is also known as AGA. AGA can manifest as thinning around the temples and hair loss on the top of the scalp. As a DHT-blocker, spironolactone is a hair loss treatment that can combat this type of hair loss.
The side effects of spironolactone can be unpleasant and, at times, even dangerous.
Side effects of spironolactone include the following:
Menstrual changes
Fatigue
Headaches and dizziness
Urinary urgency or infrequent urination
Weight gain
Muscle weakness
Nausea
Feeling light-headed
High potassium levels
Chest pain
Increased thirst
Confusion
Slurred speech
Unsteadiness
Breast swelling or tenderness
Loss of coordination
Abnormally low blood pressure
Electrolyte imbalance
Read: The Difference Between VEGAMOUR's GRO vs. GRO+ Advanced Collections
Finasteride and Dutasteride
Finasteride is an oral drug introduced initially to shrink an enlarged penis. In 1998, the drug received approval to treat male pattern baldness and hair loss. Today, the medication can also be prescribed as a hair loss treatment for women because it targets the DHT that can attack and damage hair follicles.
"Finasteride and Dutasteride block male hormone from being converted to the active form that causes hair loss," Mikhail said. "Side effects include breast tenderness, headache, irregular periods, dizziness and decreased libido. Dutasteride is stronger than finasteride and also has more side effects. While finasteride is FDA approved for hair loss in men, it's off-label for women."
"Dutasteride is not approved for either. Even touching finasteride or dutasteride pills can cause birth defects, so they're not the best choice for women of childbearing age unless nothing else works. They're an option for post-menopausal women. It's best to avoid these medicines if you have a history or family history of breast cancer."
Side effects of Finasteride include:
Erectile dysfunction
Breathing difficulties
Skin swelling and irritation
Ejaculation disorder
Male infertility
Increased risk of high-grade prostate cancer
Higher risks of birth defects in male babies
Minoxidil
"Minoxidil is a vasodilator, meaning it increases blood flow to the scalp," said Mikhail. The topical form is available as a foam or a liquid. It can also be taken as a pill ... the pill is a blood pressure medication but can be used in small doses for hair loss. It's not FDA-approved for hair loss."
Topical Minoxidil might be prescribed by a dermatologist to stimulate hair growth and address a variety of hair disorders, though it isn't considered an effective treatment for postpartum alopecia. It can be applied to the skin and help treat telogen effluvium and stress-related hair loss.
"It's not FDA approved for hair loss. Side effects include facial hair growth, fast heartbeat and leg swelling," said Mikhail.
Other potential side effects of Minoxidil include:
Scalp irritation
Headaches
Chest pain
Irregular heartbeat
Low blood pressure
Allergic reactions
Weight gain
Changes in hair texture and color
Read: 10 Things to Try for Thinning Hair
Other Treatments for Hair Loss
Men, in particular, suffer long-term and permanent hair loss. If you struggle with baldness or severe hair shedding, a dermatologist might be able to help with certain in-office procedures. Other hair loss treatments could include:
Platelet Rich Plasma Therapy (PRP)
"PRP and low-level laser therapy can help with hair loss, especially if it's early on or hair loss due to stress response," said Mikhail. "They work synergistically with topical and oral treatments."
The patient's own blood is treated and then injected back to stimulate cells and help regrow hair. The research and overall results are inconclusive, but it is considered a promising treatment option.
Hair Replacement Surgery
"A hair transplant is a great option when other treatments don't work and when there isn't active inflammation causing the hair loss." Hair transplantation is a permanent solution that a board-certified dermatologist will only recommend if necessary.
A hair transplant involved removing existing hair and reinserting it into the balding areas. It is the most common type of hair loss treatment for men and has effective results.
A Natural Way to Combat Thinning Hair — No Prescription Needed
The good news is that prescriptions with potential toxins aren't your only option — there are clinically-proven, natural alternatives to help combat hair thinning.
Skip over potentially harmful side effects by opting for GRO Hair Serum. Its revolutionary, lightweight, non-greasy formula combines powerful phyto-actives to boost and support a healthy and balanced follicular system and visibly thicker, fuller looking hair. In clinical studies, after four months of daily use, some subjects experienced up to a 52% increase in the appearance of hair density and up to a 76% reduction in shedding.
Shop & Save: GRO Hair Serum 3-Pack
Choose a Natural, Holistic Approach to Hair Health
The VEGAMOUR collection contains an abundance of products with clinically proven ingredients to help boost the look of your hair. And if you combine a healthy lifestyle — eating a nutritious diet, getting plenty of sleep, controlling stress, staying hydrated — with targeted, all-natural products, you and your hair will be much better for it!
More From VEGAMOUR
Photo credit: Polina Tankilevitch/Pexels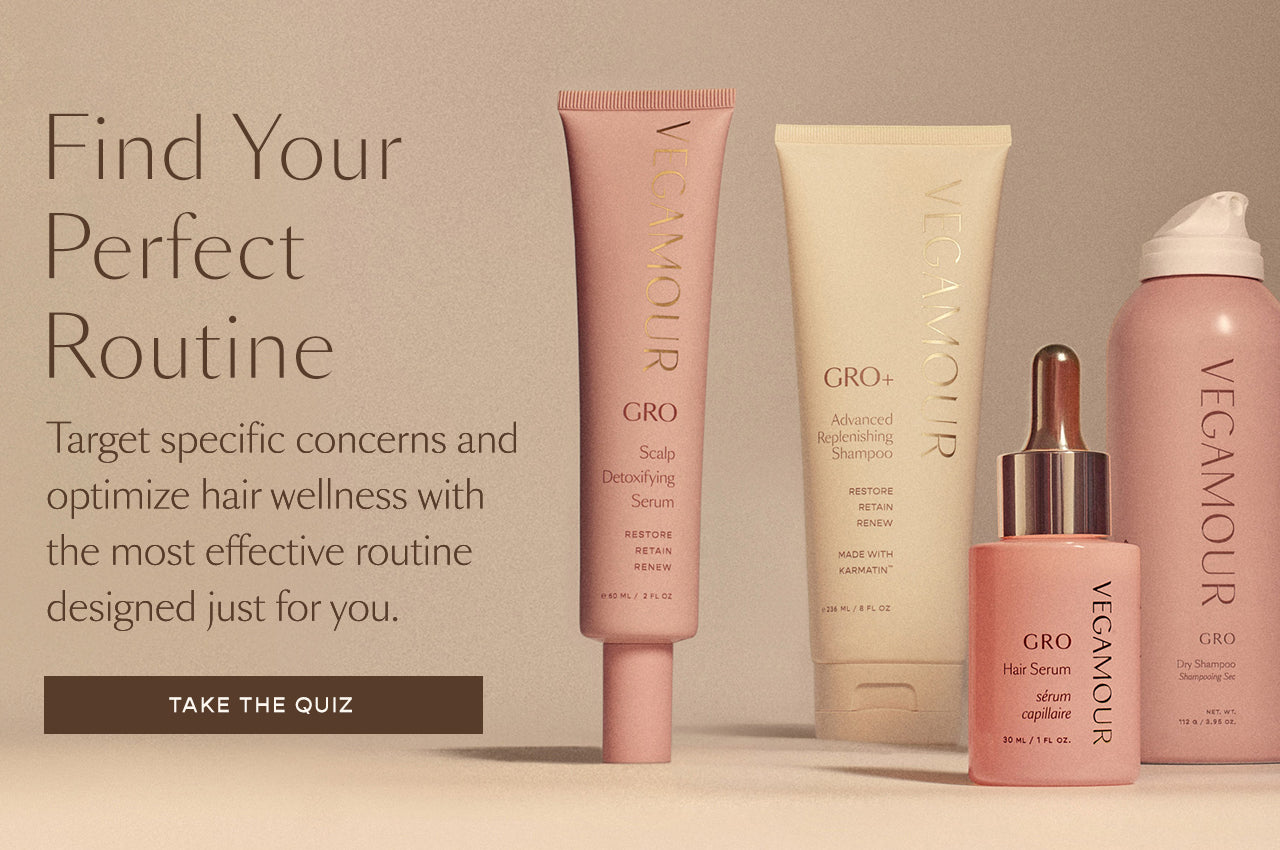 Disclaimer: Information in this article is intended for general informational and entertainment purposes only. It is not intended to constitute medical advice, diagnosis, or treatment. Always seek professional medical advice from your physician.