6 Essential Pre- and Post-Workout Hair Tips
Working out does wonders for your mind and body — with the possible exception of your hair! All those feel-good endorphins that follow a great workout can dissolve when you catch a glimpse of your post-workout hair. Fortunately, there's hope for your hair — even after the most serious sweat session. 
Read on for more about how to prevent your workout from wreaking havoc on your hair. Plus, learn how to protect and preserve healthy hair with the best hair wellness products to incorporate into your routine, starting before you hit the gym.
What Exercising Can Do to Your Hair
Exercise-induced endorphins (the happy hormone) leave you feeling amazing and your skin glowing. The bad news? That post-workout glisten can also leave your hair looking and feeling oil-slicked, greasy, frizzy, tangled or worse, potentially leading to hair breakage, shedding and split ends. 
So, what should you do on those days when your workout and hair wash schedule are not aligned? Rather than stressing out (after all, that defeats the purpose of working out!) over the potential pitfalls, learn how to prep your hair. Fear not, we've got you covered! Integrate the following ideas before, during and after your next sweat session to breathe new life into your locks. 
1. Rethink Your Hairstyle
If you've been stuck in the perennial ponytail rut, you may observe sparse, thinning, patchy areas and think you're suddenly losing your hair. It's more than likely not actual hair loss. Rather, your daily hair styling habits might be to blame. 
It sounds like a catch-22 — yet, wearing your hair off your face by sweeping it back into an ultra-high ponytail or tight top knot for your workout can do more damage than good. Consistently wearing tight, constrictive styles can lead to damage, breakage, thinning or even traction alopecia, a type of hair loss related to repetitive pulling and added weight. 
Read: Why Exercise Should Be a Part of Your Hair Growth Routine
2. Rework Your Workout Hair 
Instead of trying to undo the damage, think ahead and nix the too-tight styles. Instead, choose a non-constrictive style that will withstand the elements — movement and sweat — while minimizing potential future hair issues. Opt for a loose, messy-on-purpose boho braid or pigtails, a loose, gentle oversized bun or relaxed low or side ponytail. 
Try this trick: Use a body-boosting hair foam or mist dry shampoo on your hair before you workout, style as desired, then wrap it up in a satin hair wrap as you exercise. The smooth satin won't cause tangles or frizz, while keeping your hair underwraps. This is a great alternative to protect a fresh blowout or as a way to preserve your hair a few more days before having to wash it. 
Shop: The Best Smelling Hair Products
3. Make Dry Shampoo Your New BFF
Lathering up each day is not always ideal or necessary, even if you've got a workout on your agenda. Some stylists recommend washing hair only a few times a week or at least every other day.
On those days when you want to skip sudsing up but can't miss your workout, meet your new holy grail product: Dry shampoo. You can use it before, during and after a workout. It's the easiest, quickest way to revive and refresh your strands, no water required! Best of all, you can use it anywhere, making it perfect to pack in your purse or gym bag. 
GRO Dry Shampoo is your style saver for those in-between days — or, anytime your hair needs a lift! It offers the same benefits as traditional dry shampoo plus the healthy hair perks of being formulated with the same proprietary blend of phyto-active ingredients found in our best-selling GRO Hair Serum. The do-it-all formula is balancing, volumizing, texturizing and refreshing. It also absorbs excess oils, odors and sweat — all in a lightweight formulation of USDA organic certified rice hulls, mung bean, red clover, kaolin clay. Plus, it's completely free of synthetic fragrances. Mist on your hair both pre- and post-workout, focusing on areas that get the most oily, such as your roots, around the hairline and bangs if you have them. 
4. Derail Damage Before It Starts
It sounds obvious, but taking preventative prep steps are your best bet for optimal hair health. For example, any type of wet hair, including sweat-soaked, is extra vulnerable, making it all the more prone to damage and breakage. 
Stock your gym bag with a mindful post-workout styling stash. Bring dry shampoo, a gentle microfiber hair towel and a wet brush with you to towel-dry and revive your hair after hot yoga or a cardio workout. When possible, avoid harsh hair accessories such as elastics, alcohol-based products that can cause dryness, abrasive brushes or combs and minimize the use of high heat styling tools (or, use the cool setting if you must use a blow dryer).
Related: Why You Should Avoid Hot Tools When Growing Out Your Hair
5. Accessorize Accordingly
Be conscious of the hair accessories you use during your workout — and, beyond! Swap out hair elastics, metal hair clips and abrasive towels or pillowcases in favor of soft, gentle materials. Satin, bamboo or microfiber hair ties, headbands and pillowcases will help reduce friction and abrasion, so you can rest assured your hair will stay snag-free and in place, safely, without breakage.
Shop: GRO+ Advanced Collection
6. Supplement Your Workout Routine
 Healthy hair starts with a healthy scalp. Your scalp is an extension of your body's largest organ, the skin, which absorbs what you are putting on and within it. Working up a sweat can help enhance blood circulation and oxygen within your scalp, which are a necessity for healthy hair follicles and growth. 
Amplify the effects by adding a nutrient-rich supplement to your daily routine that encourages thicker-looking hair, as it enhances immunity. Get a daily dose of delicious key nutrients, such as hair-boosting biotin, with vegan gummies. Best of all, they're easy to take to the gym, no water required!
Maximize Your Whole Body Wellness
Finally, your hair is a reflection of your overall wellness. Daily movement is just the starting point on the path to tress-to-toe wellness. Combine your favorite workout routine with these hair-healthy tips, stay hydrated, eat a balanced diet and don't forget to include all-natural, non-toxic hair wellness products that naturally nourish your skin, hair and whole body from the inside out!
MORE From VEGAMOUR
Photo credit: Viridiana O Rivera/Pexels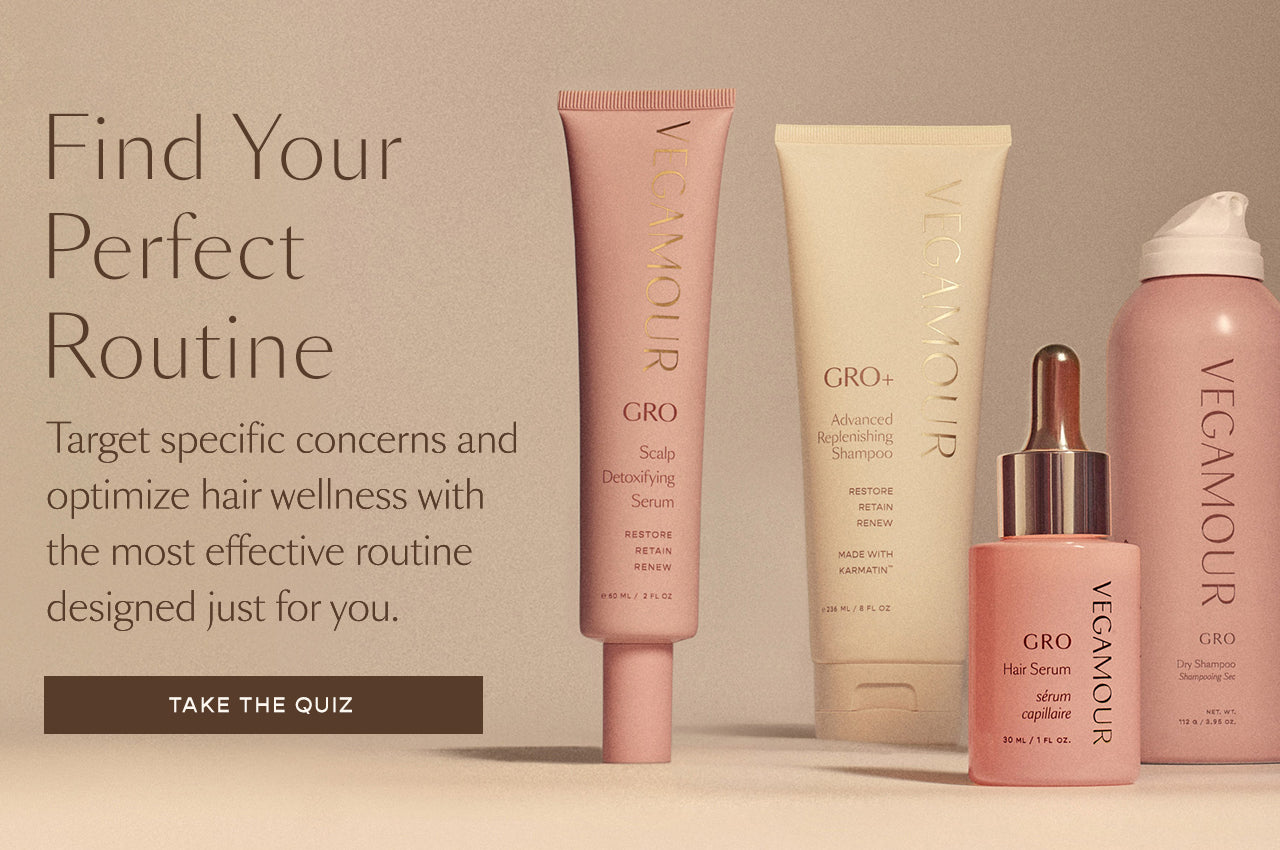 Disclaimer: Information in this article is intended for general informational and entertainment purposes only. It is not intended to constitute medical advice, diagnosis, or treatment. Always seek professional medical advice from your physician.