Rosehip Oil & Hair Loss — Here's What the Research Says
There are many hair oils that claim to revive and restore the look and feel of tired, thinning locks. In addition, some claim to have anti-inflammatory properties, and others are best for sensitive skin. One oil that's garnering positive attention is rosehip oil.
Rosehip seed oil has an alluring reddish amber color and has historically been praised for its skin-healing benefits, but is there scientific evidence to the newer hair-boosting claims? And will it improve scalp health? VEGAMOUR looked at the research and spoke to the experts to find out. Plus, discover the all-natural serums and oils that are clinically proven to promote and support healthy, visible hair wellness.
What Is Rosehip Oil?
Rosehips are the reddish-orange fruit left on a rosebush after the roses die. The tiny, spherical fruits are often edible and used for medicinal purposes. Rosehip oil or rosehip seed oil is made from wild rose plants, often via a cold-pressed method using both the seed and the fruit.
"Rosehip oil is a natural oil that has been used for centuries in traditional medicine," explained dermatologist Dr. Alpana Mohta. "The oil is a pressed seed oil. It is extracted from the wild rose bush (Rosa rubiginosa) or Rosa canina seeds."
The oil is believed to contain vitamins, essential fatty acids and an array of antioxidants, making it an excellent natural moisturizer for the skin and scalp.
Read More: Can Mustard Seed Oil Help With Hair Growth?
The Benefits of Rosehip Oil
It might not be as well-known as other essential oils, such as almond oil or jojoba oil, but rosehip oil has been proven to have several benefits.
Vitamins
The research on vitamin C suggests that it might help reduce damage caused by free radicals — and rosehip oil is believed to contain more vitamin C than a lemon or orange.
Rosehip oil also contains vitamin A and vitamin E. Vitamin A can help rebuild collagen in the skin, reducing fine lines and wrinkles. Vitamin E is a known antioxidant that can help reduce inflammation. The powerful vitamin combination found in rosehip oil suggests that the oil could help improve inflammatory scalp conditions. This is important when it comes to hair loss because when the scalp is healthy, hair tends to grow stronger and longer.
Read More: Does Vitamin C Help With Hair Growth?
Adds Moisture
Whether you have dry, long lengths or a scalp prone to eczema and itchy skin conditions, rosehip oil could be a helpful moisturizer.
Rosehip oil has a lightweight texture that's suitable even on fine hair. It's full of nourishing omega-3 fats such as linoleic acid, which, unlike the heavier oleic oil, doesn't leave a greasy residue. If you have fine, bleached hair and hair repair is your goal, the non-greasy rosehip oil will help tame frizzy hair and smooth over split ends.
"Rosehip oil can be used to help treat a number of scalp conditions, including dandruff, dryness and itchiness," said Mohta.
The essential fatty acids (gamma-linolenic acid) in cold-pressed rosehip oil can also help maintain a healthy skin barrier. And when the skin's barrier is strengthened, studies show that the scalp often remains flake-free.
Shop: GRO+ Advanced Relaxation Kit
Antioxidants
In 2003, a study found rosehips to be a great source of lycopene, which is an antioxidant that can help protect the skin from damaging and aggressive pollutants and free radicals. Lycopene has more recently been found to protect skin from the sun's harmful rays, which is helpful if you're fair and your scalp is prone to sun damage.
The hair and the scalp can also be prone to the adverse effects of stress, which can hinder the growth of the new hair follicles and lead to brittle hair. The antioxidants found in rosehip oil can combat negative impacts by helping reduce the effects of stress.
Read More: How To Boost Your Immune System
Potential Side Effects
Many essential oils need to be mixed with a carrier oil to prevent irritation, but rosehip extract isn't one of them. Occasionally, rosehip oil can be used as a carrier oil. But, as always, a patch test is a good idea if you're trying new essential oils on the skin. Simply apply rosehip oil to the inside of your elbow, wait 24 hours and check for signs of an allergic reaction, which could include:
Redness
Irritation or itchiness
Rashes
Crusting on the skin
Never apply rosehip oil to broken or irritated skin, and keep it away from your eyes. The oil is only suitable for topical use, so don't ingest it. It's always a good idea to check in with a medical professional before trying new natural oils.
Read More: Can Essential Oils Really Help With Hair Loss?
How to Use Rosehip Oil for Hair
If you're looking to soothe your scalp and give your strands a moisturizing boost, rosehip oil for hair might help. Here are a few ways you can incorporate the essential oil into your hair care routine:
Make a Rosehip Oil Hair Mask
If you've completed a patch test and don't experience any irritation or negative side effects, you can apply rosehip oil directly onto the scalp. This is a great treatment if you're struggling with a dry or imbalanced scalp that needs a little extra boost.
If you want to nourish dry hair, add a few drops of the oil to your scalp and use a shower cap to keep it in place. Avoid it getting in your eyes. Leave the oil for up to 30 minutes and then rinse thoroughly with a mild shampoo.
Apply to Split Ends
Add rosehip oil directly to split ends to immediately camouflage them and add moisture where your hair needs it the most. Simply apply a quarter-sized amount to the strands and massage. Because the oil is fairly lightweight, it's ideal for finer hair. Those with fine hair might want to enhance the benefits of rosehip oil by applying more and then rinsing it out afterward.
When applying rosehip oil directly to the scalp, massaging the skin will help remove debris and product build-up that may still be lingering around. This action will help keep hair follicles healthy and scalp oils circulating.
Other Options
If you are looking to combat thinning hair, maintaining the health of your scalp is essential. The GRO Scalp Detoxifying Serum is an all-natural product with abundant ingredients designed to gently remove persistent scalp build-up while actively soothing the scalp. The serum locks in moisture, which is great if you're struggling with dryness and helps create a healthy scalp microbiome to combat thinning hair.

The Takeaway
Rosehip oil for hair can be effective at helping dry strands regain moisture, repairing damaged hair and temporarily minimizing the effects of split ends. It's full of vitamins, antioxidants and fatty acids, which keep the hair and scalp nourished. Plus, all hair types can reap the benefits of this lightweight oil!
If you're looking specifically to encourage healthy hair, VEGAMOUR's collection of scientifically proven supplements, serums and styling products has been carefully crafted to promote hair health from the inside out. A holistic approach to hair wellness is key to healthier, happier strands!
More From VEGAMOUR
Photo credit: Karolina Grabowska/Pexels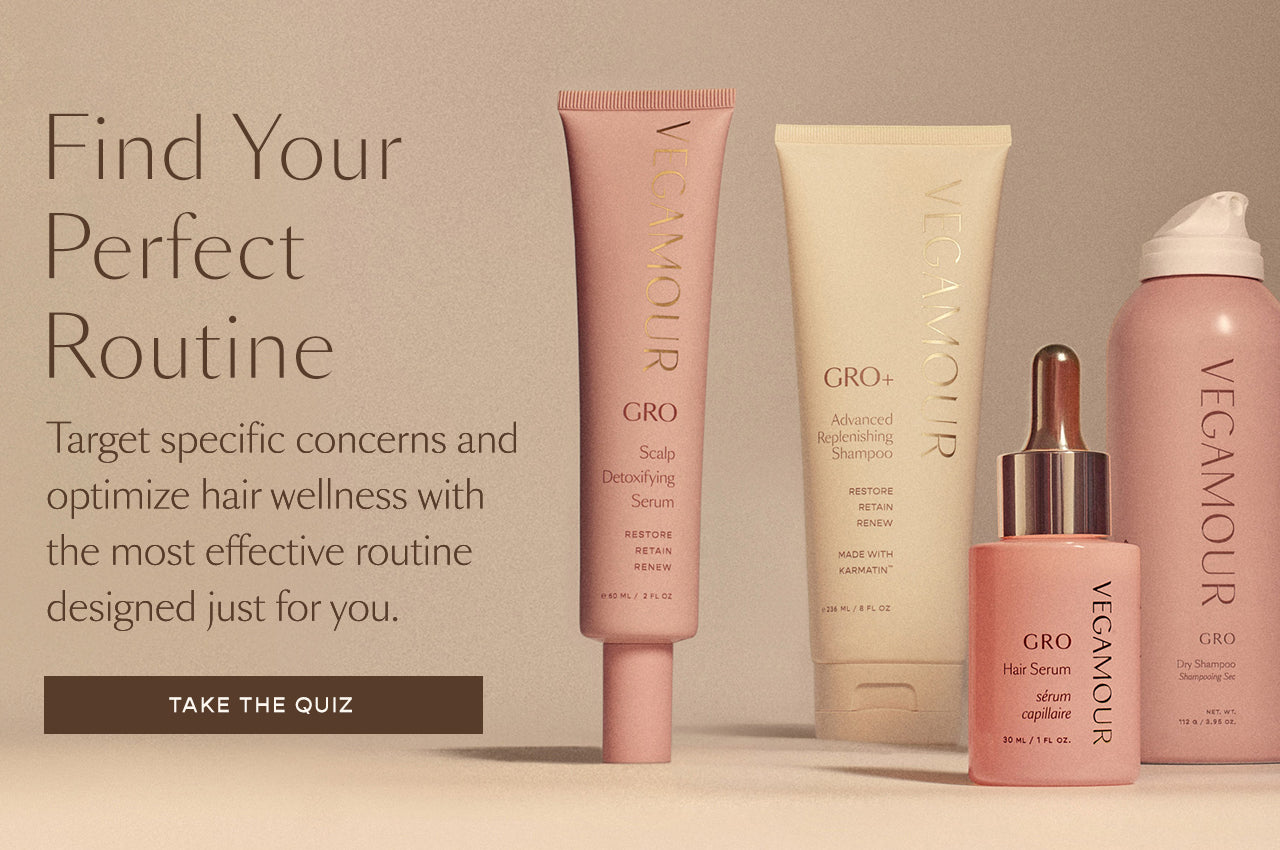 Disclaimer: Information in this article is intended for general informational and entertainment purposes only. It is not intended to constitute medical advice, diagnosis, or treatment. Always seek professional medical advice from your physician.