What Bentonite Clay Can Do for Your Hair
If you're looking for a way to moisturize your hair without risking product buildup, or a way to clarify your hair and scalp without risking dryness, a bentonite clay mask could be a great option for you.
Read on to learn more about using bentonite clay on your hair — plus, find out what products you should be using to nourish, moisturize and protect your hair.
What Is a Bentonite Clay Mask?
A bentonite clay mask (also known as an Aztec clay hair mask) is a volcanic ash-derived, mud-like substance that is oftentimes used as a face mask for personal care. It's popular in skincare because it absorbs toxins and helps control the natural oils the skin produces that can lead to acne.
When used on the hair, bentonite clay is thought to provide deep moisture, which can help anyone experiencing frizzy hair, dry hair or hair breakage. It can also be beneficial if you have a dry scalp or damaged hair. Aside from its fantastic moisturizing properties, bentonite clay can draw out excess dirt and oil, leaving hair cleansed and refreshed. In some instances, this kind of hair mask can be used in place of harsher products like clarifying shampoos.
Shop: VEGAMOUR Shampoos & Conditioners
How to Make a Bentonite Clay Hair Mask
"You can make your own mask at home by combining equal parts clay and water, as well as half a part of apple cider vinegar," said hair expert Chris Pitt. "You can make a large batch all at once to have more masks on hand or mix a small amount to use right away. Mix all of the ingredients together until they form a paste."
Apple cider vinegar is a natural cleaning and moisturizing agent on its own, so adding apple cider vinegar to the clay just ups the cleansing and moisturizing properties of the clay mask.
You want to mix your clay in a non-metal bowl because the clay encourages toxins to come out of whatever surface it touches. It's best to use a ceramic bowl or wooden bowl.

"Water is required for Bentonite clay to activate and attract toxins for elimination," Pitt explained. "Furthermore, the water thins out the clay slightly, making it easier to apply to your hair. If the clay is too thick to apply, add a little more water until the desired consistency is reached. Warm water yields the best results." You want the consistency of the mask to be thick enough that it will stick to the hair but not so thick that you cannot apply it evenly throughout the hair. Leave the mask on the hair until it dries, and then wash it out.
For best results, you'll want to cover from root to tip. Just like when using bentonite clay for a face mask, you only want to use it on your hair a couple of times per week unless your hair is extra dry or brittle and needs more moisture.
Also: 5 Vegan DIY Hair Masks You Need to Try
Hair Textures That Benefit From Bentonite Clay Masks
Bentonite clay is popular for those with natural curls or frizzy hair because it has hydrating properties as well as clarifying properties. If your hair is frizzy and needs a bit of extra moisture to land in place, this is a great product for doing so without adding a lot of styling products that can leave buildup. In addition, bentonite clay has clarifying properties as it moisturizes, whereas drugstore clarifying shampoos can often dry out hair strands while cleansing them.
"Bentonite clay is popular in the natural and curly hair communities because it has moisturizing, conditioning and clarifying properties, as well as the ability to remove buildup," Pitt said. "It's a great addition to a curly hair routine."
Pitt explains that natural hair that is prone to dryness can benefit from using bentonite clay because dry hair necessitates the use of thick, moisturizing products that can leave a film on the hair and adversely affect the delicate strands. "Using the hair clay clarifies your hair and is especially useful for clarifying your hair and scalp before or after a protective style," Pitt explained.
Read: Should You Be Using a Clarifying Shampoo?
Downsides to Bentonite Clay Use
There have been very few reports of negative side effects related to bentonite clay. But if you have sensitive skin, do a patch test by applying a small portion of the clay on the clean skin of your forearm before you apply it to your hair. Once you apply the clay, wait 24 hours before you wash the area. If no itchiness, redness, or rash occurs after 24 hours, you should be good to go. Remember that too much clay can dry out the hair and scalp, so be sure to use it sparingly and follow up with a nourishing, protective shampoo and conditioner duo.
Other Ways to Moisturize and Cleanse the Scalp & Hair
One of the reasons that bentonite clay is popular in haircare is for its cleansing and moisturizing properties, but there are other ways to keep your scalp and hair nicely cleansed and moisturized as part of your regular hair care routine.
Shampoo and Conditioner
One way to do this is to use VEGAMOUR's GRO Revitalizing Shampoo & Conditioner Kit— a clean, color-safe duo specifically formulated to nourish, protect and moisturize your hair.
Both shampoo and conditioner are enhanced with clinically proven plant actives and VEGAMOUR's proprietary Karmatin™, the first-of-its-kind vegan keratin. The formulas also contain wild-harvested marula oil, organic murumuru butter and ximenia oil help to condition and hydrate hair while also fighting off damaging free radicals — all without leaving any pore-blocking residue behind.
And just like all of VEGAMOUR's products, this shampoo and conditioner are formulated without phthalates, silicones, GMOs, parabens, sulfates, mineral oils, gluten and synthetic fragrances.
Dry Shampoo
In between shampoos, using dry shampoo can help keep your scalp and hair feeling and looking fresh. VEGAMOUR's GRO Dry Shampoo is different from typical drugstore formulas because it's formulated without benzene or talc. Instead, it contains USDA organic certified rice hulls, mung bean, red clover and kaolin clay to absorb excess oils, perspiration and odors while supporting a healthy hair ecosystem. Plus, it has a fresh bergamot scent and an eco-friendly propellant for even distribution of the product throughout the scalp and hair.
Related: How & When to Use Dry Shampoo to Get the Most Out of It
Is Using a Bentonite Clay Hair Mask Worth It?
If you're looking to add moisture to your hair and clarify it at the same time, using a bentonite clay mask could help — especially if you have curly hair. However, for best results, focus on a holistic approach when caring for your hair and scalp and build the perfect hair care routine for your hair's optimal wellness. It's a move that can help you experience your best hair days yet!
More From VEGAMOUR
Photo credit: Cottonbro Studio/Pexels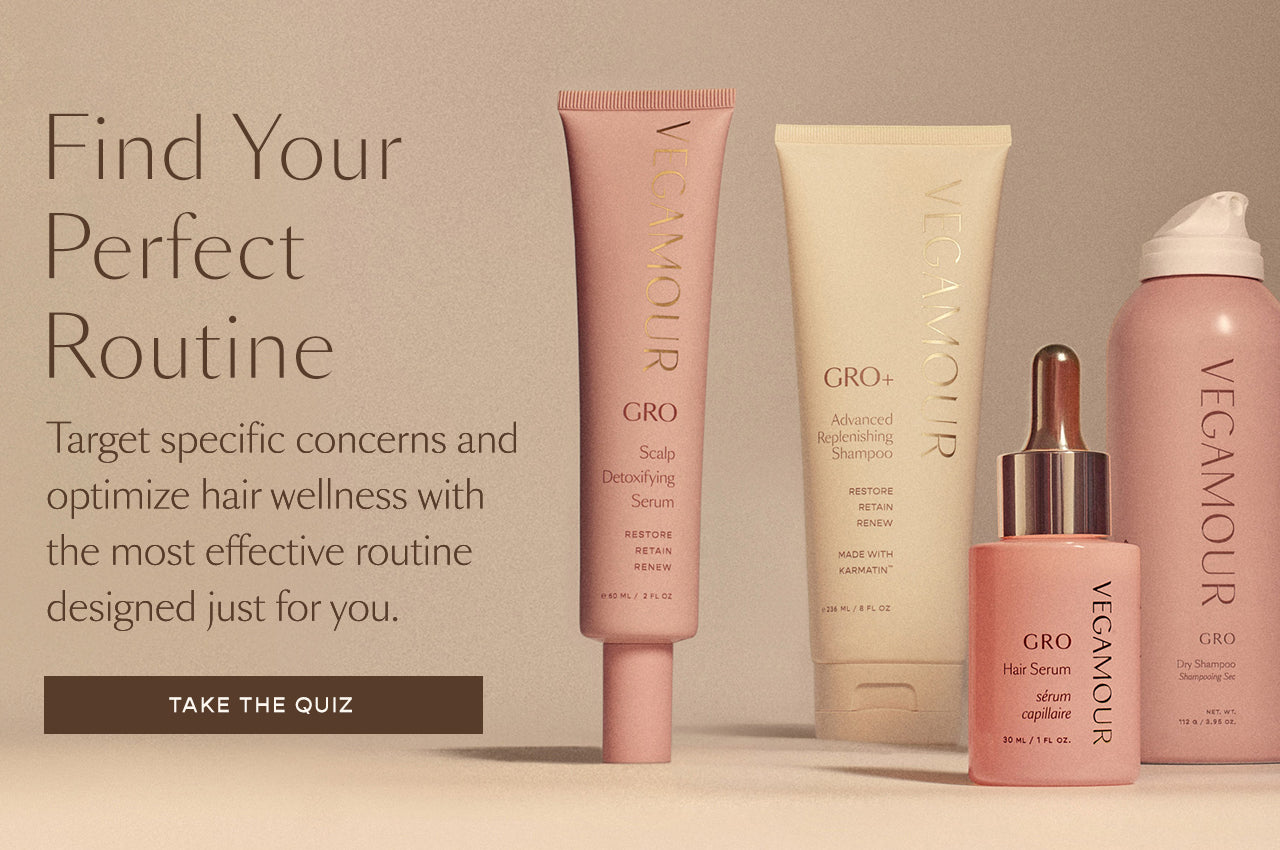 Disclaimer: Information in this article is intended for general informational and entertainment purposes only. It is not intended to constitute medical advice, diagnosis, or treatment. Always seek professional medical advice from your physician.