Want Bangs But Have Thin Hair? Try These Tips
Are you flirting with the idea of full fringe, but you're wary of cutting bangs because you have thin strands? Don't let fear stop you from making the cut. As long as you choose the right haircut and products — and know exactly how to style your new bangs, finding fringe that flatters is possible!
Here, learn more about the best bangs for thin hair, along with pro tips on managing them. Plus, see what products you should use to encourage thicker, fuller looking hair.
The Challenges of Having Thin Hair
Selecting flattering hairstyles for thin hair can be a challenge. The problem is that thin hair, including bangs, can easily fall flat or get weighed down by styling products.
To help make the most of thin hair, start with your haircut. The best haircuts for thin hair, including bangs, are those that provide the illusion of more volume than what nature provides.
Keep in mind that haircuts for fine hair and bangs for fine hair might not appear the same on someone who has thin hair. This is because fine and thin hair are different. Someone who has a fine hair texture (which is characterized by a thinner diameter per strand) could actually have a good amount of hair overall, while someone with thin hair has less dense hair and less hair overall.
Additionally, to make the most of thin hair, it's important to reevaluate your hair wellness routine. Thin hair has a tendency to look limp and/or oily when weighed down by styling products. Therefore, it's important to look for products that amplify hair texture and add volume without weighing hair down.
Best Hairstyles With Bangs for Thin Hair
Although people with thin hair can wear bangs, it's important to opt for styles that work well with less dense hair.
"Finding cuts and styles that don't exaggerate the thinness are among the challenges for thin hair types," said Jay Scott Jackson, master colorist and manager of NV Salon & Spa by Yajaira.
Opt for Layers
Add subtle layers to bolster thin strands. The wispy effect of a layered style (i.e., a shag haircut) can enhance the appearance of fullness. Face-framing layers are also very flattering by creating the necessary shape that can make thin strands appear to look more voluminous.
Opt for Styles With Texture
"Look for a one-length cut with internal texture," said Jackson. "Layered cuts can be effective if you style them with volume using volumizing products. But, I prefer a blunt cut such as a short bob or blunt bob."
Read: 7 Best Haircuts for Thinning Hair
What Are the Best Types of Bangs for Thin Hair?
Ready to make the snip and get bangs for thin hair? This handy guide will help you find your perfect-fit fringe.
"The best bangs for thin hair are side-swept bangs," said Jackson. Jackson also said curtain bangs are a good choice.
The following types of bangs are other best bets when you have thin hair.
Blunt bangs can also boost the appearance of volume and fullness, making thin strands look visibly denser.
Wispy bangs for thin hair add the element of soft, subtle texture and can be styled for enhanced volume.
Face-framing bangs, for thin hair, like curtain bangs, are a great way to flatter your face shape, putting the spotlight on the facial features while adding contour.
Choppy bangs with perfectly-imperfect texture give off an intentionally undone layered look that can help hair appear more voluminous.
See-through bangs are another option to get the wispy bangs look without sacrificing too much length.
Related: 6 Tips & Tricks for Styling Thin Hair
Bang Styles That Don't Work Well for Thin Hair
Just as there are bang styles that flatter thin hair, there are some styles people with thin hair should avoid.
Skip the following bangs for thin hair:
Piecey bangs are reserved for thicker, fuller hair that can withstand styling gels or pomades to help arrange the bangs in a piecey look.
Blunt, parted bangs don't work well for thin hair because they rely on thicker, fuller strands to achieve the style.
Arched bangs are another bang style that works better on thicker hair. Instead of being cut straight across, like blunt bangs, arched bangs are cut in an arch, which requires a full row of bangs to be able to achieve the style.
Kinky, curly bangs are unlikely to work well for thin hair if there's not enough hair present to resemble a bang.
Read: How to Grow Out Your Bangs Gracefully
Beautiful Bangs Do's & Don'ts
Now that you know what to look for and what to avoid, it's time to learn how to manage your daily styling and hair care habits. Fringe haircuts may require a little extra time and care to keep bangs looking their best. If you decide to get bangs cut, here are a few do's and don'ts to help you make the most of your new hairstyle.
DO: Get Regular Trims
"Some of the best care for bangs is to get trims," said Jackson. "Go once every two to three weeks."
DON'T: Lather Up Each Day
Washing your hair every single day may do more harm than good, especially for those with thin hair. Tip: Try rinsing only your bangs in the sink if they're extra oily, rather than washing your hair.
DO: Use Dry Shampoo
Or, better yet, opt for a dry shampoo on those in-between hair wash days! Look for a lightweight, cruelty-free formulation to help prevent thin strands from feeling or looking lifeless.
Tips for use:
Lightly mist dry shampoo on bangs and roots.
Use your fingertips to work dry shampoo into the fringe and roots, absorbing oil while imparting subtle texture.
Voila! Refreshed, revived and renewed hair with soft volume where needed.
DON'T: Pile On Heavy Volumizing Products
It's tempting to try to pump up the volume of your bangs with tons of product. Yet, many volumizing products can leave behind residue that makes hair look limp or feel stiff and/or greasy.
DO: Opt For Lightweight Hair Foam
Instead, boost body and texture without added weight using a mousse-like hair foam. Select a formula with a lightweight consistency that will maximize volume and texture without leaving thin strands and fringe feeling greasy or heavy.
Tips for use:
Start with dry or towel-dried hair.
Shake well and dispense hair foam evenly throughout the fringe, while massaging into the scalp.
Comb through hair, including bangs, and style as desired. Do not rinse.
DON'T: Go Overboard With Heat Styling
Stop blasting your bangs — and the rest of your hair with high heat from your blow dryer. Minimize heat styling (or at least turn down the temperature) when smoothing fringe with a flatiron, as thin strands can be easily susceptible to heat damage and breakage.
DO: Try A Round Brush or Rod Rollers
"Depending on the bang style, rollers are also a fantastic option for bangs," said Jackson. "They add volume, so your hair stays fluffy and not floppy."
Use soft foam rollers to boost body without sacrificing the integrity of strands. Gently wrap damp bangs around the rollers, allowing hair to air-dry while volume sets.
DO: Consider Your Face Shape to Find the Perfect Bang Style
Face shapes matter when it comes to choosing bangs. For example, if you have a heart-shaped face with a wider forehead, sideswept bangs can be a great choice to break up the line of your forehead and direct attention to your eyes. And if you have a round face, you'll probably want to avoid baby bangs and opt for wispy, face-framing curtain bangs that can help elongate your face. For best results, ask your hairstylist for advice.
Also: 5 Questions to Ask Your Hairstylist
Fringe Benefits of Taking a Holistic Approach
Having thin hair can be a struggle, but the right hairstyle and bangs can change everything. Additionally, your overall hair habits can go a long way in helping your hair look its very best. That means eating a nutritious diet, minimizing stress, getting plenty of sleep, staying hydrated and using clean products that encourage thicker, fuller, healthier-looking hair. The bottom line? Give your strands the care and attention they deserve, integrate these pro tips, and you'll be loving the look of your hair and bangs in no time!
More From VEGAMOUR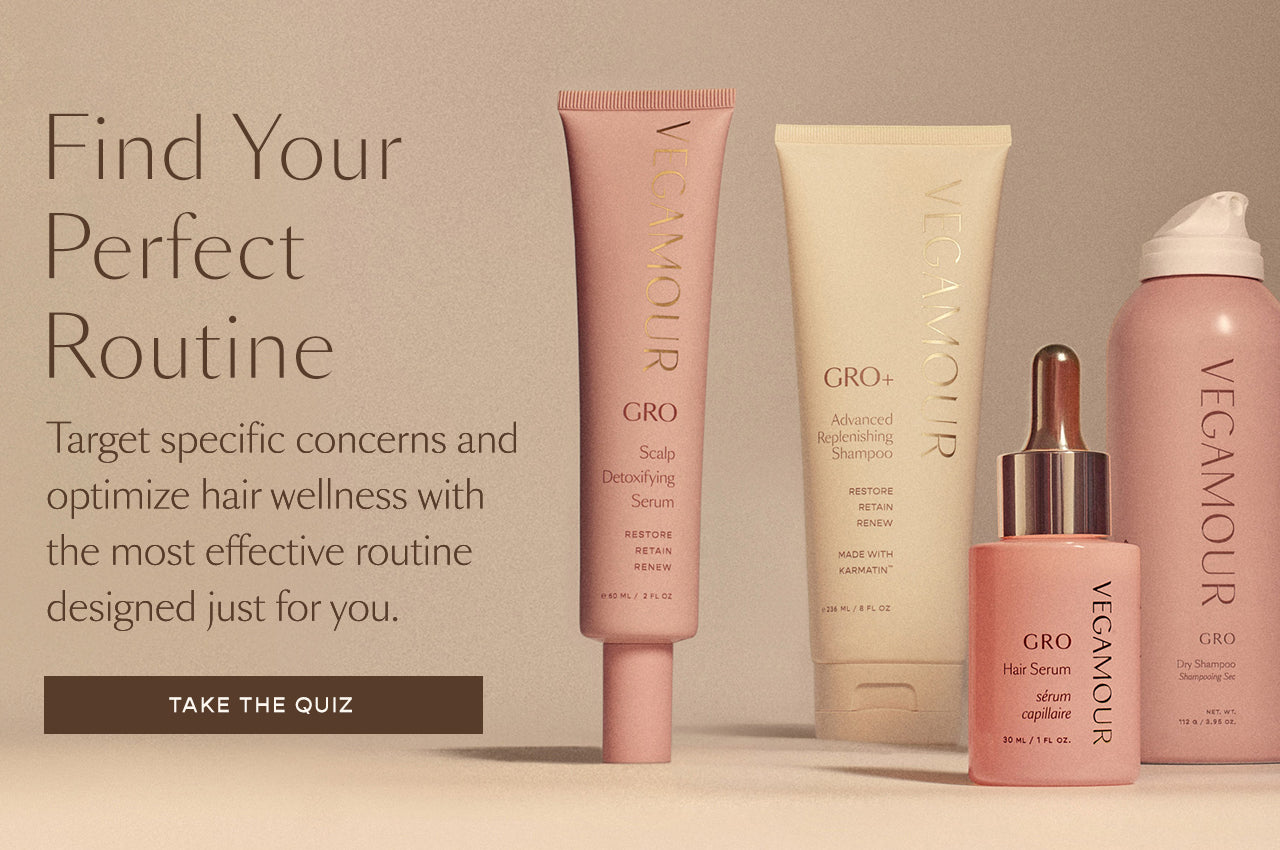 Disclaimer: Information in this article is intended for general informational and entertainment purposes only. It is not intended to constitute medical advice, diagnosis, or treatment. Always seek professional medical advice from your physician.