Carrot Oil Has These 7 Awesome Hair Benefits
Using natural herbal oils like carrot root oil has become increasingly popular in the natural haircare world — and it's no wonder! With many people increasingly concerned about the result of environmental pollution on their hair and skin, using naturally occurring oils is a great way to soothe your dry scalp and parched skin naturally.
If you're curious about the benefits of using carrot oil for hair, read on for everything you need to know about this natural oil. Plus, discover the clean hair products you really need to promote hair health from the inside out.
The Benefits of Carrot Oil
So, what are the benefits of carrot seed oil? We spoke to natural beauty expert Blanca Aguirrezabal to give us the inside scoop. Here are seven benefits of a carrot oil hair treatment:
Conditions dry hair. 

Just like other popular oil treatment types like coconut oil, sunflower oil, olive oil, mango butter or any other carrier oil suitable for use on hair, carrot oil is an excellent treatment for dry hair. "Carrot oil is a natural hair product that can be used to condition and protect your hair," said Aguirrezabal. Carrot oil has a protective effect on strands, helping them stay moisturized and healthy.

Improves hair shine. 

Aguirrezabal said that carrot oil's unique composition makes it particularly good for boosting the shine factor of previously lackluster hair. "It is rich in vitamins and nutrients and when used topically, it can help to improve the health of your hair, adding add shine and luster," she said. If your otherwise lovely hair tends to look a little blah, carrot oil may give you the boost you need.

Treats chronic medical scalp conditions. 

If you're someone who suffers from perpetually dry skin, carrot oil can help treat any scalp conditions you may be suffering from. "Carrot oil also has antifungal and antibacterial properties that can help to treat dandruff, scalp infections and other scalp conditions," said Aguirrezabal. Because many common scalp conditions are caused by imbalances at the scalp, carrot oil can help create a more beneficial environment for hair health.

Supports hair growth. 

When you're working to regrow your strands, you want to make sure that every aspect of your hair care routine supports growth, and carrot oil certainly qualifies. "Carrot oil is beneficial for hair because it is packed with nutrients that are essential for healthy hair growth," explained Aguirrezabal. By using carrot oil as a styling product, you'll be able to encourage new strands and reduce hair breakage without the use of harsh chemicals.

Minimize free-radical damage. 

Your hair is exposed to various daily stressors, such as UV rays and environmental pollutants. Aguirrezabal said carrot oil could help your hair fight back and make it stronger. "It contains vitamins A, C and E, as well as beta-carotene, which are all antioxidants that help to protect the hair from damage caused by free radicals," she explained. "These nutrients also help to promote cell growth and repair, which is essential for keeping hair follicles healthy."

Boosts blood circulation. 

Regardless of your hair type, blood flow is a huge factor in your scalp's health. If you're suffering from a reduced flow of blood to your scalp, you may benefit from the use of carrot oil to get the juices flowing. "Carrot oil has regenerative properties that help boost blood circulation," said Aguirrezabal. "This increased blood flow delivers more oxygen and nutrients to the hair follicles, which helps promote healthy hair growth."

Strengthens your strands. 

If you have fine hair or another hair type that's prone to breakage, carrot oil can help you make your strands stronger with its general hair health-supporting properties, building hair structure from the outside in. "Carrot oil is great for anyone looking to strengthen, soften and protect their hair," said Aguirrezabal. Applying carrot oil can make strands stronger, helping to minimize breakage. 
How to Introduce Carrot Oil Into Your Routine
Carrot oil has so many benefits that it's no wonder people are rushing to incorporate it into their hair care routines. For carrot oil newbies, Aguirrezabal provided her best practices on using carrot seed oil safely along with some tips on incorporating it into your all-natural hair care routine.
Avoid Allergic Reactions With a Patch Test
Just like any new beauty product you add to your rotation, it's possible to have an allergic reaction to carrot oil. Before you slather it all over, perform a patch test by applying a good amount to a small skin area and monitoring for a reaction. If your skin doesn't react, you're good to go!
Use Sparingly (Especially If You Have Lightly Colored Hair)
Before you begin, remember that a little carrot oil goes a long way. "It's important to keep in mind that carrot oil contains beta-carotene, which is a pigment that can potentially deposit color on the hair shaft," explained Aguirrezabal. "This is why carrot oil is best used in small amounts, combined with other ingredients and not used more than one to two times a week."
People with light hair colors are especially prone to accidentally dying their hair with carrot oil. Still, it's worth keeping Aguirrezabal's advice in mind and treading lightly, whatever your natural hue.
Read: These Are the Benefits of Almond Oil for Hair
Purchase or DIY Your Own Carrot Oil Hair Mask
If you decide to try out carrot oil, you've got lots of options. "There are many different products available on the market that contain carrot oil and it is important to choose a product that is right for your hair type," Aguirrezabal explained. Many store-bought carrot oil products are low-strength and designed to stay on your strands between washes, removing the need to dilute carrot oil. If you decide to DIY it for stronger natural benefits, you'll want to make your carrot oil treatment a wash day occasion.
"Personally, I prefer to make my own carrot oil hair mask by simply adding a few drops to a carrier oil such as coconut or jojoba, making a versatile powerhouse oil that helps to lock in moisture and protect against environmental damage," said Aguirrezabal. "I tend to leave it on my hair for up to an hour and then wash it out with shampoo. This treatment nourishes my scalp and hair and helps to prevent split ends and breakage."
To copy her hair hack, dilute a few drops of carrot oil into a carrier oil or blend of oils and spray it on your hair with a spray bottle. Work the oils through your hair, massaging it into your strands and scalp. Cover with a shower cap and let it soak in for a while before rinsing out with a hair health-supporting shampoo and conditioner.
Mix With Apple Cider Vinegar
Alternatively, you can create a carrot oil rinse by mixing it with apple cider vinegar and water. Use a mild shampoo to wash as usual, following it with the rinse. Leave the mixture on for about five minutes before you rinse a second time with hot water to remove any residue. If your scalp needs a little extra support, mix conditioning coconut oils with raw sugar and your carrot oil to create a natural scrub that helps eliminate build-up.
All of these methods are a great way to enjoy the natural benefits of carrot oil without turning your strands orange. And whatever your hair type, Aguirrezabal believes it's worth a shot. "If you're looking for a versatile natural haircare option that will leave your hair feeling soft and silky, then give carrot oil a try!" she said.
Read More: Is Jojoba Oil Good For Hair?
A More Holistic Hair Care Routine
Whether or not carrot oil works for you, trying it out can be a great way to test your interest in a more natural hair care routine.
The next step? Sticking to all-natural hair health-supporting products that are free of sulfates, harsh chemicals potential carcinogens and all the other bad-for-you ingredients that might be lurking in your current hair care routine. Clean, plant-based products boost your scalp health, so your hair stays hydrated and healthy.
More from VEGAMOUR
Photo credit: Gabriel Gurrola/Unsplash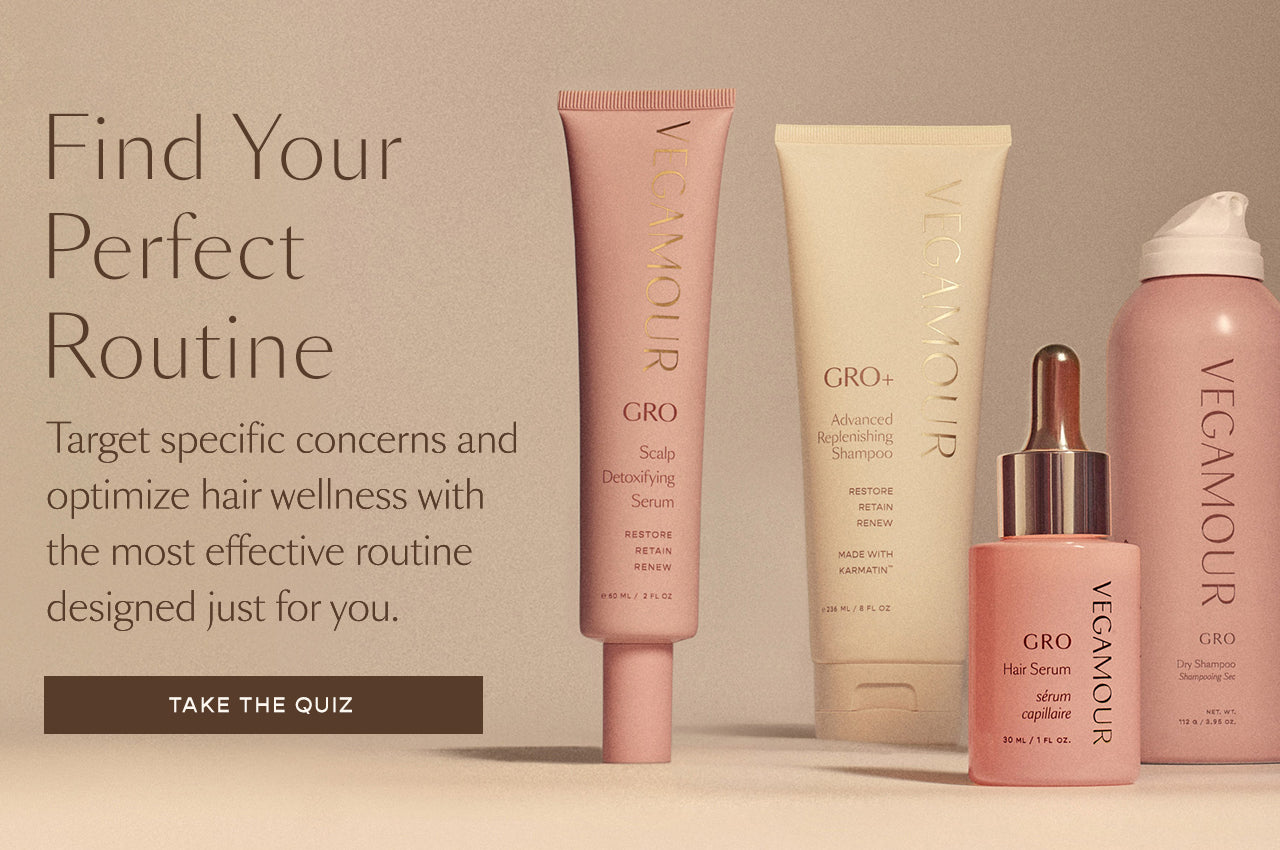 Disclaimer: Information in this article is intended for general informational and entertainment purposes only. It is not intended to constitute medical advice, diagnosis, or treatment. Always seek professional medical advice from your physician.