How to Get Rid of Dry Scalp
Dry scalp is a common condition often mistaken for dandruff, scalp psoriasis, dermatitis or an allergic reaction. Though some of your symptoms may mimic those conditions, your dry scalp can be simple to treat. Get rid of those unseemly flakes and itchy scalp with a few small changes to your hair care routine.
In case you didn't know, a healthy scalp is not only more comfortable for you, but it also helps to maintain the sheen, elasticity, and growth of your luscious locks. And like the other skin on your body, your scalp also needs proper skin care. So find out how to get rid of dry scalp — plus, information on what products you should really be using to promote hair and scalp wellness.
What Is Dry Scalp?
Dry scalp is simply dry skin on your scalp. Dry, dead skin cells shed from the scalp causing the flaky scalp condition. Dead skin cells are often mistaken for a mild dandruff condition when, in reality, the pesky white flakes are not dandruff flakes at all. Instead, they're due to dry scalp.
Dry scalp is caused by many things such as harsh shampoos, excessive washing, dry winter air, alcohol-based styling aids or other hair products — all of which can over strip the natural oils of the scalp created by the sebaceous glands. This produces a scalp environment with too little moisture, which can cause tightness, irritation and itching.
Fortunately, the solutions for your dry and flaking scalp could be a few simple tweaks to your hair care routine. The first step, of course, is to get a proper diagnosis for your itchy scalp by your doctor, a licensed dermatologist or a hairstylist who is trained to recognize and treat skin conditions of the scalp.
Shop: The GRO Balance & Boost Kit for Scalp Health
Differences Between Dry Scalp and Dandruff
Here's a look at the symptoms of dry scalp versus dandruff symptoms to help you tell the difference between the two.
Dry Scalp vs. Dandruff
Symptom
Dry Scalp
Dandruff
Thick yellowish flakes or large white flakes that stick to the scalp and sometimes fall out of your hair
✔
Smaller dry flakes
✔
Itchy scalp
✔
✔
Oily scalp
✔
Red patches

✔

✔
Dry skin elsewhere on your body
✔
Dry Scalp Causes
Before we get into treatments to help your dry scalp, let's talk about what's likely causing this skin condition and those worrisome white flakes. Eliminating these causes can often clear up your dry scalp woes and restore the natural balance of your scalp.
Environmental influences can pull moisture from your hair and scalp leaving behind dry, flyaway hair and an itchy, flaky scalp. Examples include dry winter air, hot water when shampooing or rinsing and heat from styling tools.
Hairstyling aids or harsh hair products often contain alcohol as a drying agent for the product, which can wreak havoc on your scalp and upset its natural healthy balance.
Excessive shampooing can signal to your scalp to create additional oil, which can result in an oily buildup on your scalp. This is why healthy hair care products are crucial to maintaining the health and delicate balance of your scalp.
Explore: Dry Scalp Treatments
Treatments to Combat Dry Scalp
To ensure a healthy scalp biome, it's important to restore moisture. Many people resort to using a home scalp treatment, such as tea tree oil, apple cider vinegar, dandruff shampoo or various oils. And while some of these treatments can be temporarily effective, what's most important is to use preventative measures in the way you care for your hair and scalp every day.
Note that home-care treatments may feel good and provide temporary relief, but they may also cause other problems. Stephanie Wong, psychobiologist and medical student at the Western University of Health Sciences and writer for Learnskin cautions on using some of these home treatments for dry scalp because they can upset your scalp's natural biome. "Hair oils such as coconut oil ... can worsen yeast overgrowth," she said.
In her article, "Six Causes for Scalp Scaling and Flaking," Wong cautions that if left untreated, scalp conditions such as a dry or flaky scalp could become more serious: "If the scaling of the scalp is severe or very inflammatory in the opinion of a health care provider, another strategy that may be employed is the use of topical steroids to reduce the inflammation."
At VEGAMOUR, we feel the best solution is prevention, which is why we provide healthy hair and scalp options that you can use every day. Here's how you can adjust your hair care routine to restore your scalp to a healthy state.
Keep Your Scalp Healthy with GRO Scalp Detoxifying Serum
Another way to avoid dry scalp conditions is to use GRO Scalp Detoxifying Serum weekly, which makes for the perfect trio with GRO Revitalizing Shampoo & Conditioner, available at a discount in the GRO Foundation Kit.
The serum contains Zinc PCA, a multitasker that absorbs excess oil, soothes scalp irration and supports your skin's natural moisturizing factor. Additionally, willowherb extract reduces the appearance of adherent and non-adherent flakes, and wild-harvested baobab and marula oils offer antioxidant support via Omega 6 and 9 fatty acids, which offer additional moisturize, protection and balance to the scalp.
To use, part hair into even sections and apply the serum directly to your scalp, massaging for one to two minutes. Afterward, leave the serum on your scalp for five to 10 minutes and then shampoo and condition as usual.
Shop: Silicone Scalp Massager
Revitalize Your Scalp with GRO Revitalizing Shampoo and Conditioner
Because we know your scalp is the key to healthy hair, we created a shampoo and conditioner that cares for the delicate balance of your scalp biome and gently cleanses, balances and moisturizes your hair. This duo is the perfect follow-up to our GRO Scalp Detoxifying Serum.
Here are a few reasons GRO Revitalizing Shampoo & Conditioner makes the perfect choice:
Safe for everyday use, with no known toxins or hormones
Clean, fresh, non-synthetic scent
100% vegan, cruelty-free and color-safe
Free of GMOs, parabens, phthalates, sulfates, silicones, mineral oils and gluten
Contains vegan b-SILK™ protein, which repairs and protects hair long after shampooing and conditioning
Contains wild harvested marula oil, as well as baobab and ximenia oils, which help to further nourish and moisturize without leaving behind pore-blocking residue. Comedogenic residues can offset the delicate balance of your scalp, set the stage for excess bacteria or fungal growth, or exacerbate dandruff or other scalp conditions.
Revolutionary micro-encapusulation technology to deeply penetrate the scalp
Fuller-looking hair in as soon as 90 days, with peak results around 120
Satisfaction guaranteed.
Step Up Scalp Care to Prevent Dry Scalp
Here are a few other recommendations to prevent dry scalp.
Shampoo with tepid water, and follow up with a cool-water rinse. Hot water draws moisture from the scalp and hair and can leave your scalp dry.
Avoid using a dandruff shampoo to treat dry scalp because they are two different conditions. Your doctor or dermatologist can diagnose which one you have.
Do not overcleanse the hair or use harsh or alcohol-based styling products.
Ask your stylist to do a conditioning treatment for your scalp after color treatments or other chemical services.
The Best Treatment for Dry Scalp Is to Avoid it Altogether
Making a few changes to your hair care routine can help you avoid dry scalp issues. Check your hair care products to be sure you are using non-drying products, use cool water when shampooing or rinsing your hair and use a moisturizing conditioner and scalp-supporting hair serum regularly. Follow our blog for more tips on hair and scalp care to keep your scalp itch-free and your hair radiant.
More From VEGAMOUR
Photo credit: averie woodard/Unsplash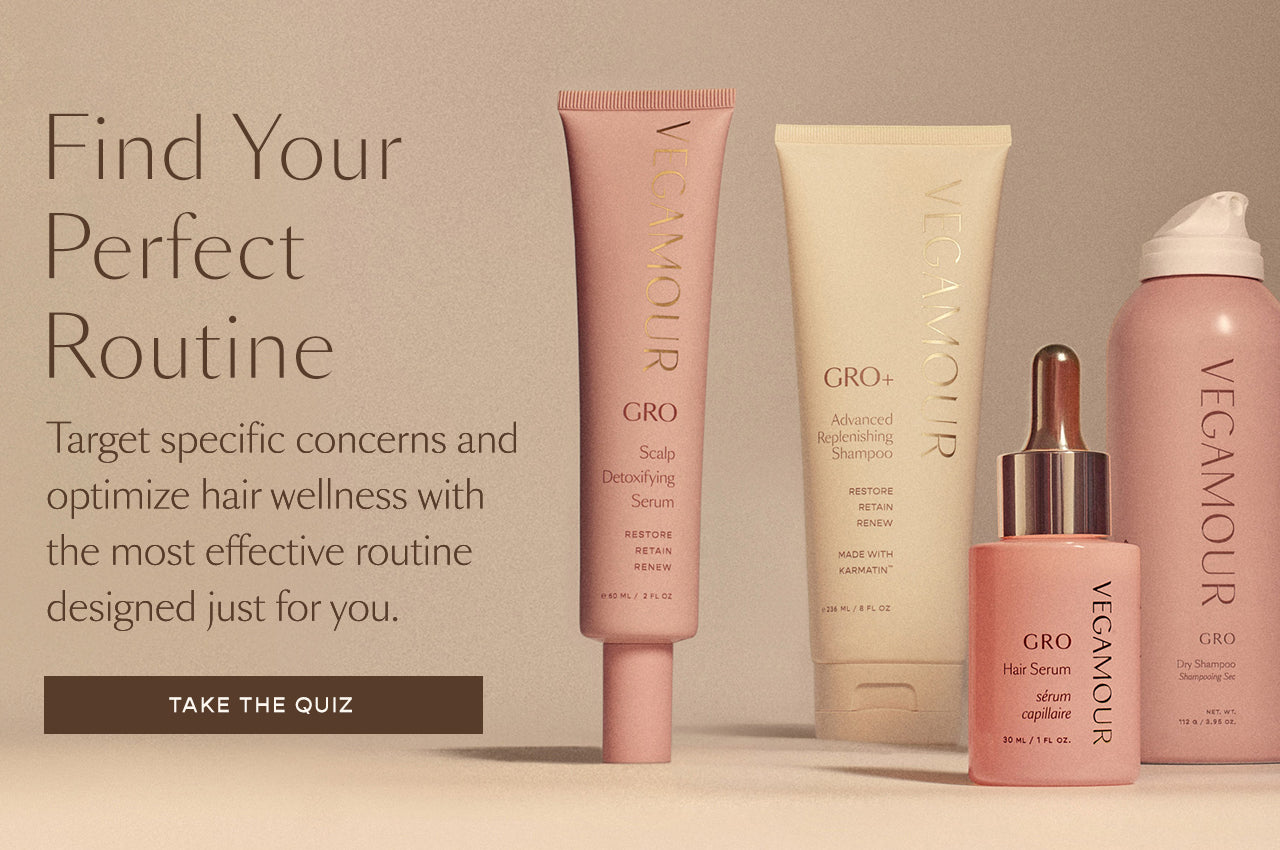 Disclaimer: Information in this article is intended for general informational and entertainment purposes only. It is not intended to constitute medical advice, diagnosis, or treatment. Always seek professional medical advice from your physician.