TikTokers Are Using Cornstarch As Dry Shampoo — Here's What You Should Know Before You Try It
TikTok trends seem to break into the zeitgeist overnight. One day TikTok is buzzing about the best way to hack a pasta recipe and the next day, they're telling you to hit your kitchen pantry to gather ingredients for a hair treatment. In recent months, TikTok users have been using cornstarch as a dry shampoo alternative, but before you run and give it a try yourself, you should know a few things that might help you decide whether or not you want to hop on this trend.
Read on to learn whether you should really be putting cornstarch on your head. Plus, discover the the best natural dry shampoo that also supports thicker, fuller looking hair.
Using Cornstarch in Hair
A few years ago, so-called beauty experts were swearing by washing their hair with baking soda and using baby powder as a dry shampoo. Now, everyone is talking about using cornstarch as a dry shampoo. Because no one should try an outlandish TikTok trend without doing some due diligence, VEGAMOUR spoke with hair surgeon Dr. Harikiran Chekuri and hairstylist Michael Morris to learn more about this trend and whether or not you should be trying it.
"The idea is that this simple kitchen staple can be used as a dry shampoo and to help with hair growth benefits," said Dr. Chekuri. "It is becoming an increasingly popular alternative haircare option among users looking to switch up their routines."
Related: Is Hair Slugging the Next Big Trend? TikTok Users Think So
Dry Cornstarch Shampoo
It's a well-known fact that washing your hair every day isn't necessary, but when it comes to giving your hair a refresh, should you really be heading into your kitchen pantry?
"Cornstarch has been used as a dry shampoo alternative because it is an absorbent powder that can help to soak up excess oil and sebum from the scalp and hair," said hairstylist Michael Morris.
If you have extra oily hair, you might be interested in a treatment that will help. "Cornstarch is being used in lieu of regular dry shampoo or other products designed specifically for things like oil absorption," said Dr. Chekuri. "Simply sprinkle some onto your scalp and then massage it into your roots. You'll want to let it sit for a few minutes before brushing through it."
Those who have fine or thin hair might find that sprinkling cornstarch on their tresses gives them a thicker appearance. However, that's purely anecdotal and isn't scientifically proven. As with any kind of dry shampoo, it's important to remember that cornstarch isn't a replacement for using washing your hair regularly with shampoo.
Cornstarch for Hair Growth
Some people using cornstarch in their hair claim that it has benefits for hair growth, but Morris disagrees. "Cornstarch is primarily used as a thickening agent in cooking and baking," he said. "[There is] no scientific evidence suggests that cornstarch has any direct hair growth benefits."
Morris explained that cornstarch might help to absorb excess oil from the scalp, which could contribute to a healthy scalp environment. However, cornstarch is not a substitute for a healthy diet and lifestyle, which are essential for promoting hair growth. If you're looking for natural ways to improve hair health, you're much better off using a serum that's formulated specifically for hair, like VEGAMOUR's GRO Hair Serum.
If you're looking for a natural solution for absorbing oil, there are plenty of high-quality, all-natural dry shampoo options like VEGAMOUR's GRO Dry Shampoo, which can help absorb excess oil while preventing clogged follicles. Plant-based and formulated with talc or benzene, GRO Dry Shampoo refreshes the look and feel of hair without weighing it down, leaving it feeling soft and clean.
Cornstarch Hair Mask
Creating a hair mask at home is one of the simple pleasures of a self-care day and many people are using cornstarch in their masks to optimize their results. "Simply mix it with some water and apply it to your hair. Rinse out after 15-20 minutes for best results," said Dr. Chekuri. "It can also be used as a leave-in conditioner if you mix it with some aloe vera gel or coconut oil."
"It's important to note that cornstarch is not meant to be left on the scalp long-term since it can clog the pores and lead to irritation and itching," said Dr. Chekuri.
If you are looking to impart moisture to your hair without exposing your strands to potential skin irritations, you can try soothing oils like olive oil, argan oil or VEGAMOUR's Pure Marula Oil. Avoid pure essential oils like lavender oil, which might irritate sensitive skin due to its concentrated formulation.
Other Ways to Use Cornstarch
Morris explained that cornstarch had become a trending alternative to dry shampoo because it's a natural and inexpensive alternative to traditional products, which might contain synthetic chemicals or harsh ingredients that irritate the skin or scalp. Here are a few other ways people are using cornstarch in their beauty routines.
Hair Volumizer
Cornstarch can be mixed with water or aloe vera gel in a mixing bowl to create a hair volumizer. Simply apply the mixture to damp hair using a makeup brush and blow dry for extra volume.
Hair Conditioner
Cornstarch can be combined with other ingredients like honey or coconut oil to create a homemade hair conditioner. The mixture can be applied to damp hair, left on for 15-20 minutes and rinsed out for softer, more manageable hair. If you don't buy or consume natural honey, try bee-free honey instead.
Cornstarch and Highlighted Hair
Cornstarch can be combined with lemon juice and water to create a natural hair lightener. The mixture can be applied to wet hair and left on for several hours before rinsing out for a subtle
lightening effect.
Cornstarch to Smooth Hair
While some people will tell you that cornstarch masks act as a natural hair straightener, this hasn't been proven yet. However, as long as you wash the mask out of your hair properly, there is no harm in using a cornstarch mask unless you have a sensitivity to it.
To try a coconut milk mask, mix cornstarch or corn flour with a cup of coconut milk and heat over low heat until it has a gelatin or cream texture. You'll want to cover the entire length of your hair, so if you have long hair, make more than you would for short hair.
Remove the mixture from the low heat and put it into a mixing bowl. Apply to dry hair with a large makeup brush. Leave the thick paste on each hair shaft and cover your head with a shower cap for up to an hour before washing out. Air dry your hair as normal. While there's no telling if this concoction will fully straighten hair, it might help you control some frizz.
Why You Might Consider Keeping Cornstarch Out of Your Bathroom
Cornstarch or corn flour absorbs moisture, which can cause hair to become dry and brittle over time. This can lead to split ends and breakage. There are other alternatives to cornstarch that won't leave you with damaged hair.
Cornstarch can also clog the hair follicle and pores, leading to scalp irritation and hair loss. Your hair roots grow best when they're nourished, not clogged.
Additionally, cornstarch can irritate your scalp, especially if you have sensitive skin, which can lead to redness, itching and inflammation. Your hair follicles can be sensitive and should be handled with care, especially if you have any scalp or skin issues.
Read More: How Does Dry Shampoo Work?
The Takeaway
While cornstarch might seem like a quick fix for greasy hair, it is not worth the potential damage it can cause. Sticking with proven all-natural hair products that are specifically formulated for your hair and scalp is the best thing you can do for your hair.
Keep the cornstarch in the kitchen where it belongs and instead add GRO Dry Shampoo to your top shelf. GRO Dry Shampoo absorbs excess oil, sweat and odors while also supporting thicker, fuller strands. Made from natural ingredients and free from harmful hormones or toxins that might be found in other formulations, it instantly makes hair look, smell and feel clean.
More From VEGAMOUR
Photo credit: Polina Tankilevitch/Pexels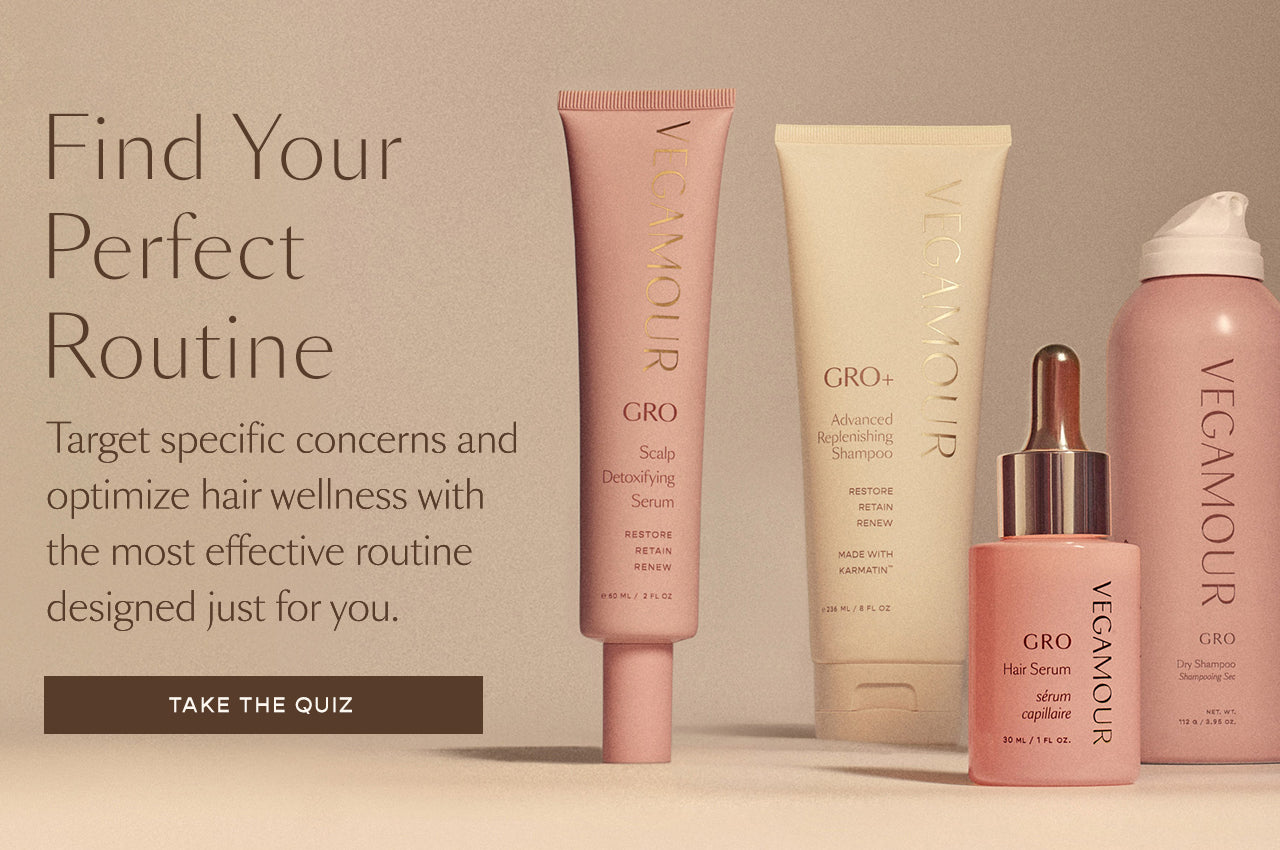 Disclaimer: Information in this article is intended for general informational and entertainment purposes only. It is not intended to constitute medical advice, diagnosis, or treatment. Always seek professional medical advice from your physician.