How Does Dry Shampoo Work?
Everyone has those days when there's no time to wash, dry or style your hair. In those instances, using dry shampoo is the perfect solution. But how does dry shampoo work? Are there any downsides to using it? Read on to find out more — plus, learn about what dry shampoo you really should be using to keep your hair healthy.
Dry Shampoo vs. Regular Shampoo
Dry shampoo is usually a foam or aerosol spray that helps soak up excess oil, grease and dirt from the scalp and hair. Unlike the shampoo you use in the shower, dry shampoo is applied to dry hair. While dry shampoo can help to refresh dirty hair, it is not cleaning the hair. The only way to cleanse your hair and scalp properly is to wash your hair.
Even though dry shampoo isn't actually cleaning your scalp or hair, it has some benefits to be celebrated and a few possible drawbacks.
Shop: GRO Hair Wellness Collection, Including Dry Shampoo
Benefits of Dry Shampoo
Our hair follicles don't just produce strands of hair; they also produce sebum (a natural oil), which moisturizes your hair. When sebum mixes with the oil and sweat from your day, however, it can collect in the hair, giving strands a greasy appearance. In those cases, dry shampoo can be a helpful tool in absorbing excess oil and impurities to give hair a refreshed texture and appearance.
"Dry shampoo can be used to prolong your style," said stylist and hair expert Ashley Garcia of Beauty Box LA. "It can also be used to help absorb any oils that build up in between washes."
Garcia also said that you can use dry shampoo if your hair needs a little lift at the roots.
Dry shampoo is also a helpful tool for those who experience extra oily hair. While some people might have a naturally oily scalp, others might have oily hair due to product misuse, such as washing hair every day, which could result in negative effects. When the scalp gets dry, the hair follicles will produce extra natural oil to condition the skin, so washing your hair too much can actually make it feel more oily.
When you use dry shampoo correctly, however, it not only can save you time, but it also keeps the scalp from getting too dried out by daily shampooing — especially if your shampoo contains detergents like sulfates.
Dry shampoo can be used to gain the following benefits:
Absorbing oil
Neutralizing odor
Increasing color longevity by reducing washing
Keeping hair healthier by reducing washing, drying and styling
Adding volume and body to hair
Texturizing hair
Giving hair a refreshed appearance
Shop: GRO+ Advanced Collection
How to Use Dry Shampoo
For the best results, here's how to use dry shampoo.
First, start with dry hair and dry scalp skin. If you've just come from a workout, take some time to cool off before applying dry shampoo. You don't want to mix it with active sweat.
Next, remove any pins or barrettes from your hair and separate a section of hair with your fingers, holding it up above your hair with your non-dominant hand.
If the dry shampoo is an aerosol spray, hold it about 6 inches from your scalp and apply a small amount of it to the roots. If you're using a dry shampoo that is a foam, apply a small amount of the foam to your fingers and then massage it into the scalp, starting with the oiliest areas first.
Use your fingertips to massage the product into the scalp. You'll want to start with the greasiest areas of your hair first and then spot-treat any others if needed.
Downsides of Dry Shampoo
There's no doubt that dry shampoo is a useful tool, but are there downsides to using it? Just like most other things, the answer is yes. Dry shampoo as a part of your hair care routine is a great time saver, but when used too often, it could cause issues for your hair.
"Your natural oils are the best conditioner for the hair," said Garcia. "What I've noticed is the hair itself can tend to feel drier and a bit more brittle since the dry shampoo is really keeping that natural oil off the scalp. It's important to find one that isn't drying too much, and maybe just being heavy day one with it and lighter the rest, and not reapplying so heavily."
Because it isn't cleaning the scalp, overusing dry shampoo can clog the hair follicles, which can lead to many other issues like folliculitis — a scalp condition where hair follicles become inflamed and have the appearance of pimples on the scalp. In extreme cases, prolonged use of dry shampoo can even lead to hair loss.
Additionally, some brands of dry shampoo can leave a residue, giving darker hair shades a chalky or dusty appearance.
Also: Why Do My Hair and Scalp Hurt? Doctors Explain Common Causes
Natural Products Can Make All the Difference
The truth is that not all dry shampoos are created equal. Some of them have issues like an unpleasant scent, unwanted ingredients, or don't evenly distribute when you spray them. If you're looking for a safe dry shampoo option, VEGAMOUR has a product worth your attention.
VEGAMOUR's GRO Dry Shampoo is formulated without talc or benzene, color-safe, scalp-balancing and volumizing. It features a formula that fuses the texturizing elements of a traditional dry shampoo with powerful, vegan, plant-based ingredients that work together to support a healthy hair biome. Plus, it has a fresh scent that's not overpowering or icky like some dry shampoos do.
And on wash days, VEGAMOUR GRO Shampoo and Conditioner can help create your shiniest and healthiest hair yet with our vegan formula of clinically proven plant actives and our proprietary Karmatin™ (the first-of-its-kind vegan keratin). This clean and color-safe shampoo and conditioner duo is made with wild harvested marula oil, organic murumuru butter and ximenia oil help to condition, hydrate and fight those pesky and damaging free radicals without imparting pore-blocking residue that harms your scalp. The formulas are also sulfate-free and safe for all hair types including color-treated hair.
Strike the Right Balance
One of the keys to having a healthy scalp and hair is finding the right balance between the days you wash your hair versus those when you refresh your hair. Overwashing can dry out the scalp and force it to produce more sebum, giving hair a greasy appearance.
Take a break from washing your hair each week and refresh your hair with our plant-based, calp-balancing, volumizing dry shampoo. It's a great way to save time and keep your scalp healthy!
More From VEGAMOUR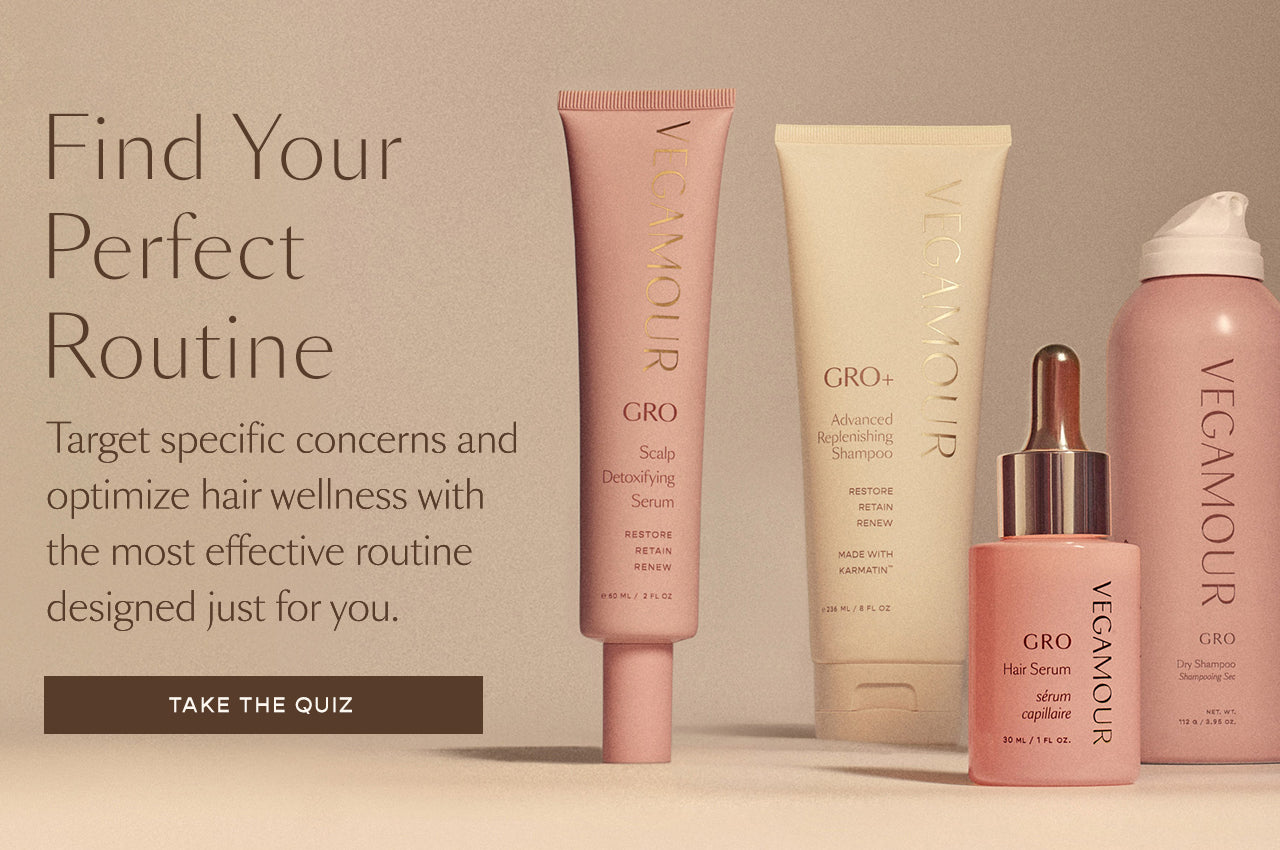 Disclaimer: Information in this article is intended for general informational and entertainment purposes only. It is not intended to constitute medical advice, diagnosis, or treatment. Always seek professional medical advice from your physician.