Get to Know VEGAMOUR's Gray Hair Products
Discovering those first few silver strands can be a startling experience. Relax! Graying hair isn't necessarily an indicator of aging. Some people will notice it before 30, while others may not see silver until later in life. Fortunately, going gray has never looked better — or gone more gracefully — when you know exactly what to use to dial it down. 
Introducing GRO AGELESS, a brand-new innovation in hair wellness and color care that's designed to delay graying hair and support healthier hair. Read on to find out what products you should use to control gray hair naturally.

GRO AGELESS Gray Delay™ Hair Supplement
Hair wellness, including caring for your natural color, begins from within with our brand-new GRO AGELESS Gray Delay™ Hair Supplement. Delay graying hair with the age-defying innovation that supports your natural color and hair health from the inside out. Look no further than the daily-use supplement to help delay gray hair!
The nutrient-rich supplement is uniquely formulated to naturally control grays, as well as to help preserve hair color. Nourish and nurture with the formula powered by a clean, high-performance, plant-based, proprietary blend of bioavailable adaptogens, minerals and key nutrients, including:
Kerenat™, Copper and Selenium support hair health and help reduce shedding while neutralizing and protecting hair from free radicals.
Venetron®, GABA, L-Theanine and 5-HTP are botanicals that alleviate stress, improve sleep and promote increased serotonin production, which leads to relaxation.
Vitamins B-6, B-12, Folic Acid, PABA, Iron and Zinc help to prevent signs of premature melanin loss or graying. 
To Use:
What to Expect: 
Day 1: Use daily to see results in as soon as 90 days. 
Day 30 and beyond: Healthier-looking (and feeling) hair with increased shine
Day 60 and beyond: Thicker and more vibrant hair, with fewer new grays and a decrease in shedding
Day 90 and beyond: Delayed appearance of gray hair and increased natural hair color

GRO AGELESS™ Anti-Gray Hair Serum
Bolster the effects by using the supplement in tandem with GRO AGELESS Anti-Gray Hair Serum. Utilize this age-defying, plant-based hair serum consistently to reduce the appearance of gray on new hair growth, renewing color and shine. Plus, it won't leave strands greasy or leave behind any residue. This vegan, cruelty-free formula includes the following ingredients:
Caffeine nourishes the scalp and hair follicles as it counteracts hair damage due to oxidative stress.
Fo-ti nourishes the scalp and hair follicles.
Peptides renew and boost hair color in new hair growth exposed to oxidative stress.
Vitamins B3, B5, B6 and E help in reducing the appearance of graying hair.
Glycoproteins enhance shine and mitigate graying hair without damage.
To Use: 
Apply 1 dropperful directly to the scalp, along the roots of gray strands and to any graying areas. You can also use it as a spot treatment.
Massage in with fingertips. 
Leave in and style as usual. 
Use daily, in the morning or evening. The hair serum works best on damp or towel-dried hair. 
What to Expect: 
Day 1: See results in as soon as 90 days with consistent, daily use. 
Day 30 and beyond: Naturally nourished scalp and hair strands
Day 60 and beyond: Hair that looks and feels healthier
Day 90 and beyond: Boosted appearance of hair's natural color and enhanced shine to grays
The Right Time to Control and Delay Gray Is Now
You can't stop the hands of time. Yet, you can help slow down its effects and combat its toll on your hair! To never miss a beat on your journey to combat grays, check out VEGAMOUR's GRO AGELESS products & kit. Or consider signing up for Subscribe & Save with your first order of any of VEGAMOUR's gray hair products. You'll save money and receive your favorite products automatically!
Choosing GRO AGELESS can help you take the next step toward renewed health, color and shine!
More From VEGAMOUR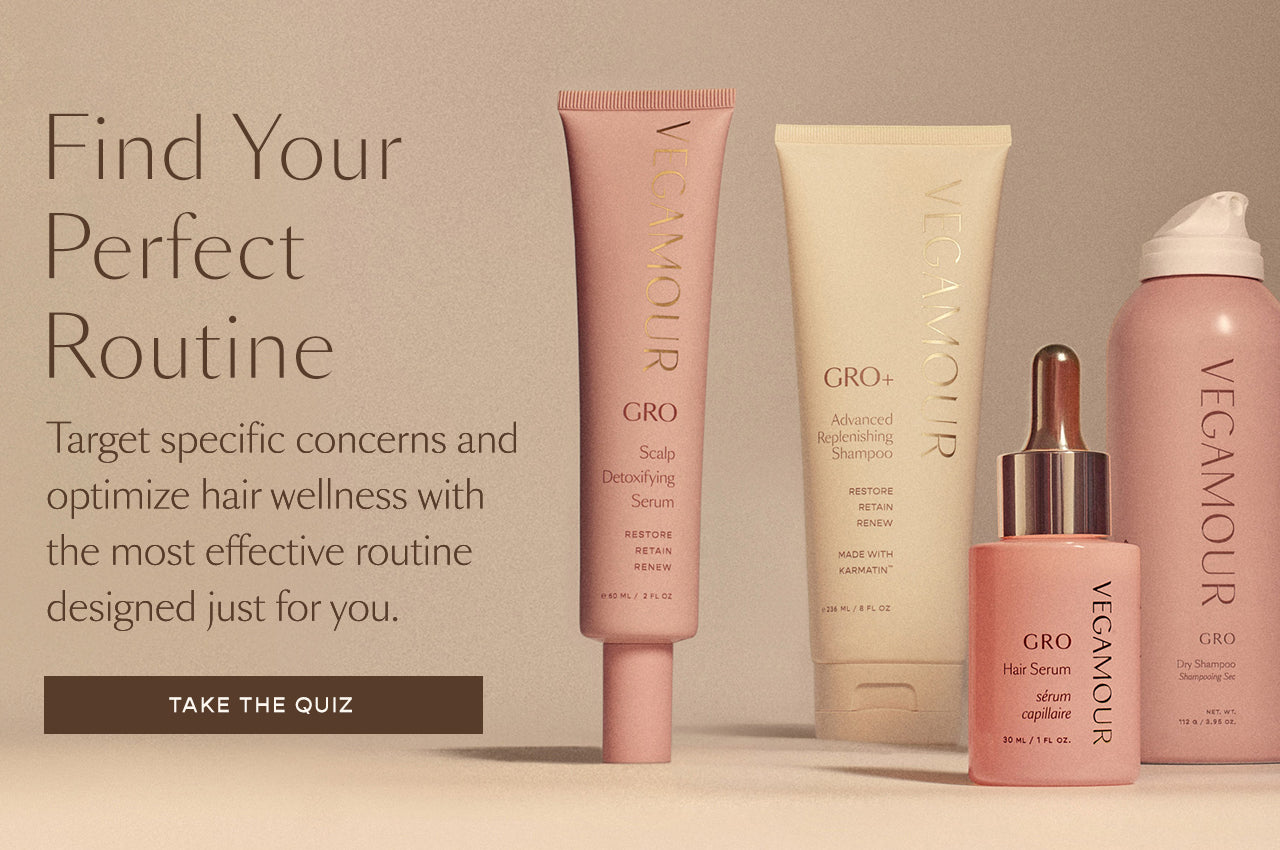 Disclaimer: Information in this article is intended for general informational and entertainment purposes only. It is not intended to constitute medical advice, diagnosis, or treatment. Always seek professional medical advice from your physician.