Try These 5 Gray Hair Color Ideas
From all-over silvery manes to dark gray lowlights and silver-blonde highlights, gray hair is trending. Coloring your hair when there's gray involved can be a little more challenging, but not impossible.
VEGAMOUR spoke with an expert to find out the best ways to update your gray look with color. Plus, discover which shampoos and conditioners work best for the complex needs of gray colored hair.
The Challenges of Coloring Gray
Whether you're covering gray roots or transitioning to a headful of silver-blonde hair, coloring gray hair comes with its own challenges. First, gray hair is often drier and more coarse, making it more resistant to hair color molecules. If you've been coloring your hair for years and now the color doesn't cover the roots as well as it used to, this might indicate that your hair has more gray and those grays are resisting color. Your stylist might do a pre-softening treatment on your gray hair with a peroxide mix or employ a scrubbing method with the color brush to encourage those hairs to accept the color.
But there are also challenges in choosing a color for gray hair. Unless you are completely covering all your hair with a new color, you'll need to consider colors that blend well with your natural color and with your grays. Any previous color on the mid-lengths or ends of the hair must also be considered.
A great hair color begins with an honest and thorough consultation with a skilled colorist. Your colorist can determine which coloring technique or combination of applications would work best to give you the look you want to achieve.
Now for some ideas! These five hair color options work great for gray locks.
Related: Why You Should Consider Gray Blending for Your Next Hair Color Appointment
#1: Glam it Up With a Hair Glaze
VEGAMOUR spoke with Liis Hainla of Vegan Avenue for her best gray hair color ideas. One trick Hainla mentioned was using color glazes or semi-permanent color glazing so that the existing grays contribute a natural highlighted dimension in the final look.
"Go with semi-permanent dyes if you're going for a 30-70% gray coverage that will make the grays look like highlights in your hair," said Hainla. The results are more natural and translucent.
Though not a permanent solution, glazing has many applications for beautiful looks on gray or partially gray hair. A hair glaze can:
Make grays look like silver highlights
Blend grays with softer dimensions
Ashe-out white blonde hair for a chic pastel highlight
Create looks similar to blonde highlights
Soften the line of demarcation and grow out the old color
Ease the transition from darker colors to light gray hair
Offer a smoky silver hair color with a lavender glaze
Keep tarnished grays in check, which can happen when gray hair is exposed to cigarette smoke or pollution. (Prep your hair for this service with a clarifying shampoo treatment.)
Note: Lighter semi-permanent colors will show up on the lighter hairs but not on dark hair. They will, however, contribute shine to the darker natural shade, hence the term "glaze." Semi-permanent colors fade off after a few weeks, so touch-ups are less about maintenance and more about brightening your look with shine and dimension. Gray regrowth is actually incorporated into this look, so you don't find yourself in a constant war with gray roots.
Home Care: VEGAMOUR recommends GRO Ageless for those who want to go with soft, natural transitional colors like glazes. This collection helps slow the graying process while supporting the natural production of color pigments in your hair.
Related Reading: How to Stop Gray Hair Naturally
#2: Explore Permanent Color Changes & Full-Coverage Options
For full gray coverage (to cover gray completely) you'll need to go for something more permanent. Some gray hair is simply too resistant to coloring and won't take the color glazing.
Hainla explained a little about why this happens. "Gray hair is coarser than your natural hair, follicles make less oil and consequently, your hair is drier," she said. "This makes it more difficult for color to penetrate." When your gray hair is hard to color, you have two options: permanent hair color and two-step services that include pre-lightening the hair and then toning.
Discuss with your stylist the end result you want. All-over hair color will provide full gray coverage on all your individual strands of hair. You can choose from a wide range of shades with this method because you no longer have to worry about matching up to the existing tone of the hair.

Home Care: VEGAMOUR recommends GRO+ Advanced Replenishing Shampoo and Conditioner Kit for your at-home hair care if you have all-over color. Vegan proteins shore up your hair's strength while humectants work to protect and defend drier strands against damage.
#3: Go Bold With Big Changes
Whether you choose to keep your base shade and play around with glazes or color your whole head with a new shade, don't be afraid to try something new and bold to cover gray hair.
Fun bold options include:
A pixie cut with streaks of white hair
Salt-and-pepper locks that mix black hair streaks with white strands
Short silver hair with lavender undertones works well on gray strands
Dark silver lowlights for rich dimension
High-color streaks or fashion-forward highlighting tones — like blues, purples, metallics or pinks
Pre-lightening with bleach might still be required for some looks. In spite of its paleness, gray hairs will still develop brassy tones in the lightening (bleaching) process. Your colorist will work to avoid this with careful toning, but you can use a purple shampoo as a weekly treatment to tone out any residual brassy shades.
Home Care: Same as for permanently color-treated strands: GRO+ Advanced Replenishing Shampoo and Conditioner Kit.
#4: Champagne Highlights
Bring on the champagne! Nothing celebrates aging gracefully than those enviable champagne highlights that catch the light so nicely. This highlighting tone has hints of pink in the undertone for a chic look that's polished enough for the office. It even looks good against dark roots or brunette strands, so if you're a natural brunette with gray that washes out your skin tone, this could be a great option to brighten and warm up your look.
This look is the lifestyle content creator's best bet because that little bit of warmth keeps those LED ring lights from washing out your skin's features. So, if you're in front of the camera often, have some champagne!
Home Care: Same as for permanently color-treated strands: GRO+ Advanced Replenishing Shampoo and Conditioner Kit.
#5: Tone-On-Tone Gray
One reason people dye their gray hair is because the gray doesn't blend well with the base color of their hair. If your hair is naturally dark brown or has lots of warm tones that contrast with the new ashy-gray colors growing in, perhaps a tonal shift will help. Light gray hair color can also be deepened with a cool-tone lowlight, for example. Your stylist can use a combination of methods to deliver a tone-on-tone gray hair color that's feels and looks trendy.
Related Reading: How to Care for Your Hair in Your 60s
Caring for Gray Hair
Whichever gray coverage option you choose, keep your new locks fresh and healthy with GRO+ Advanced Replenishing Shampoo and Conditioner Kit. Your new gray-friendly color will flourish with vegan b-SILK™ proteins that bond with your hair strands, repair damage and strengthen your hair from the inside out.
More From VEGAMOUR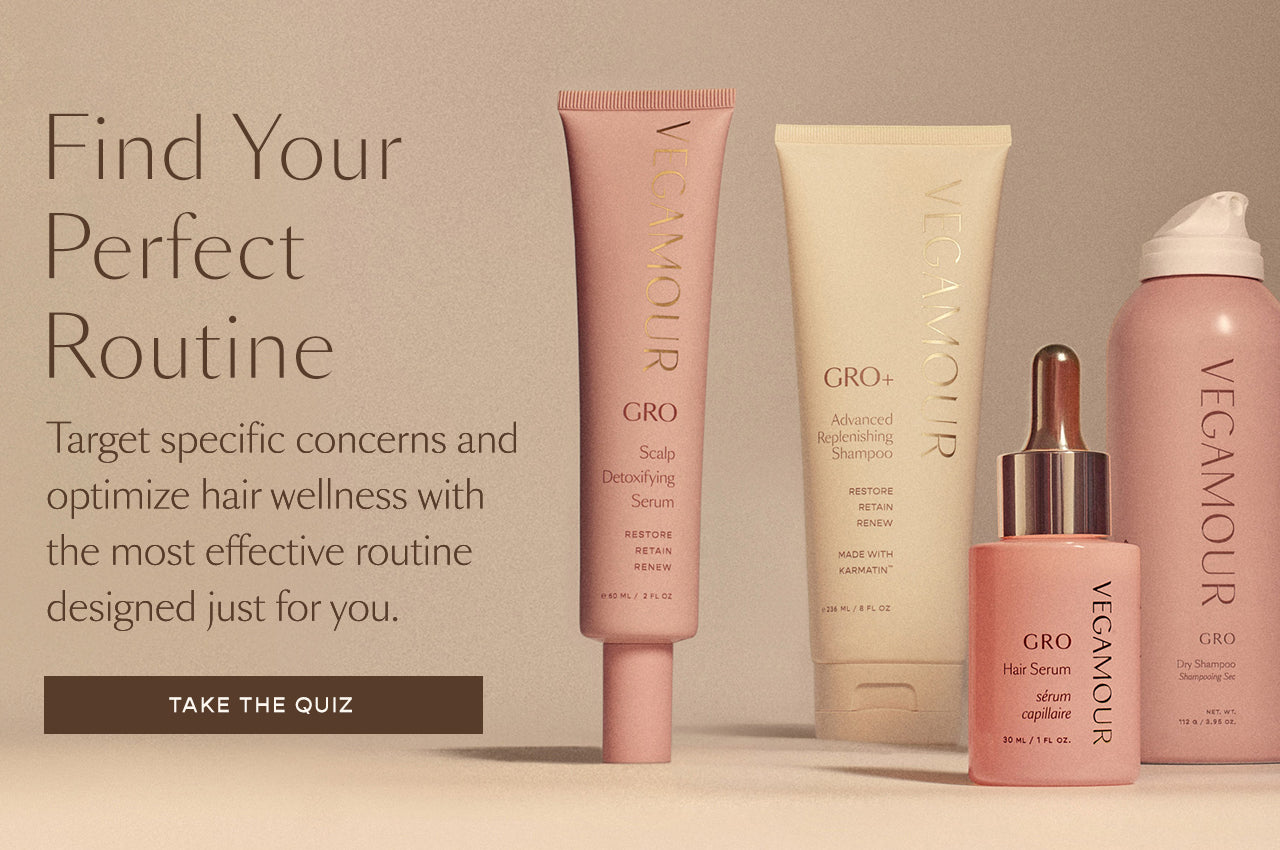 Disclaimer: Information in this article is intended for general informational and entertainment purposes only. It is not intended to constitute medical advice, diagnosis, or treatment. Always seek professional medical advice from your physician.