These Vegan Hemp Gummies Are a Game-Changer for Hair Wellness
I'm no stranger to integrating supplements as part of my self-care routine — including a hair vitamin with beauty-boosting benefits. I was already a fan and avid user of VEGAMOUR's GRO Biotin Gummies, so I was excited to also try the brand's GRO+ Advanced Gummies!
Read on to see if these little bundles of goodness set me on the fast-track to thicker, fuller, healthier hair and also find out what separates them from the brand's original hair gummies. Plus, discover what supplements you should add to your routine ASAP.
Step Up Your Supplements With Clean, Vegan Gummies

Change is a part of life — and a good thing for your overall well-being! Since taking GRO Biotin Gummies, I definitely noticed that my hair was visibly fuller and thicker. So, I was intrigued to see whether swapping them for GRO+ Advanced Gummies, with the bonus of CBD, would elevate my experience.
But before we get to the big reveal, here are some reasons why you might also consider adding these supplements to your routine:
Clean ingredients: I'm ultra-conscious of the products I use, opting for clean, plant-based ingredients in my skin and hair care rituals.
Vegan and cruelty-free: It can be challenging to find vegan gummies, so I was already happy with the fact that both gummies are 100% vegan, cruelty-free and made with plant-based ingredients.
Easy to take anywhere: They're also a delicious way to get in a daily dose of key nutrients that are perfect for travel or while on the go — no water required.
Shop: VEGAMOUR Supplements for Healthy Hair
GRO+ Advanced Gummies: What's Inside?
Introducing GRO+ Advanced Gummies into my morning routine was a no-brainer. After all, I had already gotten amazing results from my comprehensive self-care ritual, including GRO+ Hair Serum each morning combined with GRO Dry Shampoo on those days between hair washes. I anticipated that the added bonus of CBD would take my hair to the next level — perfect for getting ready for the busy months ahead!
Each heart-shaped gummy is fortified with essential nutrients, including:
150 mcg of biotin, also called B-7 or vitamin H. Biotin plays a major role in many nail, skin and hair vitamins and also supports eye, liver and brain function.
Vitamins A, C and E assist in neutralizing follicle-damaging free radicals.
Zinc helps to promote and maintain your scalp's health.
Vitamins B-5, 6 and 12 support your body's production of keratin and collagen.
Additionally, these gummies contain all-natural ingredients and natural flavors such as distilled water, cane sugar, tapioca syrup, citric acid and MCT oil. Unlike other sugar-laden gummy vitamins, these clean ingredients mean each GRO+ Advanced Gummy contains just 2.5 carbs and 3 grams of natural cane sugar.
GRO vs. GRO+: What's the Difference?
Here's what makes GRO+ Advanced Gummies different from GRO Biotin Gummies in case you're curious:
Broad-spectrum hemp oil harnesses its healing properties to help improve hair health from where it begins, at the roots and scalp.
Tap into the therapeutic power of broad-spectrum CBD, the bonus ingredient in GRO+ Advanced Gummies, the first hair wellness vitamins including 10 mg CBD and 10 mg CBG per gummy. CBD has the potential to help combat inflammation and improve circulation to support a healthy scalp, creating the ideal environment for healthy hair.
In double-blind, in-vivo clinical studies over 150 days, subjects saw an increase in the appearance of their hair density by up to 52% and a reduction in signs of shedding by up to 76%.
Shop: The Best CBD Hair Products
My GRO+ Advanced Gummies Routine and Results
I'm detail-oriented and diligent about my morning self-care routine, believing that how we experience our morning sets the tone for the entire day ahead. It's recommended to take one gummy per day for best results, so I set my bottle in my supplement drawer next to my morning probiotics as a reminder.
I took one gummy, along with applying GRO+ Advanced Hair Serum each morning. Around the fifth week, I saw a noticeable difference, with less thinning hair around my hairline and part. I also observed other visible results, such as less hair tangled in my brush, along with a visible increase in hair volume. Fortunately, this was evenly distributed throughout the crown and both temples, areas where I wanted to grow hair. I was so happy my beautiful hair was back!
Hair Wellness Starts With Supplements — and Self-Care!
Each bottle of GRO+ Advanced Gummies includes 30 gummies (enough for 30 days). Order the three-pack to stock up and save. Or you can do what I do to never run low: Use VEGAMOUR's Subscribe & Save option. Not only will you save, but you'll also get a new supply of hair gummies automatically delivered to you on your schedule. And if you want to skip a shipment, it's no problem! Simply log in to your account and make the changes.
But the GRO+ Advanced line doesn't stop at gummies. Try VEGAMOUR's whole line of CBD-infused products to help you amplify sparse lashes, bolster eyebrows and do a weekly scalp detox. They're designed to work together. And remember, consistency is key: When used each day, these products can be a game-changer for brows, lashes and hair!
Now it's your turn! Build your own unique, safe, effective VEGAMOUR self-care routine that you'll look forward to doing day-to-day, so you can achieve the wow-worthy results you want!
MORE From VEGAMOUR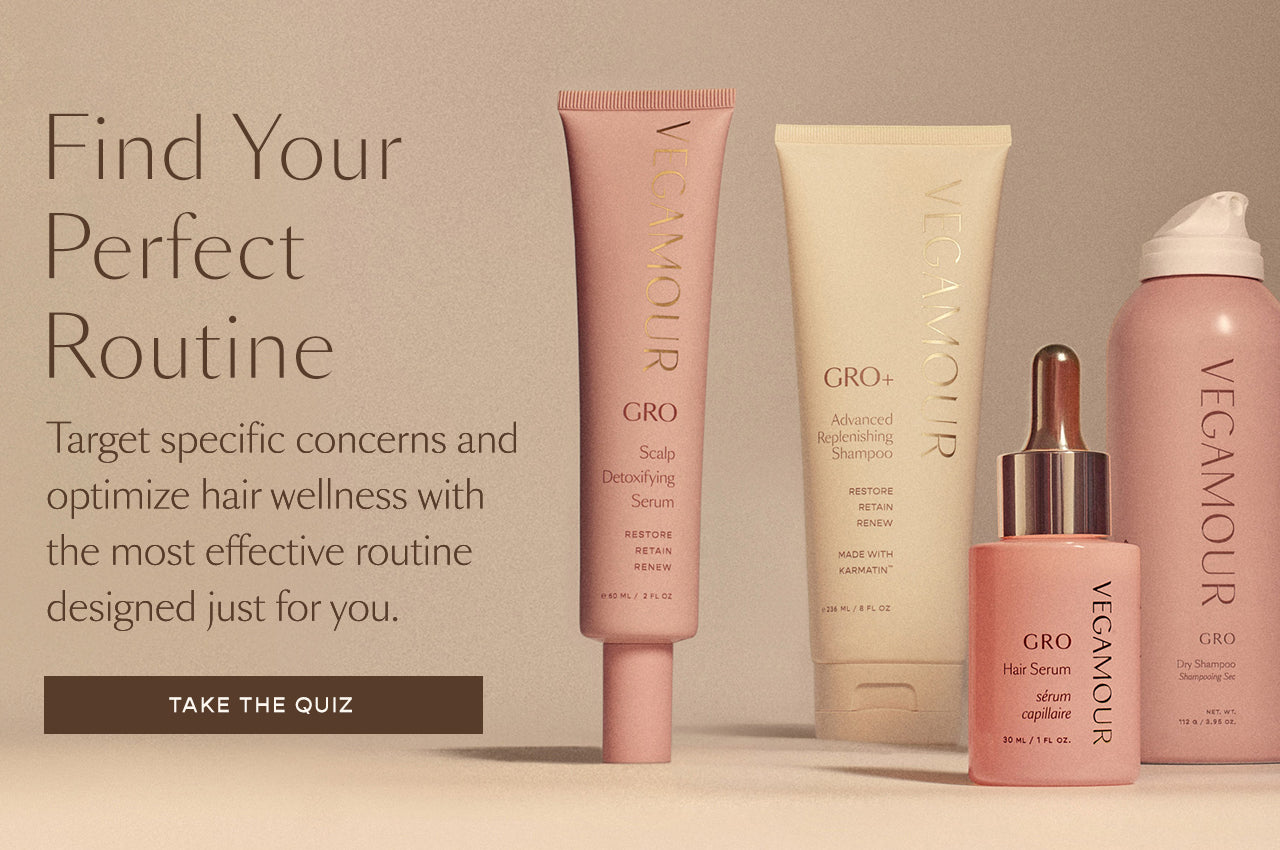 Disclaimer: Information in this article is intended for general informational and entertainment purposes only. It is not intended to constitute medical advice, diagnosis, or treatment. Always seek professional medical advice from your physician.