Try This If Your Hair Feels Like Straw
There's nothing quite like running your hands through fresh, silky-soft strands. On the flip side, when you discover your hair feels like straw rather than satin, it can stir up concern.
Things like heat styling, a change in seasons, a dry climate and the hair products you use are among the many factors that play a role in hair health. Here's what to do to get back on track — plus, find out what products you really should be using to boost hair wellness.
What Causes Hair to Feel Like Straw?
"It's usually due to two things — being dry or damaged. Both can cause the feeling of brittle hair and lack of shine," said Jay Scott Jackson, lead stylist and educator of NV Salon and Spa in Edison, New Jersey. "Dryness is caused by incorrect product selection; harsh, unfiltered properties in your shower water or simply the season itself. Damaged hair is usually the result of chemical or color service gone awry and/or incorrect use of heat and styling products."
For a little more insight into what can cause hair to feel like straw, here's some advice from Davide Marinelli, founder, creative director, stylist and colorist at Davide Hair Studio in New York City.
Assess Your Diet: "Whatever is happening inside shows up on the outside," said Marinelli. 
Use the Right Hair Care Products: "Make sure you change your hair products with the seasons," Marinelli said. "Alcohol-based products in the winter can create that straw-like texture." 
Avoid Excess Chemical Treatments: "Overprocessed color when getting hair dyed, like your highlights or using too strong of a developer when covering grays, can make hair feel like straw," advised Marinelli.
Avoid Dull Tools: "Be careful with the cutting technique or tools used when getting your hair cut," said Marinelli. "Dull shears or razors are deadly! A good haircut goes a long way."
Shop: Shea Whitney's VEGAMOUR Picks
Consult With Your Stylist
Head to the salon and consult with your stylist or colorist; you may also want to get a deep conditioner treatment or gloss/shine treatment, advised Jackson.
"Your pro will help you identify what it is you're experiencing and the right treatment to mend brittle hair," said Jackson. "Go over your at-home products, how you wash your hair [and your] styling regime. They can then guide you in the right direction for your home care, heat-styling routine or a protective style to help aid in retaining your moisture or the health and integrity of your hair. Also, yes, you can have both damaged and dry hair, so it's important to seek professional help."
Read: How Often Should You Condition Your Hair?
Shampoo and Condition With Care 
When hair feels like straw, take steps to smooth, soften and restore it by using nourishing products free of harsh ingredients. To get your hair on the road to recovery, consider vegan, cruelty-free shampoos and conditioners.
Plus, VEGAMOUR shampoos and conditioners are free of silicones and include our proprietary vegan keratin Karmatin™, which remains bonded to hair strands even after rinsing. The result: A nontoxic alternative to keratin treatments that leaves dry hair smooth as (vegan) silk.
Add an Overnight Hair Mask to Your Routine
Give your dry or damaged hair an extra boost of hydration with the a deep conditioning hair mask. This hair mask conditions strands and helps protect color-treated or heat-damaged hair and restores the appearance of healthier, stronger-feeling strands while enhancing color and shine.
To use, apply a quarter-sized amount on wet hair, all the way from the scalp to the ends. Leave on overnight for up to 10 hours before thoroughly rinsing and styling as usual. Use weekly or more often as needed for dry or damaged hair.
Related: How Often Should You Use a Hair Mask?
Consult With Your Doctor
"After you've exhausted all the external and environmental reasons you could be going through dryness or damage, you might visit a doctor or scalp specialist," said Jackson. "Nutrition is also key, so reflect on diet and hydration as well. A simple bloodwork panel can tell a lot about your body and how it's affecting your hair."
Changes in the hair, skin or nails may potentially indicate a deeper parathyroid hormone issue, according to the American Academy of Dermatology. In some cases, your doctor may examine your thyroid gland in order to rule out more serious thyroid hormone-related issues.
Stop Damage Before It Starts
When caring for your hair, it's best to take steps to prevent damage. Use these tips as preventative measures.
Pamper and protect. "Always, and I mean always, use a heat protector cream before hair drying," said Marinelli.
Steer clear of too much heat. Wet hair doesn't respond well to water temperatures that are too hot, which can strip color and natural oils. "Lower your temperature — from the hot water in the shower to the heat of your flat or curling irons," said Jackson. "Choose the low setting on styling tools like a hair dryer, always!  The dial may go up to 400 degrees, but you do NOT need to have it that high."
Invest in quality tools and products. Investing in the right products for your hair type and high-quality tools will help reduce breakage and split ends and keep your hair from drying out.
Practice Patience and Healthy Habits
"Having healthy hair is the same as maintaining anything; it comes with time and discipline," said Jackson. "Habits are hard to break, and you may have some hair-hazard habits (tying it too tight, sloppy sectioning, product inconsistency or maybe just lack of effort toward your goal. Be easy on yourself, honest and ready for the discomfort of creating new habits that lend themselves to an overall better experience and nicer head of hair."
To combat dryness and help your hair retain moisture, use the correct products, lay off the hot tools and let your hair air dry instead of turning to blow dryers every time.
Also, integrate stress-reducing activities, self-care rituals, mindfulness and patience into your daily routine. While these practices may take time to become part of your regular routine, consistency will boost your hair, skin and overall wellness.
"Change won't happen overnight, but by using the correct products on a daily basis and using your hair tools in the right way, you can get your hair back on track," said Marinelli. "Be easy on your hair. Everyone's stress levels have been very high lately. Take time for yourself; it will improve your skin, nails and hair — and your sanity."
MORE From VEGAMOUR
Photo credit: Velizar Ivanov/Unsplash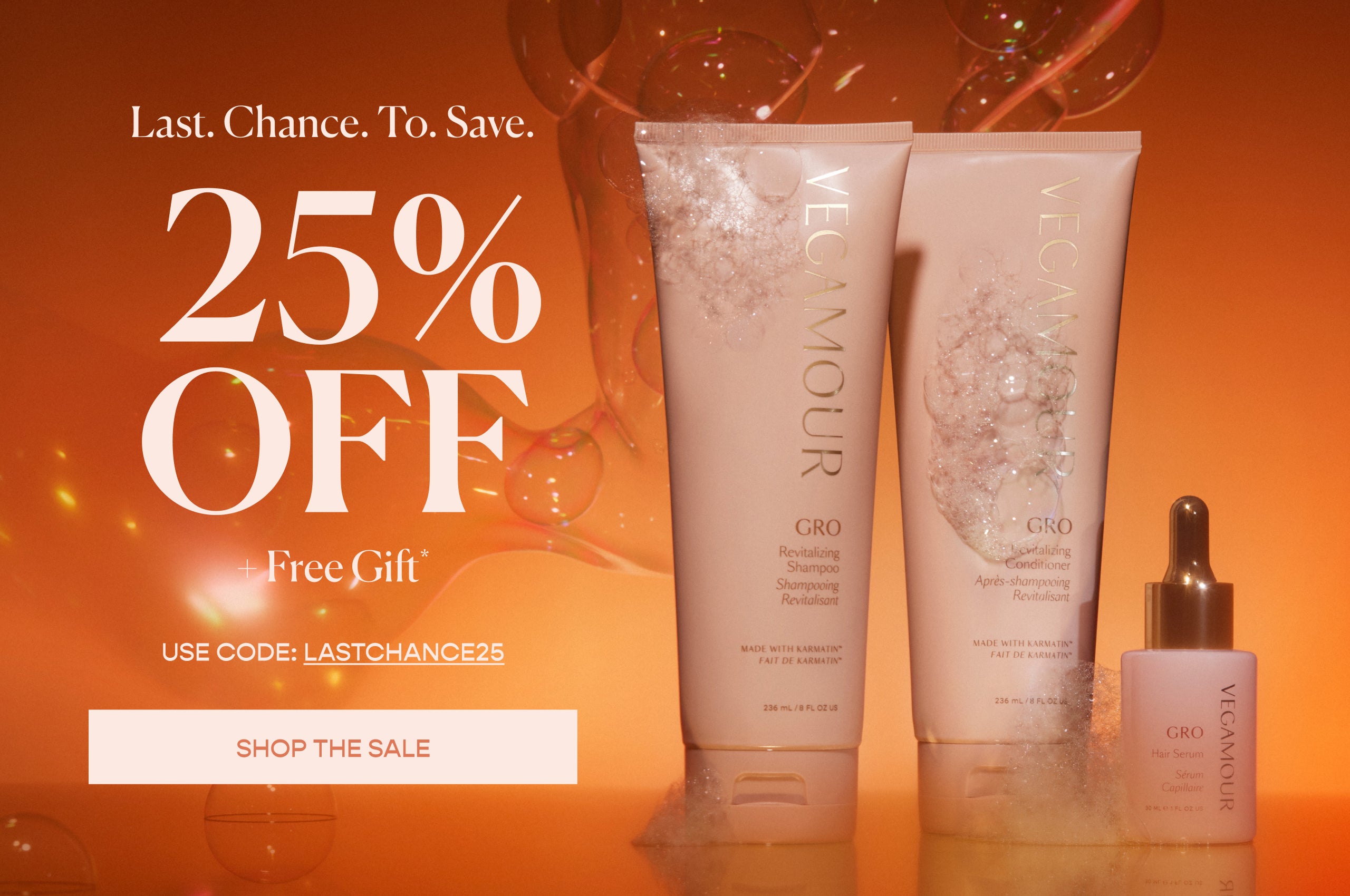 Disclaimer: Information in this article is intended for general informational and entertainment purposes only. It is not intended to constitute medical advice, diagnosis, or treatment. Always seek professional medical advice from your physician.