How to Achieve the Sleek Hair Mask Bun Every Busy Hair Lover Is Doing
Hydrated and moisturized hair is healthy hair. However, when hair is too dry, it can become brittle, dull and lifeless, leaving you searching for solutions to restore and repair it. The good news is that adding a weekly hydrating mask to your hair care routine can help.
Read on to learn more about how hydrating masks work and the latest TikTok hair mask trend — plus, find out what plant-based, gentle products you should be using to lock in moisture, fight frizzy hair and fortify your strands.
Why Might You Need a Hair Mask?
Sometimes, your hair needs a little extra TLC, and a hair mask can work wonders if your strands appear damaged or feel dry or brittle.
Brittle, damaged or dry hair can result from the following:
Overwashing your hair or using too much clarifying shampoo
Overexposing your hair to heat styling
Subjecting your hair to harsh chemical processing like straightening, perming, bleaching or dyeing
Too much exposure to the sun, salt water or chlorine
Whatever the reason for your dry, damaged hair, a hydrating hair mask can help.
Shop: HYDR-8 Collection
Hair Mask Benefits
The idea behind a hydrating hair mask is to impart moisture, smooth hair and fight off future damage. A hair mask can be especially helpful if your hair is dry and brittle or if you're experiencing hair breakage.
Stylist Lauren Holland explained. "Numerous hydrating hair products are widely available on the market, including hyaluronic acid, which helps nourish hair and keep it supple," she said. "Another option is to include a moisturizing mask in your weekly shower routine in addition to a conditioner. Apply the mask just before getting into the shower to get the most out of it, and then get some warm steam for your hair to help the mask release moisture into your hair."
Holland explained that it's important to rehydrate and seal moisture into your hair after washing it."Dry, brittle and damaged hair is more likely to break, which frequently causes those annoying flyaways."
While many will use a hair mask right before hopping into the shower, there is another hair trend sweeping the internet that's being touted as a multi-tasking hair hack.
Read: 5 Reasons You Should Use a Weekly Hair Mask
How to Do the Hair Mask Bun
While it's most common for your stylist to do a hair mask while washing your hair, TikTok users recently began experimenting with a trend of using an at-home hair mask to create a sleek bun — like Bella Hadid's popular look.
It's most popular to do the hair mask bun on the day you'd normally wash your hair. To try this trend, follow these steps:
Spritz strands with plain water until you have damp hair.
Apply your favorite hair mask from root to tip.
Brush or comb the hair mask into the hair until you get a sleek, almost gel-like look.
Put the hair up into a low or high bun.
Allow the mask to treat your hair for a small amount of time, like 20-30 minutes (or all day if you prefer).
Rinse your strands thoroughly to soften and remove the mask.
Wash your hair as usual.
Related: How to Use a Hair Mask
Should You Use a Hydrating Mask Treatment Every Week?
"Hydrating masks cannot hurt hair," beauty expert Madison Dufour explained. "If the hair is too oily, choose or make a mask with less oil. You cannot put too much moisture into hair and skin." Dufour also said that hydrated hair is smoother and more vibrant.
Most hair masks are OK to sleep in, but you might want to cover your head with a bonnet, towel or shower cap to protect your pillowcase.
What Is the Advantage of Putting Your Hair in a Bun?
While some people might choose to use a hydrating hair mask treatment while hair is down or pulled back loosely with a hair tie, using a hair mask while having your hair up in a bun might actually improve the effectiveness of the mask, as the hair held closely together remains warmer and moister, possibly allowing the mask to penetrate deeper. Just be sure you don't pull your hair too tight, as it can stress your hair follicles.
Which Hydrating Hair Mask Should You Use?
While there are many hair masks on the market and many DIY options you can mix up at home, VEGAMOUR's HYDR-8 Deep Moisture Repair Mask is perfect for any hair type or texture. It offers 15x more hydration and 3x stronger strands after just one use. The mask contains the following ingredients:
Karmatin™ (the first-of-its-kind vegan keratin) to bond to hair, form a defensive barrier and reduce frizz
Milk thistle to hydrate and soften hair strands
Marula oil and moringa seed oil to nourish and hydrate your hair naturally
And the mask is so easy to use! After shampooing, skip your conditioner and apply the mask to damp hair from root to tip. Leave it on for 3-5 minutes. Rinse your hair and style it as usual.
Make It a Trio
All VEGAMOUR products are designed to work synergistically together, so consider swapping out your current shampoo and conditioner for our HYDR-8 Shampoo and Conditioner Kit to give your hair an extra surge of hydration every time you wash.
This vegan, color-safe duo is perfect for all hair types and will cleanse and hydrate hair without stripping it of its protective oils or drying it out. This duo is enhanced with Karmatin™ (the first-of-its-kind vegan keratin) as well as aloe vera, magnolia bark extract, marula oil, moringa seed oil and murumuru seed butter to help condition and hydrate your hair while reducing frizz and enhancing shine.
Related: 9 Ingredients in Shampoo To Avoid (And What to Look for Instead)
The Wrap Up
There are many reasons why hair gets dry and damaged and needs an extra boost of hydration. Hydrating hair masks can be the secret weapon to having lustrous, shiny and healthy hair. However, if you're a busy person, you might not always have hours to sit with a thick, greasy hair mask in — especially ones you might make at home with natural oils, such as argan oil, coconut oil, avocado oil or olive oil, or thick, sticky ingredients like honey.
If you use a lightweight hydrating hair mask, you can achieve the hair mask bun without your hair looking too greasy. Your hair can be hydrated while you're out in the world living your best life. Two birds, one stone!
More From VEGAMOUR
Photo credit: Marta Wave/Pexels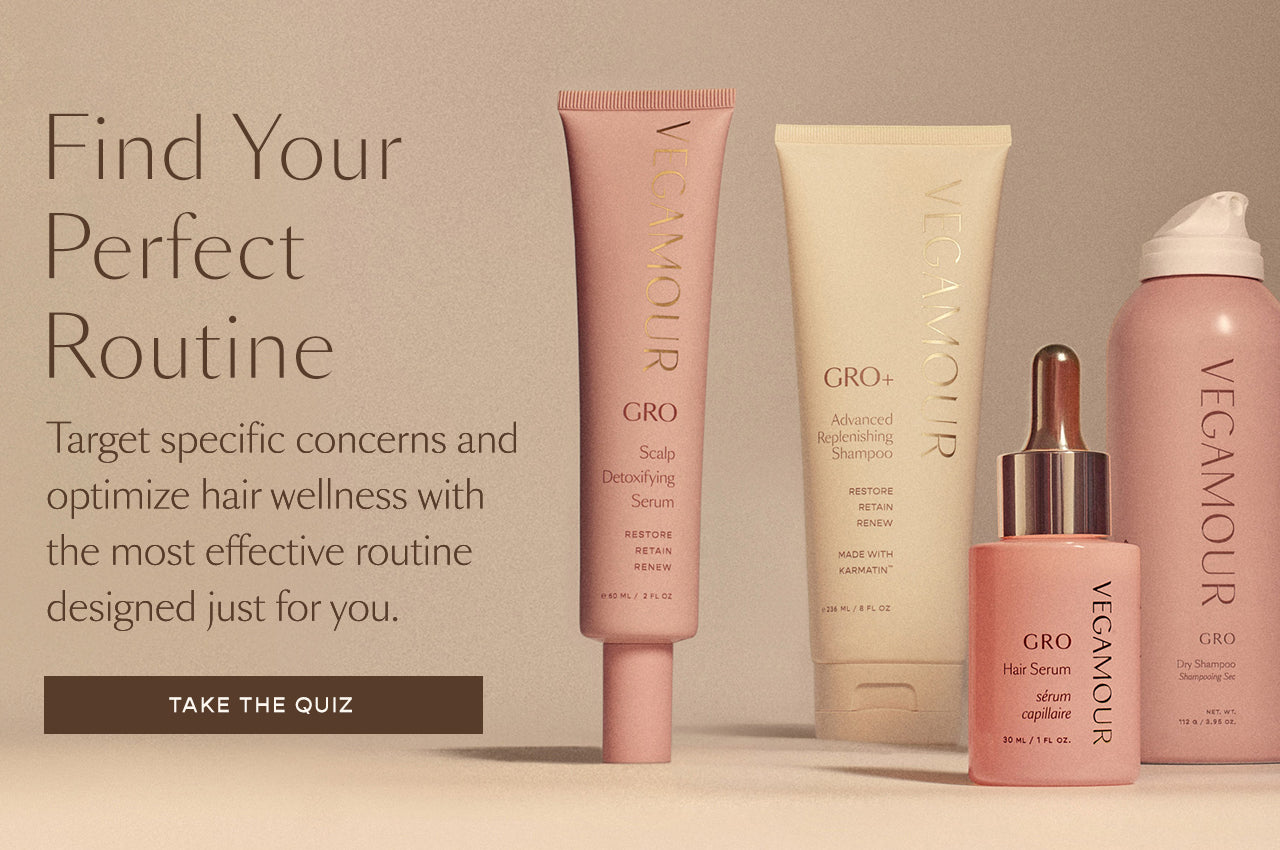 Disclaimer: Information in this article is intended for general informational and entertainment purposes only. It is not intended to constitute medical advice, diagnosis, or treatment. Always seek professional medical advice from your physician.