These Are 7 Telltale Signs of Hard Water on Hair
If you have a good haircare routine but still notice that your hair is dry, frizzy or unruly, the problem might be hard water damage. While hard water isn't inherently dangerous, it can lead to issues with hair and skin. And if those issues are left untreated, they can lead to major problems like hair loss. Read on to find out the telltale signs of hard water on hair as well as the best products for cleansing and restoring balance to your hair and scalp.
Hard Water Explained
Water that comes from the ground is naturally hard, which means that it has high levels of minerals like calcium and magnesium. While many homes filter water that comes out of the faucets and showers, not all do. So how do you know if your home has hard or soft water? And what kinds of problems can this cause for hair and skin?
Dr. Alpana Mohta explained. "These minerals can cause a variety of problems for your hair and skin, including dryness, itchiness and dandruff. Hard water can also damage your hair over time, making it brittle and more susceptible to breakage."
If you are curious if the water in your home is hard or soft, there's a simple test you can do. Fill up a water bottle about one-third full with tap water and add a few drops of pure dish liquid soap. Screw the cap back on the water bottle and shake it for a few seconds. If there's a lack of bubbles or if the water appears cloudy, it might be too hard. Another way to know if your water is too hard is if your hair and skin suffer adverse effects.
Shop: GRO Foundation Kit
Signs of Hard Water Damage on Hair
Washing your hair with hard water is annoying in the short term and damaging in the long term. The buildup of minerals can make it difficult for moisture to penetrate the hair shaft, leaving your hair dry, brittle and prone to breakage.
In extreme cases, hard water buildup can lead to hair loss. A study from 2016 compared hair samples from women who washed their hair with hard water and others who washed it with distilled water. The women who used hard water had a ruffled appearance on the surface of their hair. Additionally, their hair had a higher mineral deposition and decreased thickness when compared to the hair of women who used distilled water.
Hair expert Ghanima Abdullah of The Right Styles explained further. "If you live in an area with hard water, it's very easy for those mineral deposits to build up in your hair," she said. "When that happens, it can form a crust, almost, that's very difficult to remove. It can also build up on your scalp and cause hair loss. But before this happens, it will just make your hair very unruly."
Here are seven telltale signs of hard water on hair.
Dry hair
Frizzy hair
Dull hair
Hair that's hard to manage
Dry scalp
Hair that tangles or breaks easily
Hair color has faded or is brassy
"You can usually tell if you have hard water damage if your hair and skin feel dry and irritated or if you notice that your hair is breaking more easily than usual," said Dr. Mohta.
See: Can Hard Water in Your Shower Lead to Hair Loss?
How to Help Hair Damaged From Hard Water
If you suspect your hair is damaged from hard water, here are some suggestions to help.
Install a Water Softener
Jake Romano, general manager of John the Plumber, said that installing a water softener in your home is really the best option, not only for your hair and skin but also for your plumbing.
"Water softeners are plumbing devices that filter hard minerals out of your water," Romano said. "Your water supply is connected to the input where your naturally hard water enters, and the water softener outputs very soft water. There are different types of water softeners, but the general idea is the same: your hard water supply is turned into a soft water supply for your entire home."
Soft water is much gentler on the hair as it doesn't contain high amounts of minerals. So installing a softener is prioritizing prevention over treatment.
Hair Treatments to the Rescue
After damaging your hair with hard water, you'll need to do something to help remove the buildup of minerals. Next, you'll need to add moisture back in. Clarifying shampoo can help to get the mineral buildup off the hair strands, but it can also be very harsh on the hair long term. If your hair has already undergone stress from hard water, it's important to treat it gently.
"If you have hard water damage, it's important to take extra care of your hair and skin," said Dr. Mohta. "Be sure to use gentle, sulfate-free shampoos and moisturizing conditioners. You may also want to consider using a leave-in conditioner or serum to help protect your hair from further damage."
Related: 9 Ingredients in Shampoo To Avoid (And What to Look for Instead)
Natural Remedies
"You can try vinegar rinses to remove some of the buildup," said Abdullah. That's one part apple cider vinegar to six parts of water. Leave it in your hair for five minutes, then rinse it thoroughly. This will help to a degree, but a clarifying shampoo will work better, depending on how hard your water is. A shower purifier is the best thing to avoid that stuff getting on your hair in the first place."
A rinse with lemon or lime juice mixed with warm water can also help. Both citrus and apple cider vinegar can help gently remove buildup and restore the scalp and hair's pH level.
After that, using natural oils like marula oil or argan oil to create a hair mask is also good for restoring moisture after damage. You might also want to switch up your shampoo and conditioner to formulas that are sulfate-free.
VEGAMOUR GRO Revitalizing Shampoo & Conditioner Kit contains formulas that were created to give you your healthiest hair yet. They're packed full of powerful phyto-actives that encourage thicker, fuller-looking strands. They also contain wild-harvested marula oil, organic murumuru butter and ximenia oil help to condition, hydrate and fight damaging free radicals without imparting pore-blocking residue. This shampoo and conditioner can help gently cleanse and moisturize hair that's been damaged by hard water. And you never have to worry about harsh ingredients because these formulas are free from phthalates, silicones, GMOs, parabens, sulfates, mineral oils, gluten and synthetic fragrances.
Also, consider our GRO Scalp Detoxifying Serum to help gently cleanse and moisturize your scalp. This gentle serum uses zinc PCA to absorb excess oil, reduce irritation and support the skin's natural moisturization process. Willowherb extract also safely reduces the appearance of adherent and non-adherent flakes, and wild-harvested baobab and marula oils provide antioxidant support in the form of Omega 6 and Omega 9 fatty acids, which moisturize, protect and balance the scalp.
Read: 6 Signs You Need a Scalp Detox Treatment (and How to Do It)
Protect Your Hair From Hard Water Damage
If your hair has suffered from hard water damage, it's not too late to make a few changes to restore balance. Consider installing a water softener and evaluate your current haircare product routine. If you're not regularly using sulfate-free shampoo and conditioner and detoxifying your scalp once a week, it's time to start. VEGAMOUR has the gentle yet effective hair care products you need.
More From VEGAMOUR
Photo credit: VladK213/iStock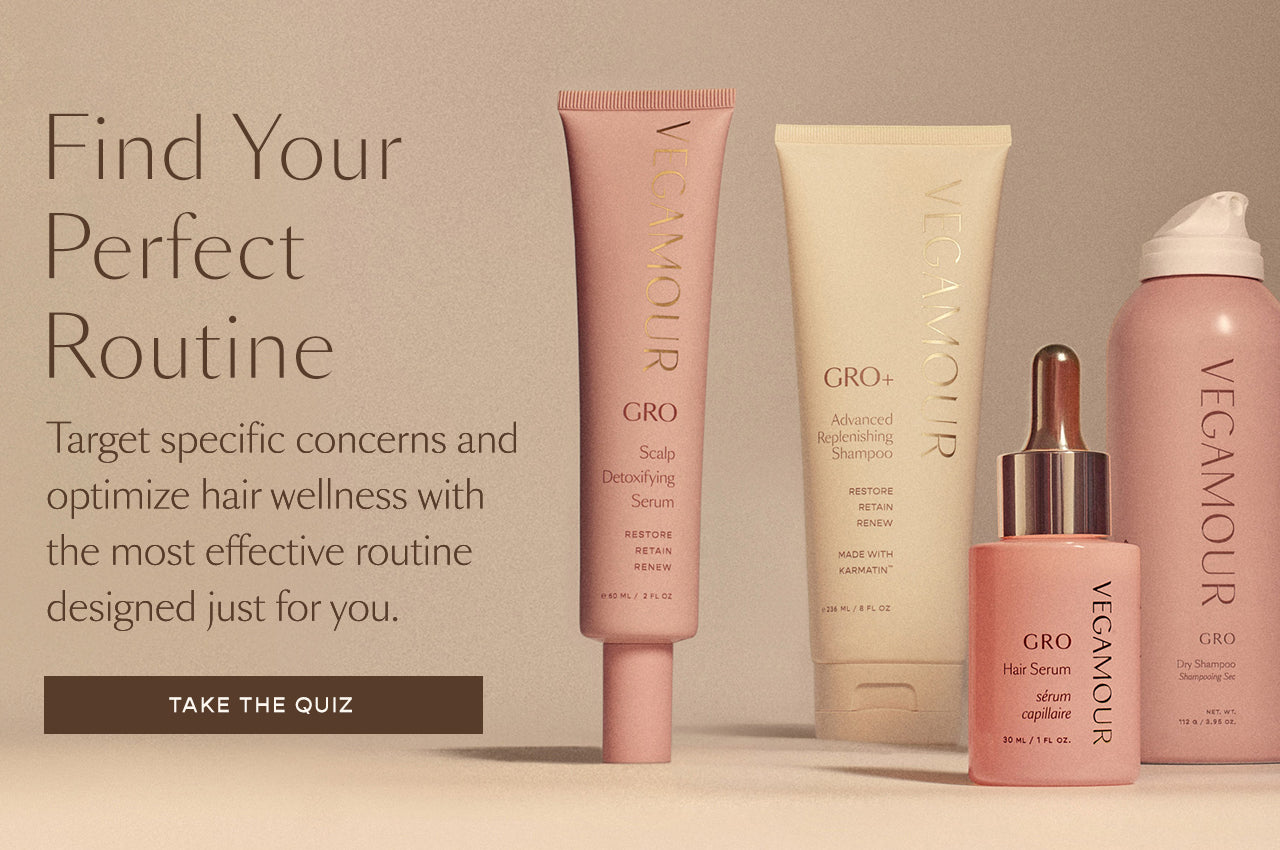 Disclaimer: Information in this article is intended for general informational and entertainment purposes only. It is not intended to constitute medical advice, diagnosis, or treatment. Always seek professional medical advice from your physician.