What Celebrities Love About VEGAMOUR
VEGAMOUR fans are passionate about sharing their love for clinically proven, cruelty-free hair growth and our celebrity fans are no exception. We've put together a list of some of the best things VEGAMOUR's celebrity fans have shared about their growth successes — plus, what products they use keep their famous hair looking shiny and healthy.
Lana Condor: GRO Scalp Detoxifying Serum
In an interview with Glamour, the "To All the Boys" star dished about her love for holistic scalp care. And it turns out that she and Chabert have a favorite in common. "VEGAMOUR has this great scalp-detoxifying serum for my hair that is awesome," she said. Her glowing locks are proof that she's onto something.
Lacey Chabert: GRO Scalp Detoxifying Serum
The iconic "Mean Girls" star sat down with Hello Giggles to dish about her haircare faves. "I use a lot of products, so I think it's good to detox your scalp and really give it a deep clean," she said. "I use something I found on Instagram—it's VEGAMOUR!" VEGAMOUR's GRO Scalp Detoxifying Serum uses zinc PCA, Willowherb extract and antioxidants that gently cleanse the scalp of buildup while nourishing and protecting it from environmental culprits, such as pollution. 
Round out your routine with the GRO Foundation Kit, which features GRO Scalp Detoxifying Serum plus GRO Revitalizing Shampoo & Conditioner made with Karmatin™, a vegan keratin protein.
Also Try: GRO+ Advanced Scalp Detoxifying Serum with Hemp
Brianne Howey: GRO Lash Serum
In an interview with The Bare Magazine, the "Ginny & Georgia" actor shared her love for clean beauty. "I also recently discovered VEGAMOUR, a beautiful and clean product line," she gushed."A lash serum is something I wouldn't have taken the time to use before being in quarantine, but after trying theirs, there is no going back! Experimenting with clean products has always been reassuring since our skin is so sensitive and everyone's varies; you know your skin will love it!" Cruelty-free and clinically tested, your lashes will love this serum as much as Brianne's does.
Chrishell Stause: GRO Dry Shampoo
In an interview with The Cut, the "Selling Sunset" star shared her love for VEGAMOUR's cult- favorite GRO Dry Shampoo. "I like to go several days without washing my hair, and I tend to get oily at the top, so I want powerful dry shampoos," she said. "I like that this one gives you a little white misting. I let it sit for a few minutes, and then I run my hands through it. It doesn't leave your hands sticky. The ones that you spray on and you never see where they went, they just don't work for me. I want it to get in there and blast the oil away and also smell great." This dry shampoo is destined to transform your wash-day routine. It's scalp-balancing, volumizing and full of plant-based ingredients that work in tandem to support a healthy hair ecosystem. Plus, it smells fantastic!
Shenae Grimes-Beech: GRO Hair Serum
In an entry on her blog, "The Damn Thing," the lifestyle guru shared her excitement about trying out new hair products. "There's all kinds of topical products out there," she wrote. "... I've heard great things about VEGAMOUR GRO Serum." Shenae, if you're reading this, the rumors are true! GRO Serum is great for supporting long-term hair wellness. 
Sunnie Brook: GRO Hair Serum
In an interview with Rose Inc, the hairstylist shared how VEGAMOUR has been a go-to hair product during her postpartum hair journey "Use a hair mask once a week in the shower to ensure the hair you do have is getting the nutrients it needs," she said. She recommends GRO Hair Serum as an ideal leave-in treatment. In addition, Brook said using VEGAMOUR products can provide you with an edge when styling. "During the repairing stage, it's important to protect your scalp and hair strands, especially when styling," Brook said. "I love the Vegamour GRO Hair Foam and GRO Dry Shampoo because the foam not only creates additional volume but delivers the scalp benefits..." Combining multiple products gives VEGAMOUR's signature clinically-tested, vegan phyto-actives even more opportunities to kick-start your hair wellness journey.
Also popular, consider combatting it with GRO+ Advanced Hair Serum, which harnesses the power of full-spectrum hemp to soothe your scalp and help hair look thick and beautiful.
More From VEGAMOUR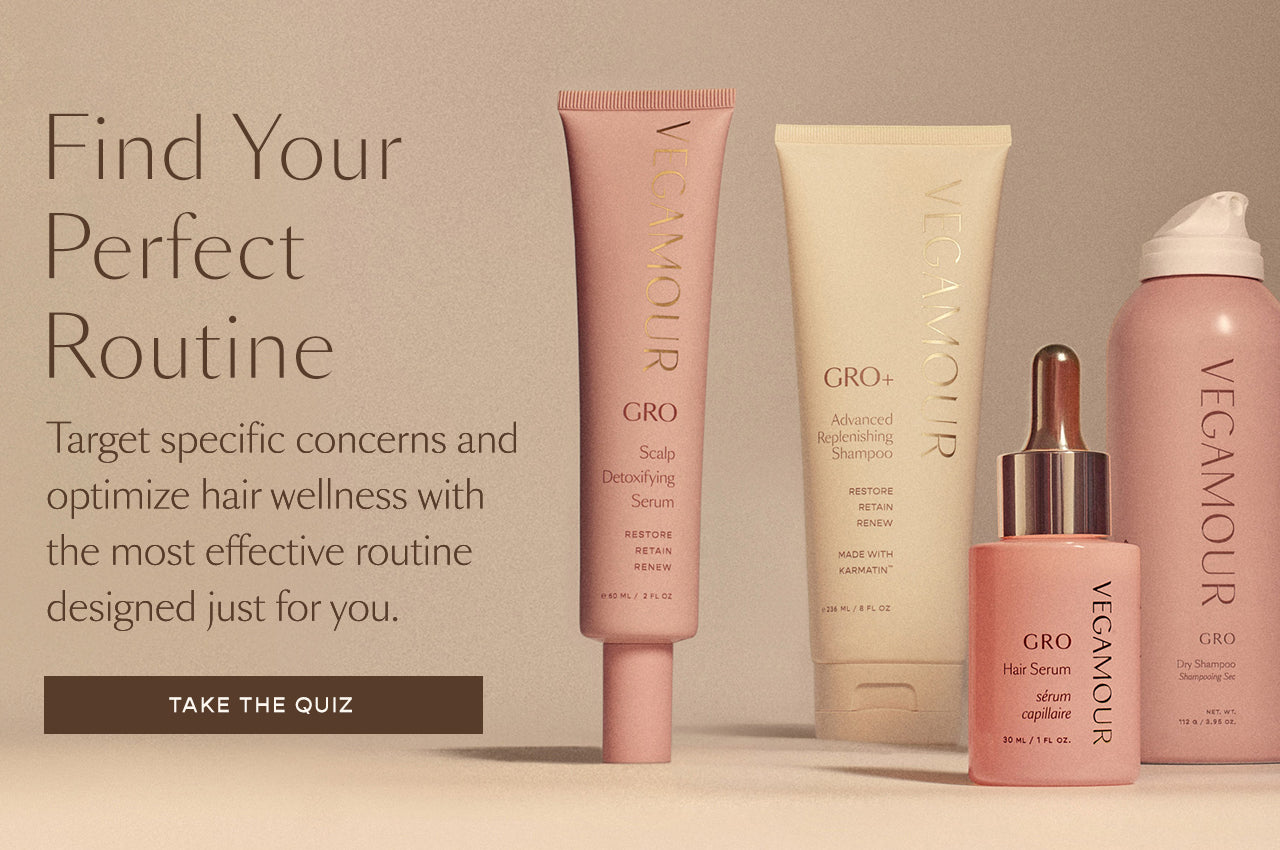 Disclaimer: Information in this article is intended for general informational and entertainment purposes only. It is not intended to constitute medical advice, diagnosis, or treatment. Always seek professional medical advice from your physician.