Summer can provoke sunburn and salty skin, but winter can trigger brittle hair that breaks easily. Cold snaps combined with central heating can dry hair out, leaving your usual routine redundant and you feeling frustrated.
Once dry hair hits, it can be hard to fix, but a nourishing haircare routine could help. Read on for a stylist's tips for fixing dry hair, and find out what plant-based, hydrating hair products can revive your dry strands.
Which Hair Types Are Prone To Dry Hair?
When hair is dry, it struggles to retain or absorb moisture. And if you don't tend to dry hair strands, you might experience hair breakage. Of course, many daily habits can put our fragile strands under strain, but some hair types can suffer more.
Santa Barbara, California-based hair stylist Krysta Biancone said, "There are a few different hair types that are prone to dryness, including curly, coarse and chemically-treated hair. Curly hair is especially prone to dryness because the natural oils from the scalp struggle to make it down the entire length of the hair shaft. Coarse hair lacks moisture and can become parched very easily, and chemically-treated hair, such as bleached or dyed, also tends to be drier."
Hair is made up of layers. When your is healthy, the natural oil in the outermost layer helps protect the inner layers, so any hair shaft damage is kept to a minimum. When the hair shaft is nourished, it will reflect the light and look glossy and shiny. Luster and sheen are two signs of healthy hair. If you have dry hair, the outer layer will break down, and strands will appear dull and lifeless.
Shop: HYDR-8 Collection for Dry, Damaged Hair
How Does Hair Become Extremely Dry?
Many factors can trigger dry hair for any hair type, including haircare habits, environmental conditions and physical health.
Some haircare habits that could provoke extremely dry hair include:
Washing hair too often and excess shampooing
Using shampoos and conditions that are full of harsh ingredients
Using hair dye or constantly chemically treating hair
Blasting a hot blow dryer on very wet hair
Using a flat iron, a curling iron, or other hot tools could cause heat damage
Not getting regular haircuts
Some environmental conditions that might trigger damaged hair and split ends include:
Excessive sun exposure
Living in a dry, hot climate with harsh UV rays
Swimming in chlorinated water
Sometimes the health of your hair is indicative of your health overall. Talk to a health care provider about your symptoms if your hair struggles to retain moisture and nothing seems to be helping the issue.
Tips To Prevent Dry Hair
From hair sunscreen to leave-in conditioners, there are many things you can do to keep dry hair looking and feeling soft and silky.
Tip 1: Eat a Healthy Diet
What you eat undoubtedly impacts how you look and feel. The cells that make up your tresses require nourishment and a regular dose of key nutrients. Hair is made of protein, so ensure your diet features legumes, nuts and other protein-rich foods so strands can grow strong and long.
Iron, vitamin C, biotin, omega-3s and vitamin A also will keep hair oils flourishing and each hair follicle producing strands in a healthy, natural way, keeping hair loss at bay. Look for berries, leafy greens, avocados and seeds to maintain a nutritious diet and include hair-healthy supplements to make sure hair thrives.
Related: 12 Foods to Grow Your Healthiest Hair Ever
Tip 2: Keep Chemical Processes to a Minimum
Changing your hair color is super fun, but excess chemicals and harsh processing practices can trigger dry hair over time. In addition, when the hair is bleached or dyed, the hair cuticle surface can rise, leaving strands weaker, thinner and more prone to damage. "When in doubt, remember less is more; try not to overuse chemical products on your mane as this can strip away its natural oils," said Biancone.
See: How to Hydrate Hair After Bleaching It
Tip 3: Get Regular Haircuts
Scheduling haircuts will keep damaged ends and dry hair at bay. A trim once every six weeks, on average, will keep your ends healthy and prevent future breakage. A few split ends might seem innocuous, but if you leave the hair too long without cutting it, the splits will travel up the human hair fibers and leave the hair looking frizzy and lackluster. Set a reminder and pre-book appointments to develop a good haircutting habit.
Find Out: How to Tell If You Have Split Ends or Healthy Hair
Tip 4: Wash Your Hair With Care and Use a Shampoo Formulated Without Sulfates
Washing your hair is a necessary part of your routine, but if you're shampooing too often, your strands could dry faster. Excessive shampooing can strip strands of their natural oils — especially if you're using products that contain harsh ingredients. Sulfates might create a frothy lather as you scrub strands in the shower, but they can also strip away moisture and cause dry strands.
To protect the hair while you wash, use a moisturizing shampoo made without sulfates to protect the strands. Our HYDR-8 Hydrate and Repair Shampoo is formulated without sulfates and powered by our vegan silk alternative to keratin and silicone — Karmatin™ — which bonds to strands, forming a protective barrier to help strengthen tresses and seal in hydration. Your hair will be left clean, hydrated and gleaming with a glass-like shine!
Tip 5: Try Leave-In Conditioners
After gently washing your mane, use a leave-in conditioner to not only add a hint of hydration but also to reduce frizz, detangle strands and tame flyaways.
Tip 6: Use a Hydrating Hair Mask
Give your hair an extra boost of moisture by a hydrating hair mask to your weekly routine. Biancone said you should give your locks some extra TLC by deep conditioning regularly with a moisturizing hair mask or treatment. A good deep-conditioning treatment will help strands look and feel softer, plus hydrated hair is less likely to turn into frizzy hair that breaks easily.
The HYDR-8 Deep Moisture Repair Mask features powerful, clean ingredients, including Karmatin™, milk thistle and marula and moringa seed oils. Apply the mask to damp hair once or twice a week for three to five minutes to allow the special blend of ingredients to work together to repair damage, reduce frizz and drench the hair in hydration, so your strands will become plump, soft and glossy!
Tip 7: Cut Back on Heat Styling
Even if hair is in tip-top condition, too much heat styling with very hot tools will cause damage. Limit how often you use heat to style your hair and lower the temperature if possible. If you just can't put the tools down, always apply a heat-protectant spray first to prevent further damage.
Tip 8: Protect Hair From the Sun
It's not just your skin that needs protection from the sun. UV rays can dry out hair and cause the color to fade too. To shield your mane from harmful rays, wear a hat and always rinse out chloride or salt water if you've taken a dip in the ocean or a chlorinated swimming pool.
Give Hair a Fresh Start
Whether you have frizzy strands that are hard to style or dry hair that breaks easily, the right routine can turn things around. "An ideal haircare routine for dry hair would involve washing every other day with a gentle shampoo and deep conditioning at least once a week with a nourishing mask or treatment," Biancone said.
Understanding what your hair needs is vital if you're still wondering how to fix dry hair. Avoid chemical processing and excessive heat styling, protect your hair from the sun and eat protein-rich foods. Also, invest in a haircare routine that's made especially for dry strands. The HYDR-8 collection from VEGAMOUR for dry, damaged strands features hydration and repair ingredients that won't wash away. It's just what you need for glossy, moisturized and super-shiny hair!
More from VEGAMOUR
Photo credit: Triocean/iStock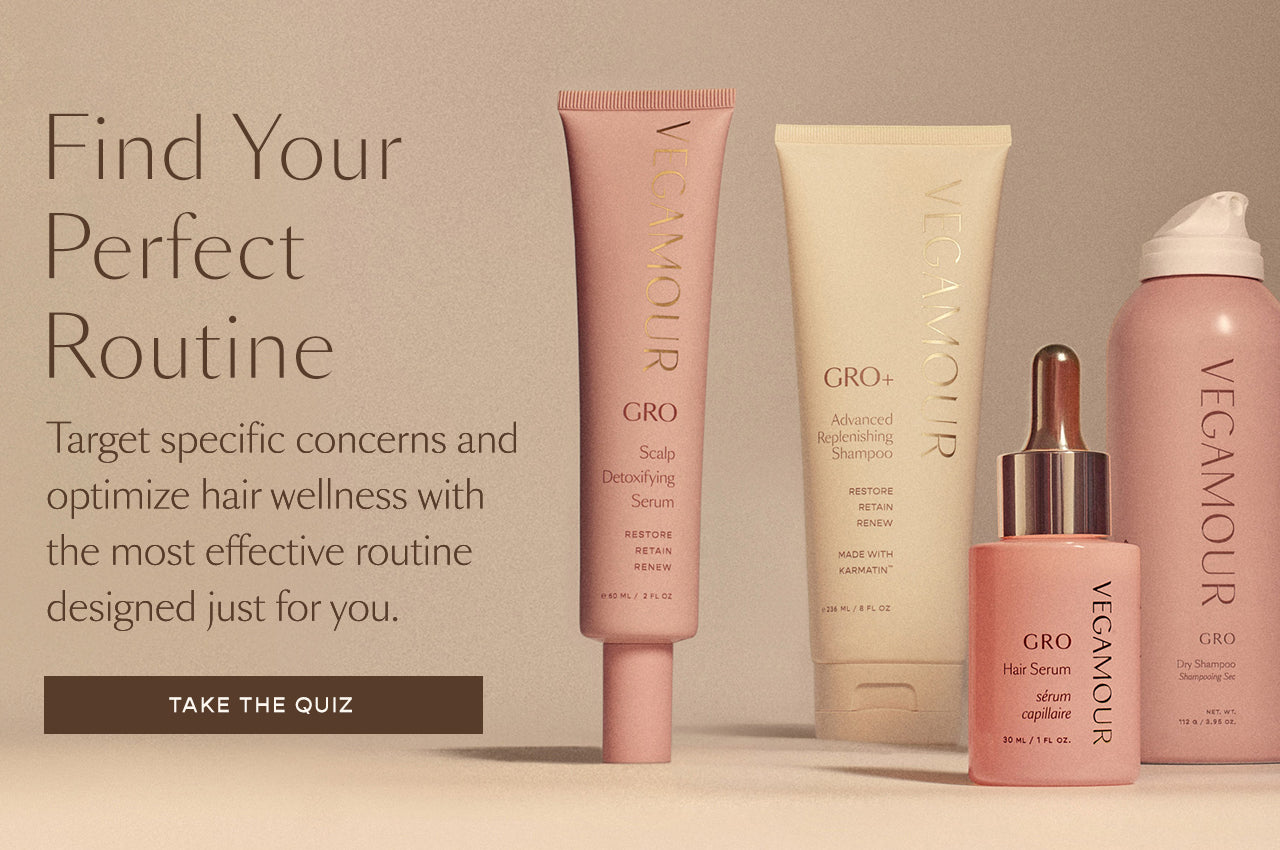 Disclaimer: Information in this article is intended for general informational and entertainment purposes only. It is not intended to constitute medical advice, diagnosis, or treatment. Always seek professional medical advice from your physician.