How to Hydrate Hair After Bleaching It
Whether summer had you craving bleach blonde hair or you want to shake things up with a (drastic!) color change, you can bet that bleaching leaves hair feeling and looking different. Along with that new honey hue, the intense bleaching process required to get blonde hair might also leave dryness, split ends, breakage, an irritated scalp, brittle strands or other hair damage in its wake.
Are you wondering if there's anything you can do to revive and repair damaged hair while giving your strands a much-needed moisture boost? Luckily, there are plenty of ways to bring dry hair back to life. Read on for an expert's take on how to hydrate hair after bleaching it. Plus, discover what color-safe products you should be using to keep your bleached hair strong and shiny.
What Bleaching Does to Your Hair
Before you make an appointment with your colorist, you'll want to first assess your strands to decide if they are actually healthy enough to bleach. Here are some things to keep in mind before bleaching your hair:
Check Your Texture & Type: Those with super-fine hair, for example, or porosity issues (think: frizz and damage to the hair shafts) might be more prone to problems as a result of hair lightening products containing hydrogen peroxide or other bleaching agents.
Color Cues: Plus, going from brunette to blonde will typically require multiple applications of the harsh chemical ingredients found in hair dye or bleaching agents. The bleaching process opens up the hair shaft, dissolving the natural melanin that gives hair its color.
Be Mindful: If blonde isn't your natural hair color, achieving the perfect golden hue will likely require having to sit with bleach in your hair for longer. Be aware that the longer these ingredients sit on the hair cuticles, the more damage they can do. You risk experiencing hair fall, damage to the hair fibers themselves or some degree of hair loss.
Know When to Go to a Pro: Having your hair bleached is a complicated chemical process that is typically best left to a professional stylist or colorist. Don't try this at home.
"I strongly suggest seeing a professional colorist and not try bleaching your hair at home. A professional has the education, experience and knowledge about hair texture and hair types and what will work best for your specific needs," said Georges Rues, colorist at Salon YOSKHIKO at Bergdorf Goodman. "While bleached hair is the desired look for many, it is also extremely harsh and drying to the hair."
Read: How to Prepare Hair for Bleaching
How to Hydrate Hair After Bleaching
If you do decide to commit to the coloring process, the next step is determining if having your hair bleached can potentially backfire. Bleach-damaged hair craves — and needs — restorative moisture and nourishment, particularly post-processing.
"It's not hard to see when hair is damaged from bleaching. You will see a lot of hair breakage and loss of elasticity," explained Rues. "If you don't take proper care of your hair following bleaching, it will look and feel very dry to the touch and brittle."
Even if some damage has already been done from bleaching your hair, not all is lost. Fortunately, you can revive and hydrate hair that's been bleached by focusing on including moisture-boosting scalp and hair products into your daily routine.
Establish a healthy hair care routine that supports and strengthens hair strands so that they can regain and retain necessary hydration. A comprehensive hair care routine can also help stimulate healthy hair, which is needed to promote hair growth and minimize the risk of potential hair loss.
Here's how to care for bleach-lightened locks:
Hydrate, Hydrate, Hydrate
Like the rest of your body, your hair and scalp require lots of hydration in order to function properly. This makes moisturizing products a "mane" priority for those with bleached hair.
Cleanse, Condition and Recalibrate — Starting in the Shower
Caring for color-treated hair starts with a color-safe home hair washing routine. Lather up and condition with clean, hydrating formulas that help repair hair, minimize damage and enhance hair shine. 
GRO Revitalizing Shampoo and Conditioner featuring vegan alternative keratin Karmatin™ is the perfect pair for color-treated, bleached hair. Microencapsulated vegan b-silk™ protein leaves hair smooth as (vegan) silk. Best of all, this protective bond stays attached to your hair strands even after rinsing, lasting until your next wash day! 
Expert Advice: "Look for shampoos and conditioners specifically formulated for color-treated hair," said Rues. "Go with ones that also have moisturizing benefits."
Natural Remedies to Maximize and Maintain Moisture
Pamper and protect bleached hair utilizing a nourishing hair oil. Hydrate hair using natural oils such as:
Argan oil
Coconut oil
Almond oil
Or, choose a multi-tasking marula oil that can be used on hair, skin and nails. Take it on the go to nourish hair and tame any flyaways, add a subtle glow to your skin and moisturize cuticles.
Expert Advice: "Help keep hair looking and feeling shiny and healthy," said Rues. "Prior to styling, use a leave-in conditioner or hair oil (depending on the texture of your hair)."
Shop: Shea Whitney's VEGAMOUR Picks
Treat Wet Hair with a Deep Conditioning Treatment
Make the most of your self-care Sunday by incorporating hair masks into your weekly reset. Multi-task as you get your beauty rest with an overnight weekly deep conditioning treatment such as an overnight hair mask. 
This leave-in conditioner helps protect heat-damaged, color-treated and bleached hair, restoring the appearance of healthier, stronger-feeling strands while reducing frizz and enhancing color, shine and hydration.
To use:
Apply a quarter-size amount onto wet hair from scalp to ends.
Leave on overnight for up to 10 hours.
Rinse and style as desired!
Skip Heat Styling
Color processing — including bleach — can dull hair, and often, using any sort of heat styling tools could contribute to even more dryness, damage and lack of shine. If you've recently bleached your hair (or are planning to), avoid heat styling.
Instead, opt to air-dry your hair or use a cool setting on your dryer. Forgo high-heat curling irons in favor of heat-free curling rods. Choose a hairbrush with gentle bristles. Scalp health is essential to promote hair health — try applying your shampoo and conditioner scalp massager for a deeper impact and added relaxation.
Stick to a Schedule
Color is a commitment. Prioritize sticking to a set routine to maintain your newly lightened hair. This is especially important for those with darker hair, and your bleached locks will likely require a more frequent upkeep schedule.
Expert Advice: "Once you have achieved your desired results, it's important to maintain the look you want," explained Rues. "If you went from dark hair to light, you will need to touch up the roots at least every three to four weeks, or even more frequently depending on how fast your hair grows."
Consult Your Colorist if Anything Goes Awry
Finally, if you have any post-bleaching reactions or issues that you can't resolve at home, head to your hair professional.
Expert Advice: "Consult with your colorist if you have any adverse reactions," said Rues. "A professional can help determine the cause, and create a custom plan to suit your hair's unique needs."
Related: How Often Can You Dye Your Hair?
The Takeaway
Caring for bleached hair requires that you make moisture the centerpiece of your hair care routine. Choose carefully when it comes to using hair products on color-treated tresses, especially after the bleaching process.
Nourish strands naturally with clean, plant-powered products created to help enhance scalp and hair health. Hydrated, healthier, happier hair begins from within, and VEGAMOUR is here to help you every step of the way by putting your scalp and hair wellness needs first.
MORE From VEGAMOUR
Photo credit: Jill Burrow/Pexels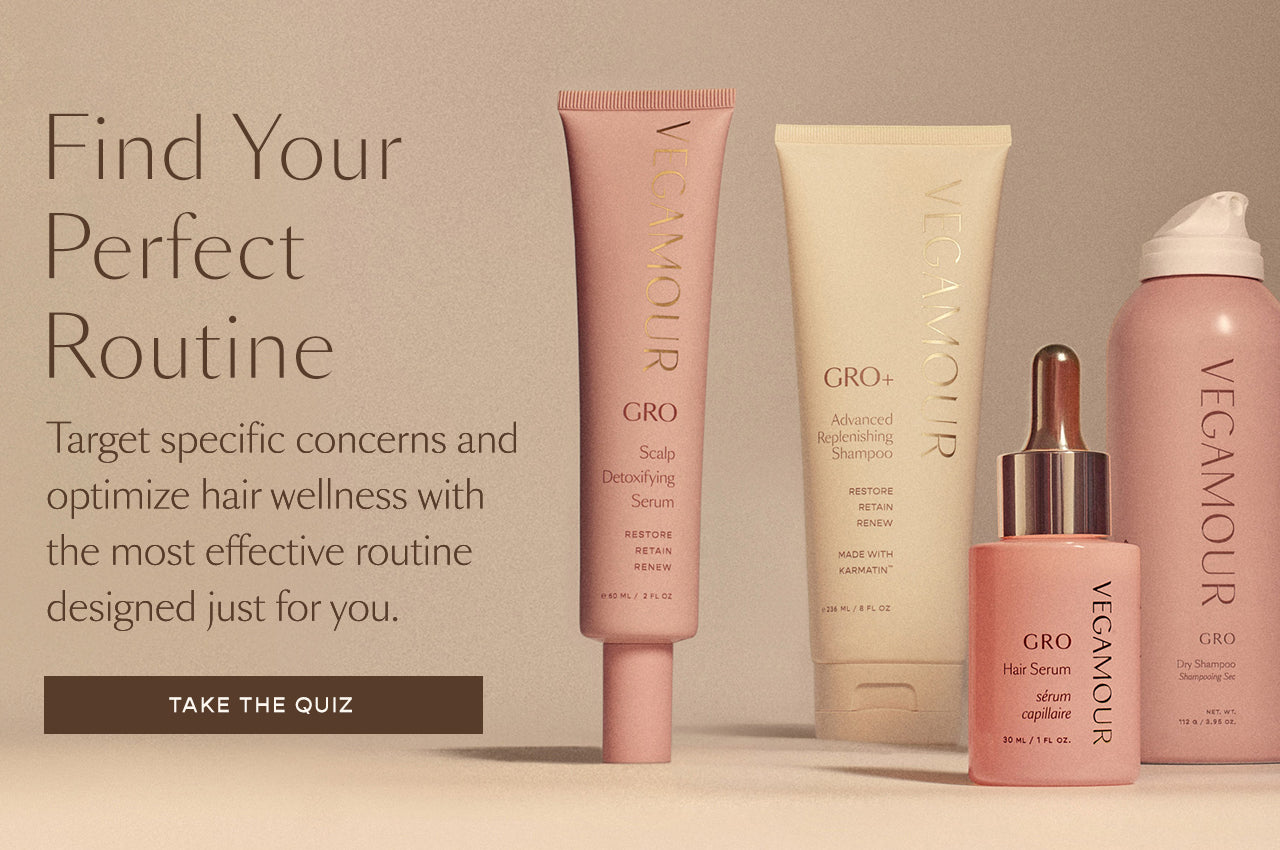 Disclaimer: Information in this article is intended for general informational and entertainment purposes only. It is not intended to constitute medical advice, diagnosis, or treatment. Always seek professional medical advice from your physician.