Hair Feeling Greasy or Oily? Try This
Oily hair can creep up on anyone at any time — it's not just something confined to the challenging teen years. And unfortunately, it can be a cyclical issue. You wash your hair to keep it fresh, but washing your hair too often will strip out the natural goodness and lead to excess oil. Sigh. 
If you're sweating over why your scalp's oil production is in overdrive, consider your habits. Do you unconsciously fiddle with your 'do? Maybe, you're using the wrong kind of shampoo and conditioner? If you're wondering how to get rid of oily hair, team VEGAMOUR spoke with experts, swept away the myths and figured out what you can do to get rid of greasy hair ASAP. 
What Causes Greasy Hair?
Oily hair can quickly lead to a bad hair day. And what can stem from a bad hair day? Usually a touch of low self-esteem. Fortunately, with some targeted products, a little more knowledge, and some new habits, you can get to grips with your oily scalp.
Knowing your hair type is a good start. If you have fine, straight hair, you could experience more noticeable sebum production. Though sebum is considered our skin's natural moisturizer, it can lead to greasy hair when too much is secreted. Without waves or texture breaking up the oil as the sebum travels down the straight hair shaft, your locks could start looking lank. Of course, those with curly, coarser hair can struggle with an oily scalp too.
Often, greasy hair is caused by a temporary hormonal shift. As the body regulates to deal with puberty, pregnancy and thyroid issues, oil can gather around the roots. Paying more attention to your everyday hair-washing schedule than you do your social calendar is tiresome. Though (like most insecurities) greasy hair can appear worse to you than it does to others. Even so, if it's denting your confidence, it's time to make a change. Experiment with these expert-recommended ideas to achieve results in the long and short term.
Shop: Sulfate-Free Shampoos for Oily Hair
Shampoo Regularly to Avoid Product Buildup
Sebum is a tricky oil produced by the body that doesn't break down with water alone.
"To help, wash your hair with clarifying shampoos," said Cheron Hamner, an Atlanta-based hairstylist. "They're designed to remove excess oil buildup, so your hair stays fresher for longer."
Use a clarifying shampoo designed to cleanse, repair and nourish the hair properly. But be careful to only use clarifying shampoos on occasion as they can strip your hair of natural oils. Rotate washes with a nourishing formula like the GRO Revitalizing Shampoo, which is a color-safe and won't strip away your natural oils. It also uses innovative microencapsulation technology to help the hair look luscious.
"Apply your shampoo, gently scrubbing the scalp and let the formula run down the hair shaft," Hamner said. "Rinse with water and repeat. This ensures you remove all product and oil buildup, allowing your style to last longer."
Shop: VEGAMOUR 3-Pack Deals
Give Your Scalp a Break
Washing your hair is good, but washing your oily hair excessively? Not so much. As tempting as it is to wash away your oily scalp woes, too much hair care will make the problem worse. Sometimes the best thing you can do is nothing.
Nearly all scalps will suffer if they're constantly in contact with a shampoo and conditioner. Too much product can overstimulate the sebaceous glands — aka oil glands —which can result in an oily buildup. Though it's challenging to leave it alone, if you want to cut back on oil production, wash your hair less. 
Find Out: How Often Should You Wash Your Hair? Celebrity Stylists Explain
Use a Kind — But Powerful — Dry Shampoo
What did we do before dry shampoo? When you haven't shampooed in two or three days, applying dry shampoo can freshen and lessen the look of greasy roots. With so many formulas available, it's a good idea if you research the ingredient lists thoroughly. Many include pore-clogging, starch-based alcohol ingredients that can weaken your strands and cause breakage.
Fortunately, swapping out chemical-laden products for eco-friendly, plant-based formulas has proven effective. A quick spritz with a lightweight, toxin-free dry shampoo will help boost flat hair and knock grease out of its comfort zone.
Be Careful Which Hair Products You Apply to the Roots
Styling products can enhance your natural look, but maybe it's time to reevaluate how you use them. If you're applying a product too frequently to your scalp, the oil will start to seep through quickly. To keep working an easy-breezy styled look, pick out formulas that don't contain scalp irritating ingredients. Be careful not to get styling products like gels or creams on your roots. Avoid applying oils too near the root, and wash your hair after using an excessive amount of product.
There are some hair products, however, that should be applied to the root like certain hair serums and foams. That's why it's always read the instructions on your product — manufacturers will tell you exactly how to use their products for best results. GRO Hair Foam is meant to be massaged into your scalp after applying it to towel-dried hair or dry hair to experience visibly fuller, voluminous looking locks.
Shop: GRO Dry Shampoo Duo
Detox the Scalp
In the same way you exfoliate your face, detoxing the skin on your scalp can help cut down on excess oil. The healthier your scalp, the more luminous your hair will look. With around 100,000 hair follicles on your head, it's integral you keep each free from unwanted impurities.
Designed especially for the scalp, GRO Scalp Detoxifying Serum incorporates clinically effective plants and minerals to promote a healthy reduction of sebum production. As a perfect Sunday self-care treatment, consider a scalp detox the same way you do a weekly face mask.
Try Natural Hair Remedies
To keep an oily scalp in check, it could be worth exploring some natural home remedies. Hairdresser and editor Brooke Shaw recommended the classic ACV mix. "Mix apple cider vinegar (2 tablespoons), aloe vera gel (a heaping tablespoon) and water (8 oz) and apply this to your hair and scalp," Shaw said. "Wait about 10 minutes, and rinse your hair with cold water. This will help remove impurities without stripping the hair of its natural goodness."
If it's essential oils that have you curious, aesthetician and aromatherapist Alison Angold explained, "Lemon, mandarin, tea tree, and petitgrain oils have cleansing and antiseptic properties. Mandarin has natural astringent properties, while petitgrain balances the pH of the area. You can add a drop of these oils to your shampoo or conditioner and focus on rubbing the scalp, not the strands."
Shop: Tia Booth's Favorite Vegamour Picks
Help Halt Oil Production With a Scalp Massager 
Designed for all scalps and hair types, a good scalp massager will help keep your crowning glory in tip-top condition. Although often overlooked by people who have oily hair, this hair care beauty tool can help sweep away debris.
A scalp scrubber is the perfect partner to your shampoo and will help lift unwanted oil away. It's crafted to boost circulation without overstimulating the sebaceous glands. Massage the relaxing bristles in a circular motion to help keep your hair and scalp in exceptional condition.
Pin Hair Back in a Sleek Bun
If your oily scalp is getting the best of you, it's time to play things to your advantage. A sleek bun is a perfect disguise for oily hair. As a bonus, this style can also showcase glowing skin and offer a (needle-free) mini facelift. Here's how:
Spritz your oily hair with water.
Use a narrow-toothed comb to nip the hair back.
Whip out your favorite hair tie to hold your hair in a low ponytail.
Spritz the pony with water and twist it into a bun.
Use bobby pins to keep the bun in place.
Throw your greasy-hair worries away.
Voila! Your new signature hairstyle is now complete.
Cut Down on Stress
If you've ever experienced a pimple before a big date, you know stress can affect the body. As the pressure rises, so do your cortisol levels (the stress hormone), which can trigger the skin to produce more oil. Of course, your scalp is skin, too, so it makes sense that greasy hair can also result from stress.
Reducing your stress levels with meditation walks in green or blue spaces and more sleep will help bring your skin back to balance. Emma Lee from Haircareology said, "Whenever I'm stressed or not getting enough sleep, my hair gets oily fast. Drinking green tea, lemon juice or vinegar can help minimize the amount of oil my scalp produces."
Related: How Stress Can Impact Hair Loss
Keep Hairbrushes Clean
If you have greasy hair, keeping your brushes clean is a priority. Old styling products can cling to your hairbrush, which can increase the look of oily hair. To clean:
Fill the sink with warm water, and add a drop of your favorite shampoo.
To up the ante, add a teaspoon or two of baking soda and submerge the brush in water.
Rinse thoroughly and wash and rinse a second time to deep clean. 
Avoid Silicone-Heavy Hair Products
When working with oily hair, it's a good idea to keep an eye on your products' ingredients. Hairstylist and beauty blogger Dawn Clemens told us, "Styling products, shampoos, and conditioners can contain silicone to give the hair a smoother, shinier look. However, they can cause the hair follicle to overproduce oil. Silicones such as Cyclomethicone, amodimethicone and dimethicone can buildup, making strands appear a little too sleek. Swap your products to silicone and paraben-free ones for healthier, less oily-looking hair."
Try It Yourself: Silicone-Free Shampoo & Conditioner
Apply Conditioner to the Ends of Your Hair Only
As tempting as it is to smother your head in a softening, revitalizing conditioner, if you struggle with an oily scalp, keeping conditioner away will help with your healthy hair quest. Heavy oil-based conditioners can aggravate a sensitive scalp. They can increase a greasy look, leave hair flat and lifeless and trigger folliculitis, which can worsen dandruff — not what you want! For natural shine without the oil, use a small dollop and apply only to the midshaft and ends of your hair lengths.
Don't Let Grease Slip You Up
Rather than feel frustrated when you look in the mirror, tackle greasy hair efficiently with a few product and lifestyle switches. From strategic hairstyles to natural remedies, mixing up your hair routine can quickly relieve the look of oily roots.
More From VEGAMOUR
Photo credit: Karolina Grabowska/Pexels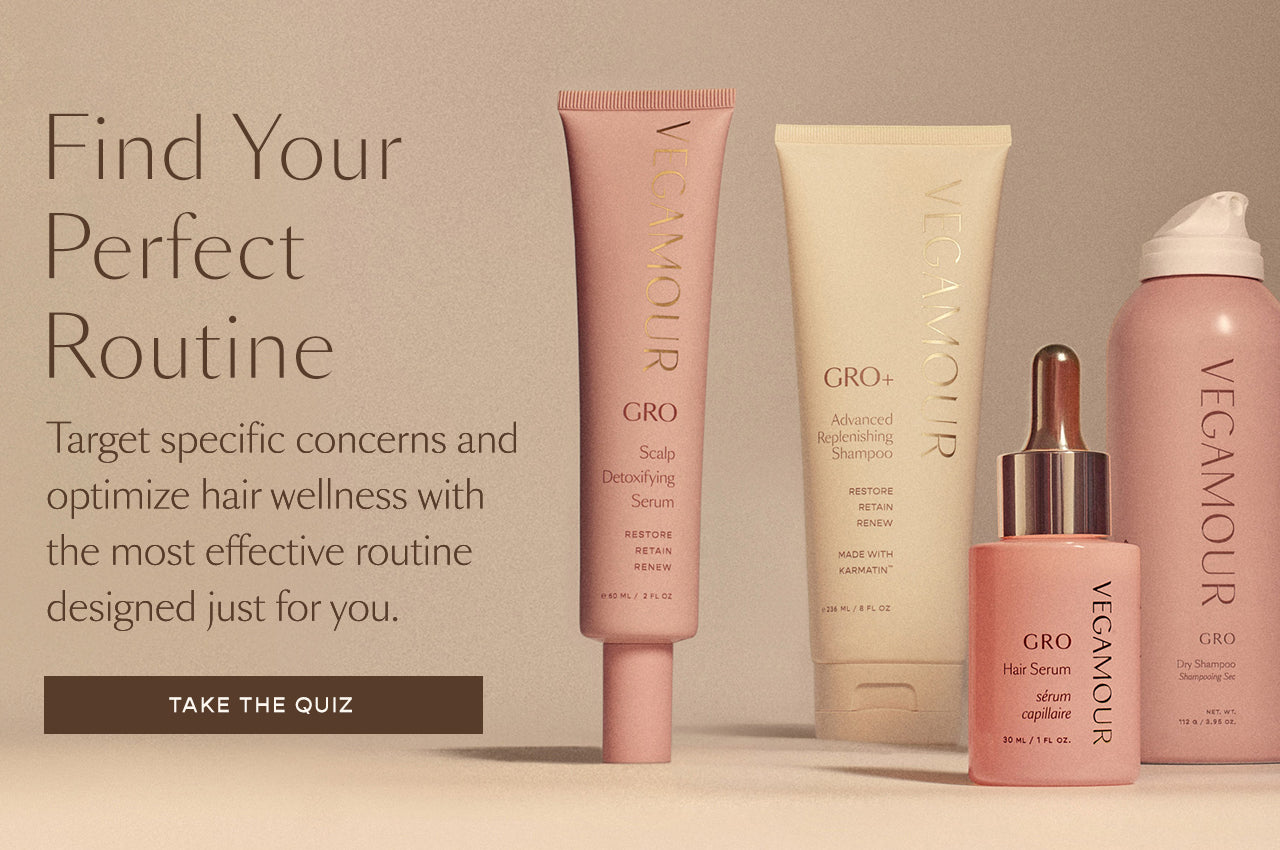 Disclaimer: Information in this article is intended for general informational and entertainment purposes only. It is not intended to constitute medical advice, diagnosis, or treatment. Always seek professional medical advice from your physician.