How to Get Shiny Hair, According to an Expert
Glossy hair is likely on your wish list. Shiny strands can better reflect light and give your hairstyle a luminous sheen, which is a good indicator of overall hair health. Wondering how to get the radiant look? Read on!
Here, an expert shares tips on adding more shine to your hair. Plus, see the clean hair wellness products you should be using in your routine for optimal hair health.
Shiny Hair Starts Here
Shiny hair starts with a healthy scalp. Dewy, glass skin that glows is an indicator of health — and the same extends to your scalp and hair!
Your scalp is an extension of your skin, making exactly how you care for it essential for your hair's health and shine. The bad news? Everyday exposure to the elements and harsh hair styling products can strip your hair and scalp of its natural moisture and shine. Frequent scalp and hair damage might even contribute to hair loss or hair growth issues.
Scalp and Hair Wellness Begins Within
The good news for lackluster hair is that caring for your scalp and hair — much like you would your skin — can help! Stop lusting after luminous locks. Instead, begin from within, where scalp and hair wellness start.
"Healthy, shiny hair really begins from the inside out. It's important to consider what is going on inside your body to help achieve shiny hair," said Angel Mendez, stylist at Salon YOSHIKO at Bergdorf Goodman. "Foods rich in omega-3 fatty acids like walnuts, beta-carotene (found in carrots and spinach) and protein all assist with keeping hair healthy and shiny."
Shop: Hair Wellness Products
9 Pro Tips to Get Shiny Hair
Weather, pollution, styling products and even your shower's water temperature and pressure can all impact your scalp and hair's level of shine — or lack thereof. Discover how you can flip the switch and dial up the mega-watt shine.
Tap into high-shine hair using these expert tips and styling tricks:
1. Set Your "Mane" Priorities
"First, it's important to determine your goal," said Mendez. "If you're looking for a temporary solution based on your hair type and texture, you can try hair oil (best for drier hair) or a leave-in conditioner (best for oily hair)."
2. Know the Difference
Understand the difference between a temporary fix, such as products that wash out each time you shampoo, and more semi-permanent solutions for hair that looks healthy and shiny.
Temporary: Products like hair oil add a natural, temporary shine to the outer layer of the hair cuticle that lasts until your next wash.
Semi-Permanent: "If you're looking for a longer-lasting option, you can either head to your salon or choose an at-home hair gloss treatment," said Mendez. "Those done at a salon typically last for about 4-6 weeks while the at-home versions last anywhere from 1-4 weeks depending on how often you wash your hair."
Shop: The Everyday Kit
3. Opt for Shine-Boosting Oils
"Use hair oil to add shine. This gives the appearance of shiny, healthy hair and helps repair broken, damaged strands," explained Mendez. "Oils applied on wet hair encourage its natural texture while adding shine and control. Oils applied on fully dry hair do the same, while also creating an anti-humectant effect."
Choose a multi-tasking natural oil that does triple duty such as pure marula oil. Use it to hydrate and tame tresses, moisturize cuticles or add a subtle glow to your skin.
4. Consider Your Hair Color & Cut Out Chemical Processes
"If you're unsure which product is best for your hair type, you should consult with your stylist," recommended Mendez. "It's also important to consider if your natural hair is color-treated, professionally straightened, permed and so on, as these factors play a role in which products will give you the best results."
You might also want to minimize heat styling with a flat iron, turn down the heat on your dryer or opt for air drying instead. Heat styling can damage fine hair and make it turn dull, as well as potentially make it appear more frizzy.
Read: Get Your Shiniest Locks With the "Liquid Hair" Trend
5. Wash Your Hair Less Frequently
"If you have dry hair, I suggest washing less frequently — about every other to every three days, allowing the natural oils to build and naturally condition the hair," advised Mendez. "If your hair is more oily, you should wash more frequently and use a clarifying shampoo 1-2 times a week to remove any product build-up and impurities. Then, use a light leave-in conditioner before styling hair."
6. Cleanse, Clarify & Recalibrate
You might choose to alternate between clarifying shampoo and using an occasional apple cider vinegar rinse. Skip hot water (which can rough up the hair shaft, opening it up to damage and dullness) in favor of cool water. Rinse with cold water to seal the hair cuticle for maximum shine.
On those days that you do wash, lather up with color-safe, clean, cruelty-free GRO Revitalizing Shampoo and Conditioner powered by vegan keratin alternative Karmatin™. Microencapsulated vegan b-silk™ protein physically bonds to strands — even after rinsing — sealing in shine with a protective sheath that will last until the next time you wash your hair.

7. Try a Deep Conditioning Treatment
Using deep conditioning hair masks can also help, according to Mendez. Use a wide tooth comb to distribute the deep conditioner evenly throughout the hair, allowing it to penetrate strands.
"Deep conditioners are also a great option to help achieve shiny hair at home. Do this once per week on all hair types and textures," explained Mendez. "Leave in while you shower. This will help reinforce long-term healthy hair."
8. Get a Hair Gloss Treatment
For silky hair that radiates shine, you might want to go ahead a get a gloss. Whether you choose to DIY at home or head to a salon, glosses can help you achieve that mirror the reflective, glass-like glossy hair look with longer-term results.
"If a leave-in product and your hair washing routine are not giving you the shine you desire," said Mendez. "You can either try an at-home hair gloss or head to the salon for a longer-term hair gloss treatment."
9. Treat Your Scalp With TLC
Finally, don't forget to treat your scalp with the same loving care and attention that you treat the rest of your skin. Do a regular scalp detoxifying treatment in tandem with using scalp care products that nourish the natural way, supporting scalp (and hair!) wellness.

Stick to a Wellness Routine
Your hair is a reflection of your health habits. For shiny, healthy-looking hair, it's important to maintain a balanced lifestyle, including a nutrient-rich diet. "It's imperative to give your body the proper nutrients to assist in maintaining healthy skin, hair and nails, too," said Mendez.
Choose wisely when it comes to what you put in — and on — your body; skin, scalp and hair included. Be a mirror and radiate wellness from within. With proper care, your luminous locks will look better than ever!
MORE From VEGAMOUR
Photo credit: Pixabay/Pexels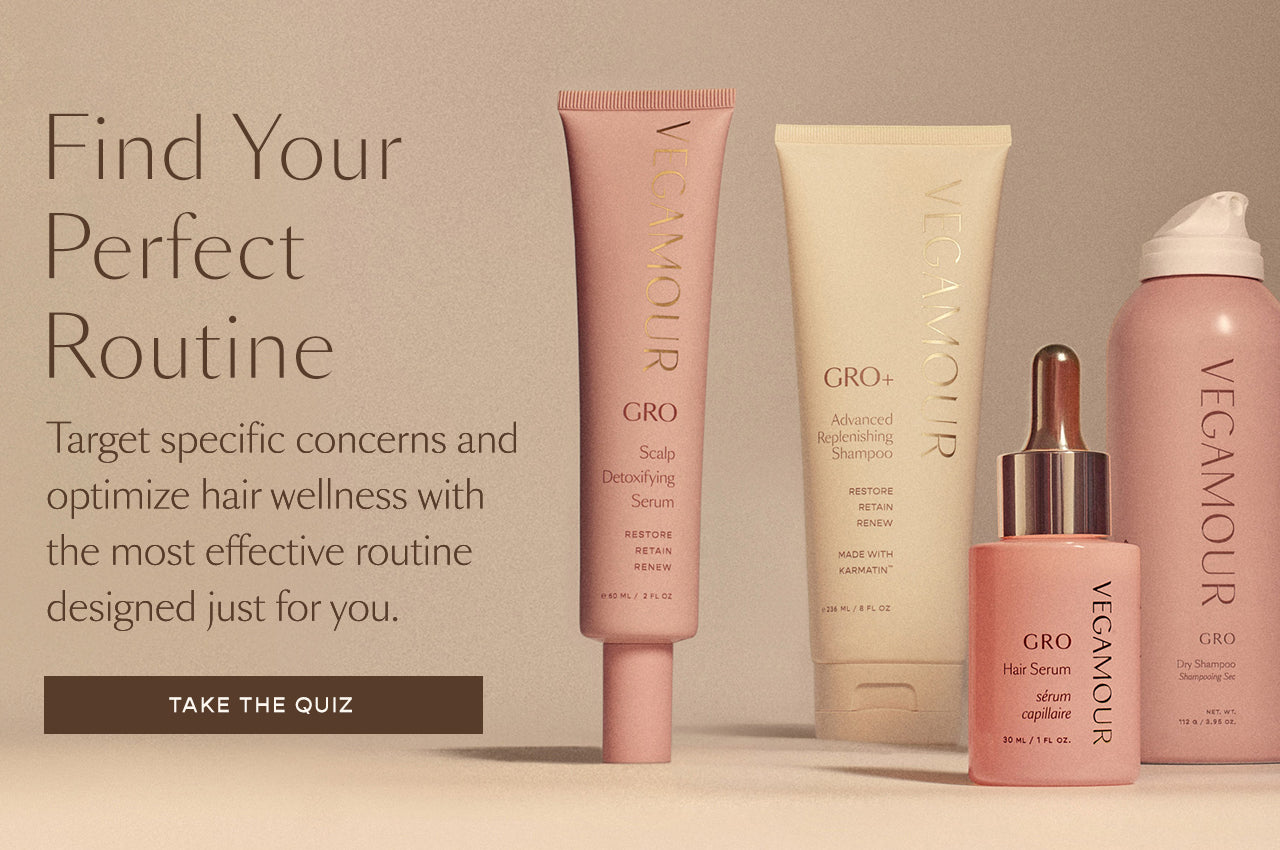 Disclaimer: Information in this article is intended for general informational and entertainment purposes only. It is not intended to constitute medical advice, diagnosis, or treatment. Always seek professional medical advice from your physician.