Get Your Shiniest Locks With the "Liquid Hair" Trend
Say goodbye to "glass hair" and hello to "liquid hair" — the trending luminous look that's all the rage. Spotted everywhere from the red carpets to TikTok, the liquid hair trend is smooth and sleek, yet also has a soft, fluid feel.
Wondering what exactly are the secrets to achieving liquid hair? Read on! Glossy hair starts right here with expert tips on how to create the liquid hair look. Plus, see which sulfate-free hair wellness products you can use to nail the liquid hair look.
All About the Liquid Hair Trend
You've likely heard of (and may have even tried) the glass hair trend, AKA poker-straight hair with mirror-like shine. The latest rendition, liquid hair, takes on a similar glossy finish, but there are key differences that set the new hairstyle trend apart.
Liquid hair differs from glass hair (which is stick-straight) in that along with an ultra-shiny, smoother finish, it also features a soft body, bend and fluidity. If you've ever scrolled your social media feed, you've definitely seen Kim Kardashian and other celebs sporting the super radiant yet somehow subtly fluid look. Reflective hair (much like the wet hair trend) is sophisticated with its sleek appearance, while the fluid movement gives the trending look a fresh feel.
Related Reading: Is Hair Slugging the Next Big Trend? TikTok Users Seem to Think So
Get the Look: How to Achieve Liquid Hair
Now, how is it possible to get both sleek-as-satin hair that also boasts fluid movement? It takes more than just a flat iron and shine spray! According to experts, the winning style combination involves a few elements to create shiner hair that also hosts subtle volume and movement. Here's how to get the look.
The first step in achieving shinier hair is a salon-quality blow dry, but that doesn't mean you have to actually go to the salon. You can mirror the pro look at home by utilizing the right products. And, yes, you can get the sleek look from just a blow dry without using so much heat from a flat iron.
"The key to liquid shine hair is a good blowout," said senior stylist and colorist Jay Jackson. "The way in which blow-drying time and temperature seals the hair cuticle allows it to reflect light more than in air-dried hair."
Your hair reflects everything that's going on internally as well as what you're using externally. Start your journey to the liquid hair look in the shower with regular use of clarifying shampoo as well as anti-frizz shampoo and conditioner that seals in shine while eliminating frizz and other elements that can rough up the hair cuticle.
"Healthy, high-shine hair really begins from the inside out. It's important to consider what is going on inside your body to help achieve shiny hair," said Angel Mendez, stylist at Salon YOSHIKO at Bergdorf Goodman. "Nourishing ingredients, including protein, all assist with keeping hair healthy and shiny."
The next — and key — steps in achieving liquid hair include pairing your blow-dry technique with the right styling products. You'll need to choose wisely when it comes to shampoo and conditioner, followed by hair serum and styling accessories such as a round brush and microfiber towel to help eliminate frizz on all textures and hair types.

You may be tempted to use a keratin hair mask or traditional keratin smoothing treatment to get super smooth hair. These treatments typically include trace amounts of formaldehyde to stop bacteria, which can negatively impact your hair and overall health.
Related Reading: Dull Hair? Things You Can Do to Bring Your Hair Back to Life
Opt for Clean Alternatives
Go with a clean, vegan-friendly alternative to keratin with GRO Revitalizing Shampoo and Conditioner. The duo was created to impart long-lasting silkiness, smoothness, shine, volume and soft movement — all essential for the liquid hair look. Plus, the finish actually lasts until the next time you lather, rinse and repeat!

The clean ingredients are safe for all hair types, including color-treated hair. Plus, they're cruelty-free and clean, so you can skip all those questionable ingredients you can't pronounce. Powered by plant-based, phyto-actives such as proprietary Karmatin™️ micro-encapsulated vegan b-SILK™️ protein, which bonds to and remains on strands even after rinsing, the pair lead to touchable, soft-as-satin, radiant hair with beautiful body that will stay put until the next time you wash your hair.
The duo also contains organic wild-harvested murumura butter and ximenia oil to cleanse and condition without leaving behind any residue. Nourishing, hydrating Omega 6 & 9 fatty acids leave hair looking liquid, healthy, high-shine and with beautiful movement.
Your scalp is an extension of your skin. This makes having a scalp and hair care routine that's just as diligent as your skincare essential in the quest for liquid-esque locks.
"Product-wise, you're going to need a great hair serum that's lightweight, not greasy," said Jackson. And, the straighter and smoother, the more liquid the hair will photograph. Definitely use a flash!" 
Use GRO Hair Serum as an integral part of your hair and scalp care routine. The leave-in serum can be applied morning or night to dry or towel-dried hair. Style it as desired immediately after application. Packed with natural, clean, phyto-active ingredients, the serum helps encourage the appearance of enhanced hair density, supporting visibly thicker, fuller-looking hair.

Shop: Clean, Natural Hair Wellness Products
Maximize the Liquid Hair Look With Wellness in Mind
Finally, don't forget that the liquid hair look starts with a healthy scalp and hair. No matter what's currently trending, a holistic wellness routine will give your hair the boost you need. Integrate dedicated daily self-care practices — including for your skin, scalp and hair — into your daily practices.
Make it a day-to-day habit to prioritize a balanced, healthful lifestyle by staying hydrated, getting regular mindful movement, maintaining a nutrient-rich diet and practicing self-care rituals. This includes utilizing naturally nourishing, plant-based and silicone-free products to support your overall wellness!
MORE From VEGAMOUR
Photo credit: Jose Luiz Photographer/Pexels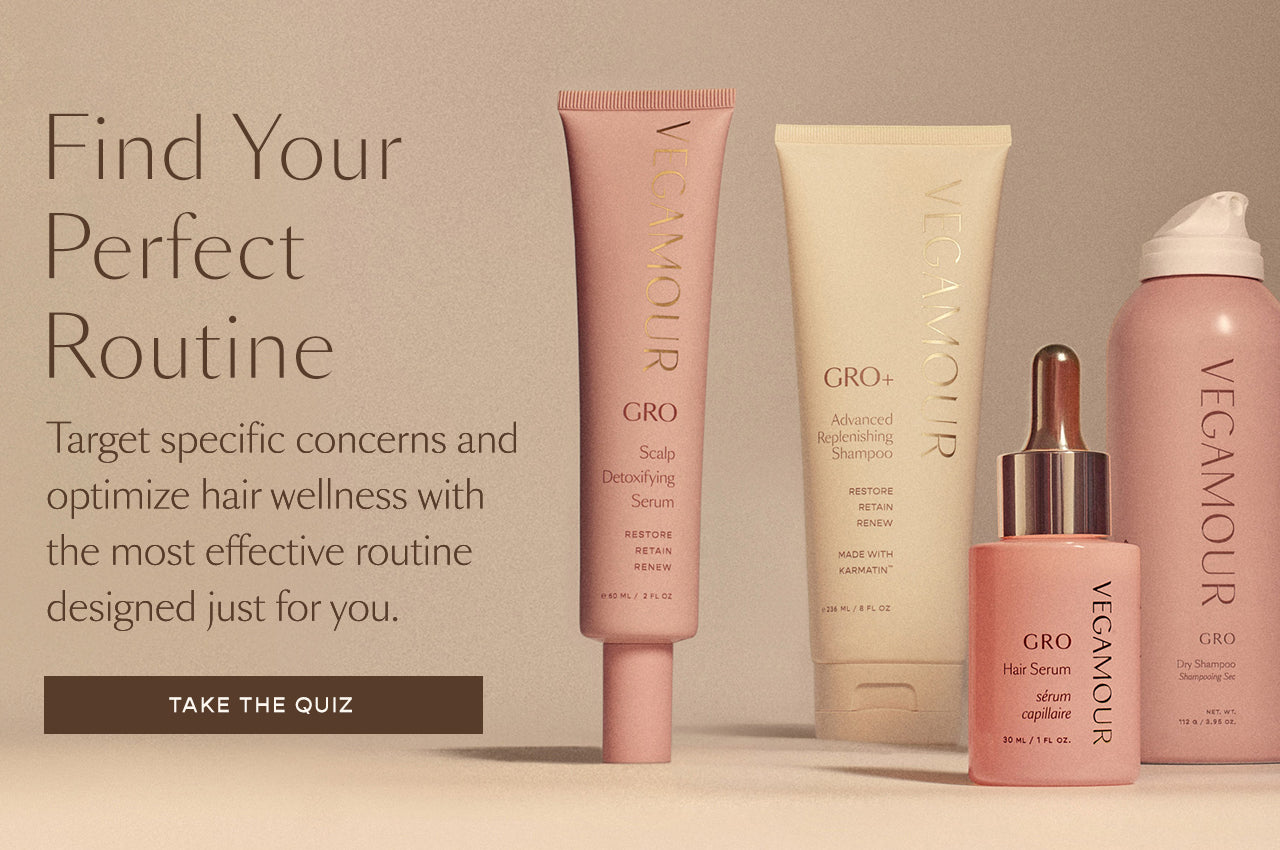 Disclaimer: Information in this article is intended for general informational and entertainment purposes only. It is not intended to constitute medical advice, diagnosis, or treatment. Always seek professional medical advice from your physician.