How to Hide Female Hair Thinning In the Front
Thinning hair at the front of the head can be challenging for women to deal with, but luckily there are some pretty cool ways to disguise your weakening hairline. With a few styling tips and nutritious haircare, you can keep it covered while encouraging longer, stronger locks.
Below, VEGAMOUR shares expert-approved tips on how to carefully disguise your thinning hairline — plus, find out how you can increase your visible hair density and get thicker, fuller looking hair.
What Causes Hair Thinning?
There might be more than one reason for your thinning hair in the front. This is why it's important to take a multi-faceted approach to turn things around and potentially encourage thicker looking hair in these thin hair areas.
Women lose hair around the front for many reasons, including:
Medical conditions
Hormonal changes
Genetic factors
The onset of female pattern baldness or alopecia areata
Poor blood circulation
Stress
Thinning hair for women can also develop in different ways. For some, the thinning is more noticeable at the crown. For others, the areas in the front at the hairline and above the brows are most affected. These front areas can be especially challenging to hide as the hair becomes noticeably thinner.
To improve or hide thinning hair in the front, consider the following easy three-step plan that can have a lasting impact on your hair's appearance:
Use clever styling and hiding techniques.
Clean up your nutrition. (Both inside your body and on your hair!)
Use GRO Hair Serum to boost the appearance of fuller hair right where you need it.

Hiding Your Thinning Hairline
VEGAMOUR spoke with Amr Salem, a scalp micro pigmentation specialist at INKredible Scalp about some non-permanent ways you can disguise your thinning hair at the front. While scalp micro pigmentation is an option to hide thinning hair, many people want something they can do at home as a quick fix to hide their thinning hair.
Salem advised that it's better to add some face-framing bangs than to pull the hair back. "Some women are not comfortable with this idea, and would rather wear their hair up or back, but this can make thinning in the front more noticeable," said Salem. Tight ponytails are hard on the roots of hair around your hairline and could create traction hair loss, especially for thin hair types.
Salem also explained that headbands and scarves can be a fun way to disguise and "cover up the thinning area and create an illusion of thicker hair." These hair accessories allow you to wear stylish looks without worrying that your thinning hairline will take center stage.
Get creative and even enhance your personal style with these tips on how to hide thinning hair in the front:
Use a hair topper, clip-on bangs, wig or hair extensions. (Hair toppers are usually small circular wiglets for covering the crown or top of the head.)
Hide thinning hair with stylish hats, scarves, headbands, colorful wraps and other hair accessories.
Create a larger section of bangs by pulling a little from the crown or side part to give the bangs a fuller appearance. A light tease at the root of the bangs can also help hide thinning hair.
Touch up any bald spots or thin areas with a light spray of a temporary hair color powder — but remember, less is more!
Add volume in the front with a lightly layered hair cut or shorter hair. Use a side parting for adding fullness to longer locks as a middle part could draw more attention to your hair thinning. Put the part along the thickest area of the hairline so it doesn't "point" to a thin area of receding hairline.
Shop: The Best Shampoos for Thinning Hair
Keep It Clean From the Inside Out
Aside from using your fun new hair topper to disguise thinning hair areas, good nutrition is key to restoring your mane.
Healthy hair growth begins with what you put in your body and on your hair itself. From the shampoos and styling products you use to the types of midnight snacks you indulge in, it all works together to feed your hair follicles well and support the natural hair growth cycle that each hair goes through.
When that hair cycle is shortened due to improper diet, health problems or even stress, the hair shaft sheds prematurely, creating a thinner appearance all over your head or in concentrated areas, like the front of your hair. You should first see your doctor to rule out any underlying medical concerns (like thyroid problems or vitamin deficiencies).
To help restore your long locks and scalp health, keep the following hair and health tips in mind:
Eat a well-balanced and healthy diet with plenty of nutrients, vitamins, biotin and antioxidants to promote healthy hair follicles and optimal hair growth.
Practice good sleep hygiene and manage your stress.
Avoid hair products with silicones, phthalates, chemicals and additives or heavy pore-clogging oils which can weigh down the hair and prevent nutrients from getting into the hair shaft.
Avoid heat styling as this can add unnecessary stress to your hair shafts.
Do a daily scalp massage to boost blood circulation to the thinning areas.
Use creative hair color techniques to add the appearance of more volume.
Nourish Your Hair Follicles with GRO Hair Serum
When you're doing everything right and incorporating all the tips we've mentioned so far, you're likely seeing a difference and feeling more confident. But we've got one more trick up our sleeve that might have you tossing out those hair toppers and hair extensions — VEGAMOUR's GRO Hair Serum.
Undernourished hair follicles may not complete the entire hair growth cycle. GRO Hair Serum revitalizes your hair at the roots, addressing thinning hair at the source and delivering powerful supportive care. GRO Hair Serum gets to the bottom of your hair thinning issues and supplies hair wellness nutrients right where you need them.
GRO Hair Serum doesn't just mask hair thinning — it works hard to upgrade the appearance of your hair for improved hair density that's radiant and healthy. Just a few drops each day and you'll be on your way!
Learn: The Difference Between GRO and GRO+ Advanced
GRO Hair Serum Features & Benefits
Vegan phyto-actives work hard to balance your follicular ecosystem
Free from carcinogens, toxic chemicals and side effects (Many other hair loss concoctions contain these harmful ingredients. Here at VEGAMOUR, we believe natural is best!)
Increase hair density and the appearance of thicker, fuller looking hair
Can be used each day all over the head or as a treatment for problem areas, like the hairline or crown
These serum hair treatments are also a gentle option for sensitive scalp skin. They feel cool on the scalp without stinging or burning so they are comfortable and soothing to use. Apply a few drops of the hair serum to the scalp each day. Gently massage the serum into any bald spots or thinning areas with the pads of your fingers.
Note: If you use a dry shampoo between washings, the hair serum molecules will break down from the dry shampoo.
Related: What Causes Hair Thinning at the Crown for Females?
Learn More with VEGAMOUR
Whether you choose to hide your thinning hair or work on getting thicker looking hair with a healthy diet, scalp serum treatments and healthy hair products, each small thing you do adds up. To learn more about how to care for, style and pamper your thinning hair you can follow the VEGAMOUR blog, which is full of tips and informational content to help you learn about what you can do for your hair to grow its best.
More From VEGAMOUR
Photo credit: Minja Kwthijak/iStock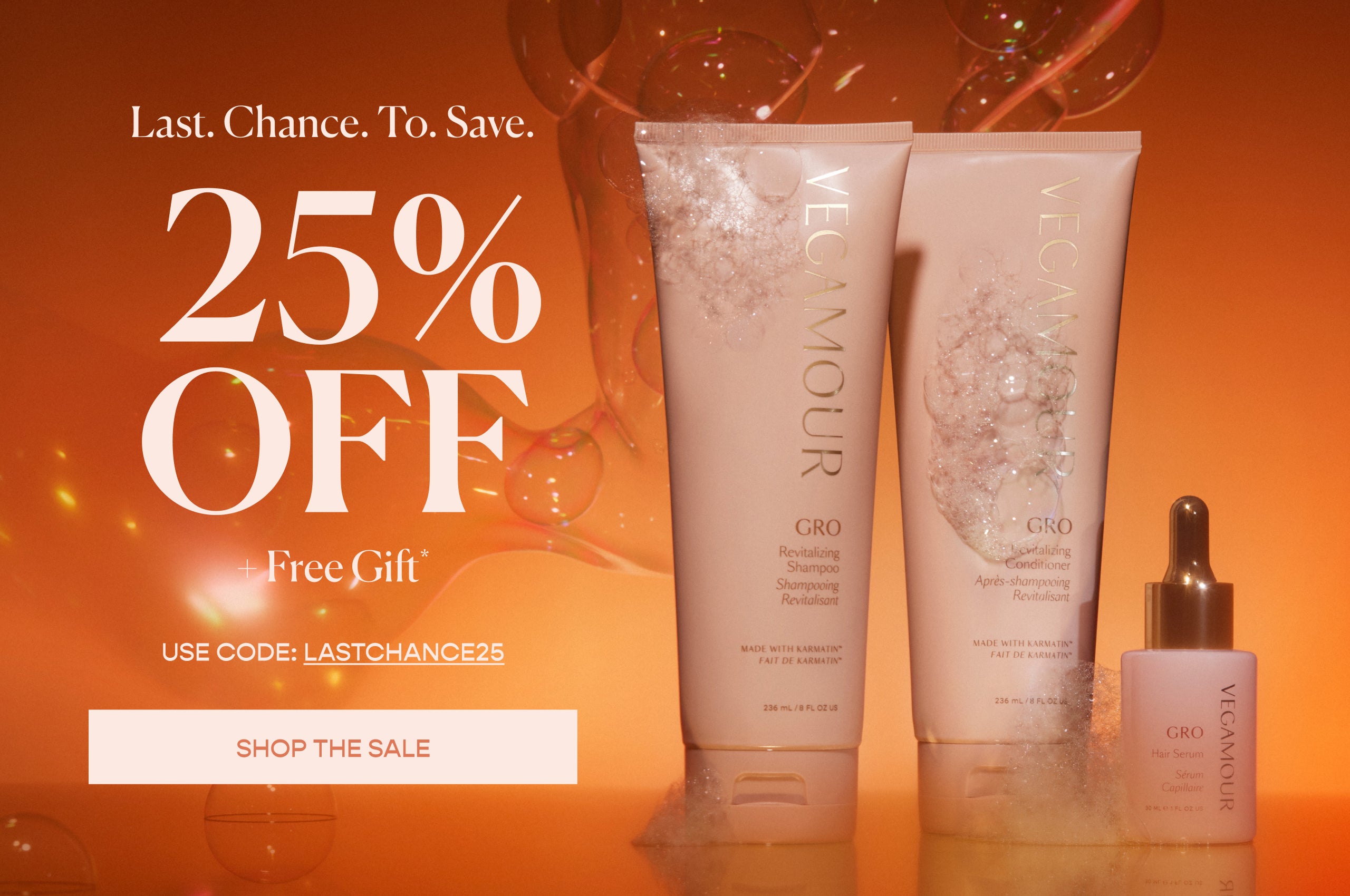 Disclaimer: Information in this article is intended for general informational and entertainment purposes only. It is not intended to constitute medical advice, diagnosis, or treatment. Always seek professional medical advice from your physician.