How to Stop Gray Hair From Sticking Up
Gray hair can be trendy, but it can also take some getting used to. As gray hair appears, it often causes hair to become wiry, dry and difficult to manage.
To help you manage unruly, coarse gray hair, VEGAMOUR asked a hairstylist to share some of her best tips. Plus, discover the leave-in conditioner that's helps reduce frizz and unruly gray hairs.
What Makes Gray Hair Frizzy?
Research suggests that by the time most people are 50 years old, approximately one in four people will be at least 50% gray. Gray hair is a natural process that affects most people at some point, but it's not just the loss of hair color that changes strands; most also note a change in their hair texture.
As hair loses its pigment, it can become less smooth, duller and more prone to frizz. Hair comprises three layers: the cuticle, cortex, and medulla. The outer layer (the cuticle) comprises little layers overlapping like roof tiles. When a stran
,d turns gray, the hair cuticles are disrupted and the sebaceous glands secrete less oil than before, causing the overlapping layers to have a different texture that's rougher and frizzier.
"Gray hair gets frizzy due to loss of moisture due to lower sebum production," explained hairstylist Alice Rawling. "As a result, the cuticles weather and become porous, leading to dryness and frizz." Without the natural oils from the oil glands, hair follicles become more susceptible to dryness and damage as the silver strands spread.
Read: How to Make Gray Hair Smooth and Shiny
How To Stop Gray Hair From Sticking Up
While hair turning gray is a natural biological process, there are things you can do to combat the process and keep natural gray strands from becoming rough and challenging to manage:
Use a gentle shampoo and a nourishing conditioner.
"Make sure to use a conditioning shampoo and conditioner every time you wash your hair," said Rawling. Check the label for drying ingredients such as alcohol or sulfates and choose natural products to keep strands looking their best. The AAD also suggests you avoid sulfates if you struggle with skin conditions such as eczema or dermatitis.
Many conditioners contain ingredients that coat the hair in silicone, paraben or waxes to enhance shine. These ingredients could strain the hair cuticles and cause damaged hair. If your scalp feels clogged or you are experiencing a thinner hair texture, use a clarifying shampoo or apple cider vinegar hair rinse to dislodge the buildup. A purple shampoo might knock out brassy tones and create a more silvery, fashion-forward look, but only use it once a week to avoid provoking frizz. A leave-in conditioner can help keep strands soft long after they've been washed.
Don't pluck or tweeze.
As tempting as it is to remove the grays as soon as you see them, plucking and pulling strands out will only damage the hair follicle and encourage new growth to stick straight up. Plus, you pluck one gray hair out and it's likely another one will grow back in its place.
Avoid harsh hair accessories.
Having gray hair doesn't mean you have to stop playing with your hair completely. You'll just need a more considered approach. Pinching, twisting and binding gray hairs tightly into styles might aggravate frizz and keep hair looking and feeling frizzy. Instead, opt for a loose bun and soft braids tied with gentle bamboo scrunchies. Gray hair tends to stay down better when styled in a low-key and natural way. "Try using loose waves or a natural style that allows your gray hair to show through," said Rawling. Sleeping on a satin pillowcase will also create less friction as you toss and turn at night.
Use products made for gray hair.
Tweezing your gray strands into complicated hairstyles might be out of the cards, but reviving your look with fun, new products made especially for gray hair will help keep new hair growth vibrant and soft. The GRO AGELESS Hair Serum looks beautiful on your shelf (who doesn't love a gold bottle?) and contains age-defying ingredients that renew hair color and add shine to graying strands. Peptides support new hair growth, glycoproteins enhance shine and the unique vitamin blend helps reduce the appearance of gray hairs — even in dark hair. Apply the non-greasy serum daily to see results in just three months.
Consider the scalp's pH balance.
All skin has a pH range; scalps are usually between 4.5 and 5.5 and are alkaline compared to the hair shaft. Some alkaline products can exacerbate dry hair and increase friction. More research needs to take place before researchers know the correct pH range required to maintain scalp, skin and hair health, but anecdotally many believe products with a pH value between 4 and 7 will be beneficial to hair. Hard water could also disturb the hair's natural pH balance, so wash with distilled or filtered water if possible.
Treat wet hair with care.
Hair is most susceptible to damage when wet, so you'll want to treat damp hair with care — especially gray hair. Instead of rubbing wet hair with a harsh cotton towel (which could create friction and breakage), use a microfiber towel to pat down damp hair. Then wrap the hair up and let the towel soak up most of the water.
Avoid very hot showers or washing your hair with hot water, which can damage the cuticle. Cold water will help smooth the cuticles and keep hair soft and manageable.
Put down the heat-styling tools.
While you might be tempted to tweeze and manipulate your new gray strands into a flattering style, relying on too many hot tools will only make your dehydrated hair more thirsty and less smooth. Also, don't blow dry or curl on high heat — you'll create more frizz. Instead, try to air dry as much as possible and only blow dry at the very end of your drying process. You can also blast the hair with cool or cold air after blow drying or heat styling to help seal cuticles and lay stray fluffy strands down.
Try hair masks and oils.
Keep your hair looking and feeling soft by adding a hydrating hair mask to your weekly routine. Look for products with nourishing ingredients. You could mix up a DIY mask at home to keep strands looking shiny. For example, mix natural emollients such as olive oil and coconut oil with avocado to keep strands feeling soft and smooth. Hair oils might also help keep stubborn frizzy strands in place.
Drink more water.
As simple as it sounds, drinking more water will help keep your body and hair hydrated and healthy. If you don't stay adequately hydrated, your scalp health could diminish and your skin could look less vibrant. Drinking plenty of H2O is a super easy way to keep hair and skin plump and happy.
The Takeaway
How your hair looks and feels is often a reflection of your age and lifestyle. While growing grays usually signals the passing of time, you can keep frizzy, unruly silver locks at bay with a few healthy hair habits. Ditch the harsh ingredients and choose all-natural products that bring life and vitality back to dry hair — including grays.
More From VEGAMOUR
Photo credit: Ron Lach/Pexels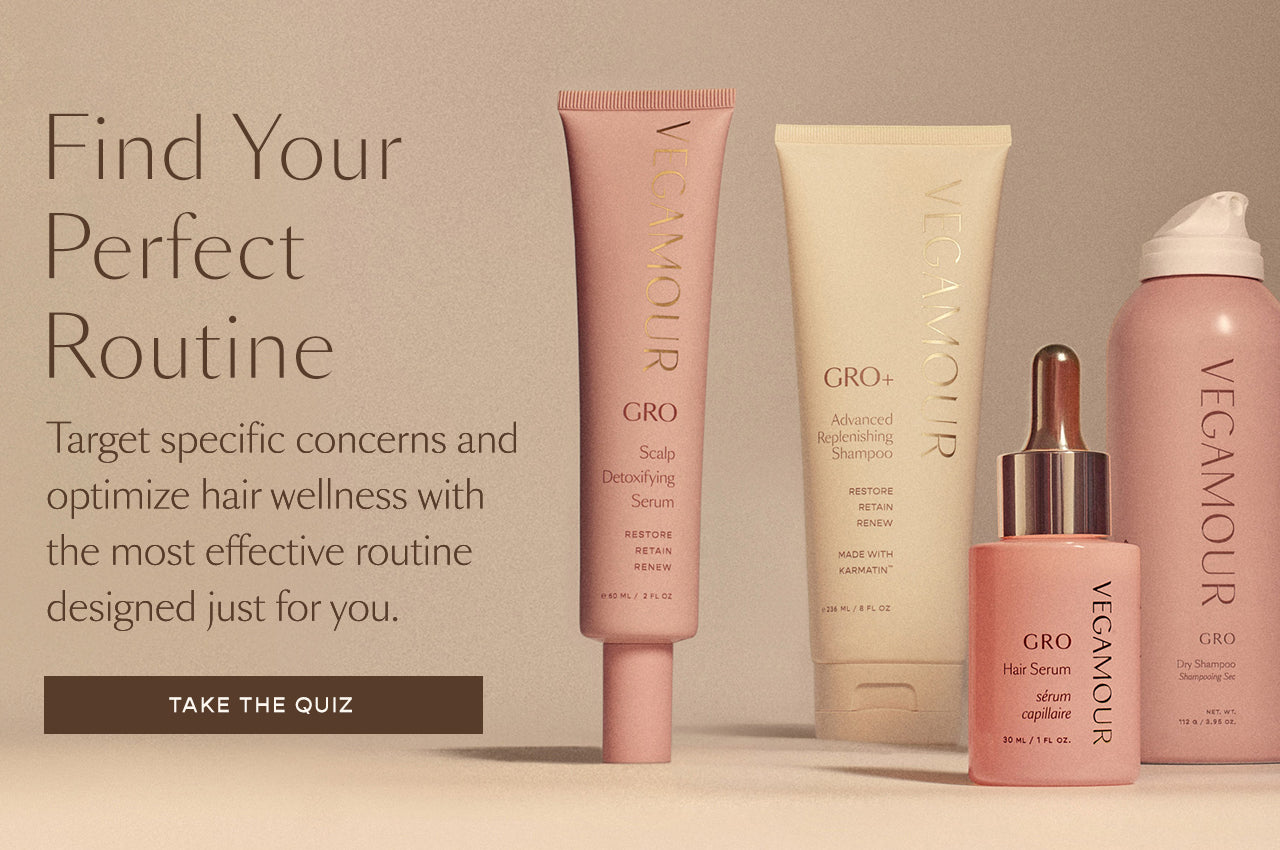 Disclaimer: Information in this article is intended for general informational and entertainment purposes only. It is not intended to constitute medical advice, diagnosis, or treatment. Always seek professional medical advice from your physician.