What Is a Korean Hair Perm? Read This Before Getting One
Korean celebrities inspire natural-looking waves and loose curls that look as effortless as they are glamorous, making popular a new style of hair perming called the Korean perm. This type of digital perm is done in a specialized salon.
VEGAMOUR spoke with a hair expert about this growing Korean perming trend — plus, find out what vegan hair care products can help hydrate and protect your new cascade of loose curls.
What Is a Korean Perm?
Korean model and actress Jung Ho-Yeon wowed us with her performance in Squid Game, but people were also talking about her hair. Her stunning "unkempt" waves made us all wonder how she got that look. It's a special type of digital perm called a Korean perm.
You might be wondering about the process for this type of curl-perm and whether it will shatter your budget. Where can you get it done? How does a Korean perm compare — in terms of maintenance and durability — to traditional perms?
Surprisingly, heat-perming methods like these new Korean perms may give you a lower-maintenance look that's high on fashion but not much different from traditional perming costs (depending on where you get it done.) Even better — the styles are far more modern-looking and chic in an 'I-just-woke-up-this-beautiful' kind of way.
Shop: VEGAMOUR's New HYDR-8 Collection
Getting a Korean Perm
First, find a reputable Korean hair salon or one that specializes in this type of heat perming. Book your consultation and your perming appointment. Your stylist will conduct strand testing on your hair to determine its strength and current pattern. You should disclose to your stylist any chemical services that have been performed on your hair and approximately when those services were done. Bleached hair may not be a good candidate for this or any other type of perming service. Long-ish virgin hair is the best type of hair for Korean perming.
Other than curling rods being involved, the Korean perming experience is vastly different from traditional perming. First, there's some preliminary work done on your hair to break the disulfide bonds in your hair. Once the hair is sufficiently softened, your stylist will wrap your hair in special rods that get plugged into a machine that supplies heat. It's reminiscent of the very first permanent waves way back in 1906 when Karl Nessler introduced us all to the robotic-octopus-looking devices that created those first permanent waves.
After your Korean perm is done, your stylist will gently blow dry your hair with a twisting technique that locks the spring in those curls for polished bouncy curls and waves.
Maintaining your New Style
Because of the heat used during a Korean perming process, the hair may be especially vulnerable to damage or dryness, requiring hair products that nourish your hair. Proper care after your Korean perming treatment will ensure your hair holds the best shape but also looks fabulously healthy and radiant.
Like with cold perms, your new style has amplified needs:
Protein support
Moisture support to assist the natural oils in your hair and keep your locks hydrated
Protection from free radicals, pollutants, the sun and humid weather
VEGAMOUR recommends its new HYDR-8 Collection for the perfect blend of protein, moisture and protection. For routine washing, use the HYDR-8 Shampoo and Conditioner Kit to provide ongoing hydration while fortifying and protecting strands. Also, once a week, replace the conditioner with the HYDR-8 Deep Moisture Repair Mask to deeply hydrate and repair the hair, as well as reduce breakage, fight frizz and achieve an unparalleled glass-like shine.
What the Fuss Is All About
VEGAMOUR consulted with Jason Tyler of MachoHairstyles to find out more about these trendy perms.
"A Korean hair perm is a type of perm that is specifically designed to give your hair a natural-looking wave or curl," Tyler explained. "It is a popular choice for those who want to add body and volume to their hair, as well as those who want to achieve a more polished and put-together look. Korean hair perms typically use softer, more natural-looking curls than other types of perms, and they can be customized to suit your individual hair type and desired look."
Traditional perm methods result in springy curl patterns that take the shape of the curling rods that were used. Though a traditional perm is a classic way to go from straight hair to curls, the hair is often frizz-prone and requires careful blow-drying to keep the hair looking its best.
Heat wave perms, like the Korean-style perms, are processed quite differently, and the results are far more natural-looking. Salons may have different names for these types of perms that represent different wrapping techniques and styles, just like with cold-wave perming.
Korean perm: Loose, large curling iron-like curls on the bottom half of the hair
C-curl perm: Large C-shaped waves on shorter hair, giving it that fancy name of C-curl perm
Lovely perm: Used on long hair for more voluminous waves that may include perming the top of the hair
Setting perm: Setting perm that gets its name from the hot-roller look it produces.
Baby perm: Permed waves on shorter hairstyles get the cute name "baby perm."
Wave perm: A vintage or classic wave look with an air of romance
Magic perm: Using digital perming methods to produce silky straight hair
The cost for a Korean perm is similar to that of cold-waving, but pricing will differ from salon to salon. These types of perms also last about as long as a traditional wave perm, from four to eight weeks on shorter hair to several months to a year on longer hairstyles.
Related: How to Sleep With Curly Hair
Compared to Other Perming Trends
Perming trends come and go with the decades, and there are a variety of perming trends similar to the one out of South Korea. For example, there's hot perming (called a digital perm), which is a method used by both Korean and Japanese perms.
Note: "Digital perm" refers to the method used to perm the hair but "Korean perming" specifically refers to the wrapping style and desired end result of the perm.
Korean perming creates a variety of different styles, such as:
More waves in the hair, generally around the bottom half of long hair
Beachy waves that are less maintenance than cold perms
Wavy hair that's easier to style than tight curls
Wavy tresses that are less frizzy in the finished style
A finished style that looks like it's been shaped with a large curling iron.
Hair that looks more natural and bouncy than with traditional perming methods.
A hippie perm or fuzzy perm resembles the bohemian waves of the 1970s. The Korean perm borrows a little of that hippie perm look with a more polished, less-frizzy finish. A Japanese magic perm or straight perm gives the hair a silky straightened look. Korean perms kind of combine bohemian and Japanese styles — naturally silky-straight toward the roots and a more loose, free-flowing curl shape toward the ends — to create this modern look.
Also, with the Korean hair perm, longer hair types that are too frizzy or high-maintenance with traditional perming body waves are more polished with this type of heat-waving perm. This means you'll spend a lot less time with a curling iron to get selfie-ready when your hair is permed in the Korean style. 
With VEGAMOUR's hydrating hair technology, your new Korean perm will be all the more luminous and vibrant!
More From VEGAMOUR
Photo credit: GEOLEE/iStock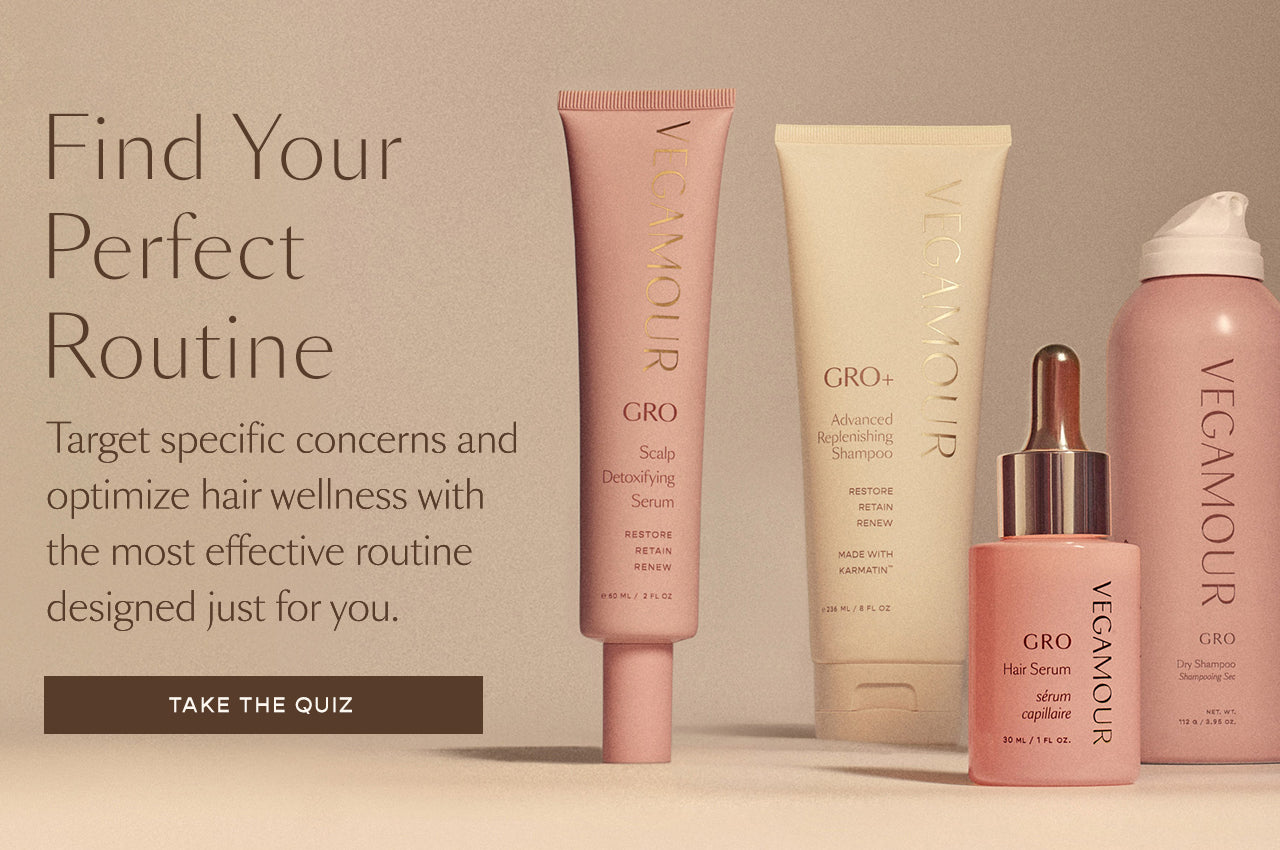 Disclaimer: Information in this article is intended for general informational and entertainment purposes only. It is not intended to constitute medical advice, diagnosis, or treatment. Always seek professional medical advice from your physician.