Is Lemon Juice Good for Your Hair?
Lemon is one of those versatile fruits that you can use in many ways in your kitchen. It's great for marinades or salad dressings. It's also a popular flavoring for dessert and an additive to water and tea. But did you know that you can incorporate lemon into your beauty routine as well?
This vitamin-rich super fruit isn't just for food and beverage recipes! Read on to learn about how you can safely add some fresh lemon juice into your beauty routine, as well as the best products for happy and healthy hair.
The Benefits of Lemon Juice
Lemon has many uses outside of the kitchen. This wonderfully fragrant fruit can be used to remove makeup and clean the scalp and give your hair a natural shine. Lemon essential oil has also been shown to reduce anxiety when diffused into the air. Who wouldn't feel a bit happier when smelling its bright citrusy aroma?
When used on the body, lemon juice is rich in vitamins and has antibacterial properties, but be warned that it can irritate the skin in certain cases. A popular use for lemon is as a treatment for dandruff. Since lemon contains citric acid, experts say it can help dissolve dead cells on the surface of the scalp and stimulate new hair growth.
Anecdotal evidence suggests that the vitamin C in fresh lemon juice can help to make hair look shiny and also boost hair growth. Shampoos and conditioners that promise shine often contain lemon because of its ability to add shine, volume and manageability to hair.
Read More: Can Essential Oils Really Help With Hair Loss?
Introducing Lemon Into Your Haircare Routine
Lemon is thought to be a natural clarifying agent for scalp health and can also promote shiny hair.
"Lemon juice can be used as a clarifying agent to remove residue and product build-up from the scalp and hair," explained Lauren Udoh, hair expert at Wig Reports. "It can be used with other ingredients such as olive oil, chamomile extract, lavender oil and rosemary oil. These ingredients help to condition the hair and keep it healthy. Additionally, they can help to strengthen the hair and reduce dandruff."
If you don't have other ingredients at home, a simple mixture of lemon juice and water can work as a clarifying treatment that improves scalp health.
Hairstylist and beauty expert Alice Rawling weighed in. "A water-lemon mixture in the ratio of 1:1 can be applied to the hair at least twice a week," she said. "The mixture [should be] applied to the scalp and massaged into the hair for about five minutes."
Rawling added that the mixture should sit on the scalp for an additional ten minutes to soak in. "Lemon contains vitamin C and folic acid. [These] nutrients make the hair follicles strong and enhance hair growth," she said. "It removes any pollutants on the scalp and maintains good pH levels."
Rawling also explained that this lemon water treatment can help prevent oiliness, help with dandruff, increase hair length and leave hair shiny. "There are many benefits of lemon in hair care. It helps maintain shiny and long hair. It also reduces oiliness on the scalp."
Adding fresh lemon juice to water isn't the only winning combo for your hair. Rawling went on to explain that honey and aloe vera gel can also be brought into the mix to create nourishing hair masks like a honey hair mask.
"Lemon juice can be mixed with honey in a ratio of 1:3. It can also be mixed with shampoo or aloe vera," she said. "All these ingredients have unique nutrients that are good for hair care." You can also add a tablespoon of lemon juice to castor oil or coconut oil to create a lemon hair mask.
Lemon and Hair Color
Beauty experts have long suggested that lemon has bleaching properties that can lighten hair a few shades, but it works best with hair that is already lighter in tone (AKA hair that contains less melanin).
"The acidic properties in lemons help to break down the hair's melanin, which is responsible for giving hair its color," explained Udoh.
If you plan to lighten your hair with lemon, there are a few safety precautions you might want to follow.
First, try a patch test on your skin with lemon juice to make sure you don't have any sort of irritation to the juice.
Next, if you apply it to the hair and then sit in the sun you only want to sit in the sun until the juice has dried. Experts suggest you don't stay out any longer than an hour. After that, use a mild shampoo and natural conditioner to prevent hair damage.
What Does Science Say?
While there have been studies to test lemon's effectiveness in haircare, the jury is still out. There is plenty of anecdotal evidence to suggest that lemon can be good when incorporated into a beauty routine, but scientists suggest there is still more research to do. In other words, proceed at your own risk and don't expect too much.
All-Natural Scalp Treatments
If you are curious about using lemon in your hair care routine but are reluctant due to worries about it affecting your hair color or drying out your hair, there are other natural ways to promote scalp health.
Rawling explained that you could bring aloe in as a ringer if you don't want to use lemon. "Aloe vera gel is an excellent alternative to lemon for hair care," she said. "It offers most of the nutrients in lemon and vitamin C."
If you're considering using lemon as a clarifying agent, but are concerned about lemon affecting your hair color, there are other natural alternatives (aside from aloe vera gel) that you can also use.
"One is apple cider vinegar, which is great for clarifying the hair and scalp," Udoh explained. "Another option is baking soda, which can be used as a shampoo alternative. And finally, rosemary oil is a great antioxidant that can help strengthen hair and prevent it from greying prematurely."
VEGAMOUR's GRO Scalp Detoxifying Serum uses a blend of proprietary phyto-actives, as well as vegan proteins and minerals that are designed to work in tandem for optimal scalp and hair health. This serum includes a vegan silk protein that gently removes persistent scalp buildup and then actively helps to soothe scalp damage while providing a protective, semi-permeable barrier.
GRO Scalp Detoxifying Serum also locks in moisture and protects the scalp from harmful environmental pollutants. Zinc works to absorb any pesky excess oils while reducing scalp irritation. This serum supports the skin's natural moisturizing factor to keep your scalp properly hydrated.
Willowherb extract safely reduces the appearance of flakes while also creating a healthy scalp microbiome. Plus, wild-harvested baobab and marula oils provide antioxidant support in the form of omega 6 and omega 9 fatty acids which add moisture and balance.
The Takeaway
As with anything new going into your health and wellness routine if you do decide to add lemon juice to your beauty routine and you have particularly sensitive skin or scalp you might want to consult your dermatologist or healthcare provider first. Lemon oil shows some signs that it might be beneficial for scalp health, but more research still needs to be done to prove anything definitively. If you're looking for natural, clinically-proven treatments to boost your strands, VEGAMOUR offers a variety of clean haircare products to help your hair reach its full potential.
More From VEGAMOUR
Photo credit: Karolina Grabowska/Pexels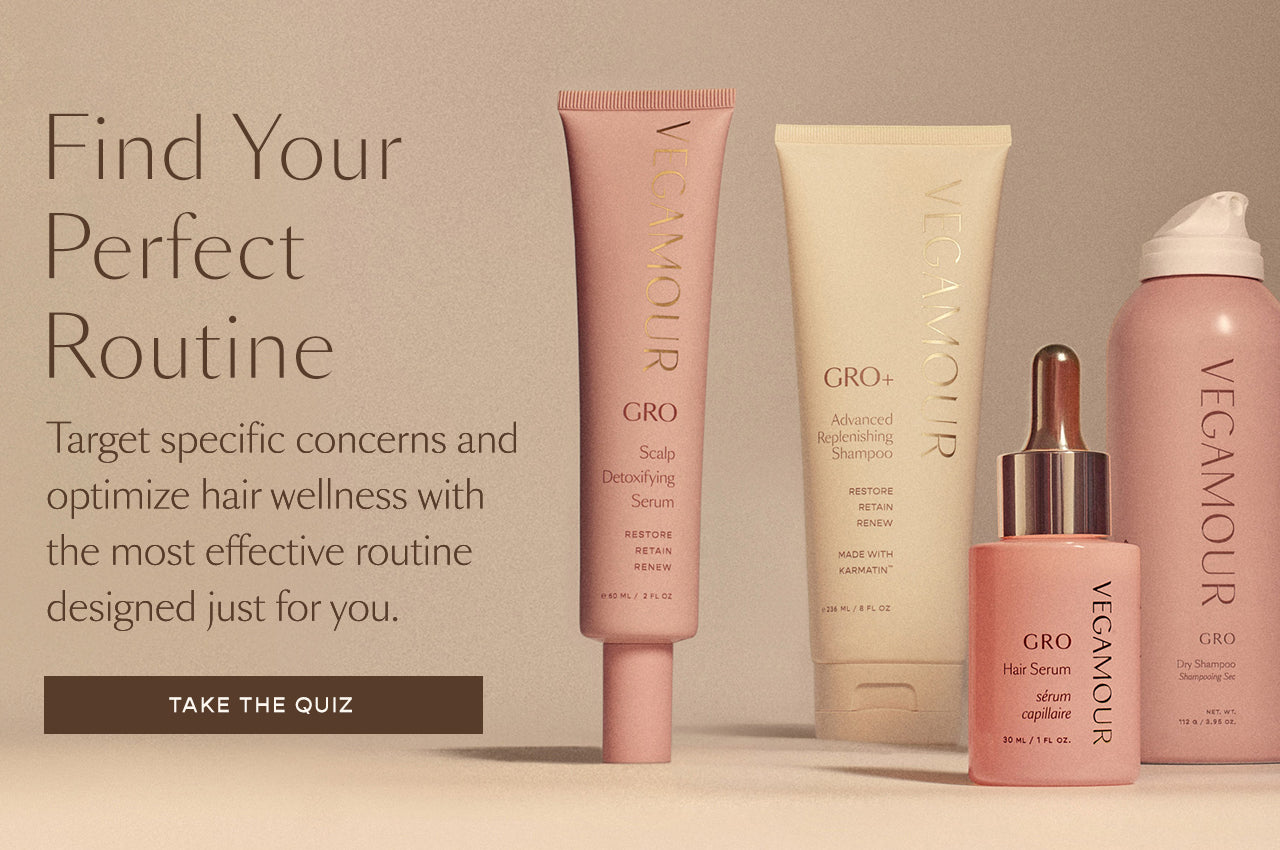 Disclaimer: Information in this article is intended for general informational and entertainment purposes only. It is not intended to constitute medical advice, diagnosis, or treatment. Always seek professional medical advice from your physician.