The Best VEGAMOUR Gifts for Every Type of Mom
Treat the amazing women in your life this Mother's Day — and beyond! Your mom, grandma, aunt, sister-in-law or new mom bestie all deserve some TLC. Give them the greatest gift of all: self-care! 
And we're making it easy for you! VEGAMOUR has everything you need to pamper your favorite ladies. Read on to find out what hair-healthy products you should gift to the moms in your life.
Best Gift for New Moms: GRO Hair Serum

Pregnancy or postpartum hormones can do a number on hair. Help make a new mom's life a little less stressful by gifting her a multi-pack of GRO Hair Serum. The three-bottle supply will take self-care off her plate for a few months while promoting thicker, fuller-looking hair.
Why She'll Love It
GRO Hair Serum is a #1 best-seller for a reason: It offers tangible results! 
The 100% vegan, cruelty- and toxin-free formula contains no hormones or synthetic chemicals, making it perfect for the health of new moms and newborns.
Powered by nature, it utilizes phyto-actives, such as mung bean, red clover and curcumin.
The serum is clinically proven to decrease shedding and encourage thicker, fuller-looking hair in as soon as 90 days.
Plus, it's easy and quick to apply (a must for time-strapped new moms). 
Shop: GRO More Kit —Take Care of Hair From the Inside Out
Best Gift for Moms On the Go: GRO Dry Shampoo

GRO Dry Shampoo is sure to become a "mane-stay" in a busy mom's routine! Whether she's a frequent flier or simply jetting between home, office and the gym, she can refresh and revive her hair on the go — no water required.
Why She'll Love It:
For starters, it's a multitasker! The plant-based formula includes the same proprietary blend of phyto-active ingredients found in our best-selling GRO Hair Serum. Here are its other benefits:
Great for those with dark or red hair; it won't leave behind any white residue.
The lightweight formula won't weigh hair down, which is key for those with fine or thin strands.
It balances, volumizes, texturizes and refreshes without making hair feel heavy or roughing up the cuticle.
It absorbs excess oil, sweat and odors for that clean hair feel, sans the shower, while added volume at the roots prevents hair from falling flat around the crown.
It includes natural ingredients such as USDA organic certified rice hulls, mung bean, red clover and kaolin clay. Plus, it's free of synthetic fragrances and smells great.
Shop: Kathleen Barnes' Top VEGAMOUR Picks
Best Gift for Moms Who Want a Spa-Like Experience: GRO Revitalizing Shampoo and Conditioner Kit
For Moms that deserve a spa-like experience on hair wash days (and really, don't we all!), look no further than the GRO Revitalizing Shampoo and Conditioner Kit. 
Why She'll Love It
The GRO Revitalizing Shampoo and Conditioner Kit is suitable for all hair types and hair that's color-treated. 
Contains the same powerful plant actives as in our bestselling GRO Hair Serum to help encourage thicker, fuller-looking hair. 
Features a fresh, citrusy bergamot scent.
Enhanced with our proprietary Karmatin™, the first-of-its-kind vegan keratin, which physically bonds with hair strands and remains attached after rinsing to restore, smooth and protect.
Best Gift for Moms Who Deserve All the Things: GRO Complete Kit 
The lucky mom you present this gift to will be able to completely transform her tresses from the inside out! The GRO Complete Kit has everything she needs to pamper and protect her scalp and hair.
VEGAMOUR Is the Gift That Can Keep On Giving
This Mother's Day, introduce the moms in your life to the ultimate in vegan hair wellness by gifting one of these best VEGAMOUR gifts for moms. No matter if you gift a single item or a complete wellness kit, you'll help those you love develop their best hair yet!
More From VEGAMOUR
Photo credit: Bence Halmosi/Unsplash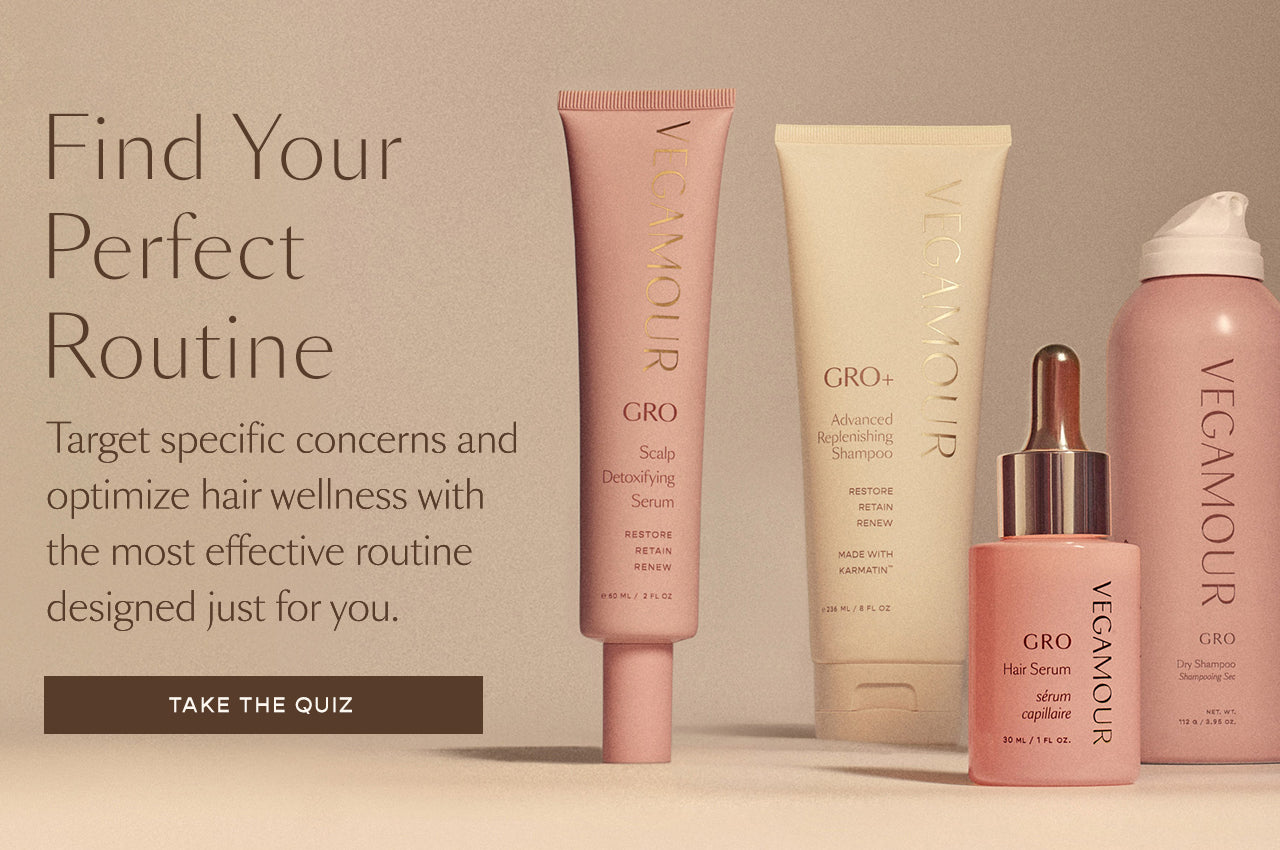 Disclaimer: Information in this article is intended for general informational and entertainment purposes only. It is not intended to constitute medical advice, diagnosis, or treatment. Always seek professional medical advice from your physician.