6 VEGAMOUR Kits That Make the Perfect Gifts for Friends & Family
Give the gift of self-care to all the special people in your life. Transform their daily rituals into restorative and relaxing practices, making it the perfect treat for any holiday, season or just to show your loved ones that you care about their well-being! 
VEGAMOUR kits are perfect for pampering your friends and family with 100% vegan, cruelty-free, clean products powered by natural ingredients, plant phyto-actives and the benefits of botanicals. There's something for everyone to love and incorporate into their daily routine. Read on for the ultimate wellness-boosting gift guide that will help you give everyone on your list luxurious and effective hair care kits that promote fuller, thicker-looking hair while supporting scalp and hair health.
Gift #1: Help Your Mom Transform Her Daily Self-Care Into a Spa-like Experience 
Treat the special Mom or Grandma in your life to the AGELESS Full Hydration Kit, which has everything she needs to dial back time and help control graying hair — all while infusing her hair with deep moisture and beautiful shine. The AGELESS Full Hydration Kit comes with the following:
The peptide- and vitamin-infused GRO AGELESS Anti-Gray Hair Serum is ideal to use as a daily ritual for those with moderate levels of gray seeking a solution to renew color and shine. Moms can apply one dropper daily directly to the scalp, along the roots of gray strands or use it as a spot treatment as needed on damp or towel-dried hair. Massage in with fingertips and style as desired. Consistency is key to the best results.
Lather, rinse and definitely repeat! Mom will love using the deeply hydrating, shine-infusing trifecta of HYDR-8 Hydrate and Repair Shampoo, HYDR-8 Hydrate and Repair Conditioner and HYDR-8 Deep Moisture Repair Mask in her at-home hair care routine. The cleanser, conditioner and hair mask work in tandem, reviving dry, parched hair and renewing radiant color. Powered by Karmatin™, a vegan silk alternative to keratin and silicone, the HYDR-8 collection quenches hair's thirst with instant hydration, replenishing strands with lustrous, glass-like shine. 
Read More: Get to Know VEGAMOUR's 4 Best Sellers
Gift #2: Amplify Your BFF's Lashes, Brows & Hair for the Better
Whether she's happily single, dating or married, your bestie will love achieving fluttery, lush lashes, defined brows and thicker-looking, visibly fuller hair. Help her dial up the volume on brows, lashes and her hair with the GRO Origins Kit. Or better yet, give her a monthly subscription so you'll save and she'll enjoy monthly TLC delivered directly to her doorstep!
The kit includes this iconic trio: one GRO Lash Serum, one GRO Brow Serum volumizing serum and one bottle of GRO Hair Serum. Best of all, they're formulated without hormones and are safe for everyday use. Combine root-revitalizing GRO Hair Serum, lash-boosting GRO Lash Serum and brow-bolstering GRO Brow Serum for the best results. She'll look forward to her daily self-care ritual and seeing her healthier, fuller-looking hair and lashes looking back at her in the mirror!
Gift #3: Self-Care for Your Sister or Sister-in-Law
 
Indulge your sister or sister-in-law with the gift of building balance and creating her dream tress-to-toe self-care routine with the GRO More Kit, including one bottle of GRO Hair Serum and one bottle of GRO Biotin Gummies. GRO Hair Serum can be applied to dry or towel-dried hair for up to a 52% increase in hair density after four months due to its powerful phyto-actives. Vegan GRO Biotin Gummies include 16,666% of the daily value of biotin (or 5000 mcg), along with folic acid, Vitamins A, B-5, -6 and -12, C and E, zinc and more key minerals to neutralize free radicals, which support and nourish the scalp and hair. Plus, they're a tasty way to get in a daily dose of vitamins, no water required, making them great for travel or while on the go. Plus, the heart-shaped pink gummies are sure to make her smile and taste delicious, so she won't want to skip a day!
Read More: 6 VEGAMOUR Kits to Gift Friends and Family 
Gift #4: Help Dad Destress
Searching for the perfect gift for your special Dad? There's good news: VEGAMOUR products also work for men. 
Help Dad stop stress from wreaking havoc on his hair with the GRO+ Advanced Foundation Kit. The kit includes GRO+ Advanced Detox Scalp Serum and GRO+ Advanced Replenishing Shampoo and Conditioner, which will help promote the health of his scalp and hair. Plus, the products also include micro-encapsulated, full-spectrum hemp to soothe stressors that can trigger scalp issues that lead to thinning or loss.
Gift #5: Elevate Your Partner's Wellness Routine
If your husband or partner could use some help with their hair habits, the GRO+ Advanced Higher Kit  makes a great gift — and is likely something they wouldn't buy on their own! Featuring one bottle of GRO+ Advanced Hair Serum and one bottle of GRO+ Advanced Gummies, the duo taps into the therapeutic power of CBD to naturally nourish and support the scalp and hair, beginning from within. 
GRO+ Advanced Hair Serum has the same key clean ingredients found in best-selling GRO Hair Serum, plus the bonus ingredient of micro-encapsulated, broad-spectrum CBD, which helps heal, soothe and calm the skin and scalp, building the base for healthier hair follicles and, in turn, creating the ideal environment for encouraging growth. With consistent daily use, the serum can lead to visible results in as soon as 90 days. GRO+ Advanced Gummies are the first hair wellness vitamins that harness broad-spectrum hemp oil's healing properties to help combat hair thinning at the roots.  
Gift #6: Give Your Brother or Brother-in-Law a Supplement Boost
Treat your brother or brother-in-law to a three-month supply of supplements so he never runs out of essential nutrients even if he's traveling or swamped at work with the GRO+ Advanced Gummies 3-pack. Amp up the stress-busting, skin- and scalp-soothing benefits with GRO+ Advanced Gummies, which feature the same key nutrients found in GRO Biotin Gummies, plus 10 mg CBD and 10 mg CBG. No need to worry: Aside from hemp oil, these delicious, naturally fruit-flavored vegan gummies are non-psychoactive and have no artificial flavors. He can take one each day, anywhere and at any time — no water required! 
Read More: These Vegan Hemp Gummies Are a Game-Changer for Hair Wellness
Don't Forget to Treat Yourself
Pampering your loved ones with VEGAMOUR products is the gift that keeps on giving — they'll enjoy indulging in a supportive, self-care experience that's as luxurious and relaxing as it is effective. And don't forget to add yourself to that gift list! You deserve the gift of healthier hair just as much as anyone else. 
More From VEGAMOUR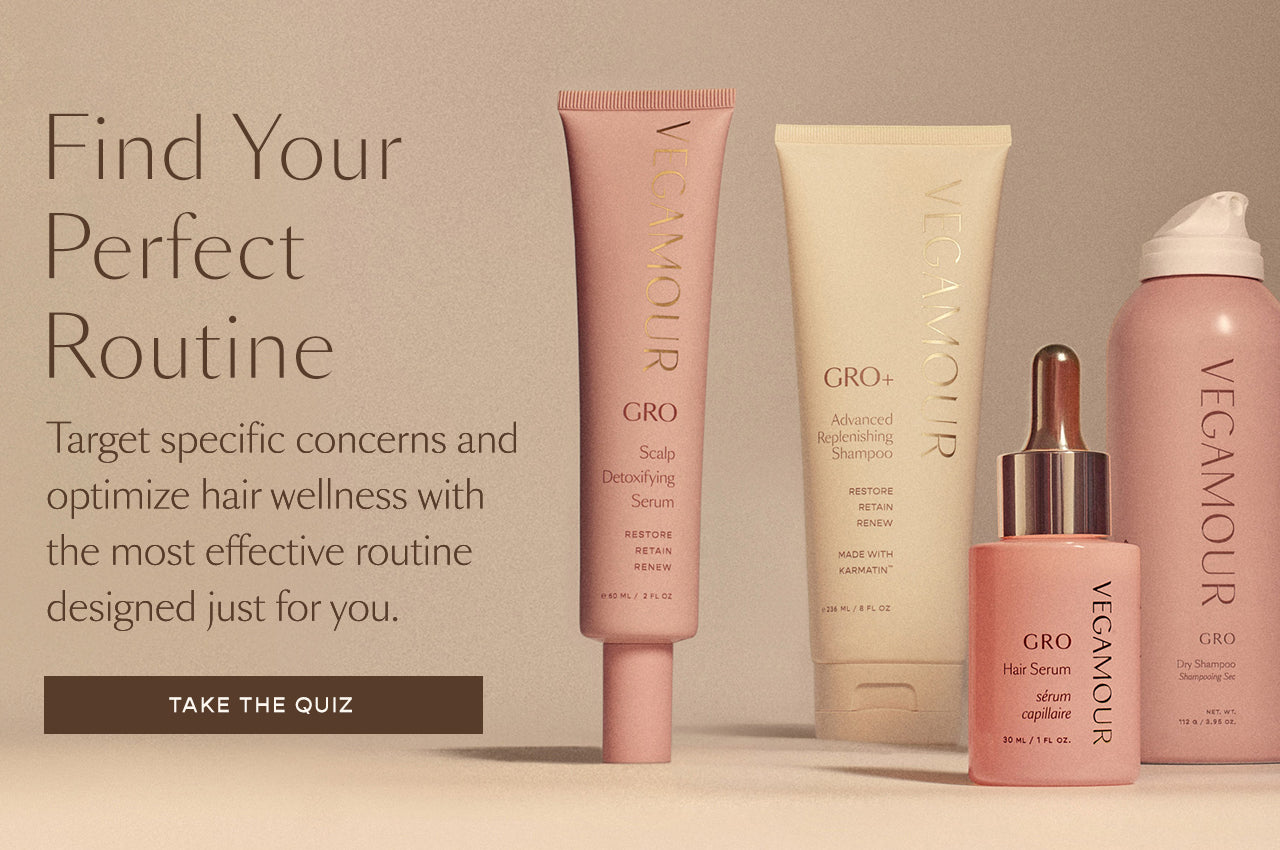 Disclaimer: Information in this article is intended for general informational and entertainment purposes only. It is not intended to constitute medical advice, diagnosis, or treatment. Always seek professional medical advice from your physician.