What Exactly Is Hair Wellness? 8 Ways to Practice It Daily
With work from home being the norm, many of us have spent months being cooped up like a living house plant — it's time to put the screens down, disarm stress and get back to nature in the name of wellness. Drs. David and Austin Pearlmutter explained in their groundbreaking 2020 book, "Brain Wash: Detox Your Mind for Clearer Thinking, Deeper Relationships and Lasting Happiness" that "Americans spend a remarkable 87% of their days indoors and another 6% in their cars." And without the positive influence of genuine human connection and healthy habits, our mind, body, hair and skin are all suffering. 
It's time to lower stress levels and introduce habits into our orbit that benefit mind, body, soul and yes, hair.
Did you know that with by making simple, healthy lifestyle choices (eating healthy, sleeping well, moderate exercise, spending time in nature and eliminating stress) you can positively impact not only overall health and wellbeing, but you can also signifinantly improve the density, fullness, luster and volume of your hair. It's all part of an exciting new movement in hair care that we're calling: Hair Wellness.
What Is Hair Wellness?
Hair wellness is a holistic, 360° approach to beautiful, healthier hair. It's far more than just hair care. It's about taking care of your well-being too. It's evoking practices that let the body breathe freely. It's finding ways to reduce the ongoing stresses of life. It's about being mindful of the foods we eat. It's caring for your scalp the way you care for your body. And so much more.
Many of us have chosen a more sustainable approach to life (organic produce, non-toxic household cleaners, clean skincare and cosmetics), but many of us forget about the products we use on our hair (we use powerful chemicals to dye it, bleach it, straighten it, curl it and then use other toxic chemicals to style it!). Given that the scalp is one of the most porous and absorbent parts of our body, it's time to make changes.
By incorporating clean products designed for hair wellness along with healthy lifestyle practices like regular exercise, eating healthy, organic foods and a daily mindfulness routine, you'll start to experience fuller, thicker-looking and shinier hair in a manner of weeks.
8 Ways to Practice Hair Wellness in Your Daily Life
Hair wellness takes a holistic or 360° approach to hair health that addresses not only the visible symptoms, but also the underlying root causes as well. Here are some of our favorite practices for generating optimal hair wellness:
1. Stress Reduction
Reducing stress is an absolute must when it comes to hair wellness. Learning to unwind will help you retain moisture, limit hair loss and keep your locks looking glossy.
Perlmutter and Perlmutter explained, " ... living life in a constantly negative state is less than ideal, it's worth noting that negativity is associated with consistently worse health outcomes across a variety of conditions."
Why exactly does stress wreak such havoc on your body and hair? Blame cortisol, the stress hormone. Cortisol is connected to the function of the hair follicle, and when the body exhibits high levels, the adrenal glands produce fewer hormones that promote hair growth. This inflammation causes the hair to weaken, thin from the roots and, in some cases, shed so much that visible hair loss occurs.
Thankfully, the effects of stress on your hair are relatively easy to rectify once your cortisol levels lower. From laughter to meditation and spending more time in nature, there are lots of easy-to-implement practices you can incorporate into your routine to help slow hair loss and boost hair health.
Shop: GRO+ Advanced Stress Release Kit
2. Meditation, Breath Work and Yoga
Considering meditation, yoga and the art of conscious breathing, the Perlmutters' explained," "We often think of mindful activities as methods to combat stress. This connection has been well substantiated."
From physical yoga postures to deep breathing that activates the (calming) parasympathetic nervous system, tuning into your breath can encourage good circulation and, in turn, help tackle hair loss by stopping stress in its tracks.
Of course, a mindful routine doesn't always come easy. For some, sitting quietly in meditation can actually provoke stress for fear of getting it wrong. It's good to remember that yoga, meditation and mindfulness is a practice. Stay patient with yourself and apply these simple tools for mindfulness when you veer from the mindful path. 
Also: 8 Stress-Reducing Yoga Poses for Hair Growth
3. Forest Bathing 
What we consume can negatively impact the way our hair looks. "Nature influences our ability to experience balance, thoughtfulness and compassion while providing a panoply of health benefits, including reduced levels of inflammation and stress hormones," explained Perlmutter and Perlmutter.
Forest bathing is the Japanese practice of "bathing" in the atmosphere of the forest. You surround yourself with the sights, sounds and smells of nature, which can decrease stress and improve your overall well-being. It's a perfect opportunity for you to disconnect from your phone and reconnect with nature's serene influence.
And you don't need to be surrounded by a forest to feel the benefits of forest bathing. A walk in a beautiful, lush park or even a peaceful, tree-lined street could evoke similar calming effects on the body.
Read: Your Guide to Dehydrated Hair
4. Diet
Committing to hair wellness means you have to consider your diet. Foods rich in nutrients and minerals will help tackle hair loss and encourage hair growth. 
The health of your hair is a reflection of the food you eat. It's also a good idea to cook with foods that are rich in biotin. Biotin can deplete under excessive stress or when you consume certain medications, so you should tend to your intake. Nutritional yeast, legumes, sunflower seeds and more foods are rich in natural biotin, but you can always take a daily supplement, such as GRO Biotin Gummies, for an easy boost.
Learn: 9 Biotin-Rich Vegan Foods to Add to Your Diet
5. Caring for Your Hair and Scalp
To truly care for your hair, you must also tend to your scalp because healthy hair begins with a healthy scalp. After years of using hair 'care' products filled with toxic chemicals, silicones, phthalates, synthetic fragrances, parabens and talc-based dry shampoos, can you imagine what all that buildup on your scalp must look like? Silicones and other pore blockers from most hair products build up over time and negatively impact healthy sebum production as well as micro circulation on the scalp. Deep cleaning the skin on your scalp (alongside a regular stimulating scalp massage) should become a part of your weekly routine. Not sure where to start? These tips and hints will help.
Read: Low Energy? 8 Ways to Feel More Energetic
6. Use High-Quality Ingredients
The vegan, plant-based ingredients in each VEGAMOUR product support the appearance of longer, denser and healthier-looking hair. For example, mung bean contains a blend of hair-enriching minerals such as zinc, selenium, silica, iron and vitamins A, B, C, B7 and K. And in clinical studies, curcumin facilitated the hair's anagen (growth) stage, and red clover helped inhibit DHT.
If you're looking to rapidly impact premature thinning, the GRO+ Advanced collection also contains organically grown, full-spectrum hemp, formulated especially for stress related lash, brown and hair loss. Microencapsulated CBD reaches the hair follicles at the root to immediately tend to your hair follicles' troubled areas while CBD infused gummies work to reduce anxiety and help support healthy sleep. 
Packed with organically grown, hand curated phyto-actives, VEGAMOUR products work in tandem to help create the optimal ecosystem for healthy, abundant hair, fuller lashes and thicker brows.
Related: How CBD Impact Hair Growth
7. Avoiding Harmful Habits
You can spend all your time and money on caring for your hair, but if you still have harmful habits in your routine, then your hair's wellness will suffer as a result. Be it too much screen time, smoking, inadequate sleep, poor nutrition or excessive alcohol use, our daily lifestyle choices have a significant impact on our body's own internal ecosystem.
According to the Perlmutters, " ... 79% of adults reach for their smartphones in the first 15 minutes after waking up." They also warn that existing in a world full of phones and screens means we're not getting the positive interactions we need to build a sense of community. "We spend our days ... scrolling, clicking, texting, activating the rewards circuit," wrote the Perlmutters. Unfortunately, too much screen time can keep you from being mindful of your self-care needs (not to mention, increase our stress & cortisol levels).
Smoking is another harmful habit, but you already know that. Not only is smoking terrible for the skin, but it also can have negative effects on hair. Even being surrounded by cigarette smoke can trigger premature graying and brittle strands.
And while it's fine to enjoy the occasional alcoholic drink, heavy drinking (along with poor food choices) can hinder your body's ability to absorb precious nutrients as well as interfere with restful sleep, all of which result in deficiencies that can trigger hair loss. 
Note that if you're concerned about rapid hair loss, you should always check in with a doctor to get expert advice.
Also: This Dry Shampoo Was Formulated With Thinning Hair in Mind
8. Exercise
Moving your body and working up a sweat comes in many different formats. From a brisk lunchtime walk to an online HIIT class or lifting weights, regular exercise gives you extra endorphins and increases blood circulation, which is essential for good scalp and hair health. Resistance exercises also help increase the body's own IGF-1 levels (which also helps support healthy hair growth).
Not keen on hiking? Hate the thought of jogging? Not to worry, there are plenty of exercise options to explore to keep your hair goals on track.
Read: Nicole Kidman's Transition to Hair Wellness
What Hair Wellness Isn't 
Hair wellness isn't a single, 'one-and-done' magic bullet approach to beautiful hair. But rather it's a comprehensive (holistic), 360-degree approach that not only involves incorporating the right hair care & supplement products, but also prioritizing our own well-being by making healthy life-style choices.  
In other words, hair wellness isn't putting ourselves last! A lot of us put our own personal needs behind work commitments, family care and other outside pressures. The next time you feel the urge to do something at your own expense, keep in mind that air safety announcement that reminds us to put on our own oxygen mask first before helping others. In putting ourselves last, we're unable to care for ourselves or others. A happier, healthier you makes a happier, healthier world around you. So, isn't it time to put your well-being first?
Join the Female Hair Loss & Wellness Community on Facebook to meet and learn from like-minded women who are also struggling with hair loss in a safe, private environment.  
More From VEGAMOUR
Photo credit: VEGAMOUR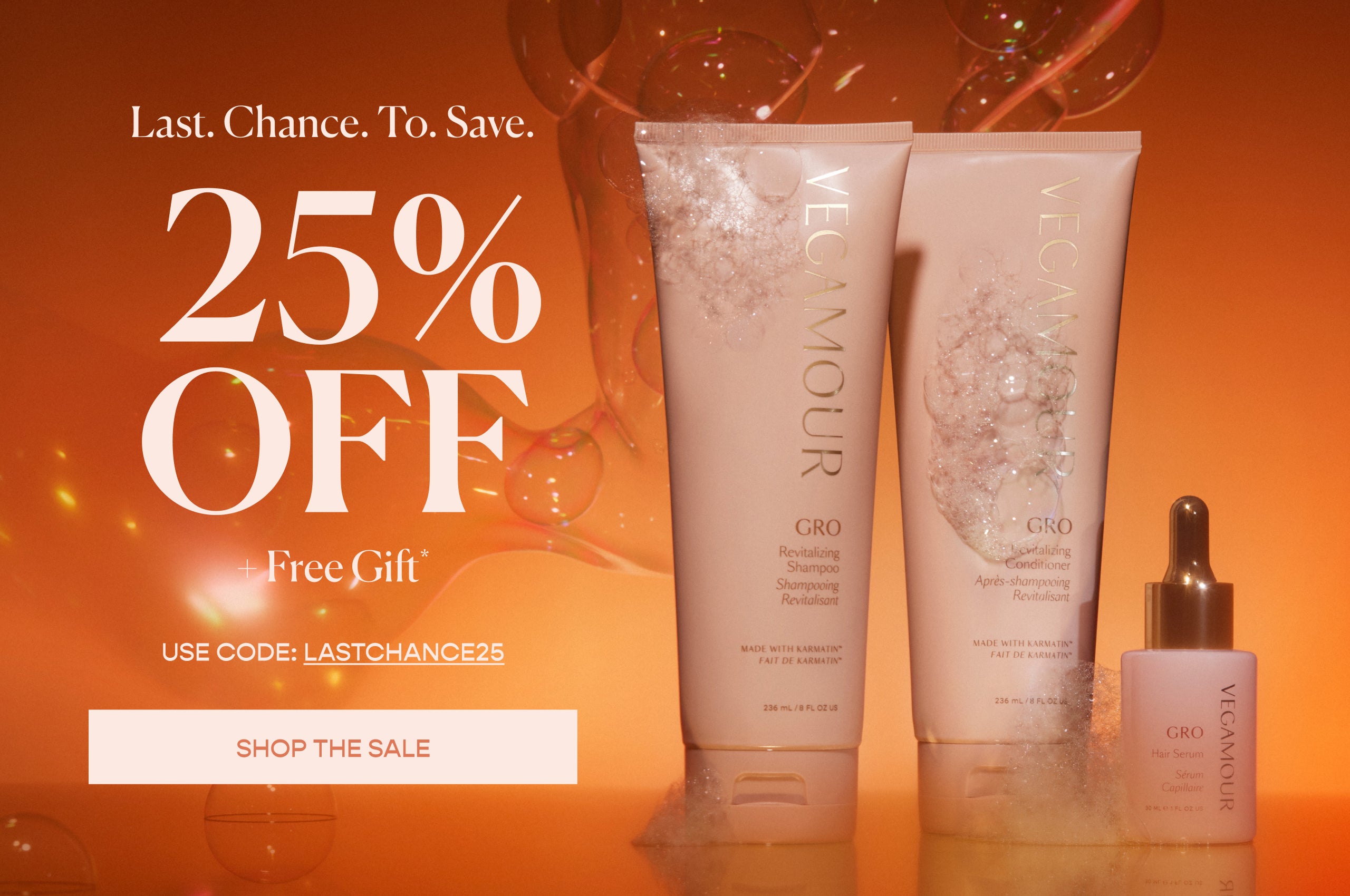 Disclaimer: Information in this article is intended for general informational and entertainment purposes only. It is not intended to constitute medical advice, diagnosis, or treatment. Always seek professional medical advice from your physician.