Your Guide to Dehydrated Hair
When your hair feels dry, you know it needs a hefty dose of conditioner. That seems simple enough. But what if conditioning doesn't fix the problem? Why is your hair is still dry after you shampoo and condition it?
This happens because your dry hair isn't just dry hair — it's actually dehydrated hair, which is a very different condition. VEGAMOUR spoke with the experts on dehydrated hair to create this easy-to-follow guide to bringing dehydrated hair back to life. Plus, learn how to restore moisture to your dry hair and deliver long-lasting hydration to brittle strands.
What is Dehydrated Hair?
The human body is a biological wonder that's made up of about 60% water. Humans are water-dependent creatures, but it's easy to forget that your hair is also partly made up of water. It's estimated that human hair is made up of about 15-25% water. When your body becomes dehydrated, your hair suffers too.
VEGAMOUR spoke with Dr. Firdous Ibrahim, medical advisor for Clinicspots, to learn what happens when damaged hair goes thorugh significant moisture loss.
Dr. Ibrahim explained that damaged hair experiences a "deterioration of the hair shafts and cuticles," which is a precursor to hair dehydration.
"Over time, damaged hair can become dry, brittle and more susceptible to breakage. If left untreated, hair damage can lead to thinning hair, split ends and hair loss," cautioned Dr. Ibrahim.
When hair becomes dehydrated, simply adding moisture with a conditioner isn't enough to restore it to health. Until the cuticle of the hair is repaired, the hair will continue to lose moisture as quickly as you can add it. This causes the sebaceous glands to overproduce, which is why you end up with the not-so-fun combination of super-dry hair and an oily or greasy scalp.
Read More: Dry, Brittle Hair? Here's Some Possible Causes
What Makes Hair Become Dehydrated?
In addition to a damaged hair cuticle, there are other factors that contribute to a dehydrated hair condition. Some of these are environmental, like overexposure to the elements and weather, the sun's UV rays and pollution. Other factors are lifestyle-related, including how much water you drink, the types of hair products you use and the frequency of chemical services you have done on your hair.
Assess your hair's porosity levels — an indicator of the health of your hair cuticles — by performing a simple float test. Place a few clean, dry hairs into a bowl of pure drinking water. If the hairs sink to the bottom after a few minutes, this means your hair has high porosity and loses water easily.
Signs of Dehydrated Hair
Healthy hair is soft and has a shine and bounce to it. It doesn't tangle super easily, holds a style and is moisture balanced from roots to tips. Your scalp also is free from flakes, itching and doesn't get overly greasy between shampoos.
Alternatively, when your hair becomes dehydrated, it is depleted of moisture from the inside out. Your hair loses some of these healthy-hair characteristics and begins showing some clear signs that it needs help. These signs could include:
Dry, tangly or frizzy hair
Split ends
Dry, itchy scalp
Flat and dull appearance
Hair gets greasy between shampoos quickly
Hair feels like straw, even after using conditioner
Related Reading: How to Moisturize Dry Hair
Protecting Your Hair's Hydration
The very first step to preventing dehydration or correcting it is to protect your hair from further damage. This means you might have to adjust some of your daily habits so your hair is protected and it can return to its natural state of balance. (Yes, your hair has built-in mechanisms for self-relegating.) Keep the following tips in mind to prevent additional breakage:
Avoid excessive sun exposure, cigarette smoke, pollutants and chemicals.
Use protective and replenishing hair products to protect natural oils and rehydrate thirsty hair.
Drink plenty of water.
Use a silk cap or pillowcase to prevent breakage and moisture loss while you sleep.
Avoid alcohols and drying chemicals in your shampoos and styling products.
Limit chemical services on damaged and dry hair.
Avoid heat damage by limiting heat tools or using a protective spray before heat styling.
Three Steps to Hydrated Hair
Human hair fibers need hair cleansing and moisture treatments to stay healthy, along with a healthy diet to keep your whole body hydrated. Follow the three steps below to restore moisture to dry hair.
#1: Restore Your Hair Cuticles
Hair cuticles have penetration abilities that enable them to become a semi-permeable passage for the hair shaft. When healthy, this "gatekeeper" of sorts protects your hair from losing too much moisture.
VEGAMOUR'S HYDR-8 Shampoo and Conditioner Set features vegan Karmatin™ proteins to repair and rebuild those damaged cuticle cells and provide 72 hours of lasting hydration for your tresses. Hair is eight times more hydrated so you can say goodbye to the greasy scalp and dry hair conundrum and hello to well-hydrated and well-balanced, healthy hair.
#2: Get Healthy From the Inside Out
Restore inner health for your body. This might mean dealing with a health problem as some medical conditions can make your body and hair become dehydrated. It might mean you need to assess the amount of water you are drinking each day to stay hydrated and eat a more balanced diet with water-rich foods and legumes (like kidney beans) with vitamin H (biotin) to help support the health of your hair.
#3: Supply Extra Hydration
Various oils and conditioners can help to balance your hair's hydration but be careful to avoid products with alcohols, sulfates, parabens, chemicals and silicones.
If you're looking for an all-natural hair treatment to help fortify dry strands and fight frizz, VEGAMOUR's HYDR-8 Deep Moisture Mask is a deeply hydrating option. It ensures the outer layer of your hair and scalp get enough moisture to stay well-balanced. Milk thistle provides a moisture barrier and UV protection, while marula oil and moringa oil help restore brilliance and shine to your locks.
Other Tips for Hydrated Hair
No matter what hair type you have, there are a few small things you can do each day to help your hair retain moisture.
Washing you hair with hot water can lead to dry hair. To prevent moisture loss, wet your hair in the shower with lukewarm water and wash hair strands with a pH-balanced hydrating shampoo, followed by a moisturizing conditioner. Gently massage in products rather than scrubbing the hair.
Some hair types are more likely to have less natural oil. If you have naturally brittle hair, use VEGAMOUR's HYDR-8 Deep Moisture Repair Mask 2-3 times per week.
Limit hyaluronic acid in your hair products, which can dry out your strands. Turn down the heat on your blow dryer or other heat-styling tools to prevent hair damage and get regular trims to remove split ends.
Read More: These Are the Signs of Dehydrated Hair
Hydrate Your Hair Naturally
Remember that hair hydration is a whole-body health issue and your hair reflects your inner health. Formulated to repair and revive brittle hair, VEGAMOUR's HYDR-8 Collection delivers intense moisture to dry, damaged strands.
More From VEGAMOUR
Photo credit: Nadine Rupprecht/Unsplash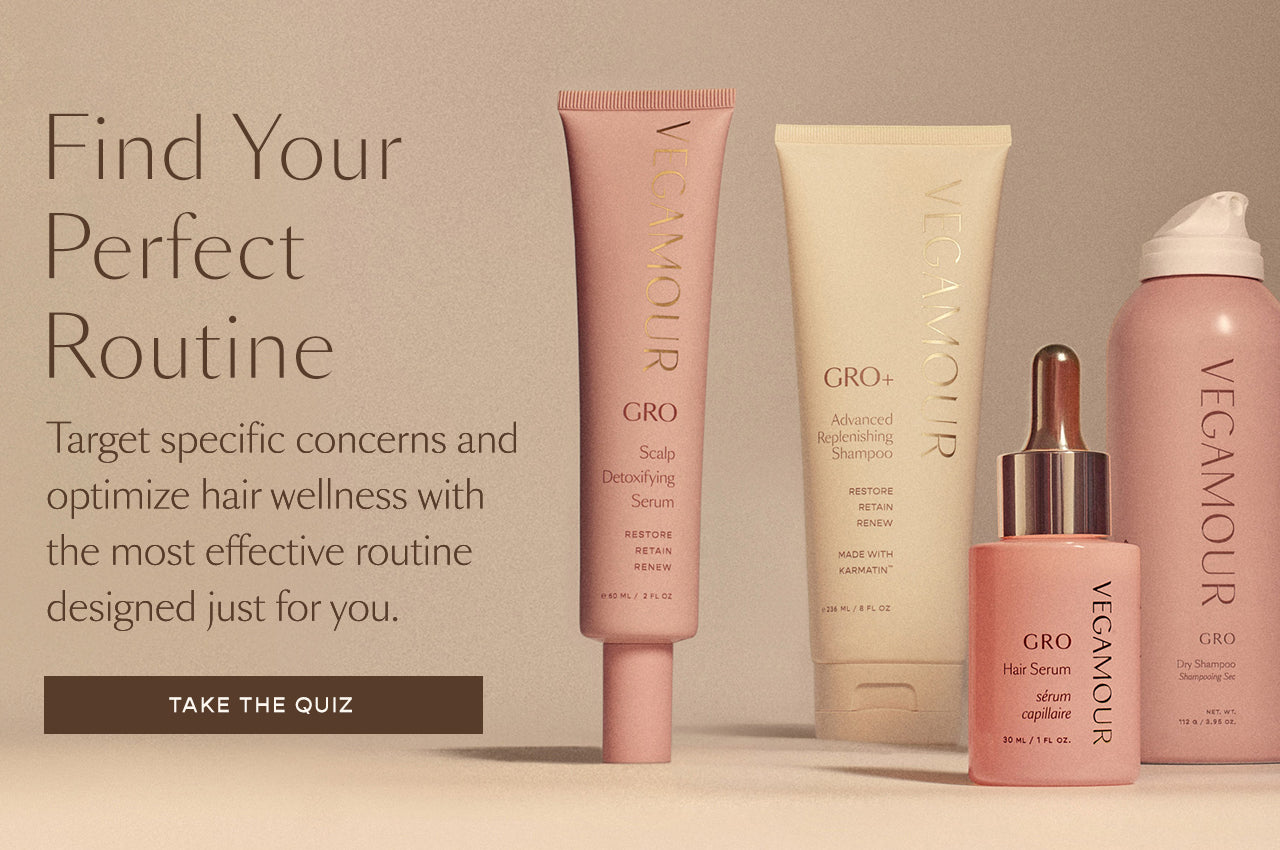 Disclaimer: Information in this article is intended for general informational and entertainment purposes only. It is not intended to constitute medical advice, diagnosis, or treatment. Always seek professional medical advice from your physician.