Dry, Brittle Hair? Here's Some Possible Causes
Glance at any shampoo and conditioner ad, and you're bound to see someone with soft, silky, hydrated hair on the page or screen. The ideal beauty standard is the appearance of those luscious locks, but the truth is that not all products will give you that look.
Unfortunately, some hair cleansing products can leave your hair dry and brittle. Read on for more on why hair can become dry and brittle, and find out about the best products for hydrating and nourishing your hair naturally.
Dry Hair — Who Is Prone to It?
It turns out there are different possibilities for why your hair might be dry and brittle. One reason might be that your hair type and texture are predisposed toward dryness and brittleness.
VEGAMOUR spoke with former professional hairstylist and salon educator Christina M. Ward to find out more. "Some types of hair are more naturally coarse and may feel brittle to the touch since they lack softness and pliability," she said. "Protecting the natural oils and supplementing with hydration agents may help to soften those textures. Curly and coily hair are two good examples. Fine hair can also become brittle easily if the natural oils are overly stripped from the hair."
Fine hair is susceptible to brittleness due to its delicate nature, but hair surgeon Dr. Harikiran Chekuri explained that coarse and thick hair could also become brittle. "Not all hair types are the same," he said. "Coarse or thick strands tend to become dryer quicker because natural oils don't travel down the hair shaft as easily as with finer or thinner strands. Additionally, individuals that struggle with naturally oily scalps often find themselves needing more frequent washing practices since their excess oil buildup can actually cause scalp flaking, dandruff and ultimately lead to further dryness of the ends."
In addition to your hair type and texture playing a role in dry, brittle hair, hair treatments — especially those that contain chemicals — can contribute as well.
Shop: Thirst-Quenching Hair Products for Dry Strands
Hair Treatments That Can Lead to Dry Brittle Hair
Hair can become brittle from treatments or hair care practices that strip the hair of its natural oils. These oils produced from the sebaceous gland are there to condition and protect the hair, but if you wipe them out, hair can become dry and brittle. This can occur with regular bleaching, coloring or chemical straightening/smoothing.
"Color-treated hair or chemically treated hair, like hair that's been relaxed with chemical straighteners, can become dry and brittle due to moisture loss and damage to the natural proteins in the hair," said Ward. "Hair cuticle damage is also common with chemical hair services, which may make the hair feel rough to the touch."
Dr. Chekuri had a similar viewpoint. "Many common treatments such as chemical dyes, relaxers and permanent waves can strip moisture from the hair shaft and cause dryness," he said. "These treatments contain harsh chemicals that break down the natural protective barriers of the hair follicle, leaving it vulnerable to damage. Overprocessing with these treatments can lead to brittle hair that is prone to snapping and breaking off at even slight pressure."
See: How to Hydrate Hair After Bleaching It
Day-to-Day Habits That Contribute
Day-to-day styling practices, such as using hot tools and overwashing hair, can also cause dryness and brittleness over time. "You can help protect the softness of your hair by heat styling less often or using a heat protectant spray on the hair prior to blow drying and styling the hair," Ward said. "Take care not to overwash your hair or use harsh surfactants, both of which can strip your strands of the natural sebum that protects them from drying out from excessive heat or sun exposure."
Heat-styling tools, such as curling irons, flat irons and blow dryers, contribute to dehydrating the hair if used incorrectly or too often.
Related: Your Guide to Dealing With Damaged Hair
Internal Factors That Can Lead To Dry, Brittle Hair
Not only can our habits contribute to dry, brittle hair, but there can also be internal factors at play, such as health conditions and medications. Poor nutrition, hormonal imbalances or simply aging can also affect the hair.
"Nutritional deficiencies can be a factor in brittle hair since our bodies require adequate vitamins and minerals to properly function," Dr. Chekuri said. "Medical conditions such as anemia or hypothyroidism can also contribute to brittle hair. Lastly, the natural aging process can cause a decrease in the production of hormones that are responsible for keeping our hair follicles healthy and nourished."
If you are struggling with dry and brittle hair and you suspect it might be for a health reason, don't hesitate to contact your healthcare provider. A healthy diet can be a game changer, but you certainly want to make sure there isn't any kind of chronic health problem that needs addressing.
How To Recover From Dry, Brittle Strands
There are many practices that individuals with dry or brittle hair can adopt to help maintain healthier strands. Dr. Chekuri agreed that ditching your hot tools at least temporarily is a must. "If you must use them, opt for lower temperatures and make sure you have a heat protectant spray handy," he said. "Try cutting down on chemical treatments like permanent waves and relaxers. If necessary, invest in quality professional products to help replenish lost moisture and combat breakage. Be sure to stay hydrated and eat a balanced diet with plenty of vitamins and minerals for optimal hair health."
"There may be other practices you can adopt depending on your particular hair type," Dr. Chekuri said. "For those with oily scalps, try using a gentle shampoo that won't strip away natural oils but will still keep your scalp clean. Additionally, deep conditioning treatments are an effective way to put moisture back into dry and brittle ends."
Dr. Chekuri recommended a weekly or biweekly deep conditioning treatment for anyone with dry brittle hair. "It helps restore lost moisture, leaving your hair feeling softer and more manageable," he said.
Ward also explained what a healthy hair routine looks like. "Dry and brittle hair needs a hair routine that gently cleanses, restores the vitality of the hair and provides moisture protection," she said. "Use a sulfate-free shampoo, [a] silicone and paraben-free conditioner and a wide-tooth comb to distribute conditioner and detangle before rinsing. Rinse with tepid water and dry your hair as slowly and gently as possible. Once a week, treat your hair to a deep conditioning treatment for that extra measure of hydration support."
Give your locks some TLC with a salon-quality. all-natural shampoo and conditioner like GRO Revitalizing Shampoo & Conditioner. This clean duo is color-safe and free of sulfates, parabens and silicones. It's the perfect way to cleanse your hair while also imparting naturally hydrating ingredients like wild harvested marula oil, organic murumuru butter and ximenia oil.
Another way to help your hair recover? Opt for protective styling to keep ends healthy and hydrated. "Try braiding or twisting your hair up into a high bun for an easy, but stylish look," said Dr. Chekuri.
Related: How Often Should You Condition Your Hair?
The Takeaway
If you are experiencing dry and brittle hair, don't panic. First, adjust your haircare routine. Give the heat styling tools a vacation and try upping your product game. Also, opt for all- natural products that will hydrate and nourish your hair without stripping it of it's protective natural oils.
If the problem still persists, consult with your doctor to make sure there is nothing medically wrong.
Next, try getting more regular haircuts to eliminate some of the dry and damaged hair. There's no need to chop it all off. Instead, getting trims at regular intervals will help slowly remove damaged hair while you work on nourishing the new hair that's growing in.
More From VEGAMOUR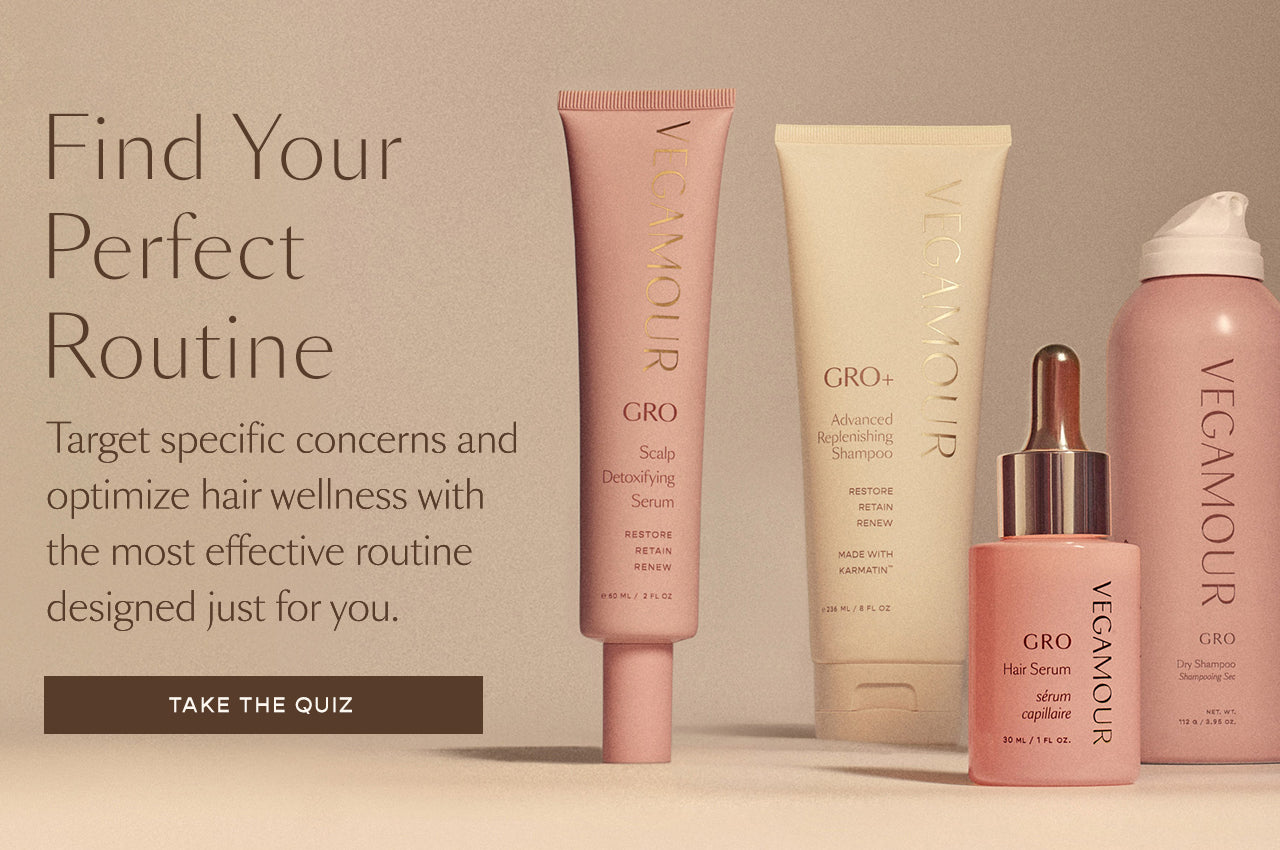 Disclaimer: Information in this article is intended for general informational and entertainment purposes only. It is not intended to constitute medical advice, diagnosis, or treatment. Always seek professional medical advice from your physician.