5 Things You Should Avoid If You Have Thinning Hair
Thinning hair is already in a fragile state and needs extra TLC, so it's important to come up with a game plan. Unfortunately, some of your daily hair care habits could be doing more harm than good. 
Go-to hairstyles, hair-washing routines and even how you eat can all have an effect on your strands. But that's not all. Read on to discover what to avoid, and what products you should use to combat thinning hair ASAP. 
1. Constant Stress
Reducing stress is often easier said than done. But when stress lingers in the body for too long, it can wreak havoc and trigger a type of hair loss called telogen effluvium or TE. And If stress sticks and cortisol levels continue to spike, you might also experience dandruff, dull-looking hair, disrupted sleep patterns and even digestive issues.
Thankfully, TE is usually reversible. Talk to a dermatologist or trichologist for in-depth advice to improve your hair's wellness. Also, focus on relieving stress. Spending time in nature, conscious breathing and even a little lunchtime yoga can all help. 
Shop: GRO+ Advanced Stress Release Kit
2. Neglecting Your Scalp 
The skin on your scalp is super sensitive, and if neglected, the pH balance can go awry, creating problems for your locks. Dead skin, oil, product buildup and more can clog your hair follicles, which can result in inflammation and hair loss. 
Thankfully, you can easily tend to your scalp and clear away the gunk. Use a handheld silicone scalp massager (or your fingertips) to gently work in a targeted detoxifying serum, which will help rid your scalp of impurities and also form a protective barrier to lock in moisture. 
Shop: Best Selling Products for Thinning Hair
3. Chemical-Laden Hair Products
If you're washing your hair with sulfate-infused shampoos, conditioning with harmful silicones and adding oils that contain toxins, you could experience excessive hair shedding, which can compound the issue of already-thinning hair. Parabens, polyethylene glycols, formaldehyde, triclosan and more can cause scalp dryness buildup, as well as damaged strands and hair fall. 
Instead, consider a plant-based, gentle approach to washing and fortifying your strands, with a shampoo and a conditioner that smooth, condition and restore. 
Shop: Compare GRO vs GRO+ Advanced 
4. Too-Tight Hairstyles 
An easy updo is a style savior when you're in a rush, but if you're constantly yanking back your strands and tugging at hair from the root, it can wreak havoc on your already thinning hair. Daily top knots, braids, cornrows or far-too-tight ponytails can trigger a condition called traction alopecia, which can result in broken hair, thinning hair and bald patches. 
Let your hair fall free as often as possible and create less updo friction by using gentle hair ties that won't snag your strands to improve your hair's overall condition. 
5. A Junk Food Diet
It's no secret that a steady diet of fast-food takeout, sugary drinks and processed snacks isn't good for your body, but it's also not good for your hair. And while most foods are fine to enjoy on occasion, for the most part, you'll want to follow a diet that's rich in vitamins and nutrients. 
Adding a daily supplement to your routine can also give a boost to hair health. GRO+ Advanced Hair Care Gummies contain natural ingredients that are backed by science. Each gummy harnesses the power of broad-spectrum hemp to help support fuller-looking, thicker strands. Plus, each daily serving is packed with biotin, folic acid, zinc and other vitamins to give your hair what it needs to flourish. 
Healthy Habits Equal Healthy Hair
To help your thinning hair gain more density and decrease shedding, consider a holistic approach. Eat a balanced diet and keep your stress in check. Stay away from too-hot styling tools and avoid tight hairstyles. Finally, regularly treat your tresses to high-performance, nontoxic hair products that can encourage fuller, thicker-looking hair naturally. By incorporating beneficial body and hair wellness habits into your routine — and avoiding those that can harm your thinning hair — you'll pave the way to a healthier, happier you with a head of fuller, thicker hair. 
More From VEGAMOUR
Photo credit: Dziana Hasanbekava/Pexels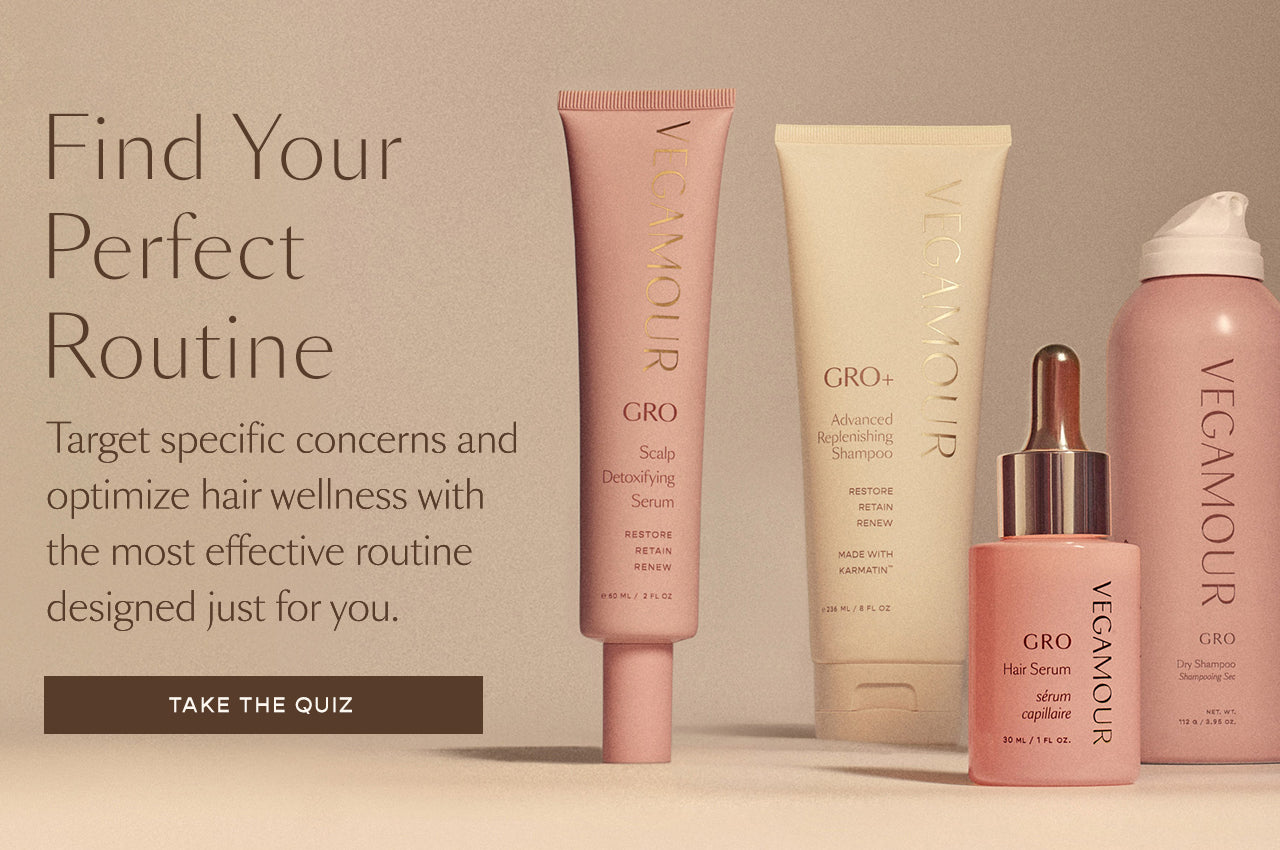 Disclaimer: Information in this article is intended for general informational and entertainment purposes only. It is not intended to constitute medical advice, diagnosis, or treatment. Always seek professional medical advice from your physician.