Why Does My Bottom Layer of Hair Get So Tangled?
Have you ever struggled with hair that gets tangled at the nape of your neck? You'll brush it and brush it and it seems to tangle up in minutes. Luckily, there are some easy things you can do right at home to keep those underneath layers from getting so knotted.
VEGAMOUR spoke with a hair and beauty expert to provide an explanation as to why this happens and tips to help you solve this tangled mess. Plus, discover the vegan, all-natural conditioner you should be using to get smooth, shiny hair.
Why Your Hair Tangles More Easily Underneath
The hair at the nape of your neck seems to tangle so much more than the rest of your hair. Why is this? VEGAMOUR spoke with hair and beauty expert Gwenda Harmon of Power Your Curls about why you get tangled tresses in that area.
"Hair strands will wrap around each other and get stuck," she said. "That's why the bottom layer of your hair gets tangled, especially when sleeping because the hair strands rub at each other. It is notably common for people who have naturally curly hair or have high porosity hair."
Read More: How to Figure Out Your Hair Porosity (And Why It Matters)
The Hair Cuticle
The cuticle of your hair is the outermost layer of the hair shaft and looks a bit like the scales of a fish or the shingles on a roof. The clear keratinized cells that make up your cuticle should lie flat on the outside of your hair strand. An outside source can cause these cells to lift up or tear, exposing the inner hair structures. These damaged cuticle cells create "grabbing points" on the outside of individual hairs which can latch onto other surfaces like velcro. This creates friction and causes unnatural twisting of the hair, creating tangles and knots.
Keeping the cuticle smooth is important to keeping your underneath layers tangle-free.
Shop: Jaclyn Gibson's Top VEGAMOUR Picks
Other Reasons for Your Tangle Woes
Other than lifted hair cuticles, those underneath tangles could be more common if:
You have natural curls, which are more prone to matting or tangling than straight hair. Unkempt tangles can create matted hair on hair that is tightly curled, which may mean you have to remove hair mats by cutting.
You have high-porosity hair (common for bleached hair), hair breakage or excessive dryness which can all cause the hair to tangle.
Your hair tangles while you sleep.
You have textured hair. This creates short strands interwoven into your haircut. These shorter pieces can get tangled within those underneath layers.
You wear abrasive clothing or jewelry. A cotton shirt or cotton t-shirt that is tighter-woven or clothing that is more smooth can help prevent tangles.
You regularly use heat styling which can damage the underneath layers of the hair, causing them to break, develop split ends or tangle.
You have chemically treated hair.
You have shoulder-length or long hair.
You have dry hair.
Related Reading: What to Know About Hair Structure and Composition
Prevent Hair Tangling With These Easy Tips
Excellent care of the hair shafts makes all the difference when it comes to knotted hair. Tackle those tangles with a two-fold approach: preventative measures and moisture restoration. Here are a few ways to go about preventing tangles:
Protect Your Hair
When your hair rubs against something — like your pillow, clothing or jewelry — it rubs the cuticles of the hair and twists your individual hairs around each other. This means your hair would need to be carefully detangled to restore the natural tangle-free flow of the hair. (Note: Detangling should be done on dry hair if at all possible.)
A few preventative measures, however, can help keep your hairs from latching onto other fibers and beginning to tangle:
Use a silk pillowcase to lessen hair drag on your pillow while you sleep or rest.
Remove any jewelry that gets caught in your hair. If you like jewelry, a trick is to gather the loose strands of hair at the nape and wrap your hair with a satin scarf for stylish protection of those underneath strands.
Gather your hair into a loose braid (if you have long hair) while you sleep.
Use detangling sprays (spray on damp hair), air dry and then use a wide tooth comb or soft paddle brush to gently detangle. Brush your hair in sections from the root to the tips to smooth that cuticle downward and restore a natural shine to your hair.
Restore Moisture
No amount of prevention will completely keep damaged hair from tangling or breaking, which is why using a good conditioner is so important. Restoring your hair's moisture and smoothing down that cuticle is the best line of defense against worrisome tangles.
Switch out your regular shampoo and conditioner to a pair that's healthier for your hair, free from silicones, phthalates, harsh chemicals, dyes and perfumes. All of those things build up on the hair and could be damaging your natural hair structure over time. Use GRO Revitalizing Shampoo and Conditioner for optimal care no matter your hair type.
Your conditioner and how you use it can help create well-nourished hair that's smooth on the outside and strong on the inside. You want moisturized strands, yet a strong core fortified with natural protein that keeps the hair nice and strong. You also want the right level of porosity in the cuticle layer to allow moisture to travel in while keeping free radicals out.
Related: A Curly Girl's Review of GRO Revitalizing Shampoo & Conditioner
GRO Revitalizing Conditioner has a few things your regular conditioner likely does not. Here are a few standout ingredients that make this product perfect for hair with cuticle lift or tangle issues:
Microencapsulated vegan b-SILK™️ proteins are tiny plant-based molecules that bond with your hair's structure, allowing for ultimate moisture and repair on your ruffled-up hair.
Naturally fragrant wild-harvested marula oil with amino acids helps to condition and hydrate your locks.
Organic murumuru butter and ximenia oils provide essential moisture and help to fight scalp-damaging free radicals without leaving behind a pore-blocking residue.
Using Your Conditioner
Try these tips for well-conditioned hair that's easier to manage:
After rinsing out your shampoo, use a nickel-size dollop of conditioner for most hair types — less for fine hair and more for thick hair or curly hair.
Apply root to tips and work through with your fingers.
Leave the conditioner in your hair for at least 30 seconds but up to a couple of minutes.
Rinse with cool, tepid or cold water — never hot water! — to set off a glorious shine and smooth down the cuticles of your hair.
Rinse thoroughly.
Pat dry with a microfiber towel, allow the hair to air dry and then detangle with a comb.
Use leave-in conditioners or detangling sprays if you have hair damage or frizz that requires extra leave-in moisture.
You can also do a hair mask with GRO Revitalizing Conditioner. Apply liberally to wet hair, wrap in a microfiber towel and allow your body's natural heat to warm the product while you catch an episode of TV. Then, simply rinse thoroughly and style as described above.
Read More: How Often Should You Condition Your Hair?
Great Hair Care From Root to Tip
If your hair's doing the tango at the back of your neck, there's no reason to pull at it, rip out those knots or grab the cutting shears. For more info and styling tips, follow VEGAMOUR's healthy hair blog to find out how to make your hair stronger and more beautiful with every wash. The tips provided here will help you smooth out the bottom layer of your hair, restoring the natural shine and flow of your signature style!
More From VEGAMOUR
Photo credit: Jonas Svidras/Pexels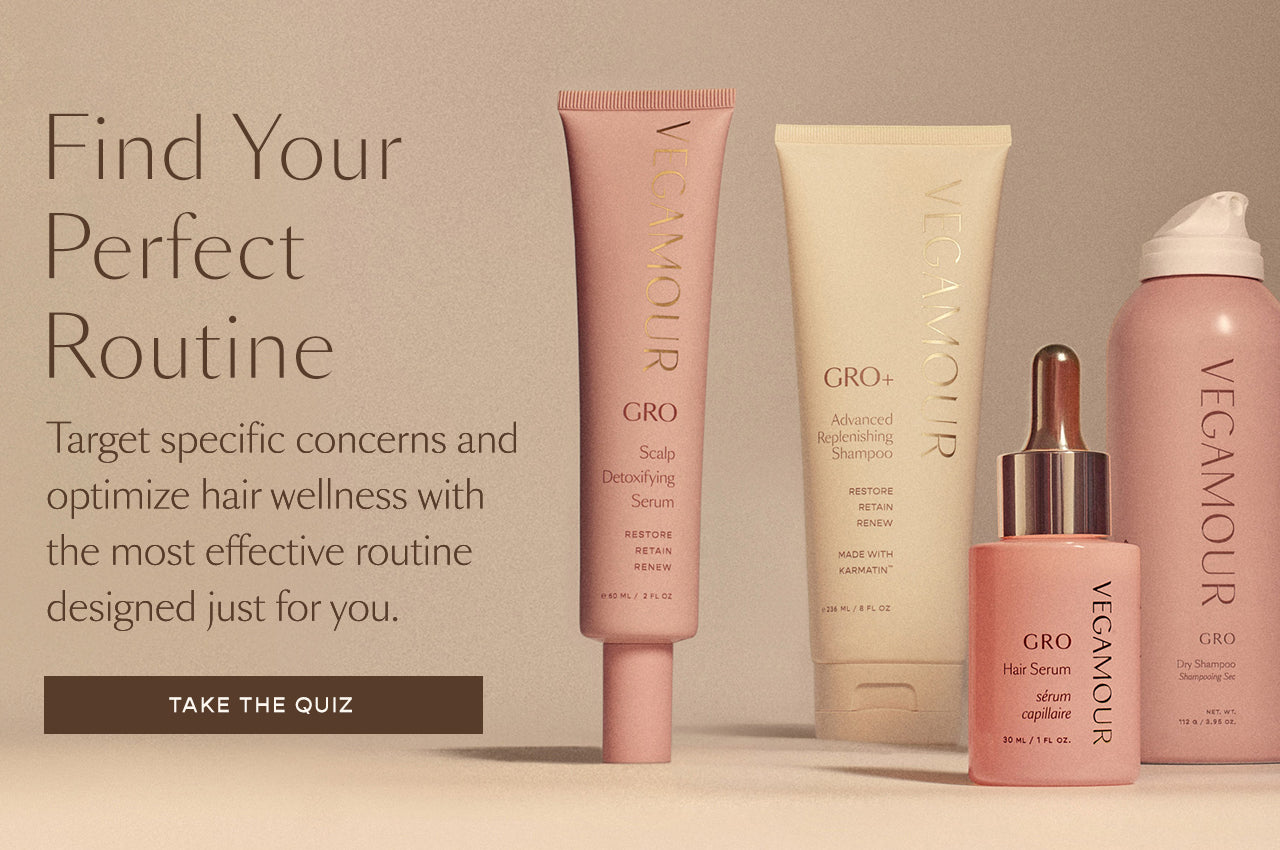 Disclaimer: Information in this article is intended for general informational and entertainment purposes only. It is not intended to constitute medical advice, diagnosis, or treatment. Always seek professional medical advice from your physician.