How to Make a DIY Banana Hair Mask for Shiny, Healthy Hair
You are what you eat. And if it's good enough to eat, it might do wonders for your hair, too! Sure, a banana makes for a perfect, plant-based snack. But did you know that the fruit also has rich, moisturizing properties that can have beauty-boosting benefits for your skin and hair?
Read on to learn more about how using a banana hair mask can help your hair, skin and scalp, along with DIY tips on how to whip one up at home. Plus, discover which hair wellness products you should start using right now to encourage visibly fuller, thicker-looking hair.
Secret Ingredients for Hydrated and Healthy Hair
Turns out, the benefits of bananas go beyond simply meeting the gold standard of nutrition. One ripe banana might also be the secret ingredient for soft and silky hair — and it's likely already a staple in your kitchen pantry.
According to the Harvard School of Public Health, bananas are jam-packed with the following essential nutrients:
Vitamin C
Potassium
Manganese
Vitamin B6
Fiber
Magnesium
Biotin
Read More: 9 Biotin Rich Foods to Eat for Healthy Hair
Go Bananas With This Superfruit
Want shiny, healthy, lustrous locks? You can nurture and nourish your hair and scalp naturally without resorting to hair cosmetics that might contain harsh ingredients. Before you start whipping up a plant-powered, banana-based homemade hair mask, here are a few of the best benefits that this nutrient-rich fruit brings to your routine.
Helps You Stay Hydrated
Aside from drinking plenty of water, integrating water-rich fruits such as bananas can help improve hydration, moisture and shine, giving lifeless hair a much-needed boost. You already know that hydration is a health essential. This includes your hair and scalp, where adequate hydration is needed to stimulate hair growth.
"Bananas are 74% water," said Tammy Lakatos Shames, RDN, CDN, CFT and Lyssie Lakatos, RDN, CDN, CFT of the Nutrition Twins. "So, they help with hydration, especially thanks in part to their electrolytes, potassium and magnesium."
Rich In Antioxidants
A banana peel is also a great source of antioxidants and biotin. Having long been used in both traditional and non-traditional medicinal healing to promote wound healing and burn relief, a banana peel act as an anti-inflammatory and anti-septic in a similar manner to using an aloe vera leaf.
"Bananas are rich in antioxidants, including flavonoids and amines," said Lakatos. "These help to protect against cell damage, including that created from the aging process."
Read More: How to Prevent Gray Hair
Packed With Plant-Based Peptides
Inflammation or irritation of the scalp can hinder the hair growth peptide and collagen production that are necessary for a healthy hair growth cycle. Bananas contain a high amount of silica, which has the potential to help improve or increase collagen production that aids hair growth.
You might also consider elevating your self-care routine to help boost hair health with a peptide-infused serum such as GRO+ Advanced Hair Serum, which contains oligopeptide-2, turmeric (curcuma longa), mung bean, red clover and micro-encapsulated, broad-spectrum CBD. Apply the serum topically along the hairline daily for the best results.

The Best DIY Banana Hair Mask
So, how exactly does that translate to your hair? There's good news: All those nourishing properties can help to support your scalp and hair health, along with meeting your daily nutrition goals!
Bananas are the perfect, natural fit to play a starring role as an ingredient in homemade hair masks. A banana hair mask can be used as a deeply nourishing hair conditioner that helps to lock in moisture, enhance shine, control dandruff and tame unruly frizz. Better yet, you can use a banana hair mask as a natural conditioner on any hair texture or type.
Whether you have dry and damaged hair, dry and frizzy hair or have hair strands that are simply in need of a little extra TLC, mixing up a naturally nourishing homemade hair mask utilizing bananas can help! A banana hair mask might also benefit those looking to help manage scalp irritation, hair loss issues and dandruff. Rather than letting that rogue overly ripe banana go to waste rotting in your fridge, whip up a homemade hair mask to breathe new life into your locks.
Here's how to DIY your own banana hair mask:
Take one ripe banana and thoroughly mash it until it forms a soft and creamy paste.
Mix the mashed banana with 1 tablespoon extra virgin olive oil (which is rich in fatty acids), coconut milk or coconut oil, along with 3-5 drops of our ultra-hydrating Pure Marula Oil, to create an extra-rich, thick paste.
Apply the banana hair mask to slightly damp hair or dry hair.
You can cover the entire scalp and hair length with the hair mask, helping to strengthen hair follicles while enhancing natural oils within the scalp and hair.
Or, opt to apply the banana hair mask from mid hair shaft down to the ends if you have longer, dry hair that needs extra conditioning.
Cover your hair with a shower cap to allow the hair mask to penetrate the hair shaft fully.
Leave the mask on for 30 minutes (or longer!) to do its magic.
When ready, remove the shower cap and rinse hair thoroughly with lukewarm water. For an extra glossy finish, do a final rinse using cold water, which helps seal in shine by closing the cuticle.
Read More: 5 DIY Vegan Hair Masks You Need to Try
Lather, Rinse and Repeat
While becoming a kitchen beautician and beauty mixologist can be fun, it can also be time-consuming. On those days you don't have the time or energy to turn your kitchen or bathroom into a mask-making beauty lab, there's another solution: GRO Revitalizing Shampoo and Conditioner.
Think of the dynamic duo as the vegan alternative to traditional keratin. Cleanse and condition utilizing Karmatin™, a microencapsulated b-silk™ protein, that remains attached to hair strands — even after rinsing — ensuring that your silk smooth hair will last until the next time you lather up. Both the shampoo and conditioner are color-safe, cruelty-free and formulated with clean, phyto-active ingredients that work to safely and effectively to leave your hair moisturized, healthy, strong and lustrous as vegan silk — without any harsh hormones or toxins.

Amplify Hair Health With a Holistic Approach
Wellness starts from within, making exactly what you put in and on your body — scalp and hair included — super important. Be sure to balance out your banana hair mask routine with an equally nutrient-dense diet, mindful movement and daily self-care with a plant-based, natural hair care routine and watch the tress-to-toe transformation happen!
MORE From VEGAMOUR
Photo credit: SHVETS Production/Pexels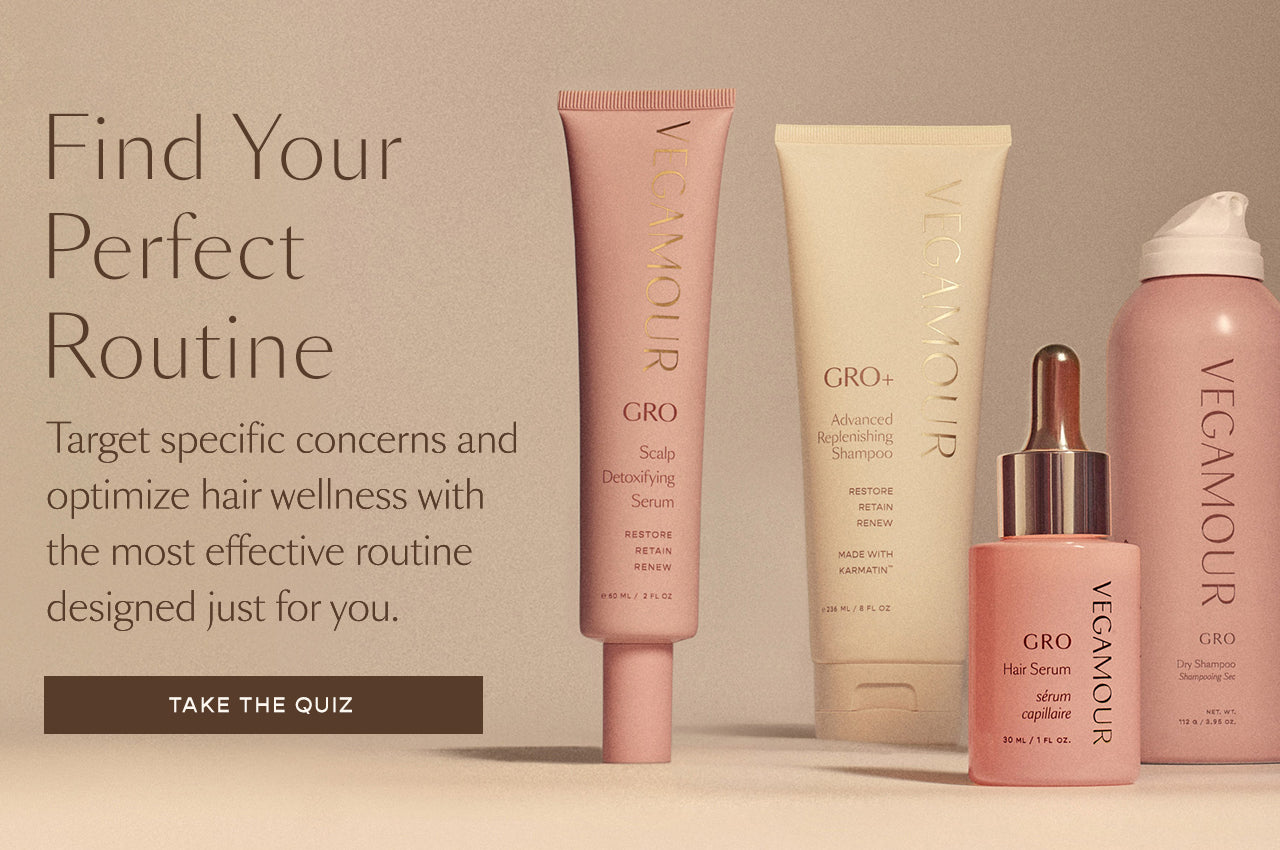 Disclaimer: Information in this article is intended for general informational and entertainment purposes only. It is not intended to constitute medical advice, diagnosis, or treatment. Always seek professional medical advice from your physician.