These Are the Best Hydrating Hair Products
Dry hair can be frustrating, leaving your hair looking and feeling brittle, damaged and dehydrated. The solution? Use products that support your scalp and hair's natural moisture levels while delivering deep hydration that lingers on even after you cleanse and condition.
Keep reading to discover the best ways to hydrate your hair and maximize lasting moisture. Plus, find out what products you should use to quench your hair's thirst and promote healthier, well-hydrated strands.
Why Hydration Matters
Your body is made up of a large percentage of water, and that includes your hair, too. When dehydration happens, it has a negative impact on your head-to-toe health, potentially leading to skin, scalp and hair damage. And, when your hair becomes dehydrated, it can disrupt the cuticle itself, which may lead to brittle strands, split ends, or even worse, hair growth issues such as thinning or loss.
For those with extremely dehydrated and damaged hair, a simple conditioner might not be enough to revive the necessary moisture. Unfortunately, until the hair cuticle is repaired, your strands will likely continue to experience a loss of hydration. That's what makes it so important to carefully select the products you include in your scalp and hair wellness routine.
Shop: HYDR-8 Collection for Dry, Damaged Hair
It's Time to Rethink Your Hair Care Routine
Your best bet is to begin with the basics — how often you're cleansing, clarifying and conditioning your scalp and hair, along with exactly which types of product you're using on them. Your scalp is an extension of your skin, absorbing the ingredients put on it, making the ingredients in the formulas you choose a major factor in how hydrated (or, conversely, dehydrated) your hair looks and feels.
Think of it like this: If you're utilizing harsh, chemical-based ingredients which can strip hair of moisture, the more dehydrated your hair will look and feel. On the flip side, practicing hair wellness techniques and factoring in natural, clean formulas will result in more hydrated, healthier hair.
Here are some helpful tips to help hydrate and improve the appearance of your hair.
Switch Your Shampoo and Conditioner
First, switch to a moisturizing shampoo and conditioner created specifically to address the needs of parched, dry hair. Our HYDR-8 Hydrate Shampoo and Conditioner Kit is ideal for quenching hair's thirst. The hydration-elevating pair instantly infuse strands with intense moisture, powered by our proprietary vegan silk alternative to keratin and silicone, Karmatin™, which bonds to hair, helping to fortify strands, reduce breakage and leaving hair with a glass-like shine. In a controlled hair swatch study, subjects experienced 8x hydration after one use of HYDR-8 shampoo and conditioner, plus 72 hours of hair hydration and frizz reduction.
You may also want to consider the water you're using when washing your hair. If you're utilizing hard water to wash and condition, it might further exacerbate already dry, dehydrated hair.
Schedule Regular Hair Cuts
According to Colorist Georges Reus of Salon YOSHIKO at Bergdorf Godman, dehydrated hair is more prone to breakage and damage to the hair bonds when you're not heading to the salon on a regular basis.
"The ends are the most common to show damage and breakage," said Reus. "Make sure to get your hair regularly trimmed."
Use Deep Conditioners Weekly
The expert recommends including regular use of a deep conditioner, leave-in conditioner and weekly hair masks in your hair wellness rituals, along with daily vegan conditioners. A leave-in treatment or deep conditioner can be especially effective and beneficial for those prone to dehydration, such as curly hair types, textured hair, low porosity hair, color-treated hair and after-sun exposure.
"Use a deep[ly] hydrating hair mask from roots to tips weekly," said Reus. "Apply leave-in conditioner and hair oils like rice oil, avocado oil, safflower oil, olive oil, coconut oil or argan oil regularly to add moisture and shine."
We recommend our HYDR-8 Deep Moisture Repair Mask as the ideal hair moisturizer for dry, parched hair. The mask includes our vegan silk alternative to silicone and keratin, Karmatin™, which bonds to hair, helping reduce breakage and impart softness, leaving strands frizz-free and silky with a glass-like shine. Plus, it's suitable and safe for any hair color and type. In a controlled hair swatch study, subjects experienced 3x stronger strands and 15x hydration after just one use.
Choose Clean, Natural, Hydrating Ingredients
For those with finer hair or sensitive scalps, the hair pro recommends applying "only to the ends to avoid a greasy sheen" when using a thicker leave-in conditioner, including heavier avocado oils or shea butter, as well as when utilizing a hot oil treatment. Opting for formulas that are powered by clean, natural ingredients can help to minimize the drying effects that may happen with products that are alcohol- or chemical-based. Think: Infusing hair with essential nutrients such as amino acids, aloe vera juice and vitamin E.
Take Care With Wet Hair
Wet or damp hair is especially susceptible to breakage and damage. Limiting the use of hot tools and utilizing safer styling techniques can also help in preventing dryness and dehydration. Use a wide-tooth comb to distribute leave-in conditioner throughout damp hair or to detangle textured hair post-shower.
Support Your Scalp and Hair From Within
Support your scalp and hair wellness by prioritizing healthy habits such as staying hydrated and maintaining a blanched diet with all the necessary key nutrients.
"Drink plenty of water and eat nutrient-rich foods," said Reus. "Keeping your body balanced and hydrated are very important factors in maintaining your hair at its healthiest state while you are growing it out."
Read: How to Moisturize Dry Hair
Prioritize Healthy Habits and Stay Hydrated
Get ahead of the game by making it a priority to practice healthy habits each and every day. Stress less and integrate self-care rituals into your daily routine, including practicing patience, mindfulness and utilizing natural, hydration-boosting hair wellness products that revive dry, damaged hair!
More From VEGAMOUR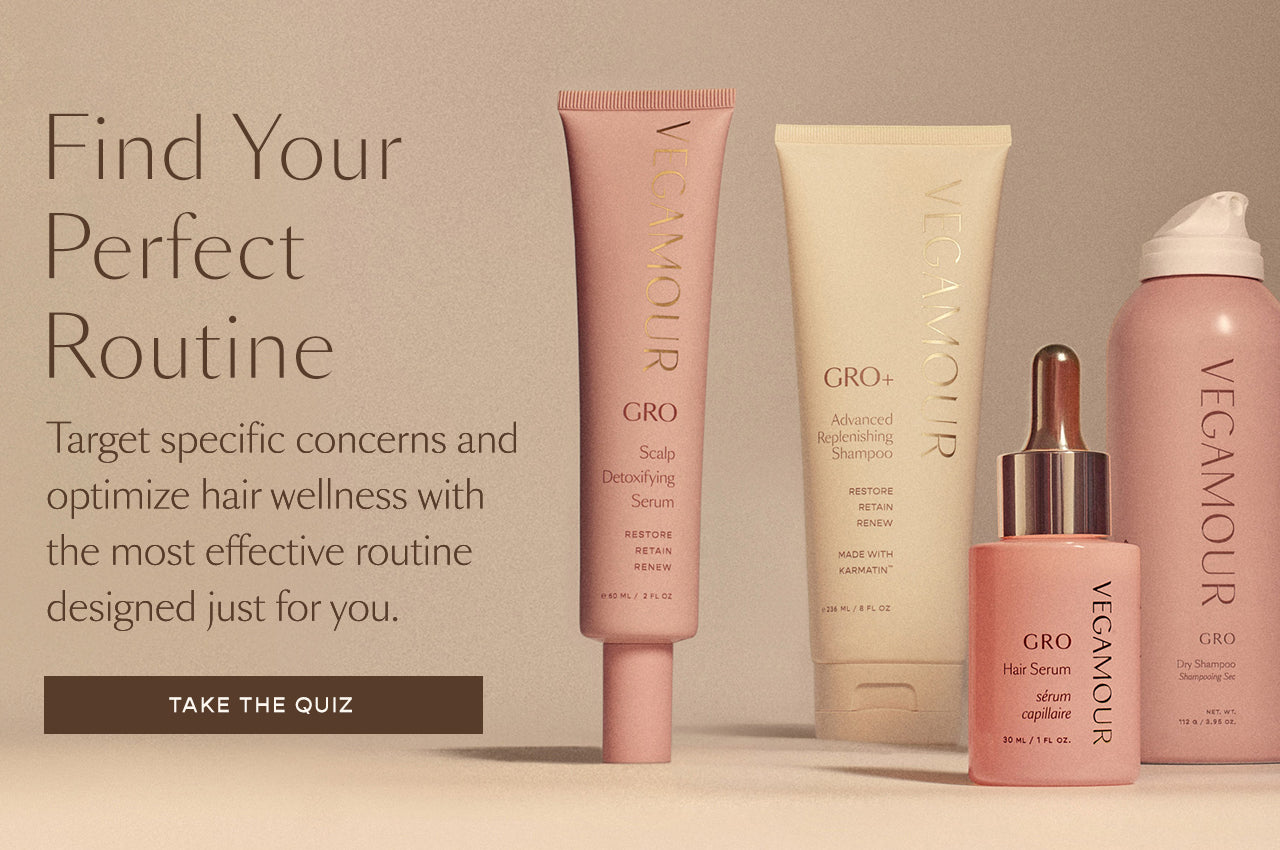 Disclaimer: Information in this article is intended for general informational and entertainment purposes only. It is not intended to constitute medical advice, diagnosis, or treatment. Always seek professional medical advice from your physician.