How to Hydrate Curly Hair
Rocking your curls is a great look, but it can be challenging to keep them properly moisturized! Curly or wavy hair is especially prone to having a dehydrated hair shaft, which can lead to limp, frizzy, fragile strands.
Here's everything you need to know about how to moisturize curly hair, keep your curls healthy and restore your curl pattern from the inside out. Also, find out about the products you need to help your hair reach new depths of hydration.
Why Curly Hair is Prone to Dryness
Why is natural hair more prone to moisture loss? According to hair and beauty expert Alice Rawling, it's all due to curly hair's natural texture.
"Curly hair is prone to dryness due to the structure of the strands," she said. "The twists and turns of coily and curly hair prevent natural oils produced by the scalp from moving down the hair shaft, so the more curly the hair is, the drier it will be."
Your scalp produces hair oil naturally, via a compound called sebum, which is created at the scalp at the hair follicle and travels down your hair cuticle to restore moisture and shine to existing growth. The texture of curls can prevent the sebum from spreading like it does over straight hair. Instead, curly hair's natural oils often get trapped at the scalp, leading to clogged follicles and a buildup at the hair strand instead of the proper distribution of natural moisture.
"Curly hair has low sebum levels, and lack of moisturization makes it dry," said Rawling, as your scalp's natural oils are unable to coat strands from roots to tips.
The texture of curly hair also means that hair strands may struggle to seal moisture in. Curly hair is naturally porous, with increasing levels of porosity depending on your hair type, so it loses moisture easily when not handled with care. Heat styling and harsh chemicals can crack the hair's cuticle, so moisture evaporates from the fragile inner core, leading to long-term damage that can be difficult to repair.
"The structure of the strands of curly hair makes it susceptible to dryness and frizziness, which is why you should keep it hydrated," Rowling said.
Related: Why Is My Hair So Dry?
How to Keep Curly Hair Moisturized
Rowling said that the best way to keep your curls moisturized is to treat them gently, making sure you're handling them with care and using appropriate products. Curly girls also shouldn't wash their hair too frequently, as overwashing can lead to dry hair.
Use the Right Products
When wash day rolls around, make sure you're opting for the right products. "To prevent the hair from drying, protect the natural oils using a shampoo with no harsh surfactants, which would strip off natural oils from the scalp and hair," recommended Rowling.
Shampoos that contain harsh sulfates and other chemicals that can strip hair of moisture can dry out your strands. Instead, stick with a moisturizing shampoo, like HYDR-8 Hydrate and Repair Shampoo, which gently washes away impurities while hydrating your strands deeply to add shine and suppleness. Also, avoid overly hot water, which can strip strands of their protective oils just like hot-styling tools do.
And just shampoo won't cut it. "Apply a leave-in conditioner when you wash to keep curly hair hydrated," said Rowling. Look for a conditioner that's packed with high-quality botanical oils, or try making a DIY moisture-restoring mask from olive oil if your hair is extra depleted. A hydrating conditioner made for curly hair will seal in moisture to help you retain your natural hydration within your inner strands without weighing down your curls.
Give Your Hair Some Extra Hydration Each Week
Additionally, a weekly deep moisture repair mask can be a lifesaver when it comes to keeping curls hydrated. Our HYDR-8 Deep Moisture Repair Mask is powered by Karmatin™ (our vegan alternative to keratin). It helps reduce hair breakage while delivering 15x hydration and 3x stronger strands after just one use.
And it's so easy to use! To use our deep moisture repair mask, follow these steps:
Shampoo your hair and squeeze out excess water.
Apply the mask from hair roots to ends, and leave on for three to five minutes.
Rinse your hair and style as usual.
Avoid Heat-Styling Tools
Never use hot tools or a blow dryer on your curls. When you blow dry, the hot air stresses out the fragile surface of curly hair, damaging the cuticle and making it easier for hydration at the inner layers of your strands to escape. Blow drying can also leach additional moisture from within porous strands, making it difficult to prevent breakage.
"It would be best to use air drying instead of heat drying for a smooth look without frizz," said Rowling. Instead of using blow dryers, when you get out of the shower, let your wet hair air dry or gently blot or "plop" your curls using a microfiber towel.
Take Care of Your Scalp
Because hydration comes from the sebum your scalp naturally produces, Rowling said that removing that buildup by using scalp scrubs and other modes of exfoliation is key to keeping your hair moisturized.
"Another way to keep curly hair hydrated is by preventing buildup on the scalp with curl-enhancing products," she said. "The dead cells on the scalp are gently shed to keep curls bouncy and hydrated. You can also invest in a hair serum to moisturize your hair daily, maintaining natural curls."
Consider Your Diet
Last but not least, true hair hydration comes from the inside. A balanced diet that's rich in proteins, folic acids, biotin and vitamins A, B, and C will make sure your hair is at its best, so make sure you eat the rainbow every day and add a hair supplement to your routine. Drinking water also helps, so bring your bottle with you wherever you go to make sure you keep your moisture goals on track. If you're not getting enough water, neither is your hair!
Also: 6 Nutritional Habits for Healthy Hair
The Takeaway: Moisture Matters
If you're someone who struggles with dry strands, your hair's texture might be at the root of your problems. Unfortunately, curly hair is often the driest, and without the proper products and techniques, your curls will inevitably look dry and parched. Fortunately, hydration help is just a few steps away with VEGAMOUR's HYDR-8 Collection. By sticking with curl-healthy styling tools and products, you can seal in moisture where it matters most and achieve the shiny, bouncy, beautiful-looking curls of your dreams!
More From VEGAMOUR
Photo credit: Ekaterina Bolovtsova/Pexels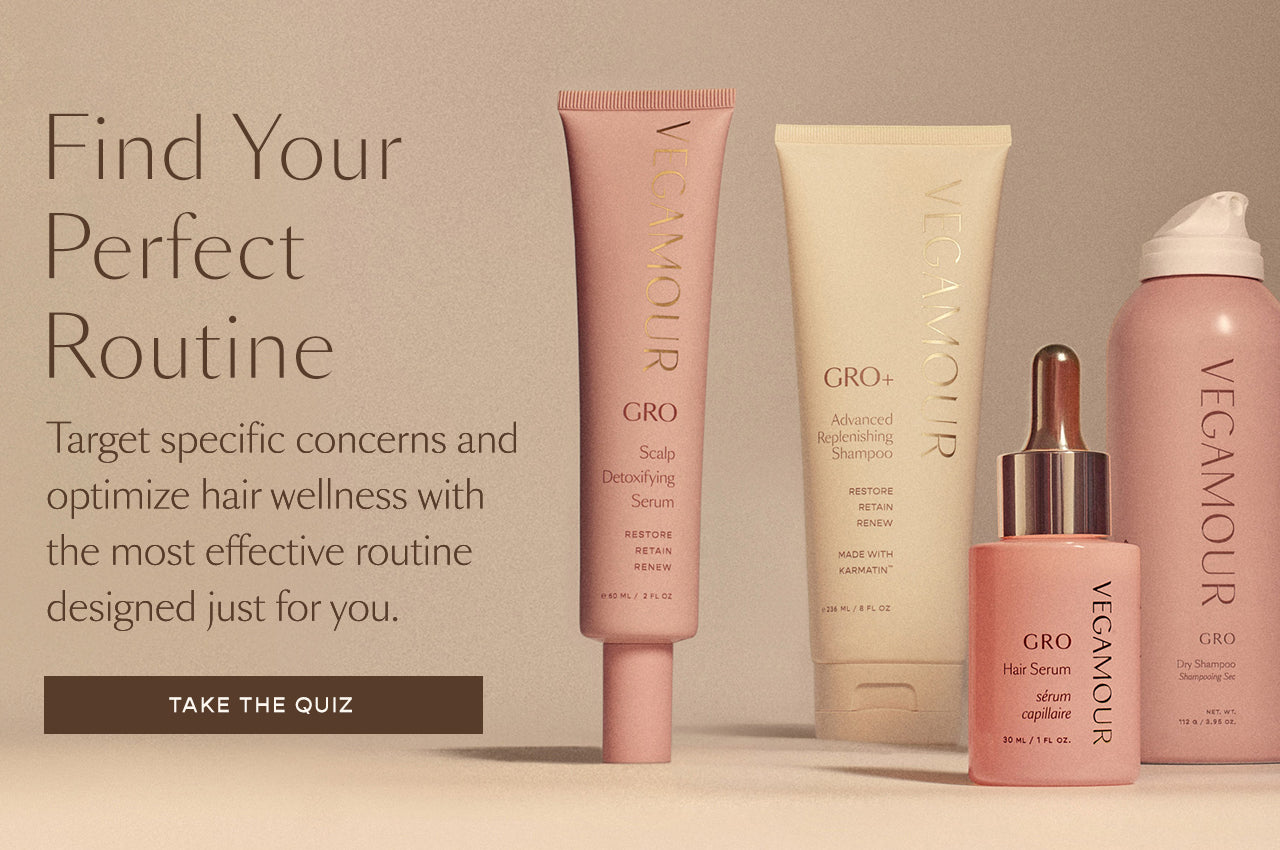 Disclaimer: Information in this article is intended for general informational and entertainment purposes only. It is not intended to constitute medical advice, diagnosis, or treatment. Always seek professional medical advice from your physician.