This Is the Best Shampoo and Conditioner for Dry Hair
Finding the best shampoo and conditioner for dry hair can be overwhelming. With so many products on the market, it can be hard to sort out what actually helps. VEGAMOUR spoke with a hair professional on what your dry hair really needs. Plus, find out what shampoo and conditioner you should start using to solve your dry hair woes.
What Makes Hair Dry?
Your hair is a complex structure with internal and external layers. The outermost layer is called the cuticle, with cuticle cells that appear like shingles on a roof. These cuticle cells do more than protect the protein-rich inner structures of your hair. They also act as a guide for natural oils to work their way down the hair strands.
If you have dry hair it can be caused by several factors, including the texture and condition of your hair, the effects of your hair care routine and environmental factors.
Here's more about what can cause dry hair.
Natural Oils
The sebaceous glands at the base of your hair follicles create an oil called sebum, which is naturally distributed through your hair throughout the day by slipping down the hair shafts. When the oils can't reach parts of your hair or if you have a lack of sebum production, your hair may dry out all over or in patches. Without the natural protection these oils offer, you might even experience damage to your strands.
Hair Texture and Condition
Dry hair can also be related to the texture of your hair and its condition. Here are some hair textures and conditions that can cause hair to be more prone to dryness:
Coily and curly hair types due to natural oils slipping down the hair shaft less easily
Brittle hair or coarse hair
Some genetic conditions or scalp disorders
Naturally dry scalps or underproductive sebaceous glands
Chemically-treated hair or damaged hair (relaxed or color-treated hair, etc.)
Habits
Your hair care habits can also cause your hair to dry out, especially if you have dyed hair, overwash your hair or use drying hair care products.
If the natural oils are washed away too often or too harshly, your silky hair can turn into brittle hair. If you are using hair products with drying chemicals or ingredients, over time, your hair can become weaker and devoid of natural oils. Drying ingredients include surfactants, such as sodium laureth sulfate and sodium lauryl sulfate.
Other Factors
Other factors that can cause dry hair include the following:
Frequent exposure to the elements, such as UV rays and wind
Hot tools, such as flat irons, pressing combs, blow dryers
Cotton pillowcases, which absorb oils from your hair
Related: How to Moisturize Dry Hair
Solving the Dry Hair Dilemma
So how do you keep your hair clean without stripping away its natural oils? "To prevent dry hair, wash the hair less often, use a hydrating shampoo, deep-condition your hair, use a natural ingredient hair mask, avoid heat drying and eat a balanced diet," said Alice Rawling, chief editor of Hairdo Hairstyle. "These will help your hair maintain a healthy appearance by preventing dehydration and brittleness."
That being said, using the right hair care products can go a long way toward hydrating dry hair.
Using the Right Hair Care Products
When it comes to hair products, a moisturizing shampoo is often paired with a moisturizing conditioner, which can help soothe and repair a ruffled hair cuticle. These formulas can also help restore hydration to your strands and prevent frizzy hair. However, not all moisturizing hair products are equal. It's important to use a sulfate-free shampoo and conditioner.
Additionally, silicone-free moisturizing shampoos and conditioners are best for dry strands and won't build up on your hair fibers. Product buildup can lead to a unhealthy scalp biome, thinning hair and a dull hair appearance.
Consider Product Ingredients
Look for simple and natural ingredients in hair care products. A nourishing formula will contain the following:
Healthy proteins (vegan proteins are smaller and bond better to your hair)
Fatty acids and amino acids
Formulas that contain vegan protein to fortify the hair
Formulas that contain humectants, such as coconut oil, shea butter, argan oil, vitamin E and vitamin A, aloe leaf juice and marula oil (fine hair will need products with lightweight humectants.)
Related: 9 Ingredients in Shampoo To Avoid (And What to Look for Instead)
Say Goodbye to Dry Locks With HYDR-8 Shampoo and Conditioner

VEGAMOUR products contain plant-based ingredients and are always formulated without phthalates, silicones, GMOs, parabens, sulfates, mineral oils, gluten and synthetic fragrances. And when it comes to the the best cleansing and conditioning formulas for dry hair, our HYDR-8 Shampoo and Conditioner Kit contain superior ingredients and have proven results for hydrating hair without weighing it down or resulting in buildup.
In studies, users experienced the following results:
8x hydration after just one use
72 hours of hair hydration and frizz reduction
Plus, 95% of users said their hair felt hydrated without feeling weighed down and 97% said their hair felt healthy and free of buildup after one use.
This rich shampoo and conditioner works well for all hair types (even colored hair) and won't create an overwashing cycle that can further dry out your strands. Plus, they help transform damaged hair into more lustrous, shiny locks. Goodbye, frizzy hair and parched strands!
Additionally, there's the HYDR-8 Deep Moisture Repair Mask that provides even deeper levels of moisture to help quench dry, damaged locks. For best results, you should swap out the conditioner once per week with the mask as a part of your regular hair care routine.
Here's more about what makes VEGAMOUR's HYDR-8 Shampoo and Conditioner the best choice for dry hair.
Superior Vegan Proteins
Fortifying stressed and damaged hair helps your hair to hold on to both its natural oils and any humectants you use. In the past, people have relied on keratin, often wondering why the hair felt even drier afterward. Today, there's a better way.
Superior proteins are made from plant matter. Karmatin™, which is VEGAMOUR's proprietary vegan silk protein, bonds better with your hair and fortifies it — even after rinsing. It doesn't leave that icky, dry feeling to the hair that keratin does.
In a controlled hair swatch study using HYDR-8 Shampoo and Conditioner together, users experienced 2.5x stronger strands after just one use!
Read: Not Keratin, Karmatin™
Nourishing Oils
HYDR-8 also uses superior humectants to tame your dry and frizzy hair. The HYDR-8 nourishing oils are carefully selected to be:
Vegan
Free of silicones
Natural
Highly moisturizing without buildup
Bondable — meaning the hydrating molecules bond well with your hair strands for lasting moisture
Protective for your hair
Superior Ingredients
Because of our high standards, VEGAMOUR chose only the best ingredients for our HYDR-8 Collection, which are curated for hair that needs hydration (now!) and also provide nourishing care for strands that are dry and brittle.
The following superior ingredients are in our HYDR-8 products:
Karmatin™ – Hydrates, reduces the appearance of damaged hair and tames frizz (found in all HYDR-8 products)
Aloe Vera – Locks in moisture and conditions strands (found in HYDR-8 shampoo)
Magnolia-Bark Extract – Soothes and calms the scalp to support its health (found in HYDR-8 shampoo)
Marula and Moringa Seed Oil – Reduces frizz and promotes brilliance and shine (found in HYDR-8 conditioner and mask)
Murumuru Seed Butter – Seals in moisture for enhanced moisture retention (found in HYDR-8 conditioner)
Milk Thistle – Works as an antioxidant while providing moisturization and softness (found in HYDR-8 mask)
Keep Your Hair Moisturized With HYDR-8
Ultimately, caring for dry hair takes a multifaceted approach. Avoid excessive heat styling, protect your hair from the elements and use a gentle, nourishing shampoo and conditioner that are formulated to hydrate without buildup or exposing your strands to any harsh ingredients.
Our HYDR-8 Shampoo and Conditioner Kit contains formulas with clean, vegan ingredients and provides that extra measure of moisture your hair craves. No matter what condition your hair is in or what type of hair you have, use HYDR-8 as part of your regular hair care routine to help banish dry locks and give your strands a sleek, lustrous shine!
More From VEGAMOUR
Photo credit: Elena Perova/iStock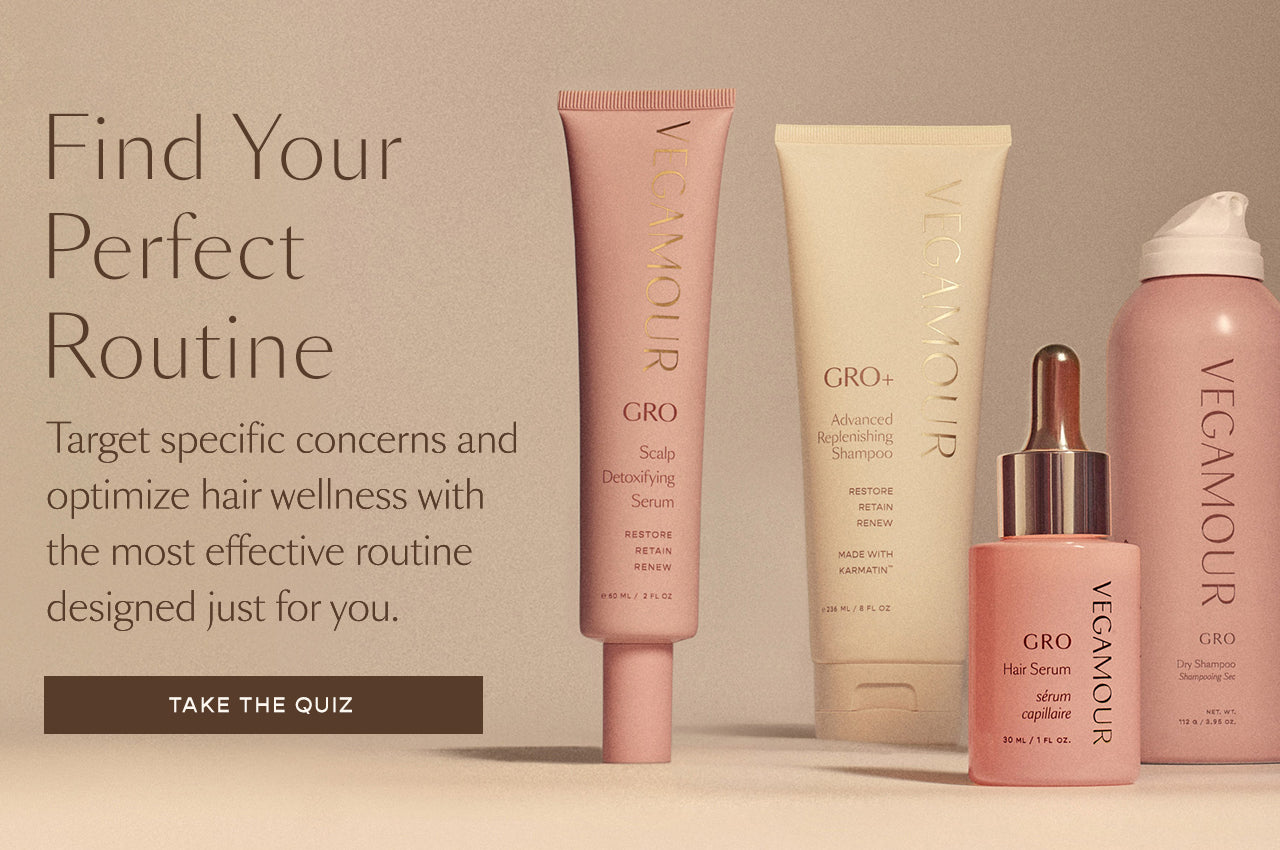 Disclaimer: Information in this article is intended for general informational and entertainment purposes only. It is not intended to constitute medical advice, diagnosis, or treatment. Always seek professional medical advice from your physician.