Is Sodium Laureth Sulfate Bad for Hair?
There's something so satisfying about a good soapy lather. Whether you're washing your hair or washing the dishes, an abundance of frothy suds can give the impression that you're getting the job done. And it's sodium lauryl sulfate that helps create the lather.
With the hair care industry moving toward a softer approach minus harsh detergents, sulfates have fast gone out of fashion. But can a sulfate-free shampoo truly offer a gentler cleanse? Is sulfate-free really the way to be? VEGAMOUR spoke to the experts and dove into the research to get to the bottom of the bubbles — plus, find out what sulfate-free products you should add to your hair care routine.
What Are Sulfates?
Sulfates are essentially chemical cleansing agents that are added to shampoos, body washes and face cleansers. When included in shampoos, they're designed to reduce the surface tension between your skin and the shampoo, effectively sweeping away oil, dirt and any lingering dead skin cells.
Shop: Sulfate-Free Shampoos
What is Sodium Lauryl Sulfate (SLS)?
Sodium lauryl sulfate is a common sulfate detergent in many health and beauty products. Often hand soaps, face washes, shampoos and toothpaste owe their suds to the sulfate. SLS has been deemed as safe to use by experts from The Cosmetic Ingredient Review panel and others but has also been identified as a skin irritant when left on the skin for long periods — especially for someone with existing skin complaints such as rosacea, a sensitive scalp and irritating allergies.
Dermatologist Dr. Cory Gaskins, BSc, M.D., CCFP,​ explained, "Sodium lauryl sulfate is a surfactant, detergent and emulsifier used in thousands of cosmetic products. SLSs are known to cause skin irritations, dryness and rashes. They can interfere with the skin's natural protein and don't always rinse well. In fact, SLS strips the skin of its natural goodness, which can lead to itching and irritation. In some cases, SLSs can cause an allergic reaction."
Shop: Nicole Franzel Arroyo's Top VEGAMOUR Picks
What Is Sodium Laureth Sulfate (SLES)?
Like sodium lauryl sulfate, sodium laureth sulfate (or ammonium lauryl sulfate) is a surfactant or surface-active agent that creates a thick, rich foam when mixed with water. The SLES is derived from SLS via a process called ethoxylation. This is where ethylene oxide is introduced via a chemical process to help change the compound.
The ethoxylation process means that a SLES is safe to use in body wash and skin products because it's less likely to cause skin irritation or harshly strip natural oils. Most shampoos will contain SLES rather than SLS. "SLES is less likely to cause irritation and strip away natural oils from the skin than SLS, said Gaskins. "For this reason, SLES is often used in hair care products for people with sensitive skin or scalps."
Water and oil don't generally work together well, but the SLES helps ingredients disperse evenly through strands when used in hair products. It helps cleanse the hair and skin and helps hands work products through the hair. It attracts natural oils like sebum, drawing them out so they can be rinsed away. Sodium laureth sulfate is the most common sulfate found in hair care products because it's considered gentler on sensitive skin, and it is less likely to cause scalp irritation.
Related: Hair Feeling Greasy and Oily? Try This
Risks and Dangers of Using SLES
A high concentration of sodium lauryl sulfate or sodium laureth sulfate in your shampoo could potentially irritate skin conditions and cause an allergic reaction. Avoid sulfates if you suffer from skin conditions, or you could experience the following:
Skin rash
Hives
Itchiness
Redness
Swelling or inflammation
Sulfates derived from petroleum and petroleum products have been associated with exacerbating climate change and pollution problems. Regarding health, SLS and SLES can irritate the eyes and skin. Plus, even though they're often not listed on the ingredient labels, SLES may also contain impurities from 1,4-dioxane, which has been linked to cancer. In addition, ethylene oxide has been linked to cancer and system toxicity, and palm oil has been linked to ongoing environmental destruction. Scientific evidence has mostly debunked SLES as a cancer-causing substance in and of itself, but the effects petroleum and palm oil have on the environment are hard to deny.
Palm oil is controversial because palm tree plantations often call for the destruction of necessary tropical rainforests. And suppose you're living a vegan lifestyle or simply want your products to be as clean and kind as possible. In that case, it's worth noting that sulfate shampoo formulas are often tested on animals to ascertain the level of impact the product might have on a human's skin, hair, lungs and eyes. Therefore, it's always worth checking the ingredient label before you buy to alleviate any doubt.
How Can Sulfates Impact Hair?
Sodium lauryl sulfate and sodium laureth sulfate are often found in products for all hair types and can trigger some adverse effects. "Sulfates are harsh detergents that can cause irritation and strip the hair of its natural oils, leading to frizz and dullness. Sulfate-free shampoos are gentler on the scalp and hair, resulting in reduced irritation, softer hair and less frizz," stated Gaskins.
Try Sulfate-Free Shampoo
GRO Revitalizing Shampoo is a non-toxic, sulfate-free shampoo with clinically proven, plant-based ingredients that cleanse, restore and penetrate the scalp's surface to promote healthier, thicker and longer-looking hair.
The vegan keratin in the shampoo smoothes, strengthens and restores. And even without the presence of sulfates, the formula still produces a gorgeous, bubbly lather. In addition, the wild-harvested marula, ximenia oils and baobab nourish and moisturize the scalp without clogging pores or leaving behind an irritating residue.
Choose Sulfate-Free to Avoid Dry or Frizzy Hair
You might want to look for sulfate-free formulas if you have dry or damaged hair. Alongside the suds, sulfates can strip away the natural oils so much that your hair is left damaged and a little frizzy. And it's not just the hair. Sulfates can compromise the scalp and the hair follicles too. So if you use a sulfate-containing formula, make sure you balance things out with a super nourishing conditioner.

Sulfates Fade Color-Treated Hair
People with dyed or kinky hair might want to avoid sulfates because they're pretty strong cleansers. In fact, the cleaning agents are often so strong they can strip hair dye away from the strands. Additionally, you might also reduce the effects of a chemical treatment if you use a sulfate shampoo afterward.
Do Sulfates Cause Hair Loss?
There's no scientific research to back up claims that sulfates in shampoos directly cause hair loss, but it's a good idea to use products made with no known toxins to maintain the integrity of your strands. Sulfates can strip the hair of its natural oils, making strands brittle. Brittle hair is at an increased risk of breakage, and broken strands can give hair a patchy and uneven look.
Benefits of Sulfate-Free Shampoos
To maintain hair health and keep strands in tip-top condition, sulfate-free shampoos are a safer and less damaging option. You might not experience as much of a lather, but this is actually a good thing if your hair is dry, curly or kinky. Some of the benefits of using a sulfate-free shampoo can include:
Reduced frizz
Reduced chance of irritation on the scalp
Reduced chance of irritation around the hairline
Hair that feels softer and more conditioned
Curly hair that's left intact
The Final Word
Sulfates, including sodium laureth sulfate, aren't necessarily harmful to you, but it's always worth choosing the safest, most effective, non-toxic products to maintain the integrity and well-being of your hair and scalp. Sulfates might inadvertently damage dry hair, and color-treated hair could also be negatively impacted. Additionally, your scalp might experience irritation.
VEGAMOUR's gentle, sulfate-free products work hard to care for your hair and scalp. The products doesn't contain sulfates or any known toxins, and each blend is powered by potent plant actives to nourish the scalp and promote healthy, thicker, fuller-looking hair. Rather than rely on sulfates to cleanse your hair, choose products that are kind to the environment and leave your hair looking gorgeous and glossy long-term!
More From VEGAMOUR
Photo credit: Brooke Cagle/UnSplash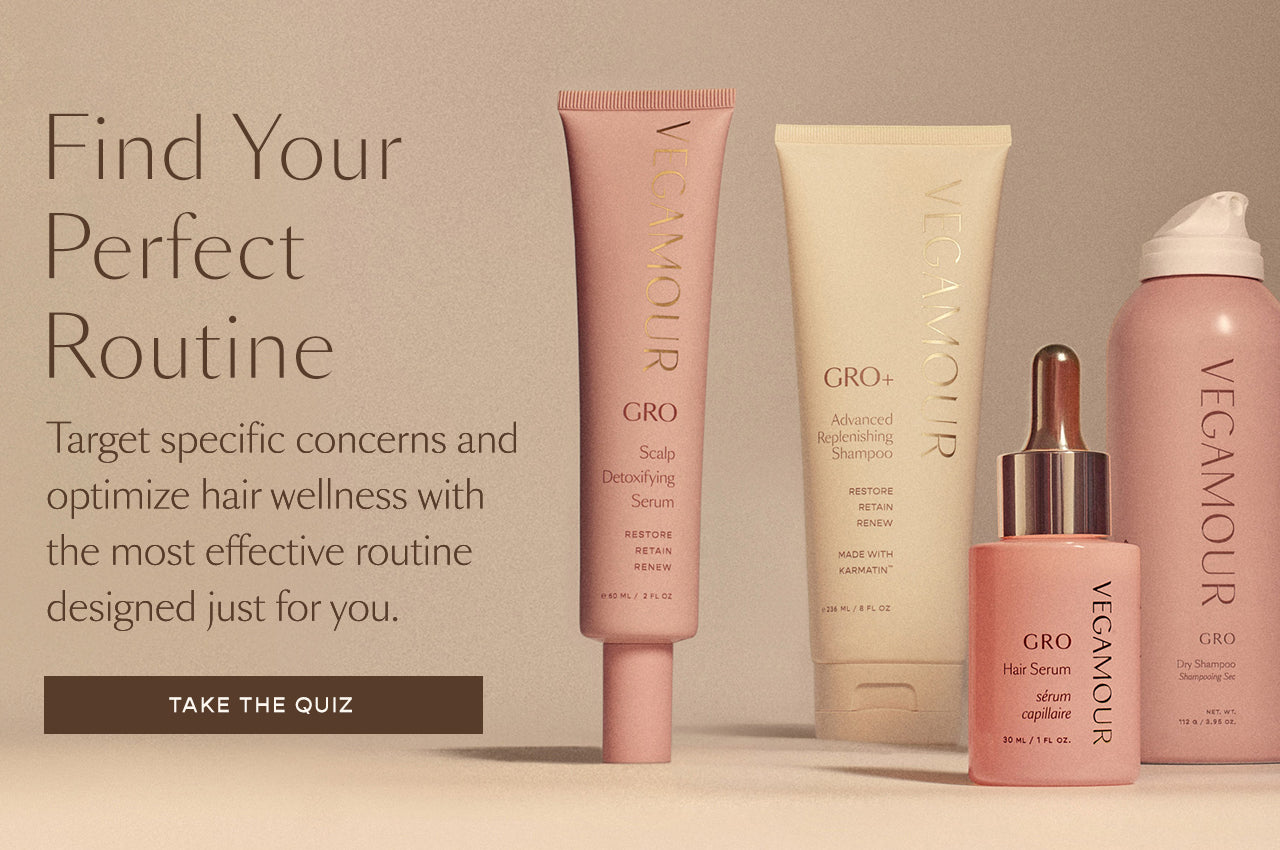 Disclaimer: Information in this article is intended for general informational and entertainment purposes only. It is not intended to constitute medical advice, diagnosis, or treatment. Always seek professional medical advice from your physician.