Try This DIY Coconut Oil Hair Mask for Nourished, Healthy Hair
Is your hair craving moisture? Consider quenching your hair's thirst with rich, restorative, natural nourishment. The DIY fix: Mix up a hair treatment with a pantry staple that's likely already in your kitchen — organic coconut oil.
Read on for more on how coconut oil can help your hair (and scalp) regain and retain healthy hydration. Plus, learn how to make your own coconut oil hair mask, and find out what deeply hydrating hair mask you should be using to improve dry, damaged locks instantly.
All About Coconuts
Coconuts are touted as a superfood rich in electrolytes, fats and fiber. And coconut oil's versatility makes it a popular choice for a range of recipes in the kitchen — as a skincare salve, a moisturizing balm and more.
However, coconut oil is also laden with heavily saturated fat, which can contribute to spiking LDL (the "bad" cholesterol) levels. According to the American Heart Association, you should choose liquid plant oils over tropical oils, like coconut oil, to maintain a heart-healthy diet.
However, there's good news for your hair! Utilizing a topical coconut oil hair mask offers all those restorative, nourishing health perks without raising your cholesterol. Coconuts and coconut oil are rife with health benefits and contain plant-sourced medium-chain fatty acids such as lauric acid. Lauric acid, which has anti-inflammatory properties, has been shown in at least one study to be an effective natural alternative to permethrin lotion in treating scabies (head lice).
Read on to find out exactly how using nature's healing hydrator as a hair treatment can help transform your tresses.
Shop: VEGAMOUR's New HYDR-8 Collection
Hair-Boosting Benefits of Coconut Oil
Perhaps you're already familiar with applying coconut oil as a body lotion. Known for its hydrating, skin-protective properties, coconut oil is thick enough to work as a carrier oil when combined with essential oils such as mineral oil, sunflower oil, lavender oil, argan oil or castor oil.
Your scalp is an extension of your skin and should be treated with the same thoughtful care. Plus, healthy hair growth relies on your scalp's health. Pairing coconut oil with vitamin E or vitamin C might also help soothe the scalp.
Here's more about how coconut oil can help your scalp and hair.
Can be Used on Any Hair Type or Texture
A topical virgin coconut oil mask can be used as a scalp- and strand-soothing treatment to aid in smoothing and repairing any hair type or texture.
Contains Anti-inflammatory Properties
An itchy scalp or oily scalp might also benefit from coconut oil's anti-inflammatory properties, which, in turn, could help support healthy hair follicles.
Read: Coconut Oil for Hair Growth: Fact or Fiction?
Maximizes Moisture and Combats Dryness
Ultra-hydrating coconut oil is an easy way to add moisture to parched hair (or any hair type needing extra hydration). Combine coconut oil with castor oil to treat dry hair with a moisture-boosting, post-shower hair treatment.
"Dryness can be caused by incorrect product selection, harsh unfiltered properties in your shower water or simply the season itself," said Jay Jackson, lead stylist and manager at NV Salon and Spa. "At a minimum, once a month, check in on the progress of your hair health and moisture levels to assess whether you should use a mask more frequently."
Helps Prevent Hair Breakage
"Adding intense moisture is helpful for almost all hair types, " said New York City-based hairstylist Jasmine Anna Galazka. "Work with your unique hair to address its specific needs."
For example, you can use coconut oil to help prevent breakage and repair split ends by applying it to the ends of your hair.
Seals in Smoothness
If you apply the coconut oil mix directly to the hair shaft can also help the hair cuticle retain moisture and smoothness. By acting as a sealant, it can help to minimize the loss of moisture, resulting in smooth, less frizzy hair.
Encourages Shine and Styling Ease
Coconut oil can also help add shine to your locks, and it might even improve styling manageability. Try pairing it with an essential oil, such as few drops of multi-tasking pure marula oil, to add light hold and control flyaways.
Read: How to Get Shiny Hair According to an Expert
DIY Coconut Oil Hair Mask
Now that you know all about its hair-healing properties, you can tap into the therapeutic power of natural nourishment using these six simple steps to mix up your own mask:
Begin with 2 tbsp. of melted coconut oil.
Apply the coconut oil hair mask to dry or damp hair.
Distribute evenly throughout your hair, scalp and hairline, gently massaging the warm mask into your strands and scalp.
If desired, you can blend the liquified coconut oil in a spray bottle to make your own unique mix using shea butter, argan oil or castor oil for added hydration. Or, combine it with tea tree oil, raw honey, lemon juice or apple cider vinegar for a moisturizing mask that also clarifies your hair.
Leave the coconut oil hair mask on your hair for at least 30 minutes.
When ready, rinse thoroughly with lukewarm water, and finish with a final cool water rinse to further seal in moisture and shine.
Pro Tips: For deeper conditioning, try wrapping up your hair in a shower cap, satin bonnet or microfiber towel, allowing for the mask to deeply penetrate the scalp and hair. You can use the mask on any hair type. Try it once a week or more, depending on your hair's unique needs, which may vary from season to season or according to your hair care habits.
VEGAMOUR's HYDR-8 Hair Mask for Dry, Parched Hair
If you don't want to go to the trouble of mixing up a coconut oil hair mask each time your hair happens to need some extra hydration and TLC, VEGAMOUR's HYDR-8 Deep Moisture Repair Mask is an excellent ready-made alternative.
The mask is powered by Karmatin™, VEGAMOUR's vegan silk alternative to keratin, to help reduce the appearance of damaged hair. Additionally, the mask not only contains coconut oil but also includes marula oil & moringa seed oil, which nourish hair to help reduce frizz and enhance shine. It also contains milk thistle — an antioxidant that provides moisturization and softness to strands.
In a controlled hair-swatch study, users experienced 15x hydration and 3x stronger strands after just one use — plus 72 hours of frizz reduction.
Read: 5 DIY Vegan Hair Masks You Need to Try
Natural Nourishment for Healthy Hair
While you can make your own coconut oil mask to hydrate your hair when it needs it, why not take the next step and build a hair wellness routine that seals in moisture and shine while promoting stronger strands every time you cleanse? Check out VEGAMOUR's new HYDR-8 collection that's powered by Karmatin™ and other nourishing plant actives for the hydration and repair your hair needs!
MORE From VEGAMOUR
Photo credit: Towfiqu barbhuiya/Pexels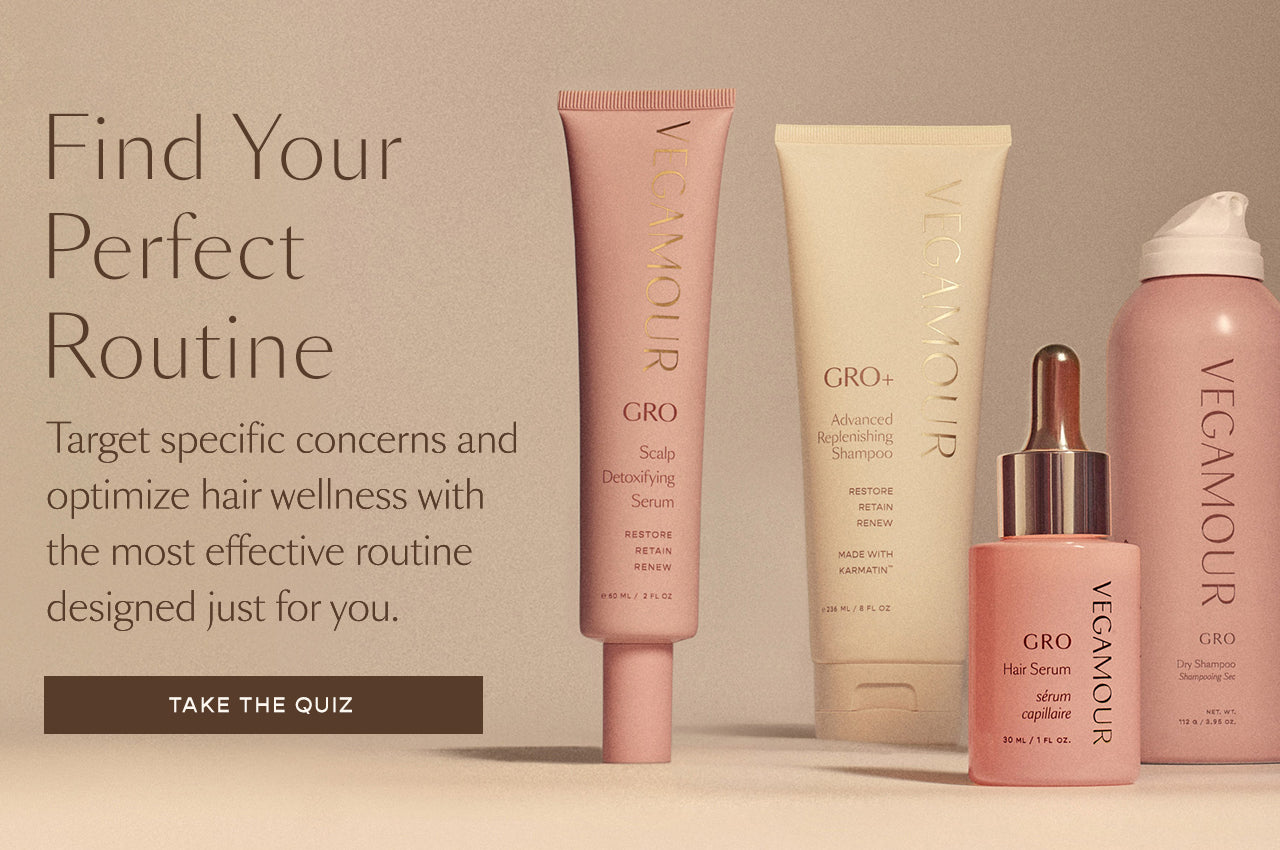 Disclaimer: Information in this article is intended for general informational and entertainment purposes only. It is not intended to constitute medical advice, diagnosis, or treatment. Always seek professional medical advice from your physician.