Is Bleaching Your Hair Really That Bad?
Bleaching your hair is damaging to the cuticle and internal structures of the hair, so it should be done sparingly. For some finished looks, however, hair bleach is a necessary tool to lighten the hair and prepare the strands for coloring.
VEGAMOUR talked with a stylist about what happens when you bleach your hair. Plus — find out what products you really should be using to promote healthier, shinier, fuller hair.
Yes, Bleaching Products Harm Your Hair
Bleaching your hair removes natural proteins from the hair, damages the cuticle and can leave the hair structurally compromised, which can lead to dry, damaged looking hair with breakage over time. This means you'll need to invest time and money into maintaining both the color of the desired shade and the integrity of your hair strands following your bleaching services.
Before Bleaching
Before your bleaching service, meet with your stylist to discuss a few important things like the desired end result, the current health and strength of your hair, recommended aftercare and the cost and frequency of subsequent bleaching sessions.
If possible, arrive at the salon with clean hair that has no styling products applied to it.
Be honest with your stylist about any chemical services you've received on your hair and whether or not you have well water at home, which leaves mineral deposits on the hair making it harder to lighten the hair.
Shop: Sulfate-Free, Color-Safe Shampoos
What Happens to Your Hair When You Bleach It?
People bleach their hair to remove melanin and eumelanin pigment molecules to achieve a lighter end result. Bleach must be used to break down any previous hair dye molecules in addition to lightening the hair to a new shade.
If a lighter, more vibrant hair dye shade (like silver or blue or pink) is desired, the hair must be bleached to prep for the brightness of the hair dye pigment to shine properly. Hair is lightened beforehand to eliminate the influence of the natural color underneath.
Bleaching vs. Hair Dye
Understand that your regular hair dye and ammonia lightening, which can cause potential damage to the hair, is similar to what happens when you bleach your hair, but the bleach is more structurally damaging to hair follicles. Bleaching services do further damage by destroying the hair's proteins and leaving "holes" that weaken your hair shafts and leave the hair cuticles lifted and damaged.
Also, hair reacts differently to bleaching products. It can become more dry and brittle, even "snapping" when you brush it, which is very different from the dryness and dullness sometimes resulting from regular hair dye. Bleaching can ruin the elasticity of hair, making your hair far more high maintenance than if you were simply using regular ammonia-based hair color.
Bleaching Effects on the Hair
VEGAMOUR spoke with Jessica Noonan of Friseur NYC about the effects of bleaching your hair. "When bleaching (or any permanent hair color for that matter), the cuticles (the outermost protective layer of the hair, similar to fish scales) need to be opened, several chemical bonds are broken and reformed in the process, and if you're going lighter, remove some or more existing melanin in the hair. The lighter you go, the more damaging it becomes."
Noonan recommended using "bond builders" when bleaching your hair with bleaching agents and hydrogen peroxide developer, the common mixture for these types of services. Bond builders or fillers can help to protect or partially restructure the hair after those critical protein bonds are broken within the hair strands.
After bleaching, hair coloring "toner" is applied to achieve the desired color, inserting tiny hair color molecules into the hair shafts and partially filling some of the structural "holes" left by the bleach. The hair cuticle is left partially open, especially if the hair is very damaged, leaving you with a hair color that fades at the hint of warm water or sunshine.
Related: Yes, The Sun Can Damage Hair — Here's How to Protect It
During the Bleaching Process
Your stylist will use a protective cream to shield your skin from the caustic effects of bleach. They may also use fillers or protective bonders to help keep damage to a minimum. You may be required to get a pre-bleaching protein treatment to help prepare the hair for your service and minimize breakage. Damaged hair ends or split ends will likely need to be removed by haircutting prior to your bleaching service.
Note: Repeated bleaching on the same hair strands can cause breakage, so this should be done with extreme caution and only with a reputable hair color specialist. Your colorist will know how to expertly apply the bleach, so it doesn't overlap on previously bleached strands.
Read: Here's How to Care for Your Hair After Going Black to Blonde
After Bleaching
After bleaching, your stylist may advise you not to shampoo, blow dry, brush or style for a few days, especially if there is evidence of hair breakage following your salon service. Your colorist may do a conditioning treatment on your hair or use a special spray as a finishing touch to add shine. Make sure to ask your colorist for color-safe styling tips!
Your hair will also have new challenges that will need to be addressed with the right color-safe care. You can do this by replacing your at-home hair care products with color-safe ones to replace moisture loss and help fortify the hair's structure, as well as tackle some of the new characteristics you may see in your newly bleached hair.
Bleached Hair Characteristics
Tangles very easily
Loss of integrity
Loss of shine
Reduced or severely compromised elasticity
Loss of natural proteins and moisture
Potentially irreparable damage if there is hair bleaching overlap onto previously bleached hair
Hair shaft damage that creates frizz
Hair breakage — especially for previously damaged hair or dark hair that's lightened to a much lighter shade.
Care for Bleached Hair
To repair and protect your hair after bleaching, you'll need a good shampoo and conditioner set with the protein and moisture your hair needs. Note: All of VEGAMOUR's hair care products are color-safe, vegan options you can trust.
Start with a color-safe shampoo, and always wash your hair in cool or tepid water — not hot water! GRO+ Advanced Replenishing Shampoo are both perfect for bleached hair and works for all hair types. It contains our proprietary microencapsulated vegan b-SILK™ protein, which bonds to your hair to repair and protect your strands even after shampooing.
Follow-up with GRO+ Advanced Replenishing Conditioner, which also contains our proprietary vegan Karmatin™. Yes, even fine hair will need conditioner after it's been treated with bleach — so don't skip it!
Change up your styling care. Minimize heat styling, and always use a heat protection spray.
Great Hair Starts Here
Whether or not you choose to bleach your hair, hair wellness is important for all of us. Choose gentle and effective hair care products that start with wellness and end in incredible strength and shine for all hair types — even bleached tresses.
More From VEGAMOUR
Photo credit: 
Nataliya Vaitkevich/Pexels

Mikhail Naumov

/iStock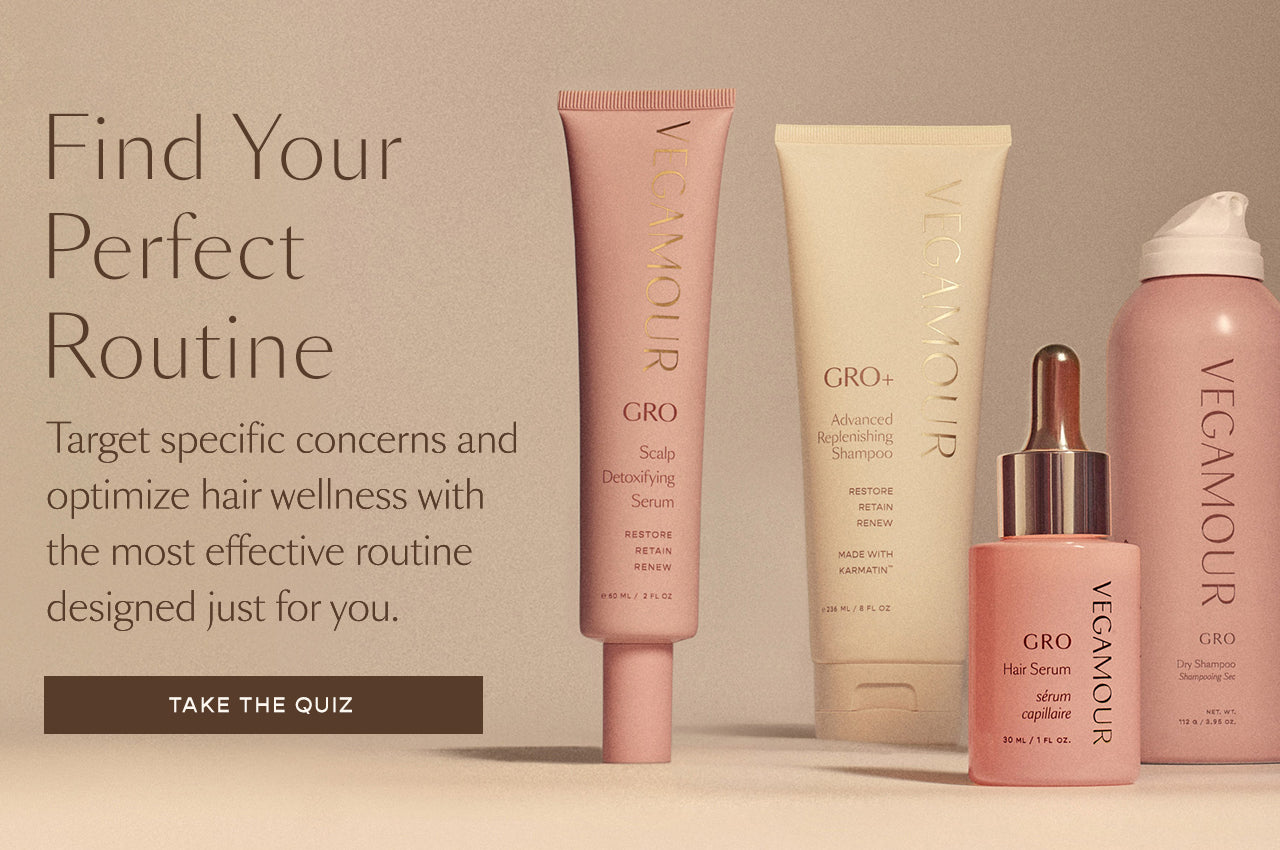 Disclaimer: Information in this article is intended for general informational and entertainment purposes only. It is not intended to constitute medical advice, diagnosis, or treatment. Always seek professional medical advice from your physician.