Why You Should Try This Dry Scalp Serum
Your scalp care routine is just as important as your skincare. Here's why: Hair wellness starts with a healthy scalp. And your scalp, as an extension of your skin, might be in need of more than a simple lather, rinse, repeat.
If you're experiencing any irritation or scalp dryness, it might be a telltale sign your scalp is itching for a deep cleansing treatment. Read on to learn why your scalp is in need of TLC, and discover what products you really should be using to cleanse, clarify and care for your scalp.
What Is Dry Scalp?
According to Dr. Erin Kil, M.D., board-certified dermatologist and founder of New Bloom Dermatology, a dry scalp is an inflamed one. Experiencing inflammation within the scalp may lead to other issues.
"Scalp inflammation can also lead to hair loss," said Dr. Kil. "Treatment of the inflammation may help decrease the hair loss." As with other skin conditions, when your scalp is itchy, irritated or you notice dry scalp flaking or scalp dryness, it's an indicator that something is amiss.
Other factors — seasonal shifts (such as colder, drying temperatures), dandruff or white flakes, flaky scalps, contact dermatitis or other skin conditions — can also play a role in dry scalps, including the following:
Seborrheic Dermatitis
"Seborrheic dermatitis is a form of eczema on the scalp," explained Dr. Kil. "It is characterized by an imbalance of the microbial flora and possibly increased sebum production, causing greasy, flaky scale."
Atopic Dermatitis
"Atopic dermatitis or eczema is characterized by dry, inflamed plaques on the scalp," said Dr. Kil. "These lesions are characterized by increased itch."
Scalp Psoriasis
"Scalp Psoriasis is characterized by scaly, thick, adherent plaques on the scalp," Dr. Kil said.
If you're experiencing greasy, flaky, scaly skin, it's time to consult with a doctor. Otherwise, here are some scalp TLC tips.
Shop: GRO Foundation Kit
Scalp Care Tips
Just like your skin, your scalp needs care too — especially if you have a dry scalp. Here are some ideas to amp up your scalp care routine.
Tip 1: Avoid Overwashing
"An oily scalp warrants daily hair washing, as the shampoo traps the oil," said Dr. Kil. "Dry scalp requires less frequent hair washing, every two to three days."
On those in-between hair wash days, opt for a dry shampoo formulated without talc to refresh and revive without stripping moisture levels.
Tip 2: Steer Clear of Chemicals
"While managing scalp inflammation," said Dr. Kil. "Patients should avoid coloring their hair."
Harsh chemical coloring processes (think: bleach blonde) have the potential to increase irritation or exacerbate a skin condition such as contact dermatitis. It's important to understand how often you can color your hair too.
Tip 3: Know When to Seek a Medical Professional
"Patients who experience excessive scalp itching and flaking should see a dermatologist for further assistance," said Dr. Kil. "These individuals may benefit from a prescription anti-fungal medicated shampoo and topical steroid to reduce the inflammation."
Tip 5: Stay Hydrated
"Patients with various forms of scalp inflammation can benefit from increasing hydration," recommended the doctor. "Decrease the consumption of diuretics such as caffeine and alcohol, which can dehydrate the skin."  
Tip 5: Consider Home Remedies
Bolster scalp and hair wellness by tapping into the power of nature. Natural ingredients that potentially have healing properties include:
Apple cider vinegar: Apple cider vinegar is considered anti-inflammatory and can combat the inflammation that comes with dry scalp flaking and itching.
Tea tree oil: The anti-fungal properties found in tea tree oil shampoos may help with dandruff.
Coconut oil: Coconut oil can be used to potentially help with dandruff and relieve itchy scalp.
Tip 6: Use a Scalp Detoxifying Serum
Instead of taking on the trial and error of home remedies, add GRO Scalp Detoxifying Serum to your self-care routine. The plant-powered formula offers a holistic approach to scalp wellness with a range of beauty-boosting benefits, including the following:
Clean, cruelty-free and color-safe: The 100% vegan scalp serum addresses optimal scalp and hair wellness utilizing proprietary phyto-actives, vegan proteins and minerals. Those with a sensitive scalp will appreciate that the serum is free of sulfates, silicones, parabens, gluten and artificial fragrance.
Gentle, effective and protective: It gently removes persistent scalp buildup and helps soothe skin, while actively providing a semi-permeable barrier to lock in moisture as it protects the scalp from harmful environmental pollutants.
Supports hydration and absorbs excess oil: Zinc PCA supports the moisturizing factor of the skin's natural oils, as it also works to absorb excess oils while reducing scalp irritation.
Clarifies and balances moisture: The serum safely reduces the appearance of adherent and non-adherent flakes while creating a healthy scalp microbiome utilizing willowherb extract. Other natural ingredients, such as wild-harvested baobab & marula oils, provide additional antioxidant support in the form of Omega 6 & 9 fatty acids, which further moisturize, protect and balance.
Clinically proven: The serum has been shown to have a visible reduction in dandruff symptoms in as little as three days after initial use and up to a 58% reduction in 15 days.
How to Apply GRO Scalp Detoxifying Serum
For best results, use GRO Scalp Detoxifying Serum once a week. Here's how to apply:
Part dry hair into even sections.
Use fingertips or a water-resistant scalp massager to actively massage the serum into the scalp for one to two minutes.
Leave on for five to 10 minutes before thoroughly rinsing it out.
Follow with shampoo and conditioner.
Nourish a Dry Scalp With Natural Care
Optimum scalp care starts with shifting your self-care practices, along with taking a closer look at what goes on your scalp and hair. As part of your regular self-care routine, integrate clinically proven, plant-based, non-toxic scalp wellness products to detoxify and nourish your scalp, which can help encourage thicker, fuller-looking hair. With a natural approach, your scalp and your hair will reap many valuable benefits!
Soothe a dry scalp by trying these expert ideas. If your scalp is suffering from something more intense, however, such as a skin condition, see a doctor for diagnosis and care.
More From VEGAMOUR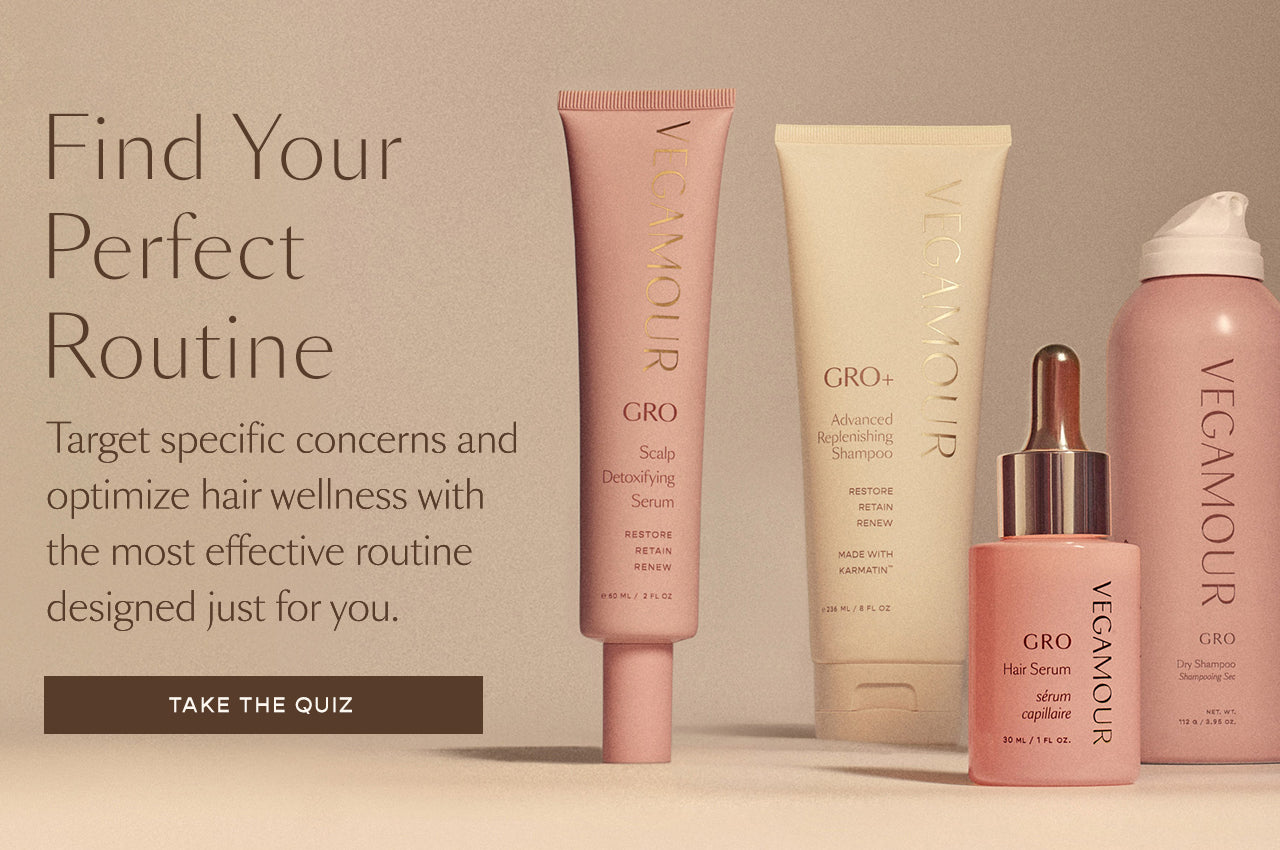 Disclaimer: Information in this article is intended for general informational and entertainment purposes only. It is not intended to constitute medical advice, diagnosis, or treatment. Always seek professional medical advice from your physician.