Review: This Detoxifying Serum Revived My Scalp & Hair Health
Your hair and scalp can be reactive. Too much heat and the dreaded frizz might hit. Shampoo infrequently or use too many styling products, and scalp buildup can happen.
I've always known that tending to my strands is essential, but looking after my scalp was something I hadn't given much thought to until I found out about a natural solution to boost my scalp's health. Read on for my review — plus, find out what products you should be using to support your scalp and hair health.
What's the Point of a Detoxifying Serum?
When thinking about your hair, your mind probably wanders to how you can keep each strand looking healthy, glossy and thick. But did you know that the health of your hair starts with the health of your scalp? A good detoxifying serum works to soothe scalp damage, help prevent hair loss and remove buildup.
Sprays to increase shine and creams that tame flyaways are great, but if they're not specifically removed from your scalp, residue can build up. And it's not just products that can cause scalp buildup. Harmful pollutants and your skin's natural sebum production can create frustrating flakes.
GRO Scalp Detoxifying Serum helps absorb excess oils and reduces scalp irritation. In addition, it works to support the scalp's natural system and locks in moisture to maintain a healthy scalp and healthier hair.
Shop: Best-Selling Scalp Health Kits
The GRO Difference
GRO Scalp Detoxifying Serum is powered by clinically tested botanicals and b-SILK™️ protein, aka Karmatin™, which work together to remove the stubborn buildup gently, soothe the scalp and provide a semi-permeable barrier that protects the scalp from harmful environmental pollutants.
Here are some of the key ingredients the scalp serum contains and how they work to keep your scalp healthy:
Zinc PCA, which absorbs excess oils, soothes scalp irritation and supports the scalp's natural moisturizing factor.
Willowherb extract, which safely reduces the appearance of flakes and creates a healthy scalp environment for the hair to grow.
Wild-harvested baobab and marula oils offer antioxidant support in the form of Omega 6 & 9 fatty acids and help keep the scalp nourished, protected and balanced.
What Is Karmatin?
Another main ingredient in the detoxifying serum (and other VEGAMOUR products) is Karmatin™. Unlike keratin, which is derived from animal protein, Karmatin™ is VEGAMOUR's proprietary, vegan silk protein that has benefits for both scalp and hair. It creates a semi-permeable barrier on the scalp to help protect and deter harmful pollutants. It also bonds to your hair strands (even after rinsing!) and helps protect the hair from things like heat styling. Plus, it leaves your hair smooth and shiny! Perfect!
My GRO Scalp Detoxifying Serum Review
Now that you know more about this amazing scalp serum, here's my experience with it.
Even though I try to keep things simple with my hair routine, I do sometimes use my stash of drugstore products to increase my hair's natural volume. Unfortunately, these products seem to make my roots turn greasy quickly, and sometimes flakes can crop up, which is annoying. That's why I decided to give GRO Scalp Detoxifying Serum a go.
I've never had much patience for long-winded, pre-poo treatments, but the GRO Scalp Detoxifying Serum proved quick and easy to use. I didn't have to leave it on overnight (potentially ruining my pillows), and after 10 minutes, I could just wash it out. Super simple stuff!
Related: Why You Should Moisturize Your Scalp
Healthy Scalp, Real Results
You don't have to search too hard to find glowing GRO Scalp Detoxifying Serum reviews. Just take a look at these real, impactful before-and-after photos!
How to Use GRO Scalp Detoxifying Serum
It's simple! To start, I roughly parted my hair and ran the gently scented serum over my scalp. The applicator releases just the right amount of product, and I loved that I didn't even have to wet my hair before use. The product is thin and reasonably watery in texture, so I didn't have to apply too much — a little goes a long way.
Once the scalp treatment was on, I set a timer, sat on the edge of my bed and gave myself a little scalp massage. Honestly, this gave me a well-deserved time out. I tend to rush from here to there, and massaging my scalp helped give me a mindful moment where I could focus on my breath and just slow down.
Next, I jumped in the shower and washed my hair with VEGAMOUR GRO Revitalizing Shampoo and Conditioner, which also contains Karmatin™ and a blend of wild-harvested marula oil, organic murumuru butter and ximenia oil to condition, hydrate and keep my hair cleansed and gorgeous. Additionally, it's formulated to encourage thicker, fuller looking hair with consistent use!
The VEGAMOUR GRO products are designed to work together, so I'm a major fan of the GRO Foundation Kit. It's an affordable way to indulge in my new routine because the serum, shampoo and conditioner come as a ready-to-use trio.
Subscribe to Save!
It's important to apply GRO Scalp Detoxifying Serum consistently for best results. And signing up for a VEGAMOUR subscription is the perfect solution to keep the serum on hand at all times. Plus, it will save you money and time, too — no discount code needed! And don't worry because you'll always have the skip or cancel your subscription — no problem!
GRO for Fuller, Luscious Locks
I hadn't really considered a hair and scalp wellness routine before, but getting started with the serum helped me understand the benefits. What's even better is that VEGAMOUR has a range of products that help promote hair and scalp health, and each product is formulated to encourage the hair to flourish. The products are safe for daily use, and as a bonus, the gorgeous packaging looks pretty on my bathroom shelf.
For visible results that can't be ignored, use GRO Scalp Detoxfying Serum in tandem with other fabulous products from the GRO collection. Each product in the collection is made with healthy, fuller, longer-looking hair in mind, including the fan-favorite GRO Hair Serum.
Overall, I was hesitant to try VEGAMOUR's GRO Scalp Detoxifying Serum and wasn't sure what the results would be, but I'm so happy I did. I can see a big difference in the strength and shine of my hair, and my scalp feels clear and clean too!
More From VEGAMOUR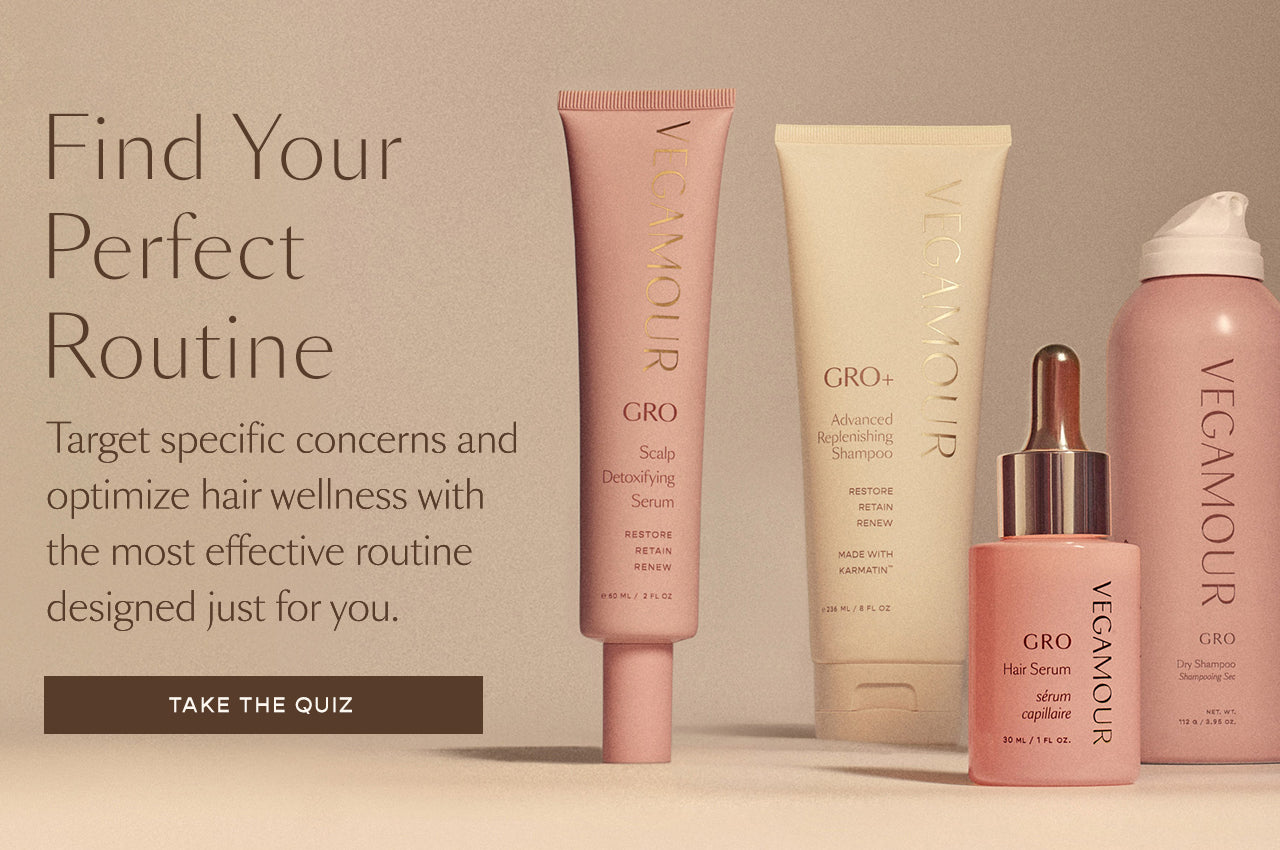 Disclaimer: Information in this article is intended for general informational and entertainment purposes only. It is not intended to constitute medical advice, diagnosis, or treatment. Always seek professional medical advice from your physician.