Get Salon-Quality Results with GRO+ Advanced Replenishing Shampoo and Conditioner
Lather, rinse and repeat! There's nothing quite like the feeling of freshly-washed hair. Having long hair, living in an urban environment and leading an active lifestyle as a yoga instructor makes the shampoo and conditioner I use all the more important. Plus, as a beauty writer, I'm super selective about what products make the cut in my personal beauty closet.
So I was excited when given the opportunity to take GRO+ Advanced Replenishing Shampoo and Conditioner for a test drive! Read on for more about my experience, and find out what hair wellness products you should be using from the GRO+ Advanced collection.
How I Care For My Hair
Introducing new products can be hit or miss, especially in the quest for healthier hair! After all, it's one of the first (and most noticeable) parts of your appearance.
My natural hair type and hair density are a combination of varying factors. I'm biracial and often wear hair extensions. My natural hair is slightly textured, and although I wouldn't say I have thin hair, it's definitely on the fine side. While the extensions bolster the appearance of hair density, they can also often look and feel dry, along with minimal hair shedding.
All of this makes me ultra-conscious of ingredients and what I can — and cannot — use when cleansing, conditioning and caring for my hair type in general. I'm always looking to encourage healthy hair growth in order to help restore damaged follicles (especially with wearing extensions). And, hopefully, prevent thinning hair from happening in the future! Being a vegan, I also like to stick with cruelty-free, vegan products in both my skin and hair care routines.
Shop: The Best CBD Hair Products
Get to Know and GRO
Previously, I had been using (and loving!) GRO Revitalizing Shampoo and Conditioner. The plant-powered pair has a natural, clean formula, including vegan keratin alternative Karmatin™, which leaves my long locks silky-soft, shiny and smooth. Best of all, this micro-encapsulated vegan b-silk™ protein forms a protective bond that stays put, even after rinsing, lasting until the next time I wash my hair.
I was intrigued to upgrade my at-home hair washing routine with GRO+ Advanced Replenishing Shampoo and Conditioner.The duo includes all the same powerful phyto-active ingredients I already loved, plus an added bonus: Micro-encapsulated, broad-spectrum CBD. Spoiler alert: I'm a serious fan of these products!
Read: Get to Know VEGAMOUR's Shampoos and Conditioners

Shower Shake-Up: The GRO+ Advanced Difference
My package arrived right after I got home from a beach weekend and had just run out of shampoo and conditioner. I immediately placed them on my shower shelf and was impressed with the neutral and gold packaging (why yes, I do color-coordinate my beauty shelves).
Because I had just spent a few days at the beach, my hair was definitely looking worse for wear even though I took protective measures like wrapping my hair and wearing a baseball cap. Needless to say, I was extra excited to lather up that night!
Before we get to my results, here's a rundown on what makes the GRO+ Advanced formulas so beneficial:
Clean ingredients: Color-safe, cruelty-free, 100% vegan and free of GMOs, parabens, phthalates, sulfates, silicone, mineral oils, gluten and synthetic fragrance.
Safe and effective: Gentle and safe for daily use on all hair types with visible results.
Naturally nourishing oils: Wild harvested marula, baobab and ximenia oils help to condition, hydrate and fight damaging free radicals.
Vegan Keratin alternative: Yes, it's true! Micro-encapsulated Karmatin™ made from vegan b-silk™ protein smoothes and strengthens strands, helping repair damage. And, unlike traditional chemical-based keratin or silicones, there's no icky residue left behind.
Harness hemp's healing properties: Healthy hair begins with a calm and balanced scalp, according to VEGAMOUR. And the included broad-spectrum CBD in the GRO+ Advanced formulas is there to help balance, soothe and protect.
Micro-encapsulation technology equals magic: VEGAMOUR's unique technology helps the formulas' powerful phyto-actives, including mung bean, curcumin and red clover, penetrate deeply into the scalp for optimal hair health.
Explore: Shea Whitney's Favorite Hair Products
My Elevated Experience
Time to hit the shower! I typically shower at night — there's nothing better than getting into bed with freshly-washed hair — and make it a mindful, restorative ritual. I treat the pre-sleep shower routine as a meditative nightly wind down, visualizing all my to-do's, stress and worries of the day washing away down the drain.
I always have fresh eucalyptus hanging behind the shower head so that when the steam hits, it acts as a natural essential oil diffuser, furthering the Zen vibe. Another bonus with the shampoo and conditioner is that they're infused with naturally nourishing CBD, supporting your body's natural balance, and the fresh, natural scent of citrus will definitely enhance the spa-like experience at home.
Here's how I recommend shampooing and conditioning at home:
Massage the scalp gently with fingertips to really work the cleanser in and purify the hair roots. This is especially great if you get oily strands around the crown or if you have bangs.
Rinse and apply conditioner to your strands from mid-shaft to ends, adding more at the ends where hair tends to become the driest.
Allow the conditioner to sit for a few minutes, and rinse thoroughly with cool water. The cool water helps locks feel more smooth and seals in shine.
Use a microfiber hair towel to gently pat hair semi-dry, wrap it and let it sit while you do other things, like your skincare routine.
Afterward, remove the towel, apply a bit of hair oil from mid-shaft to ends and use the lowest setting to blow-dry.
Shop: GRO+ Advanced Relaxation Kit
My Wow-Worthy Results
I went to bed with hair that looked, felt and smelled amazing! After loosely braiding it and sleeping on a satin pillowcase, I woke up the next morning with hair that quite possibly looked even better than the night before! My long layers were soft, super-smooth and still smelled amazing, without a tangle or dullness in sight. The best part: The look lasted for days until the next time I washed my hair. My verdict: Definitive thumbs-up!
Because full-spectrum hemp oil is infused into all GRO+ Advanced products, including the shampoo and conditioner and eyebrow, eyelash and hair serums, you can reap the beauty benefits for more than just your hair. Best of all, these products are designed to work together, which makes building a natural and effective self-care routine easy, effective and naturally nourishing!
MORE From VEGAMOUR
Photo credit: Puhhha/iStock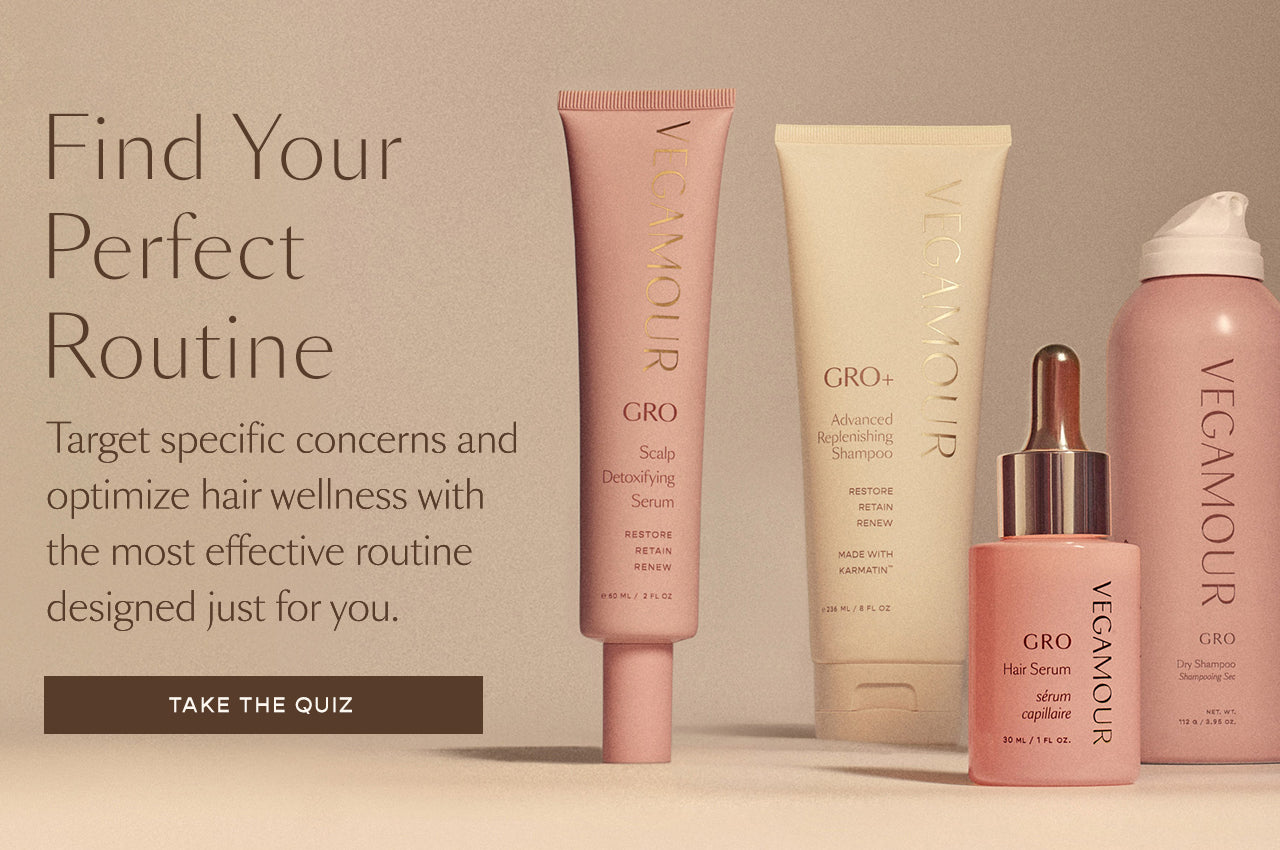 Disclaimer: Information in this article is intended for general informational and entertainment purposes only. It is not intended to constitute medical advice, diagnosis, or treatment. Always seek professional medical advice from your physician.