Why Hair Fillers Have Been the Latest Trend
Fillers have fast become a popular solution for those who want to retain a plump, youthful and fresh-faced look. The dermatological treatment has risen past celebrity indulgence and is now firmly in the mainstream. But did you know that fillers aren't just for your face? Hair filler is fast becoming the industry standard to combat thinning hair and fine, brittle strands.
But what types of hair filler treatments are out there and will any of them stop hair loss? VEGAMOUR consulted with an expert to demystify hair fillers. Plus, discover the all-natural products designed to visibly boost hair density in as little as 90 days.
What Is Hair Filler?
Though you might automatically connect fillers to face injectables, the term "hair filler" originally came from colorists filling the hair with color to deepen the tone of their client's new look. For example, if you have changed your hair color to an icy platinum blonde and want to return to being a medium brown brunette, an experienced colorist would need to complete a color fill. That's because many color molecules have been removed with bleaching.
However, today, hair filler is less about hair color and more about in-salon treatments that utilize bond-building and keratin techniques that strengthen weak locks and bring about thicker hair. Hair filler can also be a catch-all term that can include strategic extensions, solutions for alopecia bald spots and all methods related to hair thickness. So whether you have a sparse hairline due to stress, damaged hair from pregnancy or are simply looking for added fullness, there's a hair filler for you.
Hair botox is a type of hair filler that directly targets hair cells. It's usually a deep conditioning treatment that coats the hair with hyaluronic acid or keratin. This type of injectable fills in any empty-looking hairline and any thin or broken areas. Those with severe hair loss might benefit from a Dr. CYJ hair filler treatment, which can stimulate hair follicles, boost blood circulation and often promote hair growth.
This treatment is an injectable formula of active ingredients, including patented peptides, nutrients and hyaluronic acid. The decapeptide-19 and oligopeptide-71 in the hair formula work together to block hair loss pathways and ideally promote the transfer of hair stem cells. In addition, decapeptide-19 nourishes the scalp and helps inhibit cell death caused by stress and free radicals. After the process, the patients might experience a combination of itching, swelling and slight pain around the injection area.
"Hair filler is a type of cosmetic injectable that can be used to add volume and fullness to the hair," explained dermatologist, hair transplant expert and cosmetic surgeon Dr. Hari Kiran Cheruki. "They are typically made from hyaluronic acid, a substance that naturally occurs in the body and is injected into the scalp using a fine needle."
Read More: Can You Use Hyaluronic Acid on Your Hair?
Benefits of Hyaluronic Acid
Hyaluronic acid can add moisture to the skin and hair. In recent years, it's grown in popularity as a proven anti-aging treatment. Because of its absorbent qualities, hyaluronic acid can add moisture to hair follicles when used as a hair filler. When sparse hair is moisturized, the surface will appear less frizzy and much smoother. Supplements or topical treatments containing hyaluronic acid could potentially help revitalize strands, help hair hold onto moisture and improve the overall appearance of your locks.
What to Expect at an Appointment
"When you arrive for your appointment, your doctor will assess your scalp and hair," said Dr. Cheruki. "They will then decide how many injections you will need and where they will be placed. The injections are usually given in the upper layers of the skin and you may feel a slight prickling sensation as they are being administered."
The practitioner should always use an alcohol swab to clean the area and take precautions before the process begins to ensure cleanliness.
"Aftercare for hair fillers is typically minimal," said Dr. Cheruki. "You may experience some redness or bruising at the injection site, but this should resolve within a few days. There is no downtime associated with this procedure and you can expect to see results within a few weeks."
The price of hair filler will depend on the type of filler used and how many injections are needed, but it typically ranges from $300 to $600 per session. "There are several different types of hair fillers available and your doctor will help you choose the best one for your needs," said Dr. Cheruki.
Related: Here's Why Hairline Microblading Is Trending
Alternative Hair Filler Treatments
Injectables are one option, but if you're looking for simple salon treatments or something you can do at home, you can achieve the appearance of a thicker hairline with these tips and tricks.
For Volume, Add Extensions
Pros: If you lack hair around your temples, extensions are a semi-permanent way to boost the look of thinning hair and add length. The extensions are applied strand by strand and keratin-bonded to the hair root. When using extensions as a hair filler, ask your stylist to strategically cover where the hair looks the most sparse. If you have very fine, fragile hair, tape extensions might be more suitable because they attach to the head with a more gentle adhesive tape.
Cons: In-salon hair extensions take a long time to install and are often expensive. Expect to pay between $1,500 and $4,000 for a full head. You could try adding clip-on extensions for a thicker look, but be aware that they might drag hair down and add further strain to fragile strands.
Camouflage Bald Spots With a Powder
Pros: Women can lose their hair for several reasons. From hormonal changes to chemotherapy and alopecia, hair loss can create discomfort and potential embarrassment. If your hair loss mainly resides around your temples, using a powder to cover the balding area is easy, affordable and super low-maintenance. Whether you use a spray-on powder or a powder that comes in a compact with a brush, there is a range of shades to choose from that cover balding easily. These powders improve the look of hair density and can be adjusted to suit your style.
Cons: Hair powders are temporary and will need to be reapplied often as they brush out easily and can be washed out with shampoo.
Boost Hair Health With a Serum
Pros: Hiding bald patches with powder and covering thinning hair with extensions is great in the short-term, but to maintain the integrity of the hair root and help strengthen strands long-term, you'll need to nourish the scalp with all-natural products. The GRO Hair Serum helps boost hair health by blending unique, vegan phyto-actives with follicle-stimulating technology.

Clinical trials suggest that hair regrowth is hindered if your scalp health is lacking. Combine the GRO Hair Serum with the GRO Scalp Detoxifying Serum to clear away debris and reap the benefits of clinically-tested plant-based ingredients.
Cons: You won't see results instantly, but in as little as 90 days, you'll experience thicker hair and fuller-looking strands.

Read More: How to Make Thin Hair Look Thicker
Encourage Thicker, Fuller-Looking Hair Naturally
Hair growth can halt for many reasons but hair fillers can help hair look visibly full and thick again. From injectables that plump up strands at the hair root to a temporary powder that covers bald areas, you can keep your hair looking good with a few clever tricks. If you're unsure of the best hair filler treatment for you, consult with an expert and talk to other women who have started a regime of their own.
If you're looking for a healthy head of hair that grows beautifully and catches the light with its shine, explore VEGAMOUR's range of vegan hair wellness products that boost volume and improve the appearance of thinning strands.
More From VEGAMOUR
Photo credit: Layla Bird/iStock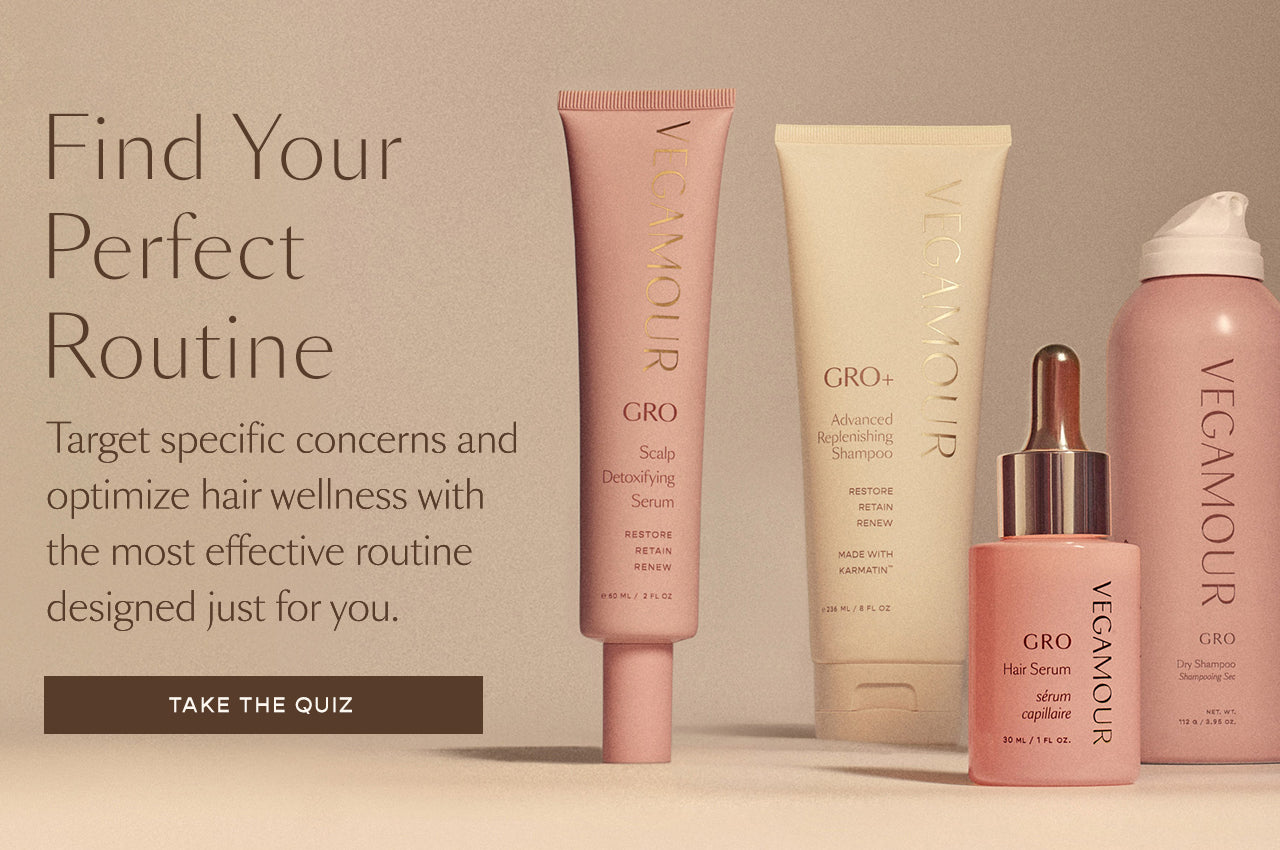 Disclaimer: Information in this article is intended for general informational and entertainment purposes only. It is not intended to constitute medical advice, diagnosis, or treatment. Always seek professional medical advice from your physician.